BUY THIS COURSE (USD 45 USD 139)
Career Path - Scrum Master
Learn scrum master techniques & processes. Understand responsibilities of scrum master and product owner. Perform sprints & agile project management.
( add to cart )
Save 68% Offer ends on 31-Dec-2023
Preview Career Path - Scrum Master course
Price Match Guarantee
Full Lifetime Access
Access on any Device
Technical Support
Secure Checkout
&nbsp Course Completion Certificate
New & Hot
Trending
Job-oriented
Instant access
Students also bought -
20 Hours
USD 17
1677 Learners
2 Hours
USD 17
387 Learners
3 Hours
GBP 12
94 Learners
Completed the course? Request here for Certificate.
ALL COURSES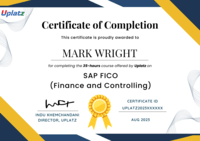 Uplatz provides this extensive Career Path program to help you become a successful Scrum Master.
A Scrum Master is a project manager who uses agile project management methodologies to guide a team through a project.
To guarantee a successful output, a scrum master fosters all communication and cooperation between leadership and team members. Scrum is an agile methodology for working on large, complicated projects, most often software. The agile project management style employs short development cycles, known as sprints, to ensure that a product or service is constantly improved. There are several agile frameworks available, with Scrum being a popular choice for fast-paced projects. The approach is extremely collaborative and needs efficient procedures, and the process' outcomes are dependent on the scrum master's skill.
Better products, quicker time to market, delighted customers, and a happier staff are all benefits of having Scrum Masters on board. As a Scrum Master, you may expect a long and prosperous career. A scrum master's job is to advocate a project, teams, and team members via agile project management. Because scrum masters may operate in a variety of environments, your duties and responsibilities will likely change. Depending on your position, you may be called upon to serve as a facilitator, coach, or project manager.
Scrum master employment may be found in a variety of sectors and for a variety of firms throughout the world. Agile approaches may have begun in IT companies, but scrum master jobs can be found in a variety of industries and for a variety of companies. Organizations have realised the advantages of embracing agile more than ever before in this era. Scrum Masters who can assist departments become more agile, boost team productivity, and help firms adjust to quickly changing market circumstances are in high demand.
You'll discover that as a Scrum Master, you have a lot of employment alternatives. With additional Scrum expertise, you may be able to serve as an Agile coach, a mentor and guide, a Product Manager or Product Owner, or a variety of other roles.
This Scrum Master training program gives you an overview of the Scrum framework for Agile project management and prepares you to become a Certified Scrum Master. The Scrum Master certification course is intended to strengthen your Agile implementation abilities by building on your Scrum basic knowledge. In this Scrum Master career path program, you'll learn basic to advanced scrum methodologies and can aim to strive to play Scrum Master or Project/Program Manager lead role in any organization. You can also strive to be an Agile Coach for several teams, assisting the business in scaling to meet the challenges.
Course/Topic 1 - Project Management Fundamentals - all lectures
In this first video tutorial on Project Management, you will learn an Introduction to Project Management, its history, benefits, an illustration to Gantt Chart, a view on some of the International standards of practicing Project Management, an overview of what exactly is a project, its relationship with General Project Management practices, Triple Constraints Theory and the role of a Project Manager and its characteristics in Project Management.

In this second session of Project Management, you will understand what is Process Oriented Project Management, Project Processes and its categories, what is Project Management and Product Oriented processes and an overview of different process groups and its knowledge areas.

In this lecture, you will learn what is a process in Project Management and its different stages in a Project Life cycle, how a process is linked to different process groups. Also, you will learn about the different Knowledge Areas related to a Process in Project Management.

In this video, you will learn about the Project Planning Process and Group Processes and the different processes involved in managing the Scope and Scheduled Constraints.

In this last session on Project Management Fundamentals, you will learn about the different constraints involved like Cost, Quality, Resources, Risks, etc. in a Process Group and how it helps in managing the entire project in Project Management.
Course/Topic 2 - Introduction to DevOps
In this session of you will get an intro about the DevOps.
Course/Topic 3 - Microsoft Project (basic to advanced) - all lectures
Lecture 1 - Overview of Microsoft Project

Lecture 3 - The Back Stage

Lecture 4 - Views and Tables in MSP

Lecture 5 - Project Initiation - part 1

Lecture 6 - Project Initiation - part 2

Lecture 7 - Tasks and Milestones

Lecture 8 - Linking Tasks

Lecture 9 - More on Linking Tasks

Lecture 10 - Creating Resources

Lecture 11 - Creating Resources - advanced

Lecture 12 - Assigning Resources

Lecture 13 - Applying Cost Tables

Lecture 14 - Units Work Duration

Lecture 15 - Handy Features - revised

Lecture 16 - Critical Path Identification

Lecture 17 - Resource Leveling

Lecture 19 - Updating Project - part 1

Lecture 20 - Updating Project - part 2

Lecture 21 - Updating Project - part 3

Lecture 23 - Controlling - part 1

Lecture 24 - Controlling - part 2

Lecture 25 - Reports Pack
Course/Topic 4 - Git and GitHub - all lectures
Need of version control system. This series related to Git and GitHub, what is Git and what is Git hub and how we need to work with GitHub as a real-time tool. VCS – Version Control system –provides the process of monitoring team members work and activities in the project.

What is Git .Git as a VCS for tracking changes in source-code. Different Git Software we need to download in the system as per the operating system.

How to install Git Software in windows operating system . Later, how we can register in GitHub

Workflow with respect to Git. Basic Git operations and workflow (explained with diagram). Git in action.

What is remote repository and how to create remote repository.

How to add existing project to GitHub using Git Bash. Using spring tool list

Basic feature on working with local repositories and remote repository. Local repository, remote repository - performing operations such as how to fetch the code from remote repository to local repository

In this session how to push an existing project to remote repository. Perform all the activities to through IDE tool i.e. HTS IDE tool important IDE tool for JAVA Developers.

How to push project and project related files into GitHub remote repository from local repository through VS code IDE tool. VS code is an open source tool used by mostly frontend developers.

How to perform delete operations? How to delete files present in local repository? Create or initialize empty local repository

Discus about branches in Git. What is a branch as a version of your repository? Multiple copies of actual project. main copy – Master branch.
Course/Topic 5 - Maven - all lectures
This tutorial has been prepared for the student to help them understand the basic functionality of Maven tool. After completing this tutorial, you will find yourself at a moderate level of expertise in using Apache Maven from where student can take themselves to next levels.

In this Maven tutorial, we will show you how to install Maven for your Selenium test automation projects and running your first project in this Selenium Maven tutorial.

In this session, to download maven you required artifacts of the build and dependencies and other plugins which are configured as part of any project, there should be a common place where all such artifacts are placed. This common shared area is called as Repository in maven.

In this tutorial, we will look on how to create a java project with Maven.

A Java EE application is delivered in either a Java Archive (JAR) file, a Web Archive (WAR) file, or an Enterprise Archive (EAR) file. A WAR or EAR file is a standard JAR (.jar) file with a .war or. ear extension.

A Build Lifecycle is a well-defined sequence of phases, which define the order in which the goals are to be executed. Here phase represents a stage in life cycle.

In this video you will, learn to create Java application project with maven commands, using interactive and non-interactive modes from command prompt.

In the tutorial, we will see how to build a project and test the code written.

This tutorial describes the creating of Maven within the standalone project through IDE for building Java applications.

Lecture 10 - Creating Maven Standalone Project through IDE

This chapter teaches you how to manage a web-based project using Maven. Here you will learn how to create/build/deploy and run a web application.

This tutorial describes how to add a project as a dependency of another project.

The version of this Maven tutorial is based on Maven dependency chain.

This is maven default scope. Dependencies with compile scope are needed to build, test, and run the project.
Course/Topic 6 - JUnit 5 - all lectures
In this session we will discuss about the basic introductory topics of Junit. This video talks about the unit testing framework for Java developers, what is unit testing – as a type of software, peer testing, what is Junit and official website of Junit.

In this session we will discuss about adding Junit5 dependency in Maven project using HTS tool to develop projects in JAVA. Further we will see ow dependency is added.

In this session we will discuss the most important annotation in Junit5. This video talks about the process to implement Junit5 in Java project. Further we will discuss java file and non-java files.

In this session we will discuss the later part of annotation. This video talks about the conditional test execution such as condition on OS, condition on JRE, condition on JRE range, condition on system properties.

In this session we will discuss about the last part of annotations. This video talks about the order in which test method should be executed.

In this session we will discuss the need for repeated test annotation in Junit5. Sometimes there might be requirement of executing same test, then we use repeated test annotation.

In this session we will discuss about assertions in Junit5. This video talks about what are assertion and how they are used for testing the test methods. Such a test case may pass or fail.

In this session we will discuss some more important methods on assertion in Junit5. This video talks about how, if expected results are matching with actual results then the test case will pass, and when the expected results are not matching with actual results then test case will fail.

In this session we will discuss about timeouts in Junit5. This video talks about specifically setting a time and within that time a test method should be executed for test to pass.

In this session we will discuss about the expected exceptions in Junit5. This video talks about the meaning of expected exceptions. When working on any java project we come across different types of exceptions like null pointer, illegal argument exception, arithmetic exception, file not found exception. Further we will see how to handle such situation and make the test case pass.

In this session we will discuss about the parameterized tests in Junit5. This video talks about passing inputs to test methods in different slots and how to handle the situation in our projects. Further we will see the important parameterized tests such as ValueSource, EnumSource, MethodSource and CSVSource.

In this session we will discuss how to run unit test with maven. This video talks about how to run "n" number of test classes with maven.

In this session we will discuss tagging and filtering in Junit5 with maven. This video talks about how we can work with @tag annotation for tagging to specify the tag and which test should be used in the development phase.

In this session we will discuss about Hamcrest Framework which we use along with Junit5. Hamcrest is a separate library used in combination with Junit5. This video talks about how to work with Hamcrest API with respect to correction and user defined objects.

In this session we will discuss about how to perform unit testing on spring boot repository. This video talks about what is a repository – where we store our data. i.e real-time database storage.

In this session we will discuss about the spring boot integration system. This video talks about how to perform unit testing using Spring boot integration testing.
Course/Topic 7 - Log4j - all lectures
In this session we will discuss about Log4 Introduction. This video talk about what is log4j and when we are going to work with log4j. Further we will discuss about the advantages of log4j. Before understanding what log4j is we will understand the environment on which application will be running and the types of environments such as, Development, QA, UAT and Production. Lastly, we will see what is logging and what are the main components related to Log4j.

In this session we are going to discuss the components and implementation in log4j with practical application. This video talks about what are the main components used to implement log4j in our applications with 3 different components in log4j, i.e., logger, appender and layout.

In this session we will discuss about working with Log4j. properties file. This video talks about how to configure details like appender, layout etc. inside a separate properties file. Further this video explains how Log4j is a tracing or logging tool used in production environment and how it s used to find messages.
1) Daily stand-up meetings, reviews, demonstrations, and other project-related meetings are all led by you
2) Conduct regular sprints
3) Assisting team members with their responsibilities
4) Scrum concepts and best practises are being taught to the team
5) Promoting open dialogue and conflict resolution
6) Identify and address problems before they become a problem
7) In a project management tracking application, updating activities
TheScrum MasterCertification ensures you know planning, production and measurement techniques needed to stand out from the competition.
A Scrum master is a professional who leads a team through a project using Agile project management techniques. A Scrum master facilitates all the communication and collaboration between leadership and team players to ensure a successful outcome.
There are plenty of good reasons to become a Scrum Master; the job is in demand and pays well. But the most important—perhaps the only—reason to become a Scrum Master is that it's the right job for your skills, personality, and interests.
The Certified ScrumMaster (CSM) certification, available through the Scrum Alliance, is an entry-level certification aimed at providing professionals with an awareness of the methodologies and values of Scrum, including team performance, accountability, and iterative progress.
As opposed to becoming a project manager, you can become a certified Scrum Master more easily and get started leading projects very quickly. Since these skills are very valuable, you can get a higher salary and advance more quickly in your chosen career path by demonstrating strong leadership and management skills.
Uplatz online training guarantees the participants to successfully go through the Scrum Master Certification provided by Uplatz. Uplatz provides appropriate teaching and expertise training to equip the participants for implementing the learnt concepts in an organization.
Course Completion Certificate will be awarded by Uplatz upon successful completion of the Scrum Master online course.
The Scrum Master draws an average salary of $120.000 per year depending on their knowledge and hands-on experience.
It might seem a bit limited, but Scrum Master has a pretty good career path. Many Scrum Masters go on to become agile coaches, which is what I did. And is a job I particularly love. Even more than Scrum Master
Are Scrum masters in demand? According to Burning Glass, which collects and analyzes millions of job postings from across the country, Scrum master is a skill-set in fairly strong demand, with 65,915 job postings nationwide over the past 12 months.
Note that salaries are generally higher at large companies rather than small ones. Your salary will also differ based on the market you work in.
Scrum Master Developer.
Lead Scrum Master.
Consultant.
Scrum Master.
1. What are the different roles in Scrum?
Following are the different roles in Scrum:-
Product Owner: The product owner is in charge of enhancing ROI by determining product features, prioritizing these items into a list, determining what should be prioritized for the next sprint, and much more. These are re-prioritized and modified on a regular basis.
Scrum Master: This person assists the team in learning how to use Scrum to maximize business value. The scrum master removes roadblocks, keeps the team focused, and helps the team embrace agile methods.
Scrum Team: A Scrum Team is a group of people who work together to guarantee that the stakeholders' needs are met.
2. What do you mean by Agile?
Agile is an iterative project management and software development methodology that enables teams to deliver value to clients faster and with fewer difficulties. An agile team provides work in small, consumable pieces rather than putting all on a "big bang" release. Requirements, strategies, and outcomes are all evaluated on a regular basis, giving teams a natural method for adapting to change.
3. What do you mean by Sprint in Scrum?
A Sprint is at the heart of Scrum. It is a two-week or one-month period in which a potentially releasable product increment is generated. Following the conclusion of the preceding Sprint, a new Sprint begins. It breaks down large, difficult undertakings into manageable chunks. It helps teams provide high-quality work faster and more frequently, making projects easier to manage. Sprints provide them with more flexibility in adapting to changes.
Sprint planning, daily scrums, development work, Sprint review, and sprint retrospective are all part of a sprint.
The work to be done in the Sprint is planned collectively by the Scrum Team during Sprint planning.
The Daily Scrum Meeting is a 15-minute timed event in which the Scrum Team synchronizes efforts and creates a strategy for the following day.
At the end of each Sprint, a Sprint Review is held to review the Increment and, if necessary, make modifications to the Product Backlog.
After the Sprint Review and before the following Sprint Planning, there is a Sprint Retrospective. The Scrum Team will inspect itself and prepare a plan for changes to be implemented during the next Sprint during this meeting.


4. What are the five Scrum values?
Following are the five Scrum values:
Commitment: Scrum teams must be able to function as a team to accomplish a common goal. This entails putting faith in one another to complete their jobs and deliver to the best of their abilities. It will only occur if each team member is completely dedicated to the project and the team.
Scrum masters and team leaders can aid commitment by facilitating good sprint preparation and shielding teams from mid-sprint scope changes and undue product owner pressure.
Focus: Each member of the team must remain focused on the work at hand as well as how it affects the sprint goal in order to get the most out of each sprint.
Scrum masters might limit the number of tasks or priorities assigned to each team member throughout sprints to help them stay focused. Individuals can also stay focused on their assigned work by encouraging full team participation in daily Scrum meetings.
Openness: Each member of the team must be absolutely truthful about their personal progress in order for the Scrum team to accomplish the maximum progress in the quickest period possible. The daily Scrum meeting's goal is to identify and solve problems. That won't happen if team members aren't honest about any problems or hurdles they're facing. Team members must also be willing to collaborate with one another and see each other as vital contributors to the project's success.
Being upfront with their teams is one of the finest methods for Scrum masters to foster openness. Giving honest feedback at daily Scrum meetings is not only crucial for making required adjustments, but it will also inspire team members to be honest and open in return.
Respect: Respect in a Scrum team implies understanding that no single individual or their contribution is more valuable than another. Respect also entails putting your faith in your coworkers to complete their jobs, listening to and considering their suggestions, and praising their achievements.
Scrum masters may assist their teams to develop regard for each other by exhibiting respect for the product owner, stakeholders, and team members.
Courage: Scrum teams must have the guts to be genuine, upfront, and honest about the project's progress and any bottlenecks they encounter, both with themselves and with stakeholders. Members of the team must also have the bravery to seek assistance when needed, attempt new techniques or procedures that they are unfamiliar with, and respectfully disagree and engage in open debate.
Scrum masters, like respect, can first and foremost promote courage by displaying it. To avoid mid-sprint adjustments or scope creep, the Scrum Master must have the confidence to stand up to stakeholders and product owners.
5. What are the three pillars of Scrum?
Following are the three pillars of Scrum:
Transparency: Those accountable for the outcome must be able to see important components of the process. Transparency necessitates that those elements be defined by a uniform standard so that viewers may comprehend what they are seeing. For example, all participants must speak the same language when referring to the process, and those performing the job and those inspecting the resulting increment must have the same concept of "done."
Inspection: To spot undesired deviations, Scrum users must examine Scrum artifacts and progress toward a Sprint Goal on a regular basis. Their inspections should not be so frequent that they become a hindrance to their work. Inspections are most effective when performed diligently at the point of work by skilled inspectors.
Adaption: If an inspector concludes that one or more parts of a process deviate beyond acceptable boundaries, the method or the material being processed must be modified. To avoid future deviation, an adjustment must be performed as soon as feasible.
6. What do you mean by user stories in Scrum? What are the advantages of using them?
A user story is a casual, generic explanation of a software feature written from the end user's perspective. Its goal is to communicate how a software feature will benefit the customer. Putting people first is a critical component of agile software development, and a user story does just that by putting end-users at the heart of the discussion. The development team and their efforts are described in these anecdotes using non-technical language. The team knows why they're developing, what they're building, and what value it adds after reading a user story.
Following are the advantages of using User Story:-
The main advantage of User Story is the user-centric definition. This is because, in the end, the user will be the one who uses the product in the relevant user scenarios. It establishes a link between end-users and team members.
The User Story's syntax ensures that the objective, benefit, or value that the user wishes to attain is captured.
The Scrum Team will benefit from the acceptance criteria because they are included in the user story.
It is possible to make changes to a user story throughout the project's execution. If the user story's scope grows too large, it must be divided into smaller user stories. The acceptance criterion's conditions can also be changed.
7. Who is responsible for writing User Story?
User stories can be written by anyone. Although it is the product owner's job to ensure that an agile user story backlog exists, this does not imply that the product owner is the one who produces them.
During the early stages of product development, the team discusses needs and records them as user stories. As long as there is a product backlog, it will never be frozen. As a result, if someone thinks there's a missing requirement or anything that could benefit the client, they can add it to the queue as a user story. There is no rule or guideline indicating that the stories must be written solely by the product owner. Because there is a set format, anyone creating the story should know exactly what it means and how to write it.
8. Explain user story structure with an example.
The User Story is outlined as follows:
As a ,
I want ,
So that .
Example:
User Story in case of a person's online purchase :
As a Customer,
I want to shop online from websites,
So that I do not need to visit the local market.
9. Is Scrum and Agile the same? If not so, differentiate between them.
No, Scrum and Agile are not the same. Following are the differences between them:
| | |
| --- | --- |
| Agile | Scrum |
| Agile is a development methodology that takes an incremental and iterative strategy. | Scrum is one of the agile methodology's implementations. In this scenario, the customer receives incremental builds every two to three weeks. |
| Agile software development has long been seen to be best suited to situations with a small but highly skilled project development team. | Scrum is best suited for projects with quickly changing requirements. |
| It is a more rigid method when compared to Scrum. As a result, there isn't a lot of room for regular modifications. | Scrum's greatest benefit is its adaptability. |
| Agile entails cross-functional collaborations and face-to-face interactions between team members. | Collaboration is achieved in Scrum by holding daily stand-up meetings in which the scrum master, product owner, and team members each have a specific role to play. |
| Agile development can necessitate a significant amount of up-front process and organizational change. | When implementing the scrum process, there aren't many adjustments that need to be made. |
| The design and implementation should be kept as simple as possible. | Innovative and experimental design and execution are possible. |
| The most basic indicator of progress is working software. | Working software is not a basic criterion. |
10. What are the roles of a Scrum Master?
The Scrum Master provides support to the Scrum Team in a variety of ways, including:
Mentoring members of the team in self-management and cross-functionality
Assisting the Scrum Team in focusing on creating elevated Increments that meet the Definition of Done
Removing roadblocks to the Scrum Team's progress
Ensuring that all Scrum events occur and are positive, productive, and kept within the timeframe.
The Product Owner benefits from the Scrum Master in a variety of ways, including:
Assisting in the use of strategies for successful product goal definition and backlog management;
Assisting the Scrum Team in comprehending the need of having clear and precise Product Backlog items;
Assisting in the development of empirical product planning for a complicated environment
The Scrum Master helps the company in a variety of ways, including:
Leading, mentoring, and training the organization's Scrum adoption.
Making plans and recommending Scrum implementations within the organization assisting employees and stakeholders in understanding and putting into practice an empirical approach to complex work.
Removing barriers between stakeholders and Scrum Teams.
Q1. What are the payment options? A1. We have multiple payment options: 1) Book your course on our webiste by clicking on Buy this course button on top right of this course page 2) Pay via Invoice using any credit or debit card 3) Pay to our UK or India bank account 4) If your HR or employer is making the payment, then we can send them an invoice to pay. Q2. Will I get certificate? A2. Yes, you will receive course completion certificate from Uplatz confirming that you have completed this course with Uplatz. Once you complete your learning please submit this for to request for your certificate https://training.uplatz.com/certificate-request.php Q3. How long is the course access? A3. All our video courses comes with lifetime access. Once you purchase a video course with Uplatz you have lifetime access to the course i.e. forever. You can access your course any time via our website and/or mobile app and learn at your own convenience. Q4. Are the videos downloadable? A4. Video courses cannot be downloaded, but you have lifetime access to any video course you purchase on our website. You will be able to play the videos on our our website and mobile app. Q5. Do you take exam? Do I need to pass exam? How to book exam? A5. We do not take exam as part of the our training programs whether it is video course or live online class. These courses are professional courses and are offered to upskill and move on in the career ladder. However if there is an associated exam to the subject you are learning with us then you need to contact the relevant examination authority for booking your exam. Q6. Can I get study material with the course? A6. The study material might or might not be available for this course. Please note that though we strive to provide you the best materials but we cannot guarantee the exact study material that is mentioned anywhere within the lecture videos. Please submit study material request using the form https://training.uplatz.com/study-material-request.php Q7. What is your refund policy? A7. Please refer to our Refund policy mentioned on our website, here is the link to Uplatz refund policy https://training.uplatz.com/refund-and-cancellation-policy.php Q8. Do you provide any discounts? A8. We run promotions and discounts from time to time, we suggest you to register on our website so you can receive our emails related to promotions and offers. Q9. What are overview courses? A9. Overview courses are 1-2 hours short to help you decide if you want to go for the full course on that particular subject. Uplatz overview courses are either free or minimally charged such as GBP 1 / USD 2 / EUR 2 / INR 100 Q10. What are individual courses? A10. Individual courses are simply our video courses available on Uplatz website and app across more than 300 technologies. Each course varies in duration from 5 hours uptop 150 hours. Check all our courses here https://training.uplatz.com/online-it-courses.php?search=individual Q11. What are bundle courses? A11. Bundle courses offered by Uplatz are combo of 2 or more video courses. We have Bundle up the similar technologies together in Bundles so offer you better value in pricing and give you an enhaced learning experience. Check all Bundle courses here https://training.uplatz.com/online-it-courses.php?search=bundle Q12. What are Career Path programs? A12. Career Path programs are our comprehensive learning package of video course. These are combined in a way by keeping in mind the career you would like to aim after doing career path program. Career path programs ranges from 100 hours to 600 hours and covers wide variety of courses for you to become an expert on those technologies. Check all Career Path Programs here https://training.uplatz.com/online-it-courses.php?career_path_courses=done Q13. What are Learning Path programs? A13. Learning Path programs are dedicated courses designed by SAP professionals to start and enhance their career in an SAP domain. It covers from basic to advance level of all courses across each business function. These programs are available across SAP finance, SAP Logistics, SAP HR, SAP succcessfactors, SAP Technical, SAP Sales, SAP S/4HANA and many more Check all Learning path here https://training.uplatz.com/online-it-courses.php?learning_path_courses=done Q14. What are Premium Career tracks? A14. Premium Career tracks are programs consisting of video courses that lead to skills required by C-suite executives such as CEO, CTO, CFO, and so on. These programs will help you gain knowledge and acumen to become a senior management executive. Q15. How unlimited subscription works? A15. Uplatz offers 2 types of unlimited subscription, Monthly and Yearly. Our monthly subscription give you unlimited access to our more than 300 video courses with 6000 hours of learning content. The plan renews each month. Minimum committment is for 1 year, you can cancel anytime after 1 year of enrolment. Our yearly subscription gives you unlimited access to our more than 300 video courses with 6000 hours of learning content. The plan renews every year. Minimum committment is for 1 year, you can cancel the plan anytime after 1 year. Check our monthly and yearly subscription here https://training.uplatz.com/online-it-courses.php?search=subscription Q16. Do you provide software access with video course? A16. Software access can be purchased seperately at an additional cost. The cost varies from course to course but is generally in between GBP 20 to GBP 40 per month. Q17. Does your course guarantee a job? A17. Our course is designed to provide you with a solid foundation in the subject and equip you with valuable skills. While the course is a significant step toward your career goals, its important to note that the job market can vary, and some positions might require additional certifications or experience. Remember that the job landscape is constantly evolving. We encourage you to continue learning and stay updated on industry trends even after completing the course. Many successful professionals combine formal education with ongoing self-improvement to excel in their careers. We are here to support you in your journey! Q18. Do you provide placement services? A18. While our course is designed to provide you with a comprehensive understanding of the subject, we currently do not offer placement services as part of the course package. Our main focus is on delivering high-quality education and equipping you with essential skills in this field. However, we understand that finding job opportunities is a crucial aspect of your career journey. We recommend exploring various avenues to enhance your job search: a) Career Counseling: Seek guidance from career counselors who can provide personalized advice and help you tailor your job search strategy. b) Networking: Attend industry events, workshops, and conferences to build connections with professionals in your field. Networking can often lead to job referrals and valuable insights. c) Online Professional Network: Leverage platforms like LinkedIn, a reputable online professional network, to explore job opportunities that resonate with your skills and interests. d) Online Job Platforms: Investigate prominent online job platforms in your region and submit applications for suitable positions considering both your prior experience and the newly acquired knowledge. e.g in UK the major job platforms are Reed, Indeed, CV library, Total Jobs, Linkedin. While we may not offer placement services, we are here to support you in other ways. If you have any questions about the industry, job search strategies, or interview preparation, please dont hesitate to reach out. Remember that taking an active role in your job search process can lead to valuable experiences and opportunities.