BUY THIS COURSE (GBP 29)
Project Management Fundamentals
Learn about project management & best practices. Prepare to deliver project success in areas such as budgeting & cost management, conflicts, teamwork.
( add to cart )
Preview Project Management Fundamentals course
View Course Curriculum
Price Match Guarantee
Full Lifetime Access
Access on any Device
Technical Support
Secure Checkout
&nbsp Course Completion Certificate
Bestseller
Trending
Job-oriented
Instant access
Students also bought -
10 Hours
USD 41
299 Learners
2 Hours
GBP 29
81 Learners
2 Hours
GBP 29
33 Learners
Completed the course? Request here for Certificate.
ALL COURSES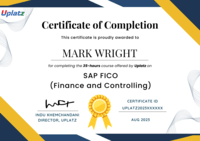 Project Management is basically the application of processes, methods, skills, technologies, knowledge and experience to achieve specific goals & objectives according to the project acceptance criteria within agreed parameters and timelines. Project management is the practice of initiating, planning, executing, controlling, and closing the work of a team to achieve specific goals and meet specific success criteria. It involves coordinating resources, tasks, and stakeholders to bring a project from its initial concept to completion.
The project management process typically involves the following steps:
1) Initiation: Defining the project scope, objectives, and stakeholders, and determining whether the project is feasible.
2) Planning: Developing a detailed project plan that includes a timeline, budget, and resource allocation, as well as identifying potential risks and developing strategies to mitigate them.
3) Execution: Implementing the project plan by coordinating resources, assigning tasks, and monitoring progress.
4) Monitoring and Control: Monitoring the project's progress, identifying and addressing any issues that arise, and adjusting the plan as needed to ensure that the project stays on track.
5) Closure: Completing the project and delivering the final product or service to the stakeholders, while also evaluating the project's success and identifying lessons learned.
Effective project management requires a combination of technical skills, leadership abilities, and communication skills. Project managers must be able to balance competing priorities, manage risks, and communicate effectively with team members and stakeholders at all levels of the organization. Additionally, they must be able to adapt to changing circumstances and adjust their plans as needed to ensure the project's success.
Project management has final deliverables that are constrained to a finite timescale and budget. A project is a unique, transient endeavor, undertaken to achieve planned objectives that can be defined in terms of outputs, outcomes or benefits. An execution of a project forms an integral part of project management.
The core components of project management include: defining the reason why a project is necessary, capturing project requirements, specifying quality of the deliverables, estimating resources and timescales, preparing a business case to justify the investment, securing corporate agreement and funding, developing and implementing a management plan for the project, leading and motivating the project delivery team, managing the risks, issues and changes on the project, monitoring progress against plan, managing the project budget, maintaining communications with stakeholders and the project organisation, provider management, closing the project in a controlled fashion when appropriate.
Project management is aimed at producing an end product that will effect some change for the benefit of the organisation that instigated the project. It is the initiation, planning and control of a range of tasks required to deliver this end product. With the advent of agile and devops methodologies, the project management professionals are in great demand in the industry.
This Project Management training by Uplatz provides comprehensive knowledge of all topics of project management and their execution methodologies. PM fundamentals training equips you with end-to-end aspects of project management and also prepares you for PMP certifications.
Course/Topic - Project Management Fundamentals - all lectures
In this first video tutorial on Project Management, you will learn an Introduction to Project Management, its history, benefits, an illustration to Gantt Chart, a view on some of the International standards of practicing Project Management, an overview of what exactly is a project, its relationship with General Project Management practices, Triple Constraints Theory and the role of a Project Manager and its characteristics in Project Management.

In this second session of Project Management, you will understand what is Process Oriented Project Management, Project Processes and its categories, what is Project Management and Product Oriented processes and an overview of different process groups and its knowledge areas.

In this lecture, you will learn what is a process in Project Management and its different stages in a Project Life cycle, how a process is linked to different process groups. Also, you will learn about the different Knowledge Areas related to a Process in Project Management.

In this video, you will learn about the Project Planning Process and Group Processes and the different processes involved in managing the Scope and Scheduled Constraints.

In this last session on Project Management Fundamentals, you will learn about the different constraints involved like Cost, Quality, Resources, Risks, etc. in a Process Group and how it helps in managing the entire project in Project Management.
• Understand the concept of project management and basic project management terminology.
• Define the project management life cycle and the key project management processes.
• Recognize the characteristics, skills, roles and responsibilities of a project manager.
• Identify the key steps of project initiation and authorization, recognizing the key elements needed for documentation to carry forward to the scope definition process.
• Understand the importance of proper project work scope definition and planning, and its impact on the future of the project, and create a Work Breakdown Structure (WBS).
• Perform detailed planning including defining the elements of a project model, creating a project model, and understanding the Critical Path Method (CPM).
• Understand resource management inputs, results and options for issue resolution.
• Describe the importance of project communication and create a Communication Management Plan.
• Recognize the elements and process of risk management, including basic definitions, the resource management plan, risk identification, risk analysis, risk response planning and monitoring and create a Risk Register.
• Create and manage the project scope, schedule and cost baselines, including understanding the importance of change management.
• Track the status of a project during project execution and measure performance impacts.
• Close out a project by collecting pertinent project data, closing out contracts, and collecting lessons learned.
Project Management Fundamentals - Course Syllabus
1. Introduction
• Introduction
• Changes introduced in 6th Edition
• Maintaining your certification
2. FoundationElements
• FoundationElements
• Projects
• The Importance of Project Management
• Relationship of Project, Program, Portfolio Management
• Components of the PMBOKGuide
• Tailoring
• Project Management Business Documents
3. Environments in which ProjectsOperate
• Environments in which Projects Operate
• Enterprise Environmental Factors
• Organisational ProcessAssets
• OrganizationalSystems
4. The Role of a ProjectManager
• The Role of the Projectmanager
• Project manager competencies
• Leadership vs Management
5. Project Integration Management
• Project Integration Management
• Develop ProjectCharter
• Develop Project Management Plan
• Direct and Manage Project Work
• Manage ProjectKnowledge
• Monitor and Control ProjectWork
• Perform Integrated ChangeControl
• Close Project or Phase
6. Project Scope Management
• Project ScopeManagement
• Plan ScopeManagement
• CollectRequirements
• DefineScope
• CreateWBS
• ValidateScope
• ControlScope
7. Project ScheduleManagement
• Project ScheduleManagement
• Plan ScheduleManagement
• DefineActivities
• SequenceActivities
• Estimate ActivityDuration
• DevelopSchedule
• ControlSchedule
8. Project CostManagement
• Project CostManagement
• Plan CostManagement
• EstimateCosts
• DetermineBudget
• ControlCosts
9. Project QualityManagement
• Project QualityManagement
• Plan QualityManagement
• ManageQuality
• ControlQuality
10. Project ResourceManagement
• Project ResourceManagement
• Plan ResourceManagement
• Estimate ActivityResources
• AcquireResources
• DevelopTeam
• ManageTeam
• ControlResources
11. Project CommunicationManagement
• Project CommunicationManagement
• Plan CommunicationManagement
• ManageCommunication
• MonitorCommunication
12. Project RiskManagement
• Project RiskManagement
• Plan RiskManagement
• IdentifyRisks
• Perform Qualitative Risk Analysis
• Perform Quantitative Risk Analysis
• Plan RiskResponses
• Implement RiskResponses
• MonitorRisks
13. Project ProcurementManagement
• Project ProcurementManagement
• Plan ProcurementManagement
• ConductProcurement
• ControlProcurement
14. Project StakeholderManagement
• Project Stakeholder EngagementManagement
• IdentifyStakeholders
• Plan StakeholderEngagements
• Manage StakeholderEngagement
• Monitor StakeholderEngagement
15. Ethical and Professional Conduct
• Ethics and Professional Conduct
• Responsibility
• Respect
• Fairness
• Honesty
This Project Management Fundamentals training course will help the participant to master the project management application. As a part of this Project Management Fundamentals training, the participants will master the project management application.
In Project Management Fundamentals Course module, the participants understand the project management application modules for project management. In the Project Management Fundamentals course, the participants will learn about the role of processes in project management.
The Project Management Professionals get trained to apply project management applications. The Project Management tutorial helps the participants to fulfil the role of a Project Management Professional. The Project Management Fundamentals training course requires scratch or a basic understanding of project management.
The Project Management Fundamentals training course from Uplatz can help the participants to understand the core components of project management. The Project Management Fundamentals training course validates whether the participants has proven their skills in executing project management methodologies. The Project Management Professional training course helps the participants to maintain the Projectbudget, communicate with stakeholders, managing with issues and changes in a project.
Uplatz online training ensures the participants to successfully go through the Project Management Fundamentals training course. Uplatz provides appropriate teaching and expertise training is provided to equip the participants for implementing the learnt concepts in an enterprise.
Uplatz Course Completion Certificate will be awarded upon the completion of the Project Management fundamentals course training.
Career Path and Job Prospects
The Project Management Professionaldraws an average salary of $110,000 per year depending on the knowledge and hands-on experience. The Project Management Professionaljob roles are in high demand and make a promising career.
The Project Management Professionals have huge demand across various MNC's. The importance of project management concepts in various companies can open up good job opportunities. The leading companies hire Project Management Professionals considering their skill of maintaining a project. The Participants earn Project Management Fundamentals training through our course completion certificate.
The Project Management Fundamentals course is ideally designed for any team member or project co-ordiantors and those who aspire to build their career in project management.
After pursuing Project Management Fundamentals course the participants can pursue a wide range of career paths.
The following are the job titles:
• Project Manager
• Project Management Associate
• Project Management Expert
• Project Associate
Project Management Fundamentals Training course is worth for any individuals to improve their project management skills.
Q1. How do you handle any changes to the project?
Ans. A project manager's strength lies in his/her ability to display a high level of adaptability. Nobody wants changes in a project and are not entirely unavoidable. You must approach this question with great wit and convince the interviewer that you are capable, having handled such situations before.
Q2. Define Planned Value, Actual Cost and Earned Value?
Ans. Planned Value is the value of the project that has been estimated and approved before the project starts. Actual Cost is the total cost or the amount of money spent during the project. Earned Value is the value earned in the completion of the project. These three elements together form Earned Value Management (EVM).
Q3. What is a Fishbone diagram and when to use it?
Ans. Fishbone Diagram or Ishikawa Diagram is a visualisation tool to understand the potential causes of a problem to identify its root causes. It is used usually in brainstorming sessions so that the team's conversation is focussed on the actual problem and not stray away towards only the symptoms.
Q4. What values do you think a project manager should have?
Ans. Everybody has their own idea of values. However, it should focus on the job profile and associated with project management.
Q5. Tell me about your career path and what brought you to project management?
Ans. This question is easy; you just need to provide a brief description of your previous work experiences and tell how you ended up being a project manager. However, you should understand that project management is the main focus here and most of it should converge towards proving that it was through the right skills and experience that you are here now.
Q6. What performance metrics do you use to determine if a project is going as expected?
Ans. The ability to understand if a project is going in the right direction is a core skill of a project manager and performance metrics will help in that matter. Some of the useful performance metrics are Cost Variance, Resource Utilisation, Quality, Customer Satisfaction and Gross Margin.
Q7. What strategy do you follow to mitigate the risks involved in a project?
Ans. There will always be risks involved in a project; sometimes even before you start it. You must be able to give the interviewer enough points on different areas where you can work so that there are effects of risks.
Q8. Did you ever face any challenges while managing projects? How did you handle those challenges?
Ans. With the responsibilities of a project manager, comes a lot of challenges. So pick out one which you have been successful in handling. Give the various ways how you have handled and the strategy you came up with.
Q9. Which of the methodologies have you used in your projects? Why do you prefer it over others?
Ans. There are various methodologies — Agile, Waterfall, etc. — which are used in project management. Be well-prepared about the various pros and cons of each methodology that you have used. Never mention the ones that you haven't used.
Q10. What do you know about the critical path of a project? What steps will you take if you find that one of your tasks is going to take more time than expected?
Ans. To put simply, the critical path of a project is all the key tasks that are required to complete a project. There are ways to shorten task time. E.g. adding an extra person to the project on the contract or from a different team to complete the particular tasks.
Q11. Name the ten key knowledge areas as mentioned in the PMBOK Guide?
Ans. Integration Management, Scope Management, Time Management, Cost Management, Quality Management, Human Resource Management, Communications Management, Risk Management, Procurement Management, and Stakeholder Management.
Q12. What is RAID in project management and why is it necessary to create a RAID log?
Ans. RAID is an acronym for Risk, Assumptions, Issues and Dependencies. A RAID log is important for a project manager to track anything that would impact a project now or in the future.
Q13. What is a Decision Support System (DSS)? How many types of DSS are there?
Ans. DSS is a software system that helps in the decision making process in project management. There are two types of DSS: structured and unstructured.
Q14. What do you understand by the Pareto (also known as 80/20 rule) principle/analysis?
Ans. It is a decision-making technique through which by doing 20% of the work you produce 80% of the desired result.
Q15. How do you estimate using three-point estimating methods?
Ans. It is the best technique to develop estimates for your project. There are three steps:
Identify the positive and negative risks involved in the project

Then make three estimates — Best Guess (BG), Pessimistic (P), and Optimistic (O) estimates

The final step is to calculate the mean and standard deviation using the formulas: (O+4BG+p)/6 and P – O/6 respectively.
Q16. Do you prefer working on a single project or multiple projects at the same time?
Ans. You must always show your enthusiasm to the interviewer, but also be honest. If you feel that you can handle more projects than one, then say that you prefer multiple projects.
Q17. Define the Triple Constraint Triangle in project management?
Ans. Triple constraint triangle or project management triangle is a constraint model where scope, schedule and cost are constraints forming the sides of a triangle, with quality as the central theme.
Q18. What is Work Breakdown Structure (WBD) and how does it affect the work estimates of tasks/activities?
Ans. WBD is the process of decomposition of a project into deliverable-oriented components. This helps the project manager to oversee the project more effectively.
Q19. What are some techniques used for defining scope?
Ans. Product breakdown, requirements analysis, systems engineering, systems analysis, value engineering, value analysis and alternatives analysis.
Q20. What are the techniques for doing "activity time" estimates?
Ans. The techniques are parametric estimates, three-point estimates and analogous estimates.
These are some of the popular questions that are asked in project management interviews. Always be prepared to answer all types of questions — technical skills, interpersonal, leadership or methodology. If you are someone who has recently started your career in project management, you can always get certified to understand the industry-related terminology, skills and methodologies.
Q21. Explain a project's life cycle.
Ans. Every project has to go through a series of phases from initiation to closure and this is what we call as a project life cycle. As per PMBOK, projects need to go through 5 phases –
• Initiation
• Planning
• Execution
• Monitoring & Control
• Closing
Q22. What is a project charter?
Ans. It is mainly a document officially starts a project and includes every detail of the project. From start to end, the document also includes project authorization. This document lists all the top-level requirements as per the stakeholders and the outcomes of the project.
Q23. What is the plan baseline?
Ans. These are the final version of all plans before the initiation of a project. It includes time schedule, quality plan, communication plan, and everything else. This acts as the reference to measure the project performance.
Q24. Which project management tools have you used before?
Ans. Tell them about some important and commonly used tools like –
• Gantt Chart
• Work Breakdown Structure
• Product Breakdown Structure
• PERT Chart
• Logic Network
Q25. What is time & material contract?
Ans. It is a mutually agreed arrangement, where a contractor is paid on the basis of factors like –
• Actual cost of direct labor at hourly rates
• Actual cost of equipment and material usage
• A fixed add-on to include profits and overheads
Q26. What is effort variance?
Ans. Effort Variance = (Actual effort – Estimated Effort) / Estimated Effort.
It is the difference between the estimated effort and the effort required.
Q27. Explain the difference between Risk Impact and Risk Probability.
Ans. As the name implies, Risk Probability is the chance of a risk to happen, while Risk Impact is the cost when the risk occurs.
Q28. What is Project Scope Management?
Ans. It is a set of processes to ensure that a project's scope is accurately defined and mapped. The process involves a number of steps, which include –
• Planning scope management
• Collecting requirements
• Defining scope
• Creating Work Breakdown Structure
• Validating Scope
• Controlling Scope
Q29. What is CMM?
Ans. It stands for Capability Maturity Model and has five levels, including –
Initial – Start point of a new process.
Repeatable– It suggests the repeated use of any process.
Defined – It includes documentation of the standard guidelines and procedures.
Managed – It involves measurement and management of a process.
Optimizing – It is the highest level of process maturity in CMM and includes optimization and improvement of a process.
Q30. How will you handle the failure of a project?
Ans. Being a project manager, one should have the quality to handle both successes and failures. While informing about the failure of a project, one should always ensure that it doesn't impact the morale of the team and work pace
Q1. What are the payment options? A1. We have multiple payment options: 1) Book your course on our webiste by clicking on Buy this course button on top right of this course page 2) Pay via Invoice using any credit or debit card 3) Pay to our UK or India bank account 4) If your HR or employer is making the payment, then we can send them an invoice to pay. Q2. Will I get certificate? A2. Yes, you will receive course completion certificate from Uplatz confirming that you have completed this course with Uplatz. Once you complete your learning please submit this for to request for your certificate https://training.uplatz.com/certificate-request.php Q3. How long is the course access? A3. All our video courses comes with lifetime access. Once you purchase a video course with Uplatz you have lifetime access to the course i.e. forever. You can access your course any time via our website and/or mobile app and learn at your own convenience. Q4. Are the videos downloadable? A4. Video courses cannot be downloaded, but you have lifetime access to any video course you purchase on our website. You will be able to play the videos on our our website and mobile app. Q5. Do you take exam? Do I need to pass exam? How to book exam? A5. We do not take exam as part of the our training programs whether it is video course or live online class. These courses are professional courses and are offered to upskill and move on in the career ladder. However if there is an associated exam to the subject you are learning with us then you need to contact the relevant examination authority for booking your exam. Q6. Can I get study material with the course? A6. The study material might or might not be available for this course. Please note that though we strive to provide you the best materials but we cannot guarantee the exact study material that is mentioned anywhere within the lecture videos. Please submit study material request using the form https://training.uplatz.com/study-material-request.php Q7. What is your refund policy? A7. Please refer to our Refund policy mentioned on our website, here is the link to Uplatz refund policy https://training.uplatz.com/refund-and-cancellation-policy.php Q8. Do you provide any discounts? A8. We run promotions and discounts from time to time, we suggest you to register on our website so you can receive our emails related to promotions and offers. Q9. What are overview courses? A9. Overview courses are 1-2 hours short to help you decide if you want to go for the full course on that particular subject. Uplatz overview courses are either free or minimally charged such as GBP 1 / USD 2 / EUR 2 / INR 100 Q10. What are individual courses? A10. Individual courses are simply our video courses available on Uplatz website and app across more than 300 technologies. Each course varies in duration from 5 hours uptop 150 hours. Check all our courses here https://training.uplatz.com/online-it-courses.php?search=individual Q11. What are bundle courses? A11. Bundle courses offered by Uplatz are combo of 2 or more video courses. We have Bundle up the similar technologies together in Bundles so offer you better value in pricing and give you an enhaced learning experience. Check all Bundle courses here https://training.uplatz.com/online-it-courses.php?search=bundle Q12. What are Career Path programs? A12. Career Path programs are our comprehensive learning package of video course. These are combined in a way by keeping in mind the career you would like to aim after doing career path program. Career path programs ranges from 100 hours to 600 hours and covers wide variety of courses for you to become an expert on those technologies. Check all Career Path Programs here https://training.uplatz.com/online-it-courses.php?career_path_courses=done Q13. What are Learning Path programs? A13. Learning Path programs are dedicated courses designed by SAP professionals to start and enhance their career in an SAP domain. It covers from basic to advance level of all courses across each business function. These programs are available across SAP finance, SAP Logistics, SAP HR, SAP succcessfactors, SAP Technical, SAP Sales, SAP S/4HANA and many more Check all Learning path here https://training.uplatz.com/online-it-courses.php?learning_path_courses=done Q14. What are Premium Career tracks? A14. Premium Career tracks are programs consisting of video courses that lead to skills required by C-suite executives such as CEO, CTO, CFO, and so on. These programs will help you gain knowledge and acumen to become a senior management executive. Q15. How unlimited subscription works? A15. Uplatz offers 2 types of unlimited subscription, Monthly and Yearly. Our monthly subscription give you unlimited access to our more than 300 video courses with 6000 hours of learning content. The plan renews each month. Minimum committment is for 1 year, you can cancel anytime after 1 year of enrolment. Our yearly subscription gives you unlimited access to our more than 300 video courses with 6000 hours of learning content. The plan renews every year. Minimum committment is for 1 year, you can cancel the plan anytime after 1 year. Check our monthly and yearly subscription here https://training.uplatz.com/online-it-courses.php?search=subscription Q16. Do you provide software access with video course? A16. Software access can be purchased seperately at an additional cost. The cost varies from course to course but is generally in between GBP 20 to GBP 40 per month. Q17. Does your course guarantee a job? A17. Our course is designed to provide you with a solid foundation in the subject and equip you with valuable skills. While the course is a significant step toward your career goals, its important to note that the job market can vary, and some positions might require additional certifications or experience. Remember that the job landscape is constantly evolving. We encourage you to continue learning and stay updated on industry trends even after completing the course. Many successful professionals combine formal education with ongoing self-improvement to excel in their careers. We are here to support you in your journey! Q18. Do you provide placement services? A18. While our course is designed to provide you with a comprehensive understanding of the subject, we currently do not offer placement services as part of the course package. Our main focus is on delivering high-quality education and equipping you with essential skills in this field. However, we understand that finding job opportunities is a crucial aspect of your career journey. We recommend exploring various avenues to enhance your job search: a) Career Counseling: Seek guidance from career counselors who can provide personalized advice and help you tailor your job search strategy. b) Networking: Attend industry events, workshops, and conferences to build connections with professionals in your field. Networking can often lead to job referrals and valuable insights. c) Online Professional Network: Leverage platforms like LinkedIn, a reputable online professional network, to explore job opportunities that resonate with your skills and interests. d) Online Job Platforms: Investigate prominent online job platforms in your region and submit applications for suitable positions considering both your prior experience and the newly acquired knowledge. e.g in UK the major job platforms are Reed, Indeed, CV library, Total Jobs, Linkedin. While we may not offer placement services, we are here to support you in other ways. If you have any questions about the industry, job search strategies, or interview preparation, please dont hesitate to reach out. Remember that taking an active role in your job search process can lead to valuable experiences and opportunities.