BUY THIS COURSE (USD 45 USD 139)
Career Path - Solution Architect
Pursue lucrative career as Solution Architect. Design, build, implement, manage solution architecture. Provide technology vision & strategic direction
( add to cart )
Save 68% Offer ends on 31-Dec-2023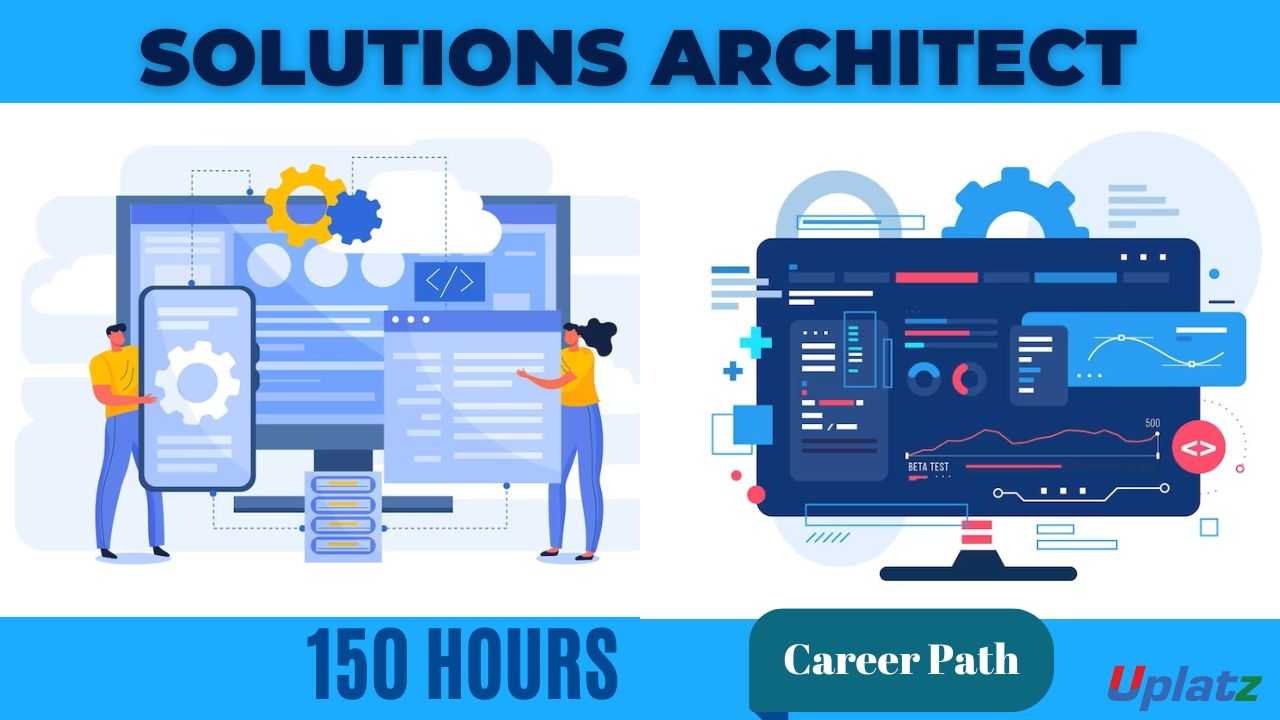 Price Match Guarantee
Full Lifetime Access
Access on any Device
Technical Support
Secure Checkout
&nbsp Course Completion Certificate
New & Hot
Trending
Cutting-edge
Instant access
Students also bought -
300 Hours
USD 45
2310 Learners
40 Hours
USD 17
3673 Learners
200 Hours
USD 45
860 Learners
Completed the course? Request here for Certificate.
ALL COURSES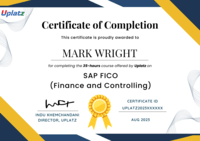 Solution Architect Career Path program by Uplatz is a blend of all courses that can help you on the path to become a successful Solutions Architect.
Solution Architects possess a balanced mix of technical and business skills, and are responsible for the design of one or more applications or services within an organization. This can take the form of products or services, and involves integrating the software and hardware that will best meet requirements. Once solution architects are given a problem, they are not only in charge of finding the answers, but of actively leading the technical vision to success. Most solution architects have spent many years in the software development world and have therefore learned dozens of tools designed to help them be more effective and productive. They are typically part of a solution development team, often working with enterprise architects and computer network architects for strategic planning discussions. Their main focus is on the technical decisions being made regarding the solution and how they impact the business outcomes. The rest of the development team will then use the information to implement the solution.
Solution architects focus on:
1) How technology can be used to solve a given business problem
2) Which framework, platform, or tech-stack can be used to create a solution
3) How the application will look, what the modules will be, and how they interact with each other
4) How things will scale for the future and how they will be maintained
5) Understanding and mitigating the risk in third-party frameworks/platforms
6) Finding a solution to a business problem
Solutions architect role and responsibilities
1) Determine how the existing technology in the company is used and develop ways to improve them.
2) Work with a software development team to ensure what hardware is available for the projects, brainstorm ideas, and develop applications and software.
3) Document and monitor requirements needed to institute proposed updates.
4) Propose and design various frameworks to solve problems from various departments.
5) Work closely with project management teams to successfully monitor the progress of initiatives.
6) Analyze possible project challenges on constraints including, risks, time, resources, and scope.
7) Provide detailed specifications for proposed solutions.
8) Define clear goals for all aspects of a project and manage their proper execution.
9) Give presentations to the board and management teams about the solutions and how to implement and maintain them.
Course/Topic - Introduction to DevOps
In this session of you will get an intro about the DevOps.
Skills needed to become a solutions architect
Some of the key skills that companies look for when hiring a solutions architect.
1) Hard skills
a) Data architecture: This is the ability to structure and maintain data in a way that it becomes valuable to the business. Many companies now accumulate tons of data from their business platforms, and they need solutions that build and manage models to visualize it.
b) Governance framework: It outlines the structure of an organization and highlights the role of each position and the power chain for decision-making. A framework sets standards, rules, and regulations for all the processes in an organization. Solutions architects use data governance frameworks to make decisions when developing a solution.
c) IT strategy: A part of a solutions architect's job is to plan, create, manage, and implement a solution to a specific business problem. Having a good IT strategy means being capable of forming efficient steps to approach tech-related issues.
d) Enterprise architecture: It is a set of structures that determine how an organization can achieve its entrepreneurial goals. As solutions architects act as the main connection between enterprise and technology, they need to understand both sides of things.
e) Object-oriented programming: In solutions architecture, the most used languages are object-oriented programming languages. Therefore, being proficient at any OOP language like Java or Python is a must in this industry.
f) Agile: It is a set of rules and methodologies used to develop a product. It optimizes the whole process to make it faster. This is mostly applied in tech companies, so familiarity with the concept will give you a push in the job market.
g) DevOps: According to Career Karma, DevOps is a combination of two teams—the development team and the operations team. This means having the ability to combine both areas to create products or formulate solutions more efficiently and quicker.
2) Soft skills
a) Leadership: A solutions architect has to lead a development team to follow a specific vision for the software solution. This is why this career path demands individuals with good leadership abilities.
b) Oral and written communication: Solutions architects need to give presentations about the solutions that they have designed. In order to explain well, relay their vision, and summarize the entire aspects of the solution, they need to have great communication skills.
c) Result-oriented: As the name suggests, a solutions architect must be able to deliver results. Their main job is to develop solutions for specific business problems, and failure to do so could result in poor business performance.
d) Adaptability: Solutions architects, as any other profession in the tech industry, must be able to adapt to changes. New technologies are constantly being developed. Therefore the ability to adapt to these changes is a skill that is highly sought after in the industry. Being able to learn fast will also be a plus.
e) Analytical thinking: This skill is necessary for almost all computer science and engineering careers. Analytical thinking allows a person to identify a problem, analyze the information, and work on effective solutions quickly. This is a crucial skill to have, especially for solutions architects.
f) Interpersonal: As mentioned before, solutions architects are the connection between the development team and the enterprise. This means being a good team player and being able to interact effectively across the company. Having good interpersonal skills will allow you to have good work relationships with everyone in the business.
g) Problem-Solving: This skill goes hand-in-hand with analytical thinking. As an employee whose main task is to provide solutions, you need to be good and creative when tackling business issues. Don't be afraid to think out of the box when approaching a problem.
Q1. What are the payment options? A1. We have multiple payment options: 1) Book your course on our webiste by clicking on Buy this course button on top right of this course page 2) Pay via Invoice using any credit or debit card 3) Pay to our UK or India bank account 4) If your HR or employer is making the payment, then we can send them an invoice to pay. Q2. Will I get certificate? A2. Yes, you will receive course completion certificate from Uplatz confirming that you have completed this course with Uplatz. Once you complete your learning please submit this for to request for your certificate https://training.uplatz.com/certificate-request.php Q3. How long is the course access? A3. All our video courses comes with lifetime access. Once you purchase a video course with Uplatz you have lifetime access to the course i.e. forever. You can access your course any time via our website and/or mobile app and learn at your own convenience. Q4. Are the videos downloadable? A4. Video courses cannot be downloaded, but you have lifetime access to any video course you purchase on our website. You will be able to play the videos on our our website and mobile app. Q5. Do you take exam? Do I need to pass exam? How to book exam? A5. We do not take exam as part of the our training programs whether it is video course or live online class. These courses are professional courses and are offered to upskill and move on in the career ladder. However if there is an associated exam to the subject you are learning with us then you need to contact the relevant examination authority for booking your exam. Q6. Can I get study material with the course? A6. The study material might or might not be available for this course. Please note that though we strive to provide you the best materials but we cannot guarantee the exact study material that is mentioned anywhere within the lecture videos. Please submit study material request using the form https://training.uplatz.com/study-material-request.php Q7. What is your refund policy? A7. Please refer to our Refund policy mentioned on our website, here is the link to Uplatz refund policy https://training.uplatz.com/refund-and-cancellation-policy.php Q8. Do you provide any discounts? A8. We run promotions and discounts from time to time, we suggest you to register on our website so you can receive our emails related to promotions and offers. Q9. What are overview courses? A9. Overview courses are 1-2 hours short to help you decide if you want to go for the full course on that particular subject. Uplatz overview courses are either free or minimally charged such as GBP 1 / USD 2 / EUR 2 / INR 100 Q10. What are individual courses? A10. Individual courses are simply our video courses available on Uplatz website and app across more than 300 technologies. Each course varies in duration from 5 hours uptop 150 hours. Check all our courses here https://training.uplatz.com/online-it-courses.php?search=individual Q11. What are bundle courses? A11. Bundle courses offered by Uplatz are combo of 2 or more video courses. We have Bundle up the similar technologies together in Bundles so offer you better value in pricing and give you an enhaced learning experience. Check all Bundle courses here https://training.uplatz.com/online-it-courses.php?search=bundle Q12. What are Career Path programs? A12. Career Path programs are our comprehensive learning package of video course. These are combined in a way by keeping in mind the career you would like to aim after doing career path program. Career path programs ranges from 100 hours to 600 hours and covers wide variety of courses for you to become an expert on those technologies. Check all Career Path Programs here https://training.uplatz.com/online-it-courses.php?career_path_courses=done Q13. What are Learning Path programs? A13. Learning Path programs are dedicated courses designed by SAP professionals to start and enhance their career in an SAP domain. It covers from basic to advance level of all courses across each business function. These programs are available across SAP finance, SAP Logistics, SAP HR, SAP succcessfactors, SAP Technical, SAP Sales, SAP S/4HANA and many more Check all Learning path here https://training.uplatz.com/online-it-courses.php?learning_path_courses=done Q14. What are Premium Career tracks? A14. Premium Career tracks are programs consisting of video courses that lead to skills required by C-suite executives such as CEO, CTO, CFO, and so on. These programs will help you gain knowledge and acumen to become a senior management executive. Q15. How unlimited subscription works? A15. Uplatz offers 2 types of unlimited subscription, Monthly and Yearly. Our monthly subscription give you unlimited access to our more than 300 video courses with 6000 hours of learning content. The plan renews each month. Minimum committment is for 1 year, you can cancel anytime after 1 year of enrolment. Our yearly subscription gives you unlimited access to our more than 300 video courses with 6000 hours of learning content. The plan renews every year. Minimum committment is for 1 year, you can cancel the plan anytime after 1 year. Check our monthly and yearly subscription here https://training.uplatz.com/online-it-courses.php?search=subscription Q16. Do you provide software access with video course? A16. Software access can be purchased seperately at an additional cost. The cost varies from course to course but is generally in between GBP 20 to GBP 40 per month. Q17. Does your course guarantee a job? A17. Our course is designed to provide you with a solid foundation in the subject and equip you with valuable skills. While the course is a significant step toward your career goals, its important to note that the job market can vary, and some positions might require additional certifications or experience. Remember that the job landscape is constantly evolving. We encourage you to continue learning and stay updated on industry trends even after completing the course. Many successful professionals combine formal education with ongoing self-improvement to excel in their careers. We are here to support you in your journey! Q18. Do you provide placement services? A18. While our course is designed to provide you with a comprehensive understanding of the subject, we currently do not offer placement services as part of the course package. Our main focus is on delivering high-quality education and equipping you with essential skills in this field. However, we understand that finding job opportunities is a crucial aspect of your career journey. We recommend exploring various avenues to enhance your job search: a) Career Counseling: Seek guidance from career counselors who can provide personalized advice and help you tailor your job search strategy. b) Networking: Attend industry events, workshops, and conferences to build connections with professionals in your field. Networking can often lead to job referrals and valuable insights. c) Online Professional Network: Leverage platforms like LinkedIn, a reputable online professional network, to explore job opportunities that resonate with your skills and interests. d) Online Job Platforms: Investigate prominent online job platforms in your region and submit applications for suitable positions considering both your prior experience and the newly acquired knowledge. e.g in UK the major job platforms are Reed, Indeed, CV library, Total Jobs, Linkedin. While we may not offer placement services, we are here to support you in other ways. If you have any questions about the industry, job search strategies, or interview preparation, please dont hesitate to reach out. Remember that taking an active role in your job search process can lead to valuable experiences and opportunities.