BUY THIS COURSE (USD 17 USD 41)
Cloud Computing Basics
Learn about computer services like servers, data storage, networking, databases, etc.
( add to cart )
Save 59% Offer ends on 31-Dec-2023
Preview Cloud Computing Basics course
View Course Curriculum
Price Match Guarantee
Full Lifetime Access
Access on any Device
Technical Support
Secure Checkout
&nbsp Course Completion Certificate
New & Hot
Trending
Job-oriented
Instant access
Students also bought -
20 Hours
USD 17
1482 Learners
40 Hours
USD 17
589 Learners
200 Hours
USD 23
3788 Learners
Completed the course? Request here for Certificate.
ALL COURSES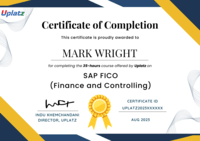 Cloud Computing is defined as storing and accessing of data and computing services over the internet. It doesn't store any data on your personal computer. It is the on-demand availability of computer services like servers, data storage, networking, databases, etc. The main purpose of cloud computing is to give access to data centers to many users. Users can also access data from a remote server.
The term "Cloud" came from a network design that was used by network engineers to represent the location of various network devices and there inter-connection. The shape of this network design was like a cloud.
Cloud computing decreases the hardware and software demand from the user's side. The only thing that user must be able to run is the cloud computing systems interface software, which can be as simple as Web browser, and the Cloud network takes care of the rest. We all have experienced cloud computing at some instant of time, some of the popular cloud services we have used or we are still using are mail services like gmail, hotmail or yahoo etc.
In this Cloud Computing video course, you will learn:
• Types of Clouds
• Cloud Computing Services
• Cloud Computing Architecture
• Virtualization and Cloud Computing:
• Grid Computing Vs Cloud Computing
• Grid Computing and Utility Computing
• Security concerns and proposed security model for future cloud computing
• Privacy Concern
Course/Topic - Cloud Computing Basics - all lectures
In this lecture session we learn about cloud computing, which means storing and accessing data over the internet instead of a hard disk. It is defined as a service that provides users to work over the internet.

In this lecture session we learn about cloud computing is the delivery of computing services—including servers, storage, databases, networking, software, analytics, and intelligence—over the Internet ("the cloud") to offer faster innovation, flexible resources, and economies of scale.

In this lecture session we learn about Cloud computing is a general term for anything that involves delivering hosted services over the internet. These services are divided into three main categories or types of cloud computing.

In this tutorial we learn about the importance of cloud computing can be found in using services like Google Drive and Apple iCloud. The use of these services allows documents, contacts, pictures, and a whole lot more online.
In Uplatz's Cloud Computing Course you will learn the following:
• - Explain Azure Services and APIs and how they relate to Cloud computing
• - Identify each of the managed services and explain the differences between them
• - Understand the differences between Cloud deployment models
• - Identify available Cloud Service Platforms and determine which works best for your needs
Overview of Cloud Computing
· What is cloud or cloud computing?
· Why to learn cloud computing?
· Growth of cloud computing
· Characteristics of cloud computing
· A brief history and evolution of cloud
· Key considerations for cloud computing
· Key cloud service providers and their services
Cloud Computing Service Models
· Overview of Cloud Service Models
· Infrastructure-as-a-Service
· Platform-as-a-Service
· Software-as-a-Service
Cloud Computing Deployment Models
· Public Cloud
· Private Cloud
· Hybrid Cloud
Components of Cloud Computing
· Overview of Cloud Infrastructure
· Virtualization virtual machines
· Bare Metal Servers
· Difference between virtual machines and bare metal servers
· Secure Cloud Networking
· Containers
Cloud Computing Storage and Content Delivery Networks
· Basics of Cloud Storage
· File Storage
· Block Storage
· Object Storage Overview
· Object Storage - Tiers and APIs
· Content Delivery Networks
Emergent Trends
· Hybrid Multicloud
· Serverless Computing
· Microservices
· Cloud Native
· Block Storage
· Application Modernization
Cloud computing is one of the most important investments in modern IT and it's grown to become a top priority for all organizations. That means IT professionals with cloud skills are in high demand and certifications can help make you even more hirable by validating your cloud skills and expertise. And cloud certifications can go a long way in boosting your IT salary.
Amazon Web Services launched its certification in 2013. There are many job rules based credentials at the foundation associate and professional levels along with certifications. There are several roles for the candidates such as developer, operation, and architect. The professional news certification targets networking professional with two or more years of experience designing and deploying cloud environments on was.
1. Number of Exams- There is only a single exam of AWS Certified Solutions
2. Architect- Professional Level. It consists of mcqs which one has to do in 170 minutes.
3. Cost of the exam- The cost of the exam is $300 which is further administered by Webassessor.
4. Materials provided- AWS provides links and blueprints, practice exams, resource guides etc.
As many companies are undergoing major transformation, there is a need for IT staffers and cloud experts to extract the best outcome from the investment done by a company by leveraging the cloud-based architecture.
The most popular cloud job roles are cloud architect and cloud engineer and the average salary for a cloud professional in North America is $138,320 per year
The average salary of cloud architecture is $124, 406. Research by Forbes shows that professionals within AWS certification have a potential annual salary of $125,971. This clearly leads to the fact that cloud computing has a very fast growth.
Cloud Computing Job Titles:
• Cloud architect
• Cloud Engineer
• Full-stack cloud Developer
• Cloud Service Developer
• Development Operations Engineer
• Cloud System Administrator
• Cloud Data Engineers
• Information Technology Architect
• Cloud Network Engineer
1) What is cloud computing?
Cloud computing is an internet based new age computer technology. It is the next stage technology that uses the clouds to provide the services whenever and wherever the user need it.It provides a method to access several servers world wide.
2) What are the benefits of cloud computing?
The main benefits of cloud computing are:
· Data backup and storage of data.
· Powerful server capabilities.
· Incremented productivity.
· Very cost effective and time saving.
· Software as Service known as SaaS.
3) What is a cloud?
A cloud is a combination of networks ,hardware, services, storage, and interfaces that helps in delivering computing as a service. It has three users :
· End users
· Business management users
· cloud service provider
4) What are the different data types used in cloud computing?
There are different data types in cloud computing like emails, contracts, images , blogs etc. As we know that data is increasing day by day so it is needed to new data types to store these new data. For an example, if you want to store video then you need a new data type.
5) Which are the different layers that define cloud architecture?
Following are the different layers that are used by cloud architecture:
· CLC or Cloud Controller
· Walrus
· Cluster Controller
· SC or Storage Controller
· NC or Node Controller
6) Which platforms are used for large scale cloud computing?
The following platforms are used for large scale cloud computing:
· Apache Hadoop
· MapReduce
7) What are the different layers in cloud computing? Explain working of them.
There are 3 layers in the hierarchy of cloud computing.
· Infrastructure as a service (IaaS):It provides cloud infrastructure in terms of hardware as like memory, processor, speed etc.
· Platform as a service (PaaS):It provides cloud application platform for the developer.
· Software as a service (SaaS)::It provides the cloud applications to users directly without installing anything on the system. These applications remains on cloud.
8) What do you mean by software as a service?
Software As a Service (SaaS) is an important layer of cloud computing. It provides cloud applications like Google is doing. It facilitate users to save their document on the cloud and create as well.
9) What is the platform as a service?
It is also a layer in cloud architecture. This model is built on the infrastructure model and provide resources like computers, storage and network. It is responsible to provide complete virtualization of the infrastructure layer, make it look like a single server and invisible for outside world.
10) What is on-demand functionality? How is it provided in cloud computing?
Cloud computing provides a on-demand access to the virtualized IT resources. It can be used by the subscriber. It uses shared pool to provide configurable resources. Shared pool contains networks, servers, storage, applications and services.
11) What are the platforms used for large scale cloud computing?
Apache Hadoop and MapReduce are the platforms use for large scale cloud computing.
12) What are the different models for deployment in cloud computing?
These are the different deployment model in cloud computing:
· Private cloud
· Public cloud
· Hybrid cloud
· Community cloud
13) What is private cloud?
Private clouds are used to keep the strategic operations and other reasons secure. It is a complete platform which is fully functional and can be owned, operated and restricted to only an organization or an industry. Now a day, most of the organizations have moved to private clouds due to security concerns. Virtual private cloud is being used that operate by a hosting company.
14) What is public cloud?
The public clouds are open to the people for use and deployment. For example: Google and Amazon etc. The public clouds focus on a few layers like cloud application, infrastructure providing and providing platform markets.
15) What are Hybrid clouds?
Hybrid clouds are the combination of public clouds and private clouds. It is preferred over both the clouds because it applies most robust approach to implement cloud architecture. It includes the functionalities and features of both the worlds. It allows organizations to create their own cloud and allow them to give the control over to someone else as well.
16) What is the difference between cloud computing and mobile computing?
Mobile computing and cloud computing are slightly same in concept. Mobile computing uses the concept of cloud computing . Cloud computing provides users the data which they required while in mobile computing, applications run on the remote server and gives user the access for storage and manage.
17) What is the difference between scalability and elasticity?
Scalability is a characteristic of cloud computing which is used to handle the increasing workload by increasing in proportion amount of resource capacity. By the use of scalability, the architecture provides on demand resources if the requirement is being raised by the traffic. Whereas, Elasticity is a characteristic which provides the concept of commissioning and decommissioning of large amount of resource capacity dynamically. It is measured by the speed by which the resources are coming on demand and the usage of the resources.
18) What are the security benefits of cloud computing?
Cloud computing authorizes the application service, so it is used in identity management.
It provides permissions to the users so that they can control the access of another user who is entering into the cloud environment.
19) What is the usage of utility computing?
Utility computing is a plug-in managed by an organization which decides what type of services has to be deployed from the cloud. It facilitates users to pay only for what they use.
20) What is "EUCALYPTUS" in cloud computing? Why is it used?
It is an acronym stands for Elastic Utility Computing Architecture For Linking Your Program To Useful Systems. It is an open source software infrastructure in cloud computing and used to implement clusters in cloud computing platform. It creates public, private and hybrid cloud. It facilitate a user to create his own data center into a private cloud and use its functionalities to many other organizations.
Q1. What are the payment options? A1. We have multiple payment options: 1) Book your course on our webiste by clicking on Buy this course button on top right of this course page 2) Pay via Invoice using any credit or debit card 3) Pay to our UK or India bank account 4) If your HR or employer is making the payment, then we can send them an invoice to pay. Q2. Will I get certificate? A2. Yes, you will receive course completion certificate from Uplatz confirming that you have completed this course with Uplatz. Once you complete your learning please submit this for to request for your certificate https://training.uplatz.com/certificate-request.php Q3. How long is the course access? A3. All our video courses comes with lifetime access. Once you purchase a video course with Uplatz you have lifetime access to the course i.e. forever. You can access your course any time via our website and/or mobile app and learn at your own convenience. Q4. Are the videos downloadable? A4. Video courses cannot be downloaded, but you have lifetime access to any video course you purchase on our website. You will be able to play the videos on our our website and mobile app. Q5. Do you take exam? Do I need to pass exam? How to book exam? A5. We do not take exam as part of the our training programs whether it is video course or live online class. These courses are professional courses and are offered to upskill and move on in the career ladder. However if there is an associated exam to the subject you are learning with us then you need to contact the relevant examination authority for booking your exam. Q6. Can I get study material with the course? A6. The study material might or might not be available for this course. Please note that though we strive to provide you the best materials but we cannot guarantee the exact study material that is mentioned anywhere within the lecture videos. Please submit study material request using the form https://training.uplatz.com/study-material-request.php Q7. What is your refund policy? A7. Please refer to our Refund policy mentioned on our website, here is the link to Uplatz refund policy https://training.uplatz.com/refund-and-cancellation-policy.php Q8. Do you provide any discounts? A8. We run promotions and discounts from time to time, we suggest you to register on our website so you can receive our emails related to promotions and offers. Q9. What are overview courses? A9. Overview courses are 1-2 hours short to help you decide if you want to go for the full course on that particular subject. Uplatz overview courses are either free or minimally charged such as GBP 1 / USD 2 / EUR 2 / INR 100 Q10. What are individual courses? A10. Individual courses are simply our video courses available on Uplatz website and app across more than 300 technologies. Each course varies in duration from 5 hours uptop 150 hours. Check all our courses here https://training.uplatz.com/online-it-courses.php?search=individual Q11. What are bundle courses? A11. Bundle courses offered by Uplatz are combo of 2 or more video courses. We have Bundle up the similar technologies together in Bundles so offer you better value in pricing and give you an enhaced learning experience. Check all Bundle courses here https://training.uplatz.com/online-it-courses.php?search=bundle Q12. What are Career Path programs? A12. Career Path programs are our comprehensive learning package of video course. These are combined in a way by keeping in mind the career you would like to aim after doing career path program. Career path programs ranges from 100 hours to 600 hours and covers wide variety of courses for you to become an expert on those technologies. Check all Career Path Programs here https://training.uplatz.com/online-it-courses.php?career_path_courses=done Q13. What are Learning Path programs? A13. Learning Path programs are dedicated courses designed by SAP professionals to start and enhance their career in an SAP domain. It covers from basic to advance level of all courses across each business function. These programs are available across SAP finance, SAP Logistics, SAP HR, SAP succcessfactors, SAP Technical, SAP Sales, SAP S/4HANA and many more Check all Learning path here https://training.uplatz.com/online-it-courses.php?learning_path_courses=done Q14. What are Premium Career tracks? A14. Premium Career tracks are programs consisting of video courses that lead to skills required by C-suite executives such as CEO, CTO, CFO, and so on. These programs will help you gain knowledge and acumen to become a senior management executive. Q15. How unlimited subscription works? A15. Uplatz offers 2 types of unlimited subscription, Monthly and Yearly. Our monthly subscription give you unlimited access to our more than 300 video courses with 6000 hours of learning content. The plan renews each month. Minimum committment is for 1 year, you can cancel anytime after 1 year of enrolment. Our yearly subscription gives you unlimited access to our more than 300 video courses with 6000 hours of learning content. The plan renews every year. Minimum committment is for 1 year, you can cancel the plan anytime after 1 year. Check our monthly and yearly subscription here https://training.uplatz.com/online-it-courses.php?search=subscription Q16. Do you provide software access with video course? A16. Software access can be purchased seperately at an additional cost. The cost varies from course to course but is generally in between GBP 20 to GBP 40 per month. Q17. Does your course guarantee a job? A17. Our course is designed to provide you with a solid foundation in the subject and equip you with valuable skills. While the course is a significant step toward your career goals, its important to note that the job market can vary, and some positions might require additional certifications or experience. Remember that the job landscape is constantly evolving. We encourage you to continue learning and stay updated on industry trends even after completing the course. Many successful professionals combine formal education with ongoing self-improvement to excel in their careers. We are here to support you in your journey! Q18. Do you provide placement services? A18. While our course is designed to provide you with a comprehensive understanding of the subject, we currently do not offer placement services as part of the course package. Our main focus is on delivering high-quality education and equipping you with essential skills in this field. However, we understand that finding job opportunities is a crucial aspect of your career journey. We recommend exploring various avenues to enhance your job search: a) Career Counseling: Seek guidance from career counselors who can provide personalized advice and help you tailor your job search strategy. b) Networking: Attend industry events, workshops, and conferences to build connections with professionals in your field. Networking can often lead to job referrals and valuable insights. c) Online Professional Network: Leverage platforms like LinkedIn, a reputable online professional network, to explore job opportunities that resonate with your skills and interests. d) Online Job Platforms: Investigate prominent online job platforms in your region and submit applications for suitable positions considering both your prior experience and the newly acquired knowledge. e.g in UK the major job platforms are Reed, Indeed, CV library, Total Jobs, Linkedin. While we may not offer placement services, we are here to support you in other ways. If you have any questions about the industry, job search strategies, or interview preparation, please dont hesitate to reach out. Remember that taking an active role in your job search process can lead to valuable experiences and opportunities.