BUY THIS COURSE (GBP 12 USD 41)
Interview Questions - HTML5 and CSS3
Learn about HTML5 with new elements, attributes, and behaviours, with a larger set of technologies.
( add to cart )
Save 59% Offer ends on 30-Nov-2023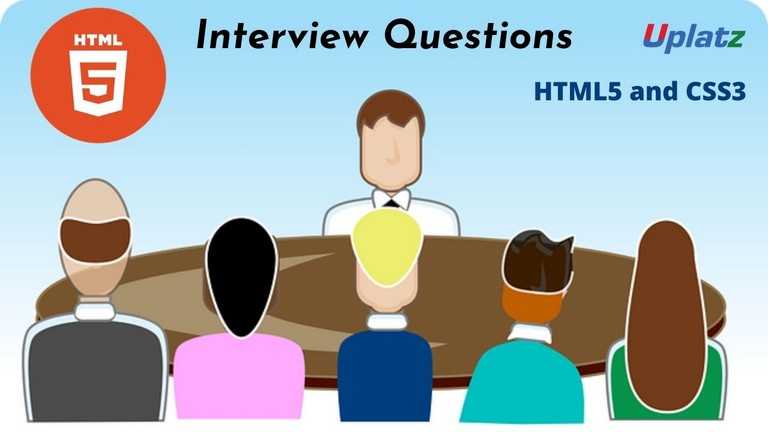 Price Match Guarantee
Full Lifetime Access
Access on any Device
Technical Support
Secure Checkout
&nbsp Course Completion Certificate
Job-oriented
Trending
Job-oriented
Instant access
Students also bought -
20 Hours
USD 17
2872 Learners
200 Hours
USD 45
860 Learners
50 Hours
USD 23
4202 Learners
Completed the course? Request here for Certificate.
ALL COURSES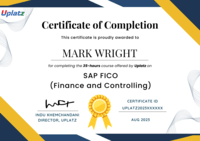 This course by Uplatz focuses on commonly asked interview questions on HTML5 and CSS3.
Dear readers, these HTML5 and CSS3 Interview Questions have been designed specially to get you acquainted with the nature of questions you may encounter during your interview for the subject of HTML5 and CSS3. Normally questions start with some basic concept of the subject and later they continue based on further discussion and what you answer.
When it comes to interviews for web developers, HTML plays a significant role and it is very easy to learn and use. The interview can also last for only one round asking questions about some of the regularly used tags or listing out the differences between HTML versions (4 & 5). In this course by Uplatz you will learn how to face job interviews for web designers, front-end designer/developer etc. roles that involve knowledge of HTML5 and CSS3 technologies.
HTML5
HTML or Hyper Text Mark-up Language is the language used for presenting websites and web content. HTML5 is the latest version, made official by the World Wide Web Consortium in 2014. Having a good grasp of HTML means you'll be able to create, present and edit a whole variety of content on the web.
CSS3
CSS (Cascading Style Sheets) essentially 'enhances' HTML, giving developers and users more control over how pages and content is displayed. It is responsible for creating more visually engaging web pages, applications and interfaces. CSS3 is the latest version, and has many more extended features than previous versions – although it is backwards compatible.
Course/Topic - Interview Questions - HTML5 and CSS3 - all lectures
Video Objectives: Prepare for Web Developer Interviews .......... Video Topics: HTML5 and CSS3 Interview Questions and Answers
• CSS Interview Questions and Answers for freshers and Experienced .
• To build a career, candidates need to crack the interview in which they are asked for various CSS interview questions.
• Learn how to answer CSS3 interview questions which are frequently asked during the interview or viva exam.
• Learn all the CSS interview questions and answers depending on various factors.
The HTML5 and CSS3 Certification ensures you know planning, production and measurement techniques needed to stand out from the competition.
There is no difference. Just like HTML and HTML5. CSS3 is simply the newer "version" of CSS which has more advanced features than earlier "releases." Likewise, HTML5 simply is HTML and CSS3 is simply CSS. Both HTML5 and CSS3 became marketing buzzwords way above and beyond the technologies that they are referring to.
By using HTML5 and CSS3, many businesses are developing and expanding web content and web apps with an aim to create well-defined and accurate web pages and web systems that can be accessed on different devices, web browsers, and operating systems.
The main difference between CSS and CSS3 is that CSS3 has modules. CSS is the basic version, and it does not support responsive design. CSS3, on the other hand, is the latest version and supports responsive design.
You can learn HTML without having to go to a college or a boot camp. In fact, you can learn HTML at the comfort of your own home. However, you will need learning materials to enable you to learn effectively. Fortunately, there are a lot of websites and online courses that can help you learn.
Uplatz online training guarantees the participants to successfully go through the HTML5 and CSS3 Certification provided by Uplatz. Uplatz provides appropriate teaching and expertise training to equip the participants for implementing the learnt concepts in an organization.
Course Completion Certificate will be awarded by Uplatz upon successful completion of the HTML5 and CSS3 online course.
The HTML5 and CSS3 draws an average salary of $121,000 per year depending on their knowledge and hands-on experience.
You can definitely find work using just HTML and CSS. And if those foundational skills aren't enough to get you your dream job, you can still use them to start making money while you're building other skills.
HTML can be used with multiple languages, and employers offer a good salary to a web developer or HTML developers. HTML gives you freedom in customizing the features with less effort. In the end, the career in HTML is fast-growing and learn it for creating your own websites as well.
Note that salaries are generally higher at large companies rather than small ones. Your salary will also differ based on the market you work in.
HTML Developer.
HTML / CSS Developers.
HTML 5, CSS3 & bootstrap.
1. Are the HTML tags and elements the same thing?
No. HTML elements are defined by a starting tag, may contain some content and a closing tag.For example,
Heading 1
is a HTML element but just
is a starting tag and
is a closing tag.
2. What are tags and attributes in HTML?
Tags are the primary component of the HTML that defines how the content will be structured/ formatted, whereas Attributes are used along with the HTML tags to define the characteristics of the element. For example,
Interview questions
, in this the 'align' is the attribute using which we will align the paragraph to show in the center of the view.
3. What are void elements in HTML?
HTML elements which do not have closing tags or do not need to be closed are Void elements. For Example
,
,
---
, etc.
4. What is the advantage of collapsing white space?
In HTML, a blank sequence of whitespace characters is treated as a single space character, Because the browser collapses multiple spaces into a single space character and this helps a developer to indent lines of text without worrying about multiple spaces and maintain readability and understandability of HTML codes.
5. What are HTML Entities?
In HTML some characters are reserved like '<', '>', '/', etc. To use these characters in our webpage we need to use the character entities called HTML Entities. Below are a few mapping between the reserved character and its respective entity character to be used.
Character

Entity Name

Entity Number

<

<

<

>

>

>

&

&

&

(non-breaking space) Eg. 10 PM

Eg.

10&nbsp&nbspPM
6. What is the 'class' attribute in HTML?
The class attribute is used to specify the class name for an HTML element. Multiple elements in HTML can have the same class value. Also, it is mainly used to associate the styles written in the stylesheet with the HTML elements.
7. What is the difference between the 'id' attribute and the 'class' attribute of HTML elements?
Multiple elements in HTML can have the same class value, whereas a value of id attribute of one element cannot be associated with another HTML element.
8. Define multipart form data?
Multipart form data is one of the values of the enctype attribute. It is used to send the file data to the server-side for processing. The other valid values of the enctype attribute are text/plain and application/x-www-form-urlencoded.
9. Describe HTML layout structure.
Every web page has different components to display the intended content and a specific UI. But still, there are few things which are templated and are globally accepted way to structure the web page, such as:
·
: Stores the starting information about the web page.
·
: Represents the last section of the page.
·
: The navigation menu of the HTML page.
·
: It is a set of information.
·
: It is used inside the article block to define the basic structure of a page.
·
: Sidebar content of the page.
10. How to optimize website assets loading?
To optimize website load time we need to optimize its asset loading and for that:
· CDN hosting - A CDN or content delivery network is geographically distributed servers to help reduce latency.
· File compression - This is a method that helps to reduce the size of an asset to reduce the data transfer
· File concatenation - This reduces the number of HTTP calls
· Minify scripts - This reduces the overall file size of js and CSS files
· Parallel downloads - Hosting assets in multiple subdomains can help to bypass the download limit of 6 assets per domain of all modern browsers. This can be configured but most general users never modify these settings.
· Lazy Loading - Instead of loading all the assets at once, the non-critical assets can be loaded on a need basis.
11. What are the various formatting tags in HTML?
HTML has various formatting tags:
· - makes text bold
· - makes text italic
· - makes text italic but with added semantics importance
· - increases the font size of the text by one unit
· - decreases the font size of the text by one unit
· - makes the text a subscript
· - makes the text a superscript
· - displays as strike out text
· - marks the text as important
· - highlights the text
· - displays as added text
12. What are the different kinds of Doctypes available?
The three kinds of Doctypes which are available:
· Strict Doctype
· Transitional Doctype
· Frameset Doctype
13. Please explain how to indicate the character set being used by a document in HTML?
The character set is defined intag insideelement.
html>
<html>
<head>
<meta charset="UTF-8">
...
...
</head>
...
</html>
14. What is the difference between , tags and , tags?
The effect on a normal webpage of the tags , and , is the same. and tags stands for bold and italic. These two tags only apply font styling and bold tag , just adds more ink to the text, these tags don't say anything about the text.
Whereas, and tags represent that the span of text is of strong importance or more importance and emphatic stress respectively than the rest of the text. These tags have semantic meaning.
15. What is the significance ofandtag in HTML?
tag provides the information about the document. It should always be enclosed in thetag. This tag contains the metadata about the webpage and the tags which are enclosed by head tag like ,,
Q1. What are the payment options? A1. We have multiple payment options: 1) Book your course on our webiste by clicking on Buy this course button on top right of this course page 2) Pay via Invoice using any credit or debit card 3) Pay to our UK or India bank account 4) If your HR or employer is making the payment, then we can send them an invoice to pay. Q2. Will I get certificate? A2. Yes, you will receive course completion certificate from Uplatz confirming that you have completed this course with Uplatz. Once you complete your learning please submit this for to request for your certificate https://training.uplatz.com/certificate-request.php Q3. How long is the course access? A3. All our video courses comes with lifetime access. Once you purchase a video course with Uplatz you have lifetime access to the course i.e. forever. You can access your course any time via our website and/or mobile app and learn at your own convenience. Q4. Are the videos downloadable? A4. Video courses cannot be downloaded, but you have lifetime access to any video course you purchase on our website. You will be able to play the videos on our our website and mobile app. Q5. Do you take exam? Do I need to pass exam? How to book exam? A5. We do not take exam as part of the our training programs whether it is video course or live online class. These courses are professional courses and are offered to upskill and move on in the career ladder. However if there is an associated exam to the subject you are learning with us then you need to contact the relevant examination authority for booking your exam. Q6. Can I get study material with the course? A6. The study material might or might not be available for this course. Please note that though we strive to provide you the best materials but we cannot guarantee the exact study material that is mentioned anywhere within the lecture videos. Please submit study material request using the form https://training.uplatz.com/study-material-request.php Q7. What is your refund policy? A7. Please refer to our Refund policy mentioned on our website, here is the link to Uplatz refund policy https://training.uplatz.com/refund-and-cancellation-policy.php Q8. Do you provide any discounts? A8. We run promotions and discounts from time to time, we suggest you to register on our website so you can receive our emails related to promotions and offers. Q9. What are overview courses? A9. Overview courses are 1-2 hours short to help you decide if you want to go for the full course on that particular subject. Uplatz overview courses are either free or minimally charged such as GBP 1 / USD 2 / EUR 2 / INR 100 Q10. What are individual courses? A10. Individual courses are simply our video courses available on Uplatz website and app across more than 300 technologies. Each course varies in duration from 5 hours uptop 150 hours. Check all our courses here https://training.uplatz.com/online-it-courses.php?search=individual Q11. What are bundle courses? A11. Bundle courses offered by Uplatz are combo of 2 or more video courses. We have Bundle up the similar technologies together in Bundles so offer you better value in pricing and give you an enhaced learning experience. Check all Bundle courses here https://training.uplatz.com/online-it-courses.php?search=bundle Q12. What are Career Path programs? A12. Career Path programs are our comprehensive learning package of video course. These are combined in a way by keeping in mind the career you would like to aim after doing career path program. Career path programs ranges from 100 hours to 600 hours and covers wide variety of courses for you to become an expert on those technologies. Check all Career Path Programs here https://training.uplatz.com/online-it-courses.php?career_path_courses=done Q13. What are Learning Path programs? A13. Learning Path programs are dedicated courses designed by SAP professionals to start and enhance their career in an SAP domain. It covers from basic to advance level of all courses across each business function. These programs are available across SAP finance, SAP Logistics, SAP HR, SAP succcessfactors, SAP Technical, SAP Sales, SAP S/4HANA and many more Check all Learning path here https://training.uplatz.com/online-it-courses.php?learning_path_courses=done Q14. What are Premium Career tracks? A14. Premium Career tracks are programs consisting of video courses that lead to skills required by C-suite executives such as CEO, CTO, CFO, and so on. These programs will help you gain knowledge and acumen to become a senior management executive. Q15. How unlimited subscription works? A15. Uplatz offers 2 types of unlimited subscription, Monthly and Yearly. Our monthly subscription give you unlimited access to our more than 300 video courses with 6000 hours of learning content. The plan renews each month. Minimum committment is for 1 year, you can cancel anytime after 1 year of enrolment. Our yearly subscription gives you unlimited access to our more than 300 video courses with 6000 hours of learning content. The plan renews every year. Minimum committment is for 1 year, you can cancel the plan anytime after 1 year. Check our monthly and yearly subscription here https://training.uplatz.com/online-it-courses.php?search=subscription Q16. Do you provide software access with video course? A16. Software access can be purchased seperately at an additional cost. The cost varies from course to course but is generally in between GBP 20 to GBP 40 per month. Q17. Does your course guarantee a job? A17. Our course is designed to provide you with a solid foundation in the subject and equip you with valuable skills. While the course is a significant step toward your career goals, its important to note that the job market can vary, and some positions might require additional certifications or experience. Remember that the job landscape is constantly evolving. We encourage you to continue learning and stay updated on industry trends even after completing the course. Many successful professionals combine formal education with ongoing self-improvement to excel in their careers. We are here to support you in your journey! Q18. Do you provide placement services? A18. While our course is designed to provide you with a comprehensive understanding of the subject, we currently do not offer placement services as part of the course package. Our main focus is on delivering high-quality education and equipping you with essential skills in this field. However, we understand that finding job opportunities is a crucial aspect of your career journey. We recommend exploring various avenues to enhance your job search: a) Career Counseling: Seek guidance from career counselors who can provide personalized advice and help you tailor your job search strategy. b) Networking: Attend industry events, workshops, and conferences to build connections with professionals in your field. Networking can often lead to job referrals and valuable insights. c) Online Professional Network: Leverage platforms like LinkedIn, a reputable online professional network, to explore job opportunities that resonate with your skills and interests. d) Online Job Platforms: Investigate prominent online job platforms in your region and submit applications for suitable positions considering both your prior experience and the newly acquired knowledge. e.g in UK the major job platforms are Reed, Indeed, CV library, Total Jobs, Linkedin. While we may not offer placement services, we are here to support you in other ways. If you have any questions about the industry, job search strategies, or interview preparation, please dont hesitate to reach out. Remember that taking an active role in your job search process can lead to valuable experiences and opportunities.