BUY THIS COURSE (USD 17 USD 41)
Interview Questions - SAP HANA
Go through important & commonly asked interview questions on SAP HANA - server admin, infrastructure, migration, etc. Prepare for HANA Certification.
( add to cart )
Save 59% Offer ends on 31-Dec-2023
Preview Interview Questions - SAP HANA course
Price Match Guarantee
Full Lifetime Access
Access on any Device
Technical Support
Secure Checkout
&nbsp Course Completion Certificate
Job-oriented
Popular
Trending
Instant access
Students also bought -
30 Hours
USD 17
142 Learners
300 Hours
USD 45
4145 Learners
10 Hours
USD 17
15 Learners
Completed the course? Request here for Certificate.
ALL COURSES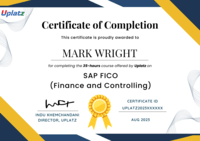 Uplatz provides this course on SAP HANA interview questions that can help you crack HANA interviews to get hired as SAP HANA Consultant. Also this SAP HANA interview questions course will help you prepare for HANA certification exam.
SAP HANA (High-performance ANalytic Appliance) is a multi-model database that stores data in its memory instead of keeping it on a disk. This results in data processing that is magnitudes faster than that of disk-based data systems, allowing for advanced, real-time analytics.
SAP HANA is the latest, in-memory database, and platform which can be deployed on-premises or cloud. SAP HANA is a combination of hardware and software, which integrates different components like SAP HANA Database, SAP SLT (System Landscape Transformation) Replication server, SAP HANA Direct Extractor connection, and Sybase replication. HANA facilitates a fast and powerful system that provides real-time, multi-model data analytics, SAP HANA serves as a platform for enterprise resource planning (ERP) software and other business applications.
HANA has unprecedented adoption by the SAP customers. Serving as a platform for enterprise resource planning (ERP) software and other business applications, SAP HANA can be placed on premises, in the cloud, or both, in a hybrid cloud system. SAP HANA also provides infrastructure to apply machine learning and AI to analyze it instantly and deeply, accelerating real-time decision-making by providing key insights into a company's operations.
SAP HANA integrates data from multiple areas within an organization, for e.g.
a) Traditional business documents – including contracts and spreadsheets
b) UX/UI (User Experience/User Interface) – including website forms, emails and other customer interactions
c) Mobile – information from the mobile devices of customers and your workforce
d) IoT (Internet of Things) – data from the many sensors that run in every aspect of a business, from warehouses and trucks to stores and offices
Why is SAP HANA important?
Many organizations have vast amounts of data that essentially sits in a data warehouse and provides no value, amounting to terabytes of untapped potential that could be used to accelerate business impact and provide greater customer value.
With its lightning-fast, in-memory processing and real-time data analytics powered by machine learning, SAP HANA harnesses a company's data and puts it to work for them, streamlining processes, eliminating errors, and providing benefits to clients, customers and employees. Enhance customer satisfaction with up-to-the minute product availability that can be accessed on any smart phone. Keep employees happy with simplified accounting processes, instant updates on benefits or vacation time, and enhanced collaboration platforms. And help managers and executives plan for the future with predictive analytics that can forecast supply chain issues, manage cash flow, and integrate team workflows for heightened efficiency.
SAP HANA Cloud is a single database as a service (DBaaS) foundation for modern applications and analytics across all enterprise data. Some of the key features of SAP HANA include:
1) Power mission-critical applications with one solution - Deliver transactions and analytics simultaneously without data duplication. Build and run high-performance transactional applications and real-time analytics at petabyte scale.
2) Seamlessly blend multi-model data to enhance business processes - Converge relational, graph, spatial, document store, and other capabilities. Develop smart applications with embedded machine learning and analyze sensitive data while protecting privacy.
3) Provide trusted performance for all data needs - Process mission-critical data at proven in-memory speed. Manage data more efficiently with integrated multi-tier storage.
Course/Topic - Interview Questions - SAP HANA - all lectures
In this part 1 video of the series, we will discuss about the most frequently asked questions and answers on SAP HANA.

In this part 2 video of the series, we will discuss about the most frequently asked questions and answers on SAP HANA.

In this part 3 video of the series, we will discuss about the most frequently asked questions and answers on SAP HANA.
Q1. What are the payment options? A1. We have multiple payment options: 1) Book your course on our webiste by clicking on Buy this course button on top right of this course page 2) Pay via Invoice using any credit or debit card 3) Pay to our UK or India bank account 4) If your HR or employer is making the payment, then we can send them an invoice to pay. Q2. Will I get certificate? A2. Yes, you will receive course completion certificate from Uplatz confirming that you have completed this course with Uplatz. Once you complete your learning please submit this for to request for your certificate https://training.uplatz.com/certificate-request.php Q3. How long is the course access? A3. All our video courses comes with lifetime access. Once you purchase a video course with Uplatz you have lifetime access to the course i.e. forever. You can access your course any time via our website and/or mobile app and learn at your own convenience. Q4. Are the videos downloadable? A4. Video courses cannot be downloaded, but you have lifetime access to any video course you purchase on our website. You will be able to play the videos on our our website and mobile app. Q5. Do you take exam? Do I need to pass exam? How to book exam? A5. We do not take exam as part of the our training programs whether it is video course or live online class. These courses are professional courses and are offered to upskill and move on in the career ladder. However if there is an associated exam to the subject you are learning with us then you need to contact the relevant examination authority for booking your exam. Q6. Can I get study material with the course? A6. The study material might or might not be available for this course. Please note that though we strive to provide you the best materials but we cannot guarantee the exact study material that is mentioned anywhere within the lecture videos. Please submit study material request using the form https://training.uplatz.com/study-material-request.php Q7. What is your refund policy? A7. Please refer to our Refund policy mentioned on our website, here is the link to Uplatz refund policy https://training.uplatz.com/refund-and-cancellation-policy.php Q8. Do you provide any discounts? A8. We run promotions and discounts from time to time, we suggest you to register on our website so you can receive our emails related to promotions and offers. Q9. What are overview courses? A9. Overview courses are 1-2 hours short to help you decide if you want to go for the full course on that particular subject. Uplatz overview courses are either free or minimally charged such as GBP 1 / USD 2 / EUR 2 / INR 100 Q10. What are individual courses? A10. Individual courses are simply our video courses available on Uplatz website and app across more than 300 technologies. Each course varies in duration from 5 hours uptop 150 hours. Check all our courses here https://training.uplatz.com/online-it-courses.php?search=individual Q11. What are bundle courses? A11. Bundle courses offered by Uplatz are combo of 2 or more video courses. We have Bundle up the similar technologies together in Bundles so offer you better value in pricing and give you an enhaced learning experience. Check all Bundle courses here https://training.uplatz.com/online-it-courses.php?search=bundle Q12. What are Career Path programs? A12. Career Path programs are our comprehensive learning package of video course. These are combined in a way by keeping in mind the career you would like to aim after doing career path program. Career path programs ranges from 100 hours to 600 hours and covers wide variety of courses for you to become an expert on those technologies. Check all Career Path Programs here https://training.uplatz.com/online-it-courses.php?career_path_courses=done Q13. What are Learning Path programs? A13. Learning Path programs are dedicated courses designed by SAP professionals to start and enhance their career in an SAP domain. It covers from basic to advance level of all courses across each business function. These programs are available across SAP finance, SAP Logistics, SAP HR, SAP succcessfactors, SAP Technical, SAP Sales, SAP S/4HANA and many more Check all Learning path here https://training.uplatz.com/online-it-courses.php?learning_path_courses=done Q14. What are Premium Career tracks? A14. Premium Career tracks are programs consisting of video courses that lead to skills required by C-suite executives such as CEO, CTO, CFO, and so on. These programs will help you gain knowledge and acumen to become a senior management executive. Q15. How unlimited subscription works? A15. Uplatz offers 2 types of unlimited subscription, Monthly and Yearly. Our monthly subscription give you unlimited access to our more than 300 video courses with 6000 hours of learning content. The plan renews each month. Minimum committment is for 1 year, you can cancel anytime after 1 year of enrolment. Our yearly subscription gives you unlimited access to our more than 300 video courses with 6000 hours of learning content. The plan renews every year. Minimum committment is for 1 year, you can cancel the plan anytime after 1 year. Check our monthly and yearly subscription here https://training.uplatz.com/online-it-courses.php?search=subscription Q16. Do you provide software access with video course? A16. Software access can be purchased seperately at an additional cost. The cost varies from course to course but is generally in between GBP 20 to GBP 40 per month. Q17. Does your course guarantee a job? A17. Our course is designed to provide you with a solid foundation in the subject and equip you with valuable skills. While the course is a significant step toward your career goals, its important to note that the job market can vary, and some positions might require additional certifications or experience. Remember that the job landscape is constantly evolving. We encourage you to continue learning and stay updated on industry trends even after completing the course. Many successful professionals combine formal education with ongoing self-improvement to excel in their careers. We are here to support you in your journey! Q18. Do you provide placement services? A18. While our course is designed to provide you with a comprehensive understanding of the subject, we currently do not offer placement services as part of the course package. Our main focus is on delivering high-quality education and equipping you with essential skills in this field. However, we understand that finding job opportunities is a crucial aspect of your career journey. We recommend exploring various avenues to enhance your job search: a) Career Counseling: Seek guidance from career counselors who can provide personalized advice and help you tailor your job search strategy. b) Networking: Attend industry events, workshops, and conferences to build connections with professionals in your field. Networking can often lead to job referrals and valuable insights. c) Online Professional Network: Leverage platforms like LinkedIn, a reputable online professional network, to explore job opportunities that resonate with your skills and interests. d) Online Job Platforms: Investigate prominent online job platforms in your region and submit applications for suitable positions considering both your prior experience and the newly acquired knowledge. e.g in UK the major job platforms are Reed, Indeed, CV library, Total Jobs, Linkedin. While we may not offer placement services, we are here to support you in other ways. If you have any questions about the industry, job search strategies, or interview preparation, please dont hesitate to reach out. Remember that taking an active role in your job search process can lead to valuable experiences and opportunities.