BUY THIS COURSE (USD 17 USD 41)
Introduction to ERP & SAP and SAP Projects
Understand Enterprise Resource Planning concepts. Learn about SAP, a leading ERP software provider, and major SAP modules - FICO, MM, PP, SD, HCM, etc
( add to cart )
Save 59% Offer ends on 31-Dec-2023
Preview Introduction to ERP & SAP and SAP Projects course
Price Match Guarantee
Full Lifetime Access
Access on any Device
Technical Support
Secure Checkout
&nbsp Course Completion Certificate
Trending
Job-oriented
Bestseller
Instant access
Students also bought -
500 Hours
USD 45
7893 Learners
300 Hours
USD 45
4145 Learners
85 Hours
USD 23
955 Learners
Completed the course? Request here for Certificate.
ALL COURSES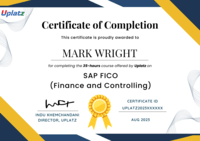 What is ERP?
Enterprise Resource Planning is a software that is built for organisations belonging to different industrial sectors, regardless of their size. The ERP package is designed to support and integrate almost every functional area of a business process such as procurement of goods, sale and distribution, finance, accounting, human resource, manufacturing, production planning, logistics & warehouse management.
SAP is a market leader in providing ERP solutions.
Business Process Integration (BPI)
Every business requires connected systems with efficient information flow from one business process to another. BPI plays an important role in overcoming integrating challenges that allows organisations to connect systems. BPI process allows automation of business processes, integration of systems and services, secure sharing of data across different departments.
Functional Areas
Financial Accounting: deals with financial transactions and data.
Human Resource: deals with information related to employees of an organisation.
Customer Relationship Management: deals with capturing and managing customers' relationship.
Sales and Distribution: deals with order placement, delivery and invoicing.
Logistics and Warehouse Management: deals with storage of products and shipment.
Supply Chain Management: deals with movement of the products, storing, managing and controlling supplies.
Business Intelligence: deals with analysing data and converts it into information.
Advantages of ERP
a) Saves time and expenses, b) Allows faster decision making by the management, utilising and reporting tools designed in the system, c) Helps in tracking every transaction that takes place in an organisation, d) Supplies real-time information to all departments, e) Provides information transfer between different functional areas.
Major modules in SAP
Finance and Controlling (FICO)
SAP FICO is a combination of two ERP modules i.e Finance Accounting (FI) and Controlling (CO). SAP FI is accountable for tracking the flow of financial data across the organisation in a controlled manner. Activities involved in SAP FI: Creation of organisational structure, Financial Accounting Global Settings, General Ledger Accounting, Tax configuration, Account Payables (Creation of Vendor Master Data), Account Receivables ( Creation of Customer Master Data), Asset Accounting, Integration with SD and MM.
SAP CO facilitates coordinating, monitoring and optimising all processes in an organisation. Two kinds of elements are managed in CO - Cost element and Revenue element.
Activities involved in SAP CO: Cost element accounting ( Overview of the costs and revenues that occur in an organisation), Cost center accounting, Activity-based-accounting, Product Cost Controlling (analyses the costs that occur during manufacturing of a product or service), Profit center accounting (evaluates the profit or loss of different areas with in an organisation)
Sales and Distribution Management (SD)
SAP SD is one of the most important modules in SAP. It has a high level of integration with other modules. SAP SD is used by organisations to support sales and distribution activities of products and services, starting from enquiry to order and then ending with delivery and invoicing. In all these processes, multiple modules are involved such as FI, CO, MM etc. which shows complete integration among all modules.
Activities involved in SAP SD: Setting up organisational structure, Assigning organisational units, Defining Pricing, Setting up Sales document types, billing types and tax-related components, Setting up customer master data records.
Material Management (MM)
Material Management deals with movement of materials via other modules like logistics, supply chain management, sales and distribution, warehouse management, production and planning etc.
Activities involved in SAP MM: Quotation, Purchase Order, Goods Receipt, Invoice
Supplier Relationship Management (SRM)
As the name SRM suggests, this module deals with the effective and efficient transition of products and services between suppliers and an organisation. The main process covered in this module is procurement of raw materials. This module can effectively integrate with planning, accounting and inventory system.
Acivities involved in SAP SRM: Sourcing of requirements, Purchase orders, Goods Receipt, Invoice
Customer Relationship Management (CRM)
CRM deals with end-to-end customer related processes. CRM is designed to centralise the data related to all customers associated with an organisation. It helps an organisation maintain its sales, services and build marketing strategies according to market demand and customer data analysis. Remain focussed on its customers to know more about their requirements. Improve sales and services and building better relationship with customers.
Human Resource (HR)
The most important objective of human Resource Module is to enter employee-related data for administrative and payroll purposes. The HR module is a true demonstration of the strength of the SAP Product in Enterprise Resource Planning.
Activities involved in SAP HR: Recruitment, Payroll, Time Management, Workforce Planning, Training
Course/Topic - Introduction to ERP & SAP and SAP Projects - all lectures
In this session, we learn about what ERP and SAP is, Business Process Integration and Different Functional Areas.

In this session, we learn about Advantages of ERP, different SAP Modules, SAP Financial Accounting, SAP Controlling and SAP Sales & Distribution.

In this session, we learn about SAP Materials Management, SAP Supplier Relationship Management, SAP Customer Relationship Management and SAP Human Resource.

In this session, we learn about SAP Implementation Project.

In this session, we learn about SAP Support Project, Roll Out Project, SAP Upgradation Project and SAP Expansion Project.

In this session we will learn about the major differences between SAP ECC system and SAP S/4HANA system.

This is part 2 of the session that describes the major differences between SAP ECC and SAP S/4HANA systems.
a) Learn about ERP and its applications in the industry
b) Learn about SAP and its solution portfolio
c) Get introduced to important SAP modules
c) Understand different types of SAP Projects
SAP Projects can be of various types:
1. SAP Implementation Project
This is divided into two types.
Big Bang Project: This type of project aims to go live with all modules across all departments at the same time. The SAP implementation life cycle is followed end-to-end for the full scope of the company's financial and logistical business processes. This approach may be used for smaller companies to keep costs low, as there is only one implementation life cycle to execute. However, the necessity for planning is amplified and the risk of missing deadlines is high.
Pros:
Quick to implement: You can implement the new system in a short time in your entire organisation using this approach.
Uniformity: Big Bang implementation allows the usage of a single system in the entire company.
Cheaper: As the entire company is using a single system, it involves lesser funds.
Cons:
Difficult testing: Full testing is quite difficult under this approach before going live.
Wider scope of issues: Due to the implementation of a new system in the entire organisation, the scope of potential system issues increases.
Phased Project: A phased project is an alternative to Big Bang approach, where a set of modules are identified in an initial phase, then further integrations will be added later. For example, a company may decide to implement financial and analytical modules in the first phase like Finance (FI), Controlling (CO) and Human Capital Management (HCM). Then plan a second wave to incorporate logistics modules such as Materials Management (MM), Production Planning (PP) and Sales and Distribution (SD). In a third phase they may opt to implement remaining modules. In reality, the phased approach will include several end-to-end implementations- One for each phase. This leads to a longer implementation timeline and therefore higher cost, but much lower risk and steady performance in the long run.
Pros:
Better adjustment: Due to piece by piece SAP implementation of the entire system, everyone gets enough time to properly adjust and adapt to the new system.
Comprehensive testing : Incremental testing is possible under this approach.
Easy to fix smaller Problems: Phased SAP implementation allows you to find out the smaller bugs and issues in a single area which allows the technical team to fix them quickly.
Cons:
Costly: The longer timelines result in higher implementation and consulting costs.
Delay in ROI: Return on Investment is delayed due to the large time gap between this starting and the final date of implementation.
2. SAP Support Project
SAP support project is also known as an issue tracking system because it handles tickets. Under this project, the errors and bugs from end users are forwarded to the support team to solve them.
The pros and cons of this project are similar to that of SAP implementation projects.
3. Roll Out Project
A roll out project is one in which centralised processes are defined and implemented at a central office, then deployed at different subsidiaries. For example, a company may begin their SAP roll out at their headquarters. This initial implementation may follow big bang or phased approach. Every country has its own set of tax, customs and legal regulations. Every legal entity registered as a company should adhere to the legal requirements of its respective country. Processes are defined centrally and country-specific changes are carried out during roll out.
Pros:
Speedy: It increases the speed of the new implementation project and helps you meet deadlines.
Controlled Budget: SAP roll out projects don't need everything new, so helping you to implement the new system with in controlled budget.
Cons:
Existence of Old Systems: The only disadvantage is you still need same software from your current system.
4. SAP Upgradation Project
It is a periodic project that companies implement to upgrade their system to the latest version. Under this project, the goal of the company is to technically upgrade and to cover the evolution of the SAP technical enhancement package.
Pros:
Benefits from Innovations: An upgradation project allows your company to enjoy the benefits of innovations.
Cons:
Critical testing: The SAP upgradation project requires deep testing to identify critical issues which can lead to the failure of the entire system.
5. SAP Expansion Project
All companies opt for the SAP expansion project during its growth years. However, there are certain cases under which an organisation is obliged to opt for this SAP project is
At the time of acquiring a new company from the same industry.
During an opening of a new branch at a new geographical location.
When a company wants to expand its existing facilities.
The pros and cons of this project are similar to the Implementation Project.
1. What is ERP (enterprise resource planning)?
What is ERP? Enterprise resource planning (ERP) is a software system that helps you run your entire business, supporting automation and processes in finance, human resources, manufacturing, supply chain, services, procurement, and more.
2. What are the different components of SAP ERP?
SAP ERP consists of several modules, including Financial Accounting (FI), Controlling (CO), Asset Accounting (AA), Sales & Distribution (SD), Material Management (MM), Production Planning (PP), Quality Management (QM), Project System (PS), Plant Maintenance (PM), Human Resources (HR), Warehouse Management (WM).
3. What is the difference between Oracle ERP and SAP ERP?
Both Oracle ERP and SAP ERP offer cloud, on-premises, or hybrid solutions. Oracle ERP software uses much newer code in its cloud software than the SAP S4/HANA platform. Oracle owns NetSuite.
4. What are the important ERP modules used by organizations?
The important ERP SAP modulesused by organizations are SAP FICO(Financials and Controlling) module, SAP MM(Materials Management) module, SAP SD (Sales & Distribution), SAP HR(Human Resources Management),
5. What are the functional and technical modules in SAP ERP?
SAP Functional modules are the modules for management of business functions such as finance, operations, marketing, production, HR, etc. Some of the key SAP functional modules are SAP FICO, MM, PP, PM, BPC, HCM, SD, and so on.
SAP Technical modules are the modules for management of technical/technology functions such as servers, data, analytics, cloud, etc. Some of the key SAP technical modules are SAP BW, BW/4HANA, HANA, SAP Analytics Cloud (SAC), BusinessObjects, and so on.
6. What are the SAP ERP submodules?
SAP ERP submodules provide additional functionality in the business area of their parent. For example, the SAP ERP module SAP PLM (Product Lifecycle Management) offers the SAP ERP submodules: Even though SAP ERP modules are software, they are not software in a computer science sense in terms of programming. SAP SuccessFactors has many submodules viz. Employee Central, EC Payroll, Compensation, Variable Pay, PMGM, LMS, and many more.
7. Why choose SAP ERP for your business?
Implementing an SAP ERP solution means having a system that can adjust to your company's growth easily and efficiently. Whether you are entering a new market or expanding your customer base, SAP software will ease the transition.
8. What are the advantages and disadvantages of ERP system?
Main Advantages and Disadvantages of ERP System The advantages presented by the ERP are: Optimization of business processes. Accurate and timely access to reliable information.
9. What is Supplier Relationship Management (SRM)?
Supplier relationship management (SRM) is the systematic approach to evaluating vendors that supply goods, materials and services to an organization, determining each supplier's contribution to success and developing strategies to improve their performance.
10. What is an SAP Implementation Project?
SAP Implementation Project - Company wants to implement SAP Module (Ex :HCM/MM/SD/FI/CO etc) for the first time. In implementation projects consultant from various modules do configuration based on company requirements.
11. What is the project management tool in SAP?
SAP PS (Project System) is an integrated project management tool used for planning and managing projects. This SAP module supports the entire project lifecycle from planning to invoicing.
12. What is project planning in SAP?
Project Planning also involves the sequence of tasks to be performed and which tasks are dependent on each other and which tasks can be further divided in to smaller tasks. In SAP Project system, sequence of tasks are defined in the form of Network in project planning. A Project type is used to group or classify the projects as required.
Q1. What are the payment options? A1. We have multiple payment options: 1) Book your course on our webiste by clicking on Buy this course button on top right of this course page 2) Pay via Invoice using any credit or debit card 3) Pay to our UK or India bank account 4) If your HR or employer is making the payment, then we can send them an invoice to pay. Q2. Will I get certificate? A2. Yes, you will receive course completion certificate from Uplatz confirming that you have completed this course with Uplatz. Once you complete your learning please submit this for to request for your certificate https://training.uplatz.com/certificate-request.php Q3. How long is the course access? A3. All our video courses comes with lifetime access. Once you purchase a video course with Uplatz you have lifetime access to the course i.e. forever. You can access your course any time via our website and/or mobile app and learn at your own convenience. Q4. Are the videos downloadable? A4. Video courses cannot be downloaded, but you have lifetime access to any video course you purchase on our website. You will be able to play the videos on our our website and mobile app. Q5. Do you take exam? Do I need to pass exam? How to book exam? A5. We do not take exam as part of the our training programs whether it is video course or live online class. These courses are professional courses and are offered to upskill and move on in the career ladder. However if there is an associated exam to the subject you are learning with us then you need to contact the relevant examination authority for booking your exam. Q6. Can I get study material with the course? A6. The study material might or might not be available for this course. Please note that though we strive to provide you the best materials but we cannot guarantee the exact study material that is mentioned anywhere within the lecture videos. Please submit study material request using the form https://training.uplatz.com/study-material-request.php Q7. What is your refund policy? A7. Please refer to our Refund policy mentioned on our website, here is the link to Uplatz refund policy https://training.uplatz.com/refund-and-cancellation-policy.php Q8. Do you provide any discounts? A8. We run promotions and discounts from time to time, we suggest you to register on our website so you can receive our emails related to promotions and offers. Q9. What are overview courses? A9. Overview courses are 1-2 hours short to help you decide if you want to go for the full course on that particular subject. Uplatz overview courses are either free or minimally charged such as GBP 1 / USD 2 / EUR 2 / INR 100 Q10. What are individual courses? A10. Individual courses are simply our video courses available on Uplatz website and app across more than 300 technologies. Each course varies in duration from 5 hours uptop 150 hours. Check all our courses here https://training.uplatz.com/online-it-courses.php?search=individual Q11. What are bundle courses? A11. Bundle courses offered by Uplatz are combo of 2 or more video courses. We have Bundle up the similar technologies together in Bundles so offer you better value in pricing and give you an enhaced learning experience. Check all Bundle courses here https://training.uplatz.com/online-it-courses.php?search=bundle Q12. What are Career Path programs? A12. Career Path programs are our comprehensive learning package of video course. These are combined in a way by keeping in mind the career you would like to aim after doing career path program. Career path programs ranges from 100 hours to 600 hours and covers wide variety of courses for you to become an expert on those technologies. Check all Career Path Programs here https://training.uplatz.com/online-it-courses.php?career_path_courses=done Q13. What are Learning Path programs? A13. Learning Path programs are dedicated courses designed by SAP professionals to start and enhance their career in an SAP domain. It covers from basic to advance level of all courses across each business function. These programs are available across SAP finance, SAP Logistics, SAP HR, SAP succcessfactors, SAP Technical, SAP Sales, SAP S/4HANA and many more Check all Learning path here https://training.uplatz.com/online-it-courses.php?learning_path_courses=done Q14. What are Premium Career tracks? A14. Premium Career tracks are programs consisting of video courses that lead to skills required by C-suite executives such as CEO, CTO, CFO, and so on. These programs will help you gain knowledge and acumen to become a senior management executive. Q15. How unlimited subscription works? A15. Uplatz offers 2 types of unlimited subscription, Monthly and Yearly. Our monthly subscription give you unlimited access to our more than 300 video courses with 6000 hours of learning content. The plan renews each month. Minimum committment is for 1 year, you can cancel anytime after 1 year of enrolment. Our yearly subscription gives you unlimited access to our more than 300 video courses with 6000 hours of learning content. The plan renews every year. Minimum committment is for 1 year, you can cancel the plan anytime after 1 year. Check our monthly and yearly subscription here https://training.uplatz.com/online-it-courses.php?search=subscription Q16. Do you provide software access with video course? A16. Software access can be purchased seperately at an additional cost. The cost varies from course to course but is generally in between GBP 20 to GBP 40 per month. Q17. Does your course guarantee a job? A17. Our course is designed to provide you with a solid foundation in the subject and equip you with valuable skills. While the course is a significant step toward your career goals, its important to note that the job market can vary, and some positions might require additional certifications or experience. Remember that the job landscape is constantly evolving. We encourage you to continue learning and stay updated on industry trends even after completing the course. Many successful professionals combine formal education with ongoing self-improvement to excel in their careers. We are here to support you in your journey! Q18. Do you provide placement services? A18. While our course is designed to provide you with a comprehensive understanding of the subject, we currently do not offer placement services as part of the course package. Our main focus is on delivering high-quality education and equipping you with essential skills in this field. However, we understand that finding job opportunities is a crucial aspect of your career journey. We recommend exploring various avenues to enhance your job search: a) Career Counseling: Seek guidance from career counselors who can provide personalized advice and help you tailor your job search strategy. b) Networking: Attend industry events, workshops, and conferences to build connections with professionals in your field. Networking can often lead to job referrals and valuable insights. c) Online Professional Network: Leverage platforms like LinkedIn, a reputable online professional network, to explore job opportunities that resonate with your skills and interests. d) Online Job Platforms: Investigate prominent online job platforms in your region and submit applications for suitable positions considering both your prior experience and the newly acquired knowledge. e.g in UK the major job platforms are Reed, Indeed, CV library, Total Jobs, Linkedin. While we may not offer placement services, we are here to support you in other ways. If you have any questions about the industry, job search strategies, or interview preparation, please dont hesitate to reach out. Remember that taking an active role in your job search process can lead to valuable experiences and opportunities.