BUY THIS COURSE (USD 41 GBP 89)
Learning Path - SAP Cloud
Deep-dive into all courses combined together under the SAP Cloud Learning Path. Acquire key skills and build your career as Cloud Architect/Engineer.
( add to cart )
Save 67% Offer ends on 30-Nov-2023
Preview Learning Path - SAP Cloud course
Price Match Guarantee
Full Lifetime Access
Access on any Device
Technical Support
Secure Checkout
&nbsp Course Completion Certificate
Cutting-edge
Job-oriented
Trending
Instant access
Students also bought -
600 Hours
USD 45
4489 Learners
40 Hours
USD 17
3673 Learners
45 Hours
USD 17
667 Learners
Completed the course? Request here for Certificate.
ALL COURSES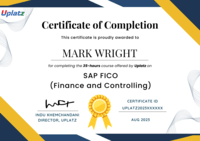 The Learning Path – SAP Cloud Course by Uplatz includes the following courses:
1. SAP Analytics Cloud ( SAC)
2. SAP CPI ( Cloud Platform Integration)
3. SAP HCI ( HANA Cloud Integration)
SAP Cloud Platform is a platform as a service (PaaS) developed for creating and managing business applications in a secure. SAP Cloud environment. It will help customers to integrates data and business process with SAP Cloud Platform.
SAP Cloud Platform (SCP) is a platform-as-a-service (PaaS) product that provides a development and runtime environment for cloud applications. Based in SAP HANA in-memory database technology, and using open source and open standards, SCP allows independent software vendors (ISVs), startups and developers to create and test HANA-based cloud applications. SCP is based on open standards and offers developers flexibility and control over which clouds, frameworks and applications to deploy, according to SAP. SCP uses different development environments, including Cloud Foundry and Neo, and provides a variety of programming languages. SAP Cloud Platform Integration (CPI) allows an organisation to go beyond the traditional way of handling the system in SAP ERP.
The SAP CPI Training Completely concentrates on security including data segregation utilized by Success Factors, SAP Cloud for Customer, FSN, etc. This technology provides a strong infrastructure with reliable security and integrates business networks. Uplatz students will learn the overall architecture and products of SAP Cloud Platform, the technical terms of digital transformation and cloud computing, and most importantly, the reasons why SAP supports Cloud Foundry. SAP Cloud Platform is a platform that provides a wide range of design services. This enables customers to achieve business results without sacrificing on-site infrastructure maintenance or investment, establish a fully integrated and personalized organization and improve the digitalization of the entire enterprise. Some benefits extend to areas of interest to you, including country-specific materials.
Uplatz training can improve your skills. SAP Cloud Platform is now demonstrating a high-level programming language on the Internet. SAP Cloud Platform is ideal to merge data and business processes. SAP Cloud Platform decreases the expenses and enables the companies in expanding the value of their existing applications. Uplatz training helps in knowing the drivers and principles required for a successful change and explaining the security aspects of the Business Technology Platform. SAP Cloud Platform Training discusses how to change business model with the use of Cloud technology and tells the process of explaining Integration Strategy and Extension Strategy. Power Users, Business Users, Developers, Application Consultants, Business Process Architects, Development Consultants, Team Leaders, Business Process Owners, Solution Architects, and Enterprise Architects who want to learn how to change a business model with the cloud technology.
Owing to its wide-ranging benefits, SAP Cloud Platform Certification has been able to attend words of appreciation from the users. Before we start knowing the benefits, it is important for us to know what SAP Cloud Platform and why do we use it. SAP SE has developed SAP Cloud Platform as a service for creating new applications or extending existing applications in a secure cloud computing environment managed by SAP. It is ideal to merge data and business processes.
Throughout this course, you will learn to understand the extensibility capabilities of the Extensibility Suite, the integration capabilities of the Integration Suite, and know how to differentiate between authentication and authorization. This hands-on training will also help you in knowing the drivers and principles required for a successful change and explaining the security aspects of the Business Technology Platform. It helps the developers in increasing their working speed As it supports open programming standards, developers can easily develop enterprise solutions to integrate with non-SAP or SAP solutions without learning a new code.
Hence, this cloud platform is extremely popular among developers. It enables the companies in expanding the value of their existing applications. We all know that the SAP Cloud Platform offers connectivity through the cloud connectivity service. Therefore, it helps the companies in enhancing the value of their existing applications that are running on the cloud. Plus, it ensures that the new applications can run at the lowest cost.
SAP Cloud Platform does not require up-front capital investment in software or hardware for partners and customers, resulting in a more cost-effective service with minimal risk. Once it is applied, SAP will manage platform operations to minimize the cost of deploying and developing cloud applications.
Course/Topic 1 - SAP Analytics Cloud (SAC) - all lectures
In this tutorial we will get an overview of SAP Analytics Cloud, commonly referred to as SAC. It is the cloud data visualization tool from SAP. Its strengths? SAP Analytics Cloud combines a lot of functionalities in a single tool.

In this tutorial we learn about business intelligence (BI), augmented analytics, predictive analytics, and enterprise planning – in a single solution. Explore data across the organization and deliver insights at the point of decision with intuitive self-service analytics.

In this tutorial we talk about Evolution of SAC SAP Analytics Cloud integrates with SAP BW without replication required. The advantage is that you can use your existing data models in BW to generate views in SAP Analytics Cloud. SAC and BPC have bi-directional integration. SAP Analytics Cloud is not a success for BPC but a complimentary tool.

In this lecture session we will go through a simple demonstration on SAC and also talk about how we upload and collect the data in SAC in brief. How do we create a story in SAC?

In this lecture session we learn about the process of applying in SAP Analytics Cloud and also talk about data types in SAC. SAC ships with some metrics which can be accessed at System / Monitor. There you can analyze the number of users, logins, consumed storage by model and how many transactions (any activity) a user performed.

In this tutorial we learn about data set in SAC. SAC automatically builds an embedded "Dataset" and lets you create story components. As the dataset is embedded into the story, it cannot be reused elsewhere. End users love this function of automatic data preparation.

In this lecture session we learn about In a logical data model, a dataset is the basic organizational unit, a set of related facts, attributes or both, which are stored together in the workspace. Datasets are associated with each other through relationships. A relationship describes how one dataset is related to another.

In this lecture session we learn about Scenario Planning provides the Business users the ability to plan and forecast on different planning assumptions and see the financial impact instantly. This capability can be achieved using the Version Management functionality in SAP SAC.

In this lecture session we learn about The SAC Data Analyzer is an ad-hoc analysis tool built-in the SAP Analytics Cloud platform, which works in a similar way as the classic BEx Web or the Analysis for Office plugin for Excel.

In this tutorial we learn about Smart Predict is the most advanced predictive feature in SAC. There are three types of Smart Predict scenarios– Classification, Regression & Time-Series – provided by SAC to address prediction on different business use cases.

SAP Analytics Cloud (SAC)- In this lecture session we learn about Smart insights that uses proprietary rules and algorithms to do this in a performant way, whereas a user would need to manually investigate each dimension. Some of the benefits are as follows: Quickly understand the reasons behind an interesting data point or variance and see what factors contribute to the value.

In this lecture session we learn about The key difference between a budget and a forecast is that a budget lays out the plan for what a business wants to achieve, while a forecast states its actual expectations for results, usually in a much more summarized format.

In this lecture session we learn about a generic dimension that has the following attributes: Name, the member name. Format, user defined: number, date/time and text formats. Pick List, a link to a predefined dimension or subset and also talk about dimensions and measures are data objects that represent categorical, transactional and numerical data in a dataset; for example, Products, Sales or Revenue.

In this lecture session we learn about financial planning and analysis (FP&A) is a set of four activities that support an organization's financial health: planning and budgeting, integrated financial planning, management and performance reporting, and forecasting and modeling.

In this lecture session we learn about a matrix organization which is a company structure where teams report to multiple leaders. The matrix design keeps open communication between teams and can help companies create more innovative products and services. Using this structure prevents teams from needing to realign every time a new project begins.

In this lecture session we will learn that Resource allocation is a plan that you develop with the aim of making the most of the available resources at your disposal in a project. This is mostly a short-term plan set in place to achieve goals in the future and also talk about features of resource allocation.

In this lecture session we will learn that the driver tree is a way for businesses (and consultants) to understand the impact of changes to key variables that change overall outcomes. The driver tree focuses on visually laying out the smaller components that drive value in a business.

In this tutorial we understand that the Value Driver Model is an open model that provides a structure for companies to describe and measure how their sustainable business strategies can drive financial results. Its direct tie to core business strategy and outcomes is the differentiator.

In this lecture session we learn in the context of SAP Analytics Cloud (SAC), SAP's cloud-based Analytics SaaS solution, that Widgets are mainly used for presentation and display purposes. They are used to visualize information as graphs or charts to show data on maps or by other representations like gauges.

In this tutorial we learn that the main aim of SAP Digital Boardroom is to give you a 360° view of your enterprise in real time. High-level as well as detail-level information is available to (executive) management members 24/7. In this course, you'll learn the steps you need to take to prepare a board meeting using SAP Digital Boardroom.
Course/Topic 2 - SAP CPI - all lectures
This tutorial gives you a comprehensive coverage of concepts of SAP Cloud and makes you comfortable to use it in your software development projects.

SAP Cloud Platform is a cloud-based tool to develop and deploy custom applications. This includes full range of service catalog including database, storage and backup of data, reporting service and transaction layer to develop multi-platform software development.

This tutorial has been prepared for professionals who aspire to learn the fundamentals of Cloud Platform and application development. Consultants and project team members who have already been a part of SAP application development can draw benefits from this tutorial and refresh their knowledge.

Before getting started with SAP CPI module we have to understand what is SAP CPI (Cloud Platform Integration) properly. This video highlights the misconceptions that you might have and need to understand before dealing with CPI.

In this tutorial, you'll learn how to integrate SAP Cloud Platform.

In this tutorial, you configure and test Azure AD single sign-on in a test environment SAP Cloud Platform supports SP initiated SSO

To configure the integration of SAP Cloud Platform into Azure AD (Active Directory), you need to add SAP Cloud Platform from the gallery to your list of managed SaaS apps.

Configure and test Azure AD SSO with SAP Cloud Platform using a test user called B. Simon. For SSO to work, you need to establish a link relationship between an Azure AD user and the related user in SAP Cloud Platform.

SAP Integration Suite provides the most effective customized performances report of its current customers, and it's great for multiple organizations looking for a right platform as a service solution.

SAP Cloud is a nice product in the market and is very helpful for SAP's business, and it also gives the most effective services to the customers. SAP Cloud or SAP Integration Suite is an enterprise integration platform as a service. It allows connecting all software, apps, employees and different departments of the organization through unlimited IT facilities.

SAP CPI is a complex system. There are some areas that you must understand what mean before you start creating your first real project. If not you are going to spend too much time on something that will not help your project. And it will be difficult to understand how to get started.

SAP Cloud platform offers PaaS based in-memory and microservice based mobile enabled cloud applications. SAP Cloud Platform provides you an option to control your choice of clouds, frameworks, and applications.

SAP Cloud Platform Cockpit is the central Web-based user interface for administrators, and you can use this for providing access to various functions for configuring and managing applications using SAP Cloud platform

As part of SAP Cloud Platform Integration suite, SAP offers a lightweight integration software which is called SAP Cloud platform Integration for Data Services CPI-DS (Formerly called as HCI-DS).

The SAP Data Services agent facilitates the interaction of CPI-DS on-cloud with systems in Local landscape. It must be installed and configured for enabling data movement between on-premise and cloud systems.
Course/Topic 3 - SAP CPI (basic to advanced) - all lectures
This will be a Full-fledged SAP CPI Tutorial for Beginners; we will learn everything from basics to advanced. main Index for the updated SAP CPI Tutorials Index. Before getting started it's very important to know the basics of Cloud platform Integration. SAP CPI also is known as HCI is a cloud platform which provides a variety of service.

SAP CPI offers you to integrate or extend with SAP Business Suite, S/4 HANA, 3rd party integration. SAP created all the platforms to the cloud which is SAAS, like API management, like Hybrid Landscapes, etc. which includes sap cloud apps

Before getting started with SAP CPI Tutorials we have to understand what is SAP CPI (Cloud Platform Integration) properly. The below are the misconceptions which you need to understand before dealing with CPI.

SAP Cloud Platform is designed to be open and flexible, with different methods for consuming cloud services, open APIs and tools like the software developer's kit (SDK) for Apple iOS systems.

SAP CPI is a cloud-based integration platform running on the SAP HANA Cloud Platform for integrating cloud applications with other cloud and on-premise solutions. SAP CPI Cloud Integration allows you to quickly and seamlessly connect your cloud applications to other.

The pre-packaged content from SAP provides integration flows for integrating master and transactional data. It provides the connectivity support of IDOCs (connecting to the on-premise SAP CRM and SAP ERP systems) and SOAP over HTTPs (connecting to the Cloud for Customer scenario).

In this session we will cover end to end configuration to set up the SAP Cloud Integration (CF) for TMS.

In order to make the platform accessible to the broadest possible group of customers, SAP tries to support many open standards and known interfaces.

The aim of the partnership is to create a new iOS software development kit based on the SAP Cloud Platform Integration. This should make it possible to develop required business applications for the iPad or iPhone faster and more efficiently.

In addition to ready-made integration packages, SAP also offers special tools that work with AI support. In addition, different tools can be integrated into the platform and the integration of SAP Data Services and SAP Process Orchestration is also made available conditionally.

The SAP CPI supports a wide variety of APIs such as the Open Data Protocol (OData), Representational State Transfer (REST), Remote Function Call or Web Services.

As usual for SAP, the platform's on-demand applications also work with the highest security standards.

SAP Cloud Platform Integration manages to bundle the different applications on one platform. This leads to more transparency and also simplifies the monitoring of the individual applications.

SAP CPI offers different tools and supports different APIs. Java, Node.js, PostgreSQL as well as HTML5, RabbitMQ, Redis or server-side JavaScript can be used.

As usual for SAP, the platform's on-demand applications also work with the highest security standards. All servers are operated in dedicated data centres that have the latest security standards and also meet the ISO standard.

The platform is not only suitable for existing customers, but for all companies that have a historically evolved IT landscape and thus have to maintain and monitor countless different interfaces.

The platform offers more than 1,000 different apps from SAP and third-party providers, which can be used immediately if required without additional development effort.

The integration content can be used extremely flexibly for individual projects or for entire systems and can be adapted to individual needs. The platform also focuses on the shared use of data.

SAP Cloud Platform Integration is a modern, high-performance integration and development platform for companies that want to bundle and develop their various applications and services centrally in one environment.

SAP Cloud Platform is a platform as a service (PaaS) that goal to provide the while customers develop new and existing applications. SAP Cloud Platform supports in-memory capabilities, core platform services use and unique microservices to mobile-enabled cloud applications in a secure environment. It targets enterprises by giving them quick solutions to their critical needs.

This tutorial has been prepared for professionals who aspire to learn the fundamentals of Cloud Platform and application development. Consultants and project team members who have already been a part of SAP application development can draw benefits from this tutorial and refresh their knowledge.

SAP Cloud Platform is a cloud-based tool to develop and deploy custom applications. This includes full range of service catalog including database, storage and backup of data, reporting service and transaction layer to develop multi-platform software development. This tutorial gives you a comprehensive coverage of concepts of SAP Cloud and makes you comfortable to use it in your software development projects.

In this session you will learn that SAP Cloud Platform (SCP) is a platform as a service developed by SAP SE for creating new applications or extending existing applications in a secure cloud computing environment managed by SAP. The SAP Cloud Platform integrates data and business processes.

SAP Cloud platform offers PaaS based in-memory and microservice based mobile enabled cloud applications. SAP Cloud Platform provides you an option to control your choice of clouds, frameworks, and applications.

SAP Cloud Platform is the central Web-based user interface for administrators, and you can use this for providing access to various functions for configuring and managing applications using SAP Cloud platform.

SAP Cloud Platform Integration (CPI), which is a new tool to make SAP Integrations with. Like a replacement of SAP PI/PO, though it has some different options and flows.

SAP CPI is one of the pieces of evidence to support this theory. This tool is meant to define the course of the process between systems, or in other words: to modify data or an algorithm for their processing.

SAP Cloud Integration for data services allows you to efficiently and securely use ETL (extract, transform, load) tasks to move data between on premise systems and the cloud. With SAP Cloud Integration for data services, you can replicate the data and define how the data is mapped to your database schema.

SAP public cloud application like SAP Integrated Business Planning for Supply Chain use SAP Cloud Integration for data services to integrate with the on-premise SAP system.

SAP Cloud Integration for data services represents the integration layer of a hybrid scenario. Monitoring it is relevant for all hybrid scenarios using this integration form. For SAP Cloud Integration for data services, we can collect exceptions in the tasks running in the service.

SAP Cloud Platform Integration service helps you to connect cloud and on-premise applications with other SAP and non-SAP cloud and on-premise applications. This service has the capabilities to process messages in real-time scenarios spanning different companies, organizations, or departments within one organization.

SAP CPI video is the present service in the market, there are a rich set of capabilities. Security performance and pre-package responsibilities which will inform to the cloud. The SAP Cloud Platform Integration is the service that is working on the cloud platform.

SAP CPI is designed as Integration Platform-as-a-Service (PAAS) which helps to integrate multiple independent systems/applications for a business process. CPI can do Cloud to Cloud, Cloud to On-premise, On-premise to On-premise and Hybrid model.
Course/Topic 4 - SAP HCI - all lectures
In this first video on SAP HCI, you will get a brief overview and understanding of Service Oriented Architecture or commonly abbreviated as SOA like what is SOA, usage of SOA, the concept of Stateless and Stateful in SOA, what is a Middleware, the list of popular Middleware tools, the diagrammatic explanation of SAP Business Connector under the R/3 System, a pictorial representation and explanation on the Dual-Stack. Further, you will be getting an overview of PI.

In this tutorial, you will be getting a detailed understanding of SAP HCI, starting with HANA Cloud Platform (HCP), what are the open standards that are provided with the HANA platform, its popular features, and services, the pricing and packaging of HANA Cloud Platform, and others.

In this video, the trainer will be showing you the complete configuration setup for SAP HCI. You will be learning the complete process from the scratch, starting with downloading the software, working with the eclipse screen, information on HCI Tenants, and others.

This video is a workaround on the SAP HCI system, focusing on the settings to the tabs like Discover, Design, and Monitor. Along with this, you will also get a brief overview on managing the lifecycle of APIs, test APIs, building sample apps, an explanation on the SAP Hybris Marketing Cloud –file-based data load, file-based load – Accounts. You will also get a pictorial representation of the Concur Expense Integration with Financials and a detailed explanation of this.

In this tutorial, you will get a more detailed understanding of the working principle of SAP HCI, starting with the Nodes of HCI, working with the features like High Availability, Scalability, and system access on HCI Training Demo.

This video will show you how to configuration and testing steps for SAP HCI. The trainer will be showing you the steps involved in the complete work process throughout the session.

In this video, the trainer will show you the works involved while setting up the Deploy Integration Content and testing it. The trainer will be seen working on the GeoIPSOAP screen with working on the Mapping mechanism in SAP HCI.

In this video, you will learn how the communication process is made in the SAP HCI course, starting with the GEOIP Integration Process, the work process of sending and receiving messages to SAP HCI, and what are the steps involved in it. This will be shown in the SAP system. Furthermore, you will be learning about the Message Container, the explanation on Employee Central to ERP Employee Data, the Camel's Message Model, and the Message Persistence.

In this video, you will learn how to create a new project in SAP HCI, starting with creating an Integration Project and then creating an Integration flow. The trainer will show you a step-by-step process of the complete workflow in the system.

This video will work you around the complete procedure and settings section of the Content Modifier and how it is done. You will also be learning about the Message Mapping and how it is done in the SAP HCI system.

In this tutorial, you will learn about the Cloud Platform Environment Variables, the list of Environment Variables, the procedure of creating an SAP HCI Integration project and iFlow in Eclipse, working with Odata, working with the Workspace Integration Designer, and lastly a pictorial representation of Employee Central to ERP Employee Data with the explanation.

This video is about working with the GeoIP Interface along with working with the Mapping mechanism in the SAP HCI and the Transformation work process in the system.

This video is a complete practical session on working with Importing ES Repository Interface with the Message Mapping Definition, getting an overview of SuccessFactors Employee Central to ERP Organizational Data along with the Employee Central to ERP Generic Object.

In this session, you will learn about the SAP Hybris Cloud for Customer Integration, the sender and receiver channel for COD, and lastly working with the various Deployed Artifacts. All these will be shown by the trainer in the SAP HCI system.

This video is about the IDoc configuration, what are the TCodes used in the procedure, the major steps involved in the IDoc processing, working with the Integration Settings, the ports in IDoc processing, and the RFC Destination.