BUY THIS COURSE (USD 17 USD 41)
SAP Analytics Cloud (SAC)
Master data analysis & business intelligence with SAP Analytics Cloud. Unlock insights and drive smart decisions in digital era. Become SAC Consultant
( add to cart )
Save 59% Offer ends on 31-Dec-2023
Preview SAP Analytics Cloud (SAC) course
View Course Curriculum
Price Match Guarantee
Full Lifetime Access
Access on any Device
Technical Support
Secure Checkout
&nbsp Course Completion Certificate
Highly Rated
Trending
Cutting-edge
Instant access
Students also bought -
17 Hours
USD 17
164 Learners
15 Hours
USD 17
54 Learners
150 Hours
USD 23
1327 Learners
Completed the course? Request here for Certificate.
ALL COURSES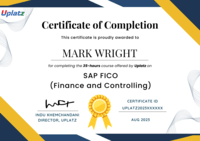 SAP Analytics Cloud is a software-as-a-service (SaaS) business intelligence platform designed by SAP. SAP Analytics Cloud is made specifically with the intent of providing all analytics capabilities to all users in one product. SAP Analytics Cloud, commonly referred to as SAC, is the cloud data visualization tool from SAP. in a desire to develop a Business Planning and Consolidation (BPC) Cloud, SAP released a product called SAP Cloud for Planning which offered planning functionalities. The German vendor improved it by adding a BI layer for data visualization and renamed it SAP BusinessObjects Cloud.
Built natively on SAP HANA infrastructure, SAP Analytics Cloud allows data analysts and business decision makers to visualize, plan and make predictions all from one secure, cloud-based environment. SAP claims this differs from other BI platforms, which often require data to be integrated from various sources and users to jump between different applications when performing tasks, such as creating reports. With all the data sources and analytics functions in one product, Analytics Cloud users can work more efficiently, according to SAP. The key functions are accessed from the same user interface that is designed for ease-of-use for business users.
SAP Analytics Cloud is a single solution for business intelligence and enterprise planning, augmented with the power of artificial intelligence, machine learning technology and predictive analytics. It helps everyone in your organization make better decisions and act with confidence. SAP Analytics Cloud removes silos, empowers business analysts and unifies a company's decision-making processes by combining business intelligence, augmented analytics, and enterprise planning into one product.
With SAC, SAP is proposing a simple solution for that problem, the main goal is to give the business users the right set of tools to cover that entire process in an easy way without creating additional work for the IT team. SAP Analytics Cloud provides an intuitive interface that empower business users to perform tasks simpler and faster, with functionality that resemble the tools they already use to facilitate adoption. SAP Analytics Cloud is a new product in SAP's portfolio designed to satisfy the demands of cloud data visualization. It is offered as a SaaS-based, all-in-one solution. It addresses data visualization, budgeting, and predictive analytics requirements. Its primary purpose is to generate data reports.
Multiple data scenarios can be managed at the same time. Users can create tasks and set up reminders to make sure the process is completed on time. Collaboration is also available throughout the application allowing users to have conversations based on any element or even specific value within a cell. Tasks can also be created based on those conversations.
Uplatz offers this in-depth course on SAP Analytics Cloud. The major focus is the BI functionality and building and navigating in stories with an additional focus on Digital Boardroom. Although these areas would be considered the core of the class, the course addresses all the areas of SAC including Planning, user management and roles, as well as sourcing and wrangling data with hands- on exercises in each of these areas. Also covered is the new distribution/information delivery platform called SAP Analytics Hub which is tightly integrated into SAP Analytics Cloud.
Course/Topic - SAP Analytics Cloud (SAC) - all lectures
In this tutorial we will get an overview of SAP Analytics Cloud, commonly referred to as SAC. It is the cloud data visualization tool from SAP. Its strengths? SAP Analytics Cloud combines a lot of functionalities in a single tool.

In this tutorial we learn about business intelligence (BI), augmented analytics, predictive analytics, and enterprise planning – in a single solution. Explore data across the organization and deliver insights at the point of decision with intuitive self-service analytics.

In this tutorial we talk about Evolution of SAC SAP Analytics Cloud integrates with SAP BW without replication required. The advantage is that you can use your existing data models in BW to generate views in SAP Analytics Cloud. SAC and BPC have bi-directional integration. SAP Analytics Cloud is not a success for BPC but a complimentary tool.

In this lecture session we will go through a simple demonstration on SAC and also talk about how we upload and collect the data in SAC in brief. How do we create a story in SAC?

In this lecture session we learn about the process of applying in SAP Analytics Cloud and also talk about data types in SAC. SAC ships with some metrics which can be accessed at System / Monitor. There you can analyze the number of users, logins, consumed storage by model and how many transactions (any activity) a user performed.

In this tutorial we learn about data set in SAC. SAC automatically builds an embedded "Dataset" and lets you create story components. As the dataset is embedded into the story, it cannot be reused elsewhere. End users love this function of automatic data preparation.

In this lecture session we learn about In a logical data model, a dataset is the basic organizational unit, a set of related facts, attributes or both, which are stored together in the workspace. Datasets are associated with each other through relationships. A relationship describes how one dataset is related to another.

In this lecture session we learn about Scenario Planning provides the Business users the ability to plan and forecast on different planning assumptions and see the financial impact instantly. This capability can be achieved using the Version Management functionality in SAP SAC.

In this lecture session we learn about The SAC Data Analyzer is an ad-hoc analysis tool built-in the SAP Analytics Cloud platform, which works in a similar way as the classic BEx Web or the Analysis for Office plugin for Excel.

In this tutorial we learn about Smart Predict is the most advanced predictive feature in SAC. There are three types of Smart Predict scenarios– Classification, Regression & Time-Series – provided by SAC to address prediction on different business use cases.

SAP Analytics Cloud (SAC)- In this lecture session we learn about Smart insights that uses proprietary rules and algorithms to do this in a performant way, whereas a user would need to manually investigate each dimension. Some of the benefits are as follows: Quickly understand the reasons behind an interesting data point or variance and see what factors contribute to the value.

In this lecture session we learn about The key difference between a budget and a forecast is that a budget lays out the plan for what a business wants to achieve, while a forecast states its actual expectations for results, usually in a much more summarized format.

In this lecture session we learn about a generic dimension that has the following attributes: Name, the member name. Format, user defined: number, date/time and text formats. Pick List, a link to a predefined dimension or subset and also talk about dimensions and measures are data objects that represent categorical, transactional and numerical data in a dataset; for example, Products, Sales or Revenue.

In this lecture session we learn about financial planning and analysis (FP&A) is a set of four activities that support an organization's financial health: planning and budgeting, integrated financial planning, management and performance reporting, and forecasting and modeling.

In this lecture session we learn about a matrix organization which is a company structure where teams report to multiple leaders. The matrix design keeps open communication between teams and can help companies create more innovative products and services. Using this structure prevents teams from needing to realign every time a new project begins.

In this lecture session we will learn that Resource allocation is a plan that you develop with the aim of making the most of the available resources at your disposal in a project. This is mostly a short-term plan set in place to achieve goals in the future and also talk about features of resource allocation.

In this lecture session we will learn that the driver tree is a way for businesses (and consultants) to understand the impact of changes to key variables that change overall outcomes. The driver tree focuses on visually laying out the smaller components that drive value in a business.

In this tutorial we understand that the Value Driver Model is an open model that provides a structure for companies to describe and measure how their sustainable business strategies can drive financial results. Its direct tie to core business strategy and outcomes is the differentiator.

In this lecture session we learn in the context of SAP Analytics Cloud (SAC), SAP's cloud-based Analytics SaaS solution, that Widgets are mainly used for presentation and display purposes. They are used to visualize information as graphs or charts to show data on maps or by other representations like gauges.

In this tutorial we learn that the main aim of SAP Digital Boardroom is to give you a 360° view of your enterprise in real time. High-level as well as detail-level information is available to (executive) management members 24/7. In this course, you'll learn the steps you need to take to prepare a board meeting using SAP Digital Boardroom.
• Create a Data Model and Upload Master Data
• Overview of the data modelling capabilities in SAP Analytics Cloud.
• Experience SAP Analytics Cloud's data modeler.
• Load data from an Excel file and perform data cleansing on a sample of the data using the new modelling UI.
• Validate the data quality on a full dataset and ultimately build a model.
• Import Data from Flat Files
• Run time series forecasts based on your historical data for the future periods.
• See how you can define formulas in the data modeler to execute calculations on the fly.
• Get an overview of the Advanced Formula Editor capabilities.
• Forecast with Input controls
• Predictive Forecasts
SAP Analytics Cloud - Course Content
UNIT- 1: Overview and Positioning
➢ Analytics Cloud Architecture Overview
➢ SAC vs other BI tools
➢ Benefits and core functionalities of SAC
➢ Cloud vs On-Premise vs Hybrid
➢ Analytics Cloud Client tools and Importance
UNIT- 2: Modeling
➢ What is MODEL
➢ Components of MODEL
➢ Working with Dimension and Classification
➢ Configuring Geo-Dimension
➢ Working with Measures
➢ Working with Transformations
➢ Working with Variables
➢ Data Blending
UNIT- 3: Business Intelligence
➢ Designing SAC Stories
➢ Working with Custom Templates
➢ Working with Standard Templates
➢ Working with Canvas-Responsive and Grid modes
➢ Working with Designer (Builder panel, Styling Panel)
➢ Filters in SAC
➢ Query level filters
➢ Story level filters
➢ Page-level filters
➢ Widget level filters
➢ Advanced Filters
➢ Linked Analysis
➢ Hyperlinking
➢ Conditional Formatting
➢ Customizing Measures
➢ Customizing Dimensions
➢ Data blending
➢ Working with Chart widget
➢ Working with a Table widget
➢ Working with Geo Map widget
➢ R language basics
➢ Generating R based Stories
➢ Import data connection from Google drive
UNIT- 4: Augmented Analytics
➢ What is Augmented Analytics
➢ Smart Search
➢ Smart Discovery
➢ Smart Insights
UNIT- 5: Planning with SAC
➢ How to develop planning data models in SAC
➢ Understand measures, accounts, hierarchies, currency conversion
➢ Manage versions of planning
➢ Create planning stories
➢ Planning functions - variance, forecast, version management
➢ What if analysis
➢ Allocations
➢ Spreading and Distributions
➢ Value Driver Tree- VDT
➢ Data actions and insights
➢ Collaboration
UNIT- 6: Analytics Designer
➢ What is Analytics Designer
➢ Difference between SAC Stories vs Analytics Designer
➢ Analytics Designer overview and walkthrough
➢ Outline, Designer, Error, and reference panels
➢ Design mode vs Run mode vs View mode
➢ Designing basic Analytic application
➢ working with Container widgets
➢ Implementing filters
➢ working with Drop-down, Radio button, Checkbox components
➢ working with script variables
➢ working with script objects
➢ Configuring and implementing Dynamic Visibility
➢ Implementing Hyper linking and Explorer option
➢ Using APIs to integration with Smart discovery, smart insights
➢ Embedding the WebPages inside the Analytic designer
➢ Embedding SAC app inside other WebPages
UNIT- 7: Predictive Scenario
➢ Predictive scenario overview
➢ SAC Stories vs SAC Applications vs SAC Predictive
➢ Working with Datasets, Variables
➢ Understand Regression
➢ Understand Logistic Regression, RoC Curves, AUC Curve
➢ Model performance and Confusion Matrix
➢ Profit Simulation for Classification
➢ Implementing Classification Precative Model
➢ Implementing Regression Predictive Model
➢ Residual and MAPE Concept in Regression
➢ Trend, Cycle, Residual and Variations concepts
➢ Implementing a Time series Predictive Model
➢ Generating predictive stories
UNIT- 8: Administration
➢ SAC Administration Overview
➢ Roles (Standard vs Custom)
➢ Team
➢ Users
➢ Working with data loading and scheduling
➢ Cloud connector
➢ Analytics Cloud Agent
UNIT- 9: SAC Roadmap and Certification
The SAP Analytics Cloud (SAC) Certification ensures you know planning, production and measurement techniques needed to stand out from the competition.
SAP Analytics Cloud is a new tool in the SAP portfolio to meet the needs of data visualization in the cloud. It is delivered as an all-in-one, SaaS-based product. It covers the needs of data visualization, budget planning, and predictive analytics. Its main function is the creation of data reports.
The main difference between an analytics application and stories is that analytics applications can use widgets and can be customized using scripting however it is not available in case of stories. In an Analytics application, you can change the default behavior of the entire analytic application.
In SAP Analytics Cloud, a model is a representation of large amounts of business data from source systems. It defines measures and dimensions that are used to build visualizations, filters, and calculations in stories. Suitable for governed-data use cases.
SAP Analytics Cloud (SAC) is a one-stop solution from SAP for a wide range of enterprise needs such as visualization, reporting, predictive, and planning. Planning is an integral part of this platform, making SAC stand out from the rest of the visualization tools.
Uplatz online training guarantees the participants to successfully go through the SAP Analytics Cloud (SAC) Certification provided by Uplatz. Uplatz provides appropriate teaching and expertise training to equip the participants for implementing the learnt concepts in an organization.
Course Completion Certificate will be awarded by Uplatz upon successful completion of the SAP Analytics Cloud (SAC) online course.
The SAP Analytics Cloud (SAC) draws an average salary of $125,000 per year depending on their knowledge and hands-on experience.
SAP Analytics Cloud is a new tool in the SAP portfolio to meet the needs of data visualization in the cloud. It is delivered as an all-in-one, SaaS-based product. It covers the needs of data visualization, budget planning, and predictive analytics. Its main function is the creation of data reports
Overall a very good experience with SAC that is improving with every new delivery. Compared with other vendors, three years ago, SAC was quite weak in some areas, especially data integration with
Note that salaries are generally higher at large companies rather than small ones. Your salary will also differ based on the market you work in.
SAP Analytics on Cloud (SAC).
Data Visualization Expert - SAC (SAP Analytics Cloud).
SAP Analytics Cloud.
SAC Developer
1. Define Sap Analytics Cloud?
Answer :
SAP Analytics Cloud refers to an all-in-one cloud platform offered as software as a service (SaaS) specifically for planning, business intelligence (BI), planning and predictive analytics providing data discovery, data visualization, simulation, what-if, forecasting besides the many other capabilities. This has been built primarily on SAP Cloud Platform, and this provides a complete, unified and secure public cloud analytics experience meant for maximizing data-driven decision making.
2. Is The Sap Analytics Cloud Multitenant?
Answer :
Yes, the SAP Analytics Cloud has been available as a public cloud (software as a service, multi-tenant) offering. A 'private cloud' (software as a service, single tenant) is available as an option.
3. Where Is Sap Analytics Cloud Hosted?
Answer :
At present, SAP Analytics Cloud functions on the runs on SAP Cloud Platform data centers all around the world. SAP has also recently announced partnerships with Amazon Web Services (AWS), Google Cloud Platform (GCP) and Microsoft Azure for running SAP Cloud Platform and they also plan to run SAP Analytics Cloud on these IaaS platforms soon. Although there are no plans for running on other IaaS platforms.
4. How Can I Get Access To The Web Application Of Sap Cloud Platform Integration To Be Able To Configure The Cloud Integration Packages?
Answer :
Initially SAP supported the provisioning of a SAP Cloud Platform Integration tenant with the help of the web tooling capability only, i.e., without any runtime node. At present, this offering is unavailable. In case you have any SAP Cloud Platform Integration license, then you can use the Web Application of the SAP Cloud Platform Integration tenant you have.
5. What Is The License Is Required For Using The Sap Cloud Platform Integration Feature?
Answer :
The Cloud Integration Content Runtime can only be used together either with the SAP Process Orchestration or with SAP Process Integration. Either of the products is required to be licensed separately. Besides configuration of the cloud integration content in the new offering, the user will also require a SAP Cloud Platform Integration license.
6. How Will I Know If Within The Sap Analytics Cloud, Is My Data Is Secure Within Sap?
Answer :
SAP Analytics Cloud functions exclusively on SAP Cloud Platform which regularly meets the international security standards.
7. Does The Cloud Connector Send Data From On-premise Systems To Sap Cloud Platform Or The Other Way Around?
Answer :
The connection is opened from the on-premise system to the cloud, but is then used in the other direction.
An on-premise system is, in contrast to a cloud system, normally located behind a restrictive firewall and its services are accessible thru the Internet. This concept follows a widely used pattern often referred to as reverse invoke proxy.
8. Is The Connection Between The Sap Cloud Platform And The Cloud Connector Encrypted?
Answer :
Yes, by default, TLS encryption is used for the tunnel between SAP Cloud Platform and the Cloud Connector.
If used properly, TLS is a highly secure protocol. It is the industry standard for encrypted communication and also, for example, as a secure channel in HTTPS.
Keep your Cloud Connector installation updated and we will make sure that no weak or deprecated ciphers are used for TLS.
9. Can I Use A Tls-terminating Firewall Between Cloud Connector And Sap Cloud Platform?
Answer :
This is not possible. Basically, this is a desired man-in-the-middle attack, which does not allow the Cloud Connector to establish a mutual trust to the SAP Cloud Platform side.
10. What Is The Oldest Version Of Sap Business Suite That's Compatible With The Cloud Connector?
Answer :
The Cloud Connector can connect an SAP Business Suite system version 4.6C and newer.
Q1. What are the payment options? A1. We have multiple payment options: 1) Book your course on our webiste by clicking on Buy this course button on top right of this course page 2) Pay via Invoice using any credit or debit card 3) Pay to our UK or India bank account 4) If your HR or employer is making the payment, then we can send them an invoice to pay. Q2. Will I get certificate? A2. Yes, you will receive course completion certificate from Uplatz confirming that you have completed this course with Uplatz. Once you complete your learning please submit this for to request for your certificate https://training.uplatz.com/certificate-request.php Q3. How long is the course access? A3. All our video courses comes with lifetime access. Once you purchase a video course with Uplatz you have lifetime access to the course i.e. forever. You can access your course any time via our website and/or mobile app and learn at your own convenience. Q4. Are the videos downloadable? A4. Video courses cannot be downloaded, but you have lifetime access to any video course you purchase on our website. You will be able to play the videos on our our website and mobile app. Q5. Do you take exam? Do I need to pass exam? How to book exam? A5. We do not take exam as part of the our training programs whether it is video course or live online class. These courses are professional courses and are offered to upskill and move on in the career ladder. However if there is an associated exam to the subject you are learning with us then you need to contact the relevant examination authority for booking your exam. Q6. Can I get study material with the course? A6. The study material might or might not be available for this course. Please note that though we strive to provide you the best materials but we cannot guarantee the exact study material that is mentioned anywhere within the lecture videos. Please submit study material request using the form https://training.uplatz.com/study-material-request.php Q7. What is your refund policy? A7. Please refer to our Refund policy mentioned on our website, here is the link to Uplatz refund policy https://training.uplatz.com/refund-and-cancellation-policy.php Q8. Do you provide any discounts? A8. We run promotions and discounts from time to time, we suggest you to register on our website so you can receive our emails related to promotions and offers. Q9. What are overview courses? A9. Overview courses are 1-2 hours short to help you decide if you want to go for the full course on that particular subject. Uplatz overview courses are either free or minimally charged such as GBP 1 / USD 2 / EUR 2 / INR 100 Q10. What are individual courses? A10. Individual courses are simply our video courses available on Uplatz website and app across more than 300 technologies. Each course varies in duration from 5 hours uptop 150 hours. Check all our courses here https://training.uplatz.com/online-it-courses.php?search=individual Q11. What are bundle courses? A11. Bundle courses offered by Uplatz are combo of 2 or more video courses. We have Bundle up the similar technologies together in Bundles so offer you better value in pricing and give you an enhaced learning experience. Check all Bundle courses here https://training.uplatz.com/online-it-courses.php?search=bundle Q12. What are Career Path programs? A12. Career Path programs are our comprehensive learning package of video course. These are combined in a way by keeping in mind the career you would like to aim after doing career path program. Career path programs ranges from 100 hours to 600 hours and covers wide variety of courses for you to become an expert on those technologies. Check all Career Path Programs here https://training.uplatz.com/online-it-courses.php?career_path_courses=done Q13. What are Learning Path programs? A13. Learning Path programs are dedicated courses designed by SAP professionals to start and enhance their career in an SAP domain. It covers from basic to advance level of all courses across each business function. These programs are available across SAP finance, SAP Logistics, SAP HR, SAP succcessfactors, SAP Technical, SAP Sales, SAP S/4HANA and many more Check all Learning path here https://training.uplatz.com/online-it-courses.php?learning_path_courses=done Q14. What are Premium Career tracks? A14. Premium Career tracks are programs consisting of video courses that lead to skills required by C-suite executives such as CEO, CTO, CFO, and so on. These programs will help you gain knowledge and acumen to become a senior management executive. Q15. How unlimited subscription works? A15. Uplatz offers 2 types of unlimited subscription, Monthly and Yearly. Our monthly subscription give you unlimited access to our more than 300 video courses with 6000 hours of learning content. The plan renews each month. Minimum committment is for 1 year, you can cancel anytime after 1 year of enrolment. Our yearly subscription gives you unlimited access to our more than 300 video courses with 6000 hours of learning content. The plan renews every year. Minimum committment is for 1 year, you can cancel the plan anytime after 1 year. Check our monthly and yearly subscription here https://training.uplatz.com/online-it-courses.php?search=subscription Q16. Do you provide software access with video course? A16. Software access can be purchased seperately at an additional cost. The cost varies from course to course but is generally in between GBP 20 to GBP 40 per month. Q17. Does your course guarantee a job? A17. Our course is designed to provide you with a solid foundation in the subject and equip you with valuable skills. While the course is a significant step toward your career goals, its important to note that the job market can vary, and some positions might require additional certifications or experience. Remember that the job landscape is constantly evolving. We encourage you to continue learning and stay updated on industry trends even after completing the course. Many successful professionals combine formal education with ongoing self-improvement to excel in their careers. We are here to support you in your journey! Q18. Do you provide placement services? A18. While our course is designed to provide you with a comprehensive understanding of the subject, we currently do not offer placement services as part of the course package. Our main focus is on delivering high-quality education and equipping you with essential skills in this field. However, we understand that finding job opportunities is a crucial aspect of your career journey. We recommend exploring various avenues to enhance your job search: a) Career Counseling: Seek guidance from career counselors who can provide personalized advice and help you tailor your job search strategy. b) Networking: Attend industry events, workshops, and conferences to build connections with professionals in your field. Networking can often lead to job referrals and valuable insights. c) Online Professional Network: Leverage platforms like LinkedIn, a reputable online professional network, to explore job opportunities that resonate with your skills and interests. d) Online Job Platforms: Investigate prominent online job platforms in your region and submit applications for suitable positions considering both your prior experience and the newly acquired knowledge. e.g in UK the major job platforms are Reed, Indeed, CV library, Total Jobs, Linkedin. While we may not offer placement services, we are here to support you in other ways. If you have any questions about the industry, job search strategies, or interview preparation, please dont hesitate to reach out. Remember that taking an active role in your job search process can lead to valuable experiences and opportunities.