BUY THIS COURSE (USD 2 USD 14)
Overview Course - Microsoft Project
You will learn about subscription version of Project, and how to print and communicate different aspects of the project plan using custom.
( add to cart )
Save 90% Offer ends on 31-Dec-2023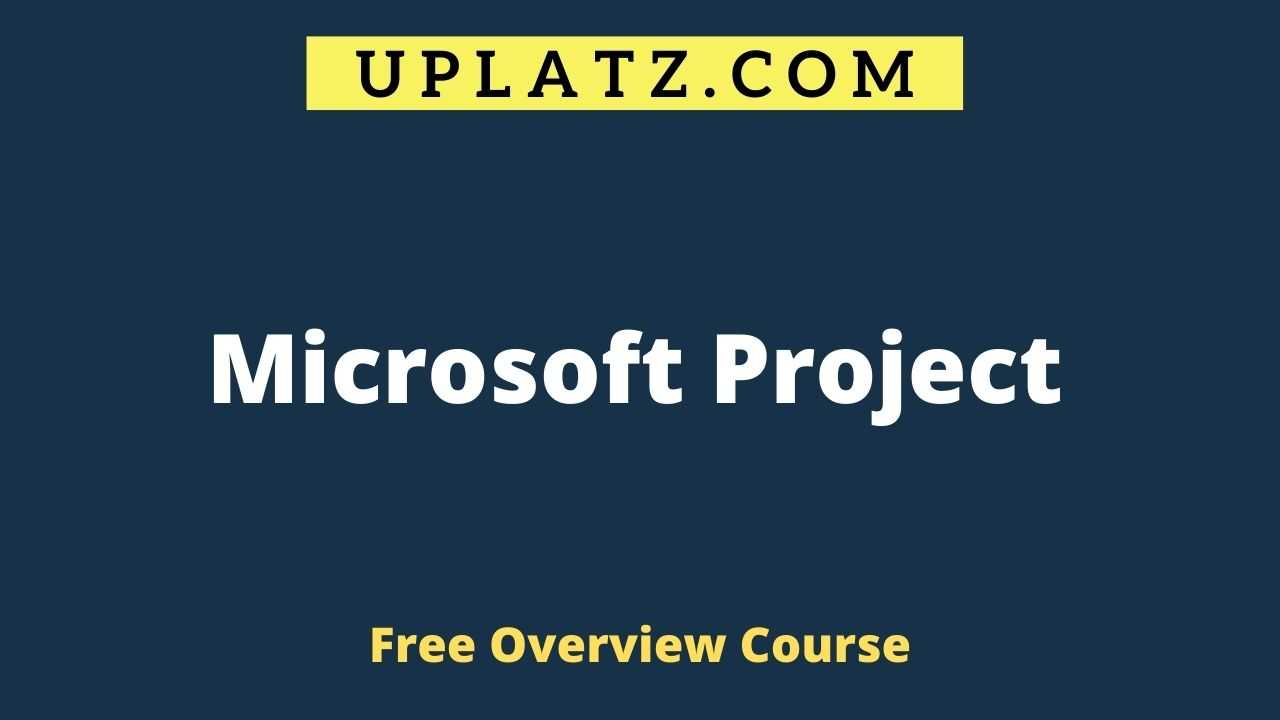 View Course Curriculum
Price Match Guarantee
Full Lifetime Access
Access on any Device
Technical Support
Secure Checkout
&nbsp Course Completion Certificate
Overview
Trending
Job-oriented
Instant access
Students also bought -
5 Hours
USD 17
55 Learners
8 Hours
USD 17
98 Learners
3 Hours
USD 17
94 Learners
Completed the course? Request here for Certificate.
ALL COURSES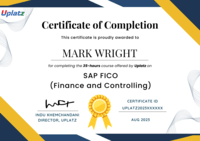 This is an overview course on Microsoft Project while the complete detailed-level Microsoft Project course is available at - https://training.uplatz.com/online-it-course.php?id=microsoft-project-beginner-60. Microsoft Project is a software product developed by Microsoft and is used as a leading project management tool. Microsoft Project allows users to use a specific set of tools to understand and monitor project schedules and budgets, present project data, and organise resources and workforce.
This is an overview course on Microsoft Project by Uplatz while the full Microsoft Project course will help students to leverage Microsoft Project to plan your project, manage project schedules and resources, create reports and dashboards to effectively share project data, track progress and monitor variances between targets and actuals.
The complete Microsoft Project training course is divided into 3 phases -
1) The first phase provides knowledge of creating project plans and calendars, entering task information and creating a work break-down structure, organising tasks and setting task relationships
2) The second phase is on creating and assigning project resources, setting critical paths and baselines, importing and exporting project plan data, updating the project plan to show task progress and creating project reports
3) The final phase covers how to create custom filters, groups, calculated fields, tables & views, create forms and reports, and analyse Project data. The students will also learn Macro features, recording, running and assigning to toolbar, Project Templates, creating, editing and implementing, using the organiser, and the like.
Course/Topic - Microsoft Project overview - all lectures
Lecture 1 - Getting Started with Microsoft Project

Lecture 3 - Modifying Project Information
This Microsoft Project overview course is targeted to those who can master the Microsoft Project software product. This course will help the participants to explore Microsoft project application.
The Microsoft Project overview Course explains how the MS Project is used in plan development, manage budgets and analyse workloads. Through the Microsoft Project tutorial, the participants learn to forecast the resource requirement, assume bottlenecks in prior, and ensure timely delivery of tasks.
With this MS Project training you'll be able to take a deep-dive into the Microsoft project software solution. Microsoft Project training intention is to provide complete assistance in creating a schedule, budget management, workload analysis and many other tasks related to project.
Microsoft Project is a software designed to cater the needs of managing a project in a simplified way. The Microsoft Project overview training from Uplatz help the participants to learn the importance of handling project related tasks which is available in a single software. The Microsoft Project Overview Course intention is to highlight the Microsoft project software.
Below given are the Certification details of Microsoft Project Professional:
· Certification Level: Professional
· Exam Name: Microsoft Certified Professional – Microsoft Project
· Exam Code: 74-343
· Exam Mode: Online
· Time Duration: 120 minutes
· Total Number of Questions: 45-55
· Exam Price: $165
Course Completion Certificate will be awarded by Uplatz upon the completion of this Microsoft Project overview course.
The MS Project Professional can draw an average salary of $93,913 per year depending on the knowledge and hands-on practice. The MS Project Professional job roles are in high demand and make a hopeful career.
The MS Project Professionals have lots of demand across the mid-size to global companies. The adoption of project management software can open many job vacancies. The leading MNCs and companies recruit MS Project professional keeping in mind the skill of managing a project.
The Microsoft Project certification is suitable for those who come from analysis background and want to build their career as a project professional.
The following are the job titles:
· Project/Program Manager
· Delivery Manager
· MS Project Specialist
· Project Specialist
· Project Analyst
The MS Project overview training course helps the participants to lead and manage any project in an efficient way.
1) Explain what is link task in MS project used for?
As the name suggests, link task in MS project is used for linking any two tasks in a project.
2) Mention where is "summary task" in MS project?
Summary task is helpful in estimating the task period and the length in project, and organizing the task in order. You can find "summary task" under main menu -> Insert -> Summary
3) List out the categories of tasks used in MS Project?
There are major four types of tasks:
· Summary tasks: It consists of subtasks and their related properties
· Subtasks: It is a smaller task that are part of a summary task
· Recurring tasks: These are the tasks that falls at regular intervals
· Milestones: These are the prime priority task that are adjusted to zero duration and are like short-term goals in the project
4) Mention what are the new features available in MS project 2013?
· Improved reporting tools: MS project 2013 offers advanced reporting tools and easy accountability for organizations
· Office 365 Integration: Easy integration of office 365 to the MS project data
· New Project Templates: The new MS project provides project templates that can be compliance to your requirement like marketing, construction, business, software development plan, etc.
· Better Presentation Tools: The timeline view gives better view of the progress of your project and helps to schedule your project accordingly
· Task Path: This feature can be handy for a project manager handling large and complex schedules. It allows the user to see the path for a specific task including Successors, Driven successors, Predecessors and Driving Predecessors.
5) Explain what is a constraint in MS project? What are the types of constraint available in MS project 2013?
In MS project, constraint is used for scheduling the task and setting a due date for the task. The types of constraint available in MS project are
· As soon as possible
· As late as possible
· Must start on
· Must finish on
· Finish no later than
· Start no later than
· Start no earlier than
· Finish no earlier than
6) Mention how to set a deadline in MS Project?
To set a deadline in MS project
· Double-click a task -> it will open a task information dialog box
· Now, click on the advanced tab
· Then click on the arrow in the deadline field to show the calendar and then choose a date
· Now save this by clicking on the save button
7) Explain how you can move tasks in Project 2013?
You can move tasks in MS project 2013 by two techniques
· Move the task with drag and drop method
· Move the task with the cut and paste method
8) Explain how you can remove resource from your project?
To remove the resource from your project, first filter the task list to view only the tasks to which the resource is allocated, and then you can edit or change each task to replace that resource.
· Choose a task-oriented view like Gantt chart and hide the summary tasks, this list will show only work tasks and milestones
· Under View tab's data section, click on the filter drop-down list and then select "Using Resource."
· In the "show tasks using" drop-down list, select the resource and delete it that you don't want and then click ok
· To replace the resource, select "Assign Resources" under resource tab's assignment section. Select the task from the table you want to re-assign, and then, in the Assign resource dialog box, choose the resource you want to replace and click replace
· Click the format tab, and turn the checkbox back on for "Show Summary Tasks."
· Click resource sheet in the view tab's resource view section and now you can delete the resource
9) Mention what is the characteristics of Gantt Chart Basics?
· In Gantt chart, each task is displayed by one row
· Dates are displayed in incremental order like days, weeks or months as per the total length of the project
· For each task expected, time is displayed by a horizontal bar whose left end indicates the estimated beginning of the task and right end indicates the estimated completion date
· Task may run parallel, sequentially or overlapping
· The chart is represented in the bar formation to a length proportional to the fraction of the work that has been completed
· On the left of the line, you will see the completed tasks
· Future tasks line lies to the right of the line
· Current task are cross the line and are behind schedule when filled in section is on the left of the line and ahead of schedule when it is right of the line
10) Explain what is the use of work contour in MS Project? What are the different types of contour you use in MS Project?
In MS project work, contour displays the distribution of working hours over the duration of the task. The graph will show the peak according the work distribution over the week.
· Flat: Such contour signifies an even distribution of work
· Back-loaded: It will show the peak activity at the end of the project
· Front-loaded: It will show the peak working activity at the opening of the project
· Double peak: It will show two major periods of peak activity
· Early peak: It is same as the front loaded but with the rise to peak activity
· Late peak: It is same as a back loaded contour with a ramp
· Bell: It shows a single peak in the central of the project
· Turtle: A bell with a ramp up and down
11) Explain how you can format a Gantt chart on MS Project?
To format a Gantt chart on MS project
· First you have to click on Format icon from main menu bar
· Click customize quick access toolbar, which is last on the corner above menu bar
· -> click on more components -> select on, comments not in pattern
· -> click on Gantt Chart Wizard and then click add and ok
· Once Gantt chart wizard setup, it will open a window that displays various setting like standard, critical path, baseline and other for your Gantt chart. You can select option according to requirement and click next
· Likewise, you can also set information like resources and dates, resources or dates alone
· Once you exit wizard, basic formatting like color, font size and appearance can be changed from the main menu ( FORMAT) itself
12) Explain how you can link tasks in MS Project 2013?
You can link or connect any two tasks in a project to manifest their relationship, also referred as dependency. Dependency drives the project schedule and once you change the tasks, every change you make to one alter the task of other, which affects the next and so on. To link the task, you have to
· Click View -> Gantt Chart
· Hold down Cntrl and click the two tasks you want to link
· Click on Task -> Linked the selected tasks
13) Mention the types of task links in MS Project 2013?
There are four types of task links in MS project
· Finish to start link: In this link the second task cannot be initiated until the first task is completed
· Start to start link: In this link, the second task can begin at any time after first task is initiated
· Finish to finish link: In this link, two task does not have to end at the same time, the second task can end anytime after first task is ended
· Start to finish link: In this link, the second task can't finish until the first task begins.
14) Explain what is resource levelling?
Resource levelling is the coolest feature given by MS project; these tool schedules work without over allocating work to the employees, especially for those who are indulged in multi-task activities. For example, there is a project A and B and allotted time for this project is 3 and 2 days. When an individual use resource levelling, it schedule the work as first 2 days for the project A and later two days for project B and again on the last day it will return to project A.
15) Explain how you can create and code a WBS (Work Breakdown Structure) in MS Project?
· Inserting Tasks: If you forgot to insert task in the list you can add by clicking the place whee you want to add a task and go to "Insert>New" task or press "insert."
· Outlining Structure: You will be creating an outline of the project by assigning the project name. In respect to do that you have to select all deliverables underneath the heading and then click the Indent button. They will all line up, and the deliverable will appear in bold
· Assign numerical code to tasks: Once you have created a work breakdown, you can assign a numerical code to it. In respect to do that go to "tools" in the task bar. Under "options", you will see "outline options", under this you have to click on check box with the option "show outline number". You will see that the task list will have a numerical code in front of it.
16) What should you be aware of before importing excel file to MS Project?
Before you import excel file, you should be aware of following things
· Make sure which excel file fields will be mapped to which MS project
· Not necessary that all fields in the excel should be imported to MS project, you have the opportunity to choose the field you wanted to import
· Make sure that your import file has a column header
· Blank fields in the excel will be imported as a blank field the project
· Start and finish date in excel will be imported in the MS project start and finish field as start no earlier than constraints for the tasks
· If the map has to imported then, it should in Global.mpt file format on your machine, if it is not in that format then import wizard will nod show the map as selection choice.
17) Explain the path for importing excel into the MS Project 2013?
Path for importing the file into MS project:
· File -> Open -> Files of type -> Excel workbook -> browse the file and select the file -> Now click on Open -> Wizard will start -> Click Next
At the end of the run wizard, it will ask how you want to import the file
· As a new project
· Append the data to the active project
· Merge the data into the active project
After selecting any of the above options, you can click next to finish importing excel file to MS project.
18) Explain how you can compare budget resource values in MS Project?
· Go to Resource Usage view ( View -> Resource Usage)
· Add budget cost, Work, budget work and Cost columns to the table if they are not there already
· Tap on the drop down arrow to the right of the Resource Name column heading and then choose "Group by" -> Custom group, in order to group the resource by custom resource test field
· Tap on the down arrow in the Field Name cell in the Group By row section, after that in the drop down list of resource fields, select the name of the custom text field for your budget categories and then click apply
· Now in the group summary rows, compare the budget get cost or budget work values to the cost or work values simultaneously
· To dismantle the group, you can choose NO groups by clicking down arrow to the right of the Resource Name column heading
19) Explain what are the setting you have to insert while entering Project Information into Project 2013?
To enter project information into project 2013, it includes information like
· Start and Finish Date: For a project that is scheduled forward from the start date, enter only the start date, while enter the finish date if you like to schedule backward from finish date
· Schedule From: You can select the finish date or start date whichever way you want to schedule your task
· Current Date: By default this setting matches the computer clock settings; however it can be configured according to your requirement
· Status Date: To track the progress on the project you can the current date status. This will show the status of the project as of the current moment
· Calendar: From this drop-down list you can choose the base calendar template to use for the project calendar
· Priority: By using this field you can prioritize your work and decide which work has to be delayed and which has to be done immediately
20) Explain how to set work time exception in Project 2013?
To alter the available working hours in Project 2013 for a particular day, you have to change the work time exception settings. In order to do that
· Select the project and change the working time
· On the calendar choose the day you want to change
· Click the exception tab to display it, it will show a column with the name cell in a blank row, type a name for the exception and press enter
· Tap the exception name you entered in step 3 and then click the details button. It will open a detail dialog box for this exception. Where you will make the setting according to your requirement like working time, recurrent pattern and range of recurrence.
Q1. What are the payment options? A1. We have multiple payment options: 1) Book your course on our webiste by clicking on Buy this course button on top right of this course page 2) Pay via Invoice using any credit or debit card 3) Pay to our UK or India bank account 4) If your HR or employer is making the payment, then we can send them an invoice to pay. Q2. Will I get certificate? A2. Yes, you will receive course completion certificate from Uplatz confirming that you have completed this course with Uplatz. Once you complete your learning please submit this for to request for your certificate https://training.uplatz.com/certificate-request.php Q3. How long is the course access? A3. All our video courses comes with lifetime access. Once you purchase a video course with Uplatz you have lifetime access to the course i.e. forever. You can access your course any time via our website and/or mobile app and learn at your own convenience. Q4. Are the videos downloadable? A4. Video courses cannot be downloaded, but you have lifetime access to any video course you purchase on our website. You will be able to play the videos on our our website and mobile app. Q5. Do you take exam? Do I need to pass exam? How to book exam? A5. We do not take exam as part of the our training programs whether it is video course or live online class. These courses are professional courses and are offered to upskill and move on in the career ladder. However if there is an associated exam to the subject you are learning with us then you need to contact the relevant examination authority for booking your exam. Q6. Can I get study material with the course? A6. The study material might or might not be available for this course. Please note that though we strive to provide you the best materials but we cannot guarantee the exact study material that is mentioned anywhere within the lecture videos. Please submit study material request using the form https://training.uplatz.com/study-material-request.php Q7. What is your refund policy? A7. Please refer to our Refund policy mentioned on our website, here is the link to Uplatz refund policy https://training.uplatz.com/refund-and-cancellation-policy.php Q8. Do you provide any discounts? A8. We run promotions and discounts from time to time, we suggest you to register on our website so you can receive our emails related to promotions and offers. Q9. What are overview courses? A9. Overview courses are 1-2 hours short to help you decide if you want to go for the full course on that particular subject. Uplatz overview courses are either free or minimally charged such as GBP 1 / USD 2 / EUR 2 / INR 100 Q10. What are individual courses? A10. Individual courses are simply our video courses available on Uplatz website and app across more than 300 technologies. Each course varies in duration from 5 hours uptop 150 hours. Check all our courses here https://training.uplatz.com/online-it-courses.php?search=individual Q11. What are bundle courses? A11. Bundle courses offered by Uplatz are combo of 2 or more video courses. We have Bundle up the similar technologies together in Bundles so offer you better value in pricing and give you an enhaced learning experience. Check all Bundle courses here https://training.uplatz.com/online-it-courses.php?search=bundle Q12. What are Career Path programs? A12. Career Path programs are our comprehensive learning package of video course. These are combined in a way by keeping in mind the career you would like to aim after doing career path program. Career path programs ranges from 100 hours to 600 hours and covers wide variety of courses for you to become an expert on those technologies. Check all Career Path Programs here https://training.uplatz.com/online-it-courses.php?career_path_courses=done Q13. What are Learning Path programs? A13. Learning Path programs are dedicated courses designed by SAP professionals to start and enhance their career in an SAP domain. It covers from basic to advance level of all courses across each business function. These programs are available across SAP finance, SAP Logistics, SAP HR, SAP succcessfactors, SAP Technical, SAP Sales, SAP S/4HANA and many more Check all Learning path here https://training.uplatz.com/online-it-courses.php?learning_path_courses=done Q14. What are Premium Career tracks? A14. Premium Career tracks are programs consisting of video courses that lead to skills required by C-suite executives such as CEO, CTO, CFO, and so on. These programs will help you gain knowledge and acumen to become a senior management executive. Q15. How unlimited subscription works? A15. Uplatz offers 2 types of unlimited subscription, Monthly and Yearly. Our monthly subscription give you unlimited access to our more than 300 video courses with 6000 hours of learning content. The plan renews each month. Minimum committment is for 1 year, you can cancel anytime after 1 year of enrolment. Our yearly subscription gives you unlimited access to our more than 300 video courses with 6000 hours of learning content. The plan renews every year. Minimum committment is for 1 year, you can cancel the plan anytime after 1 year. Check our monthly and yearly subscription here https://training.uplatz.com/online-it-courses.php?search=subscription Q16. Do you provide software access with video course? A16. Software access can be purchased seperately at an additional cost. The cost varies from course to course but is generally in between GBP 20 to GBP 40 per month. Q17. Does your course guarantee a job? A17. Our course is designed to provide you with a solid foundation in the subject and equip you with valuable skills. While the course is a significant step toward your career goals, its important to note that the job market can vary, and some positions might require additional certifications or experience. Remember that the job landscape is constantly evolving. We encourage you to continue learning and stay updated on industry trends even after completing the course. Many successful professionals combine formal education with ongoing self-improvement to excel in their careers. We are here to support you in your journey! Q18. Do you provide placement services? A18. While our course is designed to provide you with a comprehensive understanding of the subject, we currently do not offer placement services as part of the course package. Our main focus is on delivering high-quality education and equipping you with essential skills in this field. However, we understand that finding job opportunities is a crucial aspect of your career journey. We recommend exploring various avenues to enhance your job search: a) Career Counseling: Seek guidance from career counselors who can provide personalized advice and help you tailor your job search strategy. b) Networking: Attend industry events, workshops, and conferences to build connections with professionals in your field. Networking can often lead to job referrals and valuable insights. c) Online Professional Network: Leverage platforms like LinkedIn, a reputable online professional network, to explore job opportunities that resonate with your skills and interests. d) Online Job Platforms: Investigate prominent online job platforms in your region and submit applications for suitable positions considering both your prior experience and the newly acquired knowledge. e.g in UK the major job platforms are Reed, Indeed, CV library, Total Jobs, Linkedin. While we may not offer placement services, we are here to support you in other ways. If you have any questions about the industry, job search strategies, or interview preparation, please dont hesitate to reach out. Remember that taking an active role in your job search process can lead to valuable experiences and opportunities.