BUY THIS COURSE (USD 14)
Overview Course - Oracle BI Publisher
Learn skills to author and create Oracle Business Publisher (BI) reporting applications (reports) and more.
( add to cart )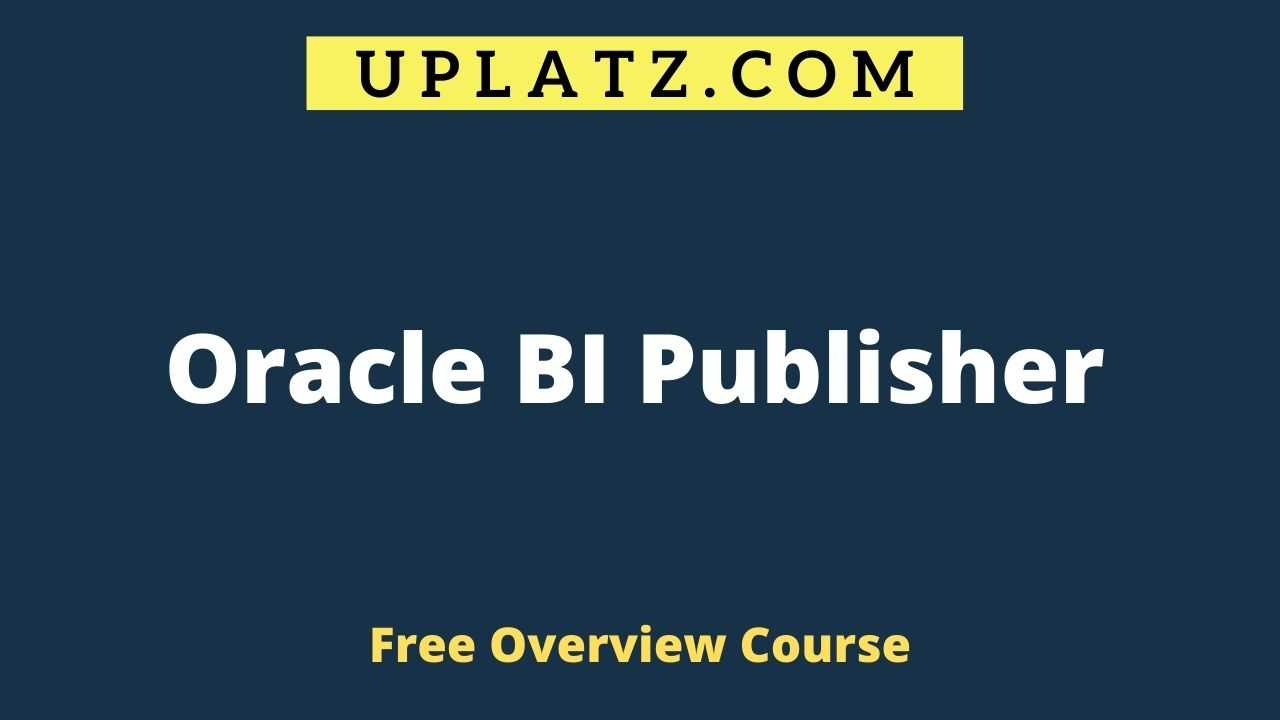 View Course Curriculum
Price Match Guarantee
Full Lifetime Access
Access on any Device
Technical Support
Secure Checkout
&nbsp Course Completion Certificate
Overview
Trending
Job-oriented
Instant access
Students also bought -
3 Hours
USD 20999
622 Learners
5 Hours
USD 41
469 Learners
10 Hours
GBP 29
478 Learners
Completed the course? Request here for Certificate.
ALL COURSES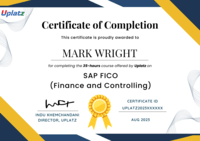 This is an overview course on Oracle BI Publisher while the complete detailed-level Oracle BI Publisher course is available at - https://training.uplatz.com/online-it-course.php?id=oracle-bi-publisher-58. Business Intelligence Publisher from Oracle is an advanced reporting solution that helps users in creating, managing and delivering documents or reports faster than traditional tools.
It is the reporting solution to author, manage, and deliver all your reports and documents easier and faster than traditional reporting tools. Use your web browser or familiar desktop tools to create everything from pixel-perfect customer facing documents to interactive management reports against practically any data source.
Oracle BI Publisher is an enterprise reporting solution for Production Reporting. It is available as part of OBIEE suite, Standalone Enterprise Release as well integrated with most of the Oracle Enterprise Application as Oracle Fusion Application, Oracle eBusiness Suite (EBS 11i, R12), People Soft, Siebel CRM , JD Edwards and many more. View reports online or schedule them and deliver tens of thousands of documents per hour with minimal impact to transactional systems.
This is an overview course on Oracle Business Intelligence Publisher by Uplatz while the full Oracle BI Publisher course will cover practical demonstration of Data Model Editor, Layout Editor, using OBIEE as a datasource and publisher (via Dashboards). You will learn how to harness and distribute data in a meaningful way, create data models by using the Data Model Editor, create BI Publisher reports based on data models, create report layouts by using the Layout Editor (online), create reports based on OBI EE data sources, publish the reports on OBIEE Dashboards, schedule reports and burst these reports.
Course/Topic - Oracle BI Publisher overview - all lectures
Overview and Installation

Reports using RTF Template - Online Mode
1. Overview
2. Installation
3. General Navigation and Preference
· Create a new folder
· Uploading a Resource to Catalog
· Setting My Account Preferences
· Configuring Data Sources
· Creating a Data Model
4. Creating Reports
· Creating a new report
· Creating a report using report editor
· Viewing a report in interactive view
· Creating a Report Job
· Managing Report Job
· Connecting to an Email Server
· Inserting Gauge Chart or a Pivot Table
5. Reports using RTF Template
· Building RTF Template in offline mode
· Building an RTF Template in Online Model
· Using Template builder utility - Validate Template
· Using Template builder utility - Field Browser
· Using Template builder utility - Check Accessibility
6. Administering BI Publisher
Key Objectives of Oracle BI Publisher Training
· Understand and apply the uses and concepts of BI Publisher
· Create BI Publisher templates
· Create and maintain reports using BI Publisher Enterprise
· Create and run reports interactively
· Schedule and deliver reports to recipients
· Gain knowledge on X standards
· Create and apply templates for rich text format (RTF) and portable document format (PDF) formats
· Set up and configure enterprise server of BI Publisher
· Easily analyze data and schedule reports
· Explore advanced topics in BI Publisher
· Create reports effortlessly based on files, really simple syndication (RSS) feeds and web services
· Create data templates for eXtensible Markup Language (XML)
This Oracle BI Publisher overview training course is designed to master the advanced reporting solution. This training will help the delegates to clear the Oracle certified BI Publisher Examination.
The Oracle BI Publisher overview course provide an introduction to BI Publisher, an online reporting application which is much faster than traditional reporting tools. The learners get to know the benefits of Oracle BI Publisher and to create BI publisher reports, reporting layout and publish the reports.
The Oracle BI Publisher gain proficiency in authoring and delivering highly formatted documents such as operational reports, transfer document, sales and marketing content and much more. The BI Publisher develops the knowledge and skills related to Oracle BI Publisher reporting solution.
Uplatz online training ensures the participants to successfully go through the Oracle BI Publisher Overview course training.
Course Completion Certificate will be awarded by Uplatz upon the completion of the Oracle BI Publisher Overview course training.
The Oracle Business Intelligence Publisher draws an average salary of $101,728 per year depending on the skill, knowledge and hands-on practice.
The Oracle Business Intelligence Publishers have major demand in global-based companies and MNCs. The Oracle Business Intelligence Publisher is responsible for creating reports, dashboards and layouts based on the requirement.
The Oracle BI Publisher overview course is ideally designed for analysts and developers who want to become Business Intelligence professionals.
After pursuing this course, the participants will be able to pursue a wide range of career paths.
The following are the job titles:
· BI Publisher Developer
· BI Analyst
· BI Associate
· BI Publisher
· BI ERP publisher
· Oracle BI Associate
The Business Intelligence publisher professionals can author and create any type of report or layout or high formatted documents.
1. What Is Oracle BI Publisher?
It is a reporting tool for generating the reports. More than tool it is an engine that can be integrated with systems supporting the business.
2. Is Oracle BI Publisher Integrated With Oracle Apps?
Yes, it is tightly integrated with Oracle Apps for reporting needs. In 11.5.10 instances xml publisher was used, in R12 we can it Oracle BI Publisher.
3. What Is The Difference Between Xml Publisher And Oracle BI Publisher?
Name is the difference, initially it was released on the name of xml publisher( the initial patchset), later on they have added more features and called it Business Intelligence Publisher. In BI by default we have integration with Datadefinitions in R12 instance. Both these names can be used interchangeably.
4. What Are The Various Components Required For Developing A Oracle BI Publisher Report?
Data Template, Layout template and the integration with Concurrent Manager.
5. How Does The Concurrent Program Submitted By The User Knows About The Data Template Or Layout Template It Should Be Using For Generating The Output?
The concurrent program 'shortname' will be mapped to the 'code' of the Datatemplate. Layout template is attached to the datatemplate, this forms the mapping between all the three.
6. What Is A Data Template?
Data Template is an xml structure which contains the queries to be run against the database so that desired output in xml format is generated, this generated xml output is then applied on to the layout template for the final output.
7. What Is A Layout Template?
Layout template defines how the user views the output, basically it can be developed using Microsoft word document in rft (rich text format) or Adobe pdf format. The data output in xml format (from Data template) will be loaded in layout template at run time and the required final output file is generated.
8. What Are The Output Formats Supported By Layout Template?
xls, html, pdf, eText etc are supported based on the business need.
9. Do You Need To Write Multiple Layout Templates For Each Output Type Like Html/pdf?
No, only layout template will be created, Oracle BI Publisher generates desired output format when the request is run.
10. What Is The Default Output Format Of The Report?
The default output format defined during the layout template creation will be used to generate the output, the same can be modified during the request submission and it will overwrite the one defined at layout template.
11. Can You Have Multiple Layout Templates For A Single Data Template?
Yes, multiple layouts can be defined, user has a choice here to use one among them at run time during conc request submission.
12. Where Do You Register Data And Layout Templates?
Layout template will be registered under xml publisher administrator responsibility>Templates tab.
Data template will be registered under xml publisher admininstrator responsibility> Data Definitions.
13. I Want To Create A Report Output In 10 Languages, Do I Have To Create 10 Layout Templates?
No, Oracle BI Publisher provides the required translation for your templates, based on the number of languages installed in your oracle apps environment requires outputs are provided.
14. What Is The Required Installation For Using Bi Pub Report?
Oracle BI Publisher desktop tool has be installed. Using this tool you can preview or test the report before deploying the same on to the instance.
15. How Do You Move Your Layout Or Data Template Across Instances?
xdoloader is the utility that will be used.
16. What Is The Tool To Map Required Data Output And Layout Templates So That They Can Be Tested In Local Machine?
Template viewer will be used for the same.
17. Which Component Is Responsible For Generating The Output In Xml Format Before Applying It To Layout Template?
DataEngine will take DataTemplate as the input and the output will be generated in xml format which will then be applied on layout template.
18. Can Oracle BI Publisher Reports Be Used In Oaf Pages?
XDO template utility helper java classes are provided for the same.
19. Name Some Business Use Cases For BI Reports?
Bank EFT, customer documents, shipping documents, internal analysis documents or any transactional documents.
20. How Do You Pass Parameters To Your Report?
Concurrent program parameters should be passed, ensure that the parameter name/token are same as in the conc prog defn and the data template.
21. What Are The Various Sections In The Data Template?
o Parameter section
o Trigger Section
o Sql statement section
o Data Structure section
o Lexical Section
22. What Does Lexical Section Contain?
The required lexical clause of Key Flex field or Descriptive FF are created under this section.
23. What Triggers Are Supported In Data Template?
Before report and After report are supported.
24. Where Is The Trigger Code Written?
The code is written in the plsql package which is given under 'defaultpackage' tag of data template.
25. What Is The File Supporting The Translation For A Layout Template?
xliff is the file that supports the translation, you can modify the same as required.
26. How Do You Display The Company Logo On The Report Output?
Copy and paste the logo (.gif. or any format) on the header section of .rtf file. Ensure you resize per the company standards.
27. How To Upload Rtf Template From Backend?
Using XDO Loader, we can upload an RTF from Backend.
28. How To Map Rtf Template Via Backend?
Using FND_PROGRAM.ADD_TEMPLATE api we can map.
29. What Are The Executable And Concurrent Program Used To Develop A Report Without Rdf?
XDODTEXE is used as Executable, Java Concurrent Program is used Concurrent Program for developing a report without RDF.
30. How To Repeat The Header Of The Template On Each And Every Page Of The Output?
Use in order to repeat that specific section in each page of the output.also to reset the page number.
31. How Many Ways We Can Display Images In A Oracle BI Publisher Report?
It can be done in 5 ways:
o Direct Insertion into RTF Template
o URL Reference
o OA_MEDIA directory reference
o Image from BLOB datatype from database
o Using UI Beans
32. What Are The Xml Publisher Tables?
PER_GB_XDO_TEMPLATES
XDO_DS_DEFINITIONS_B
XDO_DS_DEFINITIONS_TL
XDO_DS_DEFINITIONS_VL
XDO_LOBS
XDO_TEMPLATES_B
XDO_TEMPLATES_TL
XDO_TEMPLATES_VL
XDO_TEMPLATE_FIELDS
XDO_TRANS_UNITS
XDO_TRANS_UNIT_PROPS
XDO_TRANS_UNIT_VALUES
Q1. What are the payment options? A1. We have multiple payment options: 1) Book your course on our webiste by clicking on Buy this course button on top right of this course page 2) Pay via Invoice using any credit or debit card 3) Pay to our UK or India bank account 4) If your HR or employer is making the payment, then we can send them an invoice to pay. Q2. Will I get certificate? A2. Yes, you will receive course completion certificate from Uplatz confirming that you have completed this course with Uplatz. Once you complete your learning please submit this for to request for your certificate https://training.uplatz.com/certificate-request.php Q3. How long is the course access? A3. All our video courses comes with lifetime access. Once you purchase a video course with Uplatz you have lifetime access to the course i.e. forever. You can access your course any time via our website and/or mobile app and learn at your own convenience. Q4. Are the videos downloadable? A4. Video courses cannot be downloaded, but you have lifetime access to any video course you purchase on our website. You will be able to play the videos on our our website and mobile app. Q5. Do you take exam? Do I need to pass exam? How to book exam? A5. We do not take exam as part of the our training programs whether it is video course or live online class. These courses are professional courses and are offered to upskill and move on in the career ladder. However if there is an associated exam to the subject you are learning with us then you need to contact the relevant examination authority for booking your exam. Q6. Can I get study material with the course? A6. The study material might or might not be available for this course. Please note that though we strive to provide you the best materials but we cannot guarantee the exact study material that is mentioned anywhere within the lecture videos. Please submit study material request using the form https://training.uplatz.com/study-material-request.php Q7. What is your refund policy? A7. Please refer to our Refund policy mentioned on our website, here is the link to Uplatz refund policy https://training.uplatz.com/refund-and-cancellation-policy.php Q8. Do you provide any discounts? A8. We run promotions and discounts from time to time, we suggest you to register on our website so you can receive our emails related to promotions and offers. Q9. What are overview courses? A9. Overview courses are 1-2 hours short to help you decide if you want to go for the full course on that particular subject. Uplatz overview courses are either free or minimally charged such as GBP 1 / USD 2 / EUR 2 / INR 100 Q10. What are individual courses? A10. Individual courses are simply our video courses available on Uplatz website and app across more than 300 technologies. Each course varies in duration from 5 hours uptop 150 hours. Check all our courses here https://training.uplatz.com/online-it-courses.php?search=individual Q11. What are bundle courses? A11. Bundle courses offered by Uplatz are combo of 2 or more video courses. We have Bundle up the similar technologies together in Bundles so offer you better value in pricing and give you an enhaced learning experience. Check all Bundle courses here https://training.uplatz.com/online-it-courses.php?search=bundle Q12. What are Career Path programs? A12. Career Path programs are our comprehensive learning package of video course. These are combined in a way by keeping in mind the career you would like to aim after doing career path program. Career path programs ranges from 100 hours to 600 hours and covers wide variety of courses for you to become an expert on those technologies. Check all Career Path Programs here https://training.uplatz.com/online-it-courses.php?career_path_courses=done Q13. What are Learning Path programs? A13. Learning Path programs are dedicated courses designed by SAP professionals to start and enhance their career in an SAP domain. It covers from basic to advance level of all courses across each business function. These programs are available across SAP finance, SAP Logistics, SAP HR, SAP succcessfactors, SAP Technical, SAP Sales, SAP S/4HANA and many more Check all Learning path here https://training.uplatz.com/online-it-courses.php?learning_path_courses=done Q14. What are Premium Career tracks? A14. Premium Career tracks are programs consisting of video courses that lead to skills required by C-suite executives such as CEO, CTO, CFO, and so on. These programs will help you gain knowledge and acumen to become a senior management executive. Q15. How unlimited subscription works? A15. Uplatz offers 2 types of unlimited subscription, Monthly and Yearly. Our monthly subscription give you unlimited access to our more than 300 video courses with 6000 hours of learning content. The plan renews each month. Minimum committment is for 1 year, you can cancel anytime after 1 year of enrolment. Our yearly subscription gives you unlimited access to our more than 300 video courses with 6000 hours of learning content. The plan renews every year. Minimum committment is for 1 year, you can cancel the plan anytime after 1 year. Check our monthly and yearly subscription here https://training.uplatz.com/online-it-courses.php?search=subscription Q16. Do you provide software access with video course? A16. Software access can be purchased seperately at an additional cost. The cost varies from course to course but is generally in between GBP 20 to GBP 40 per month. Q17. Does your course guarantee a job? A17. Our course is designed to provide you with a solid foundation in the subject and equip you with valuable skills. While the course is a significant step toward your career goals, its important to note that the job market can vary, and some positions might require additional certifications or experience. Remember that the job landscape is constantly evolving. We encourage you to continue learning and stay updated on industry trends even after completing the course. Many successful professionals combine formal education with ongoing self-improvement to excel in their careers. We are here to support you in your journey! Q18. Do you provide placement services? A18. While our course is designed to provide you with a comprehensive understanding of the subject, we currently do not offer placement services as part of the course package. Our main focus is on delivering high-quality education and equipping you with essential skills in this field. However, we understand that finding job opportunities is a crucial aspect of your career journey. We recommend exploring various avenues to enhance your job search: a) Career Counseling: Seek guidance from career counselors who can provide personalized advice and help you tailor your job search strategy. b) Networking: Attend industry events, workshops, and conferences to build connections with professionals in your field. Networking can often lead to job referrals and valuable insights. c) Online Professional Network: Leverage platforms like LinkedIn, a reputable online professional network, to explore job opportunities that resonate with your skills and interests. d) Online Job Platforms: Investigate prominent online job platforms in your region and submit applications for suitable positions considering both your prior experience and the newly acquired knowledge. e.g in UK the major job platforms are Reed, Indeed, CV library, Total Jobs, Linkedin. While we may not offer placement services, we are here to support you in other ways. If you have any questions about the industry, job search strategies, or interview preparation, please dont hesitate to reach out. Remember that taking an active role in your job search process can lead to valuable experiences and opportunities.