BUY THIS COURSE (USD 2 USD 14)
Overview Course - SAP BW/4HANA
Get real time information and intelligent capabilities that will deliver instant value for your business as and when you need it.
( add to cart )
Save 90% Offer ends on 31-Dec-2023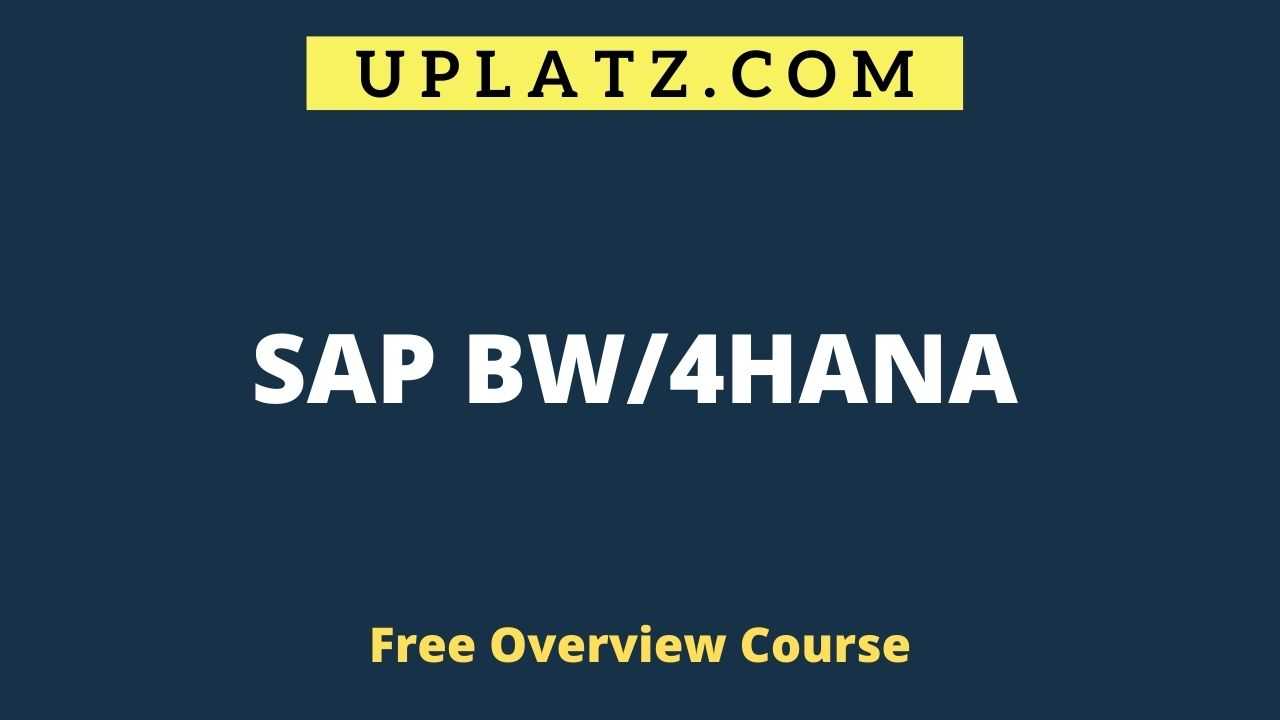 View Course Curriculum
Price Match Guarantee
Full Lifetime Access
Access on any Device
Technical Support
Secure Checkout
&nbsp Course Completion Certificate
Overview
Trending
Job-oriented
Instant access
Students also bought -
30 Hours
USD 17
349 Learners
50 Hours
USD 17
1778 Learners
80 Hours
USD 23
516 Learners
Completed the course? Request here for Certificate.
ALL COURSES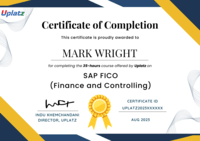 This is an overview course on SAP BW/4HANA while the complete detailed-level SAP BW/4HANA course is available at - https://training.uplatz.com/online-it-course.php?id=sap-bw4hana-23. SAP BW/4HANA mainly focuses over the Enterprise and plays a crucial role in receiving and processing non-SAP and unstructured social media data.
It provides phenomenal flexibility, modern user experience and better data governing and modeling features. By introducing a modern data platform such as SAP's agile data warehouse platform, SAP BW/4HANA, you can now access real time information and intelligent capabilities that will deliver instant value for your business as and when you need it.
This is an overview course on SAP BW/4HANA whilst the complete SAP BW/4HANA training by Uplatz will cover comprehensively all topics of SAP BW/4HANA module with practical examples, by the end of which you'll be able to:
1) Understand the new data models or functions and distinct features of SAP BW/4HANA;
2) Learn new Data Warehousing concepts on BW/4HANA, on native SAP HANA or in mixed scenarios;
3) Gain ability to enable the assistance for migration projects to SAP BW/4HANA from application side;
4) Master in core concepts of SAP BW/4HANA like new Real-time Streaming based on Smart Data Integration, Data Provisioning methods and Big Data interface;
5) Model solutions in BW/4HANA that uses the best practices across SAP HANA and SAP BW;
6) Identify areas of simplification in the current BW landscape to get more value out of your BW on HANA investment;
7) Prepare your system for BW/4HANA by being able to remodel existing data flows and painlessly upgrade to BW/4HANA in the future;
8) Utilize features currently not being used extensively to enhance the agility of your SAP BW system.
Course/Topic - SAP BW/4HANA overview - all lectures
In this tutorial, you will learn about creating Info Area, Info Catalog and Types of Info Object. Further, you will be able to understand what is ADSO, its different properties and types. Also, you will be presented with a live demo example on how to work on the Advanced DataStore Object.

In this video tutorial, you will learn what are the different types of Master Data, what is an Attribute and Text Master Data, a live example on how to work on the Master Data and a detailed session on the Attribute and Text Data in a BW/4 studio.

In this lecture, you will be able to understand what is a Routine in BW/4HANA and what are the different types of Routine. You will also learn about the ABAP functional module. Further, it will be proceeded with a live demo session on how to work on the different types of routines in SAP BW/4HANA.
This SAP BW/4 HANA Overview training course is designed for mastering the SAP BW/4 HANA modules. The course content covers the BW/4HANA processesand able to implement while working on any project.
This SAP BW/4HANA Overview training course is meant for clearing the SAP Certified Application Associate-Reporting, Modeling and Data Acquisition with SAP BW/4 HANA 2.xexam.
The SAP BW/4 HANA is an evolution of business warehouse which has been completely optimized in SAP HANA platform. In short, SAP BW/4 HANA refers to next generation data warehouse which supports cloud technology.
In SAP BW/4 HANA Course module detailssimplified modeling and administration. The SAP BW/4 HANA course includes cloud-based SAP business warehouse in SAP HANA platform.
Uplatz provides appropriate teaching and expertise training to equip the participants for implementing the learnt concepts in an organization.
Uplatz Course Completion Certificate will be awarded upon the completion of the SAP BW/4 HANA course training.
The SAP BW/4 HANA certification exam verifies that the participants possess sound knowledge and can prove their competencies and skills in the area of SAP Reporting, modeling and data acquisition with SAP BW/4 HANA and able to implement the knowledge practically in projects.
Below given are the certification Details of SAP Certified Application Associate-Reporting, Modeling and Data Acquisition with SAP BW/4 HANA 2.x
• Certification Level: Associate
• Exam Name: SAP Certified Application Associate- Reporting, Modeling and Data Acquisition with SAP BW/4 HANA 2.x
• Exam Code: C_BW4HANA_20
• Exam Mode: Online
• Total Number of Questions: 80
• Pass Score: 64%
• Time Duration: 180 Minutes
• Exam Price: $550
The SAP BW4HANA Consultant draws an average salary of $110,000 per year depending on the competencies, knowledge and hands-on experience.
The SAP BW4HANA Consultants are recognized across the globe. The SAP BW4HANA consultants explore thecloud-based data warehouse solution is responsible formanaging the packaged data warehouse in an organization.
The SAP BW4HANA certification is targeted to those participants who are from Sap BW4HANA or business background and excel as SAP BW4HANA consultant
The following are the job titles:
• SAP BW4HANA Expert
• SAP BW4HANA Associate
• Business Warehouse Consultant
• SAP HANA Consultant
• SAP Modeling Associate
The SAP BW4HANA online course provides you with an opportunity to explore career opportunities as SAP BW4HANA Consultant.
Q.1. What is SAP BW/4HANA?
SAP BW/4HANA is SAP's latest and greatest in-memory, HANA-native, data warehousing solution that runs exclusively on SAP HANA. The naming convention used is consistent with their S/4HANA solution that came out 18 months ago. This shouldn't come as a surprise as HANA is an essential piece of SAP's long-term innovation roadmap.
Q.2. What is SAP advertising about SAP BW/4HANA?
1. Simplicity: After many years, SAP's BW product has released many options and features, which have resulted in new customers wondering which options, should be taken into consideration when embarking on a BW implementation journey. SAP has chosen to remove the redundant options and provide customers with more relevant, and easier to understand, choices to consider for their BW/4HANA implementations. BW/4HANA only offers building blocks that customers "should" be leveraging for the predictable future.
One of the most convincing features of SAP BW/4HANA is its ability to recognize the types of data that reside in each table. With this, it can automatically determine which data needs to be in memory (hot) and which data can be stored on disk (warm). This type of automated intelligent data storage allows for a more efficient use of an SAP customer's hardware investment.
2. Openness: Pre-built, standardized templates called, "Building Blocks" are leveraged for building a data warehouse. BW/4HANA models and data can be exposed as native HANA views and accessed through standard SQL, which is a huge upside for customers. These views can then be consumed by various visualization tools (i.e. BusinessObjects, Lumira, etc.).
3. Modern UIs: Let's all say good removal to SAP GUI. SAP has worked diligently to improve its UX across its various product lines and SAP customers are beginning to enjoy the fruits of SAP's labor. This trend continues in SAP BW/4HANA. BusinessObjects Cloud provides a modern UX for visualization, storytelling, and data exploration. BW/4HANA can also be accessed by the digital boardroom. Finally, administrators should be excited because front ends are now accessed through HANA Studio and modern browsers.
4. High Performance: Top-notch performance has been the SAP mantra for HANA since day one. So, expect no exceptions with BW/4HANA. This is the only data warehousing solution that was built from the ground up with optimal performance in mind. Expect significantly improved performance for data loading, querying, analysis, and staging.
Q.3. Is SAP BW/4HANA available on premise?
Not yet, but it will be. SAP is even discussing an on-premise Rapid Deployment Solution (RDS). SAP chose a "cloud first" approach for this launch through SAP HANA Enterprise Cloud (HEC) and Amazon Web Services (AWS). AWS is their day-one announcement partner, but it's expected that SAP will announce more partners shortly thereafter. AWS can support a 14TB scale-out cluster, running on seven of its X1 instances as certified by SAP. This allows BW/4HANA customers to try out, run, and optimize large workloads on AWS.
Q.4. Which companies does SAP suggest leverage this new technology?
SAP currently has nearly 17,000 BW customers that haven't yet made the move to HANA. There are also 3,700 customers who have already made the move to HANA from whatever database they were using in the past. SAP has committed to providing a straightforward way to switch to new HANA-native data warehouse. Fairfax media was one of the first BW/4HANA implementations to occur.
Q.5. What is the upgrade path for SAP BW customers?
The most efficient approach is to move to SAP BW 7.5 SP4 on HANA. This facilitates the conversion to the new object types and the activation of "HANA-only mode", which prevents legacy objects from being created. This will be a single-step process for most customers.
Q.6. SAP BW/4HANA is the next-generation business warehouse application. What makes it more advanced than SAP Business Warehouse (SAP BW) 7.5?
SAP BW/4HANA simplifies data structures, data flows, and data life-cycle management. Because it connects with SAP HANA and enterprise information management (EIM), it can access any non-SAP data in the company. And it has the latest user interfaces (UI) for end users, BW modelers, and administrators, plus the powerful in-memory platform SAP HANA, which gives it excellent performance.
Q.7. Why should companies deploy SAP BW/4HANA? What are the benefits?
Companies deploy SAP BW/4HANA to achieve business agility. Because the warehouse structure has been hugely simplified, and it has a new data flow modeller, SAP BW/4HANA users can respond quickly and easily to the business needs of new models and to changes in current ones. With the help of SAP BW/4HANA objects, users are able to generate views automatically, edit them using any SQL tool, and visualize the data with SAP BusinessObjects Cloud or SAP Lumira. This makes agile database development possible, giving businesses better insights in real time and at lower cost.
In SAP BW/4HANA there are lots of flexible deployment options available in the cloud and on premise. Deployment in the cloud allows customers to set up their infrastructure quickly and flexibly, and provides great value for money. The cloud version of SAP BW/4HANA can currently be deployed through SAP HANA Enterprise Cloud, Amazon Web Services, and Microsoft Azure.
Q.8. How does SAP BW/4HANA fit into SAP's data warehousing strategy?
SAP continuously offers data warehousing customers an SAP, SQL-based and business warehouse approach. SAP BW/4HANA is a model or application driven approach with highly-integrated services for data modelling, data management, monitoring and scheduling, and ETL. In the future, SAP BW/4HANA will be more interoperable with SQL-based data warehouses.
Q.9. Will customers continue to receive support for older versions of SAP BW?
SAP BW on SAP HANA and SAP BW on conventional databases (xDB) will still be supported, though SAP BW/4HANA will be SAP's primary innovative data warehouse solution. For customers that are already planning to switch from SAP BW on xDB to SAP BW/4HANA, we recommend them to transfer their database to SAP HANA and to upgrade to SAP BW 7.5. For customers planning to switch from SAP BW 7.3 or 7.4 to SAP BW/4HANA, we recommend an upgrade to SAP BW 7.5. Customers should then implement SAP BW 7.5 edition add-on for SAP HANA as an intermediate step. The edition add-on can be used to deploy tools to convert from classic SAP BW objects to objects and data flows optimized for SAP HANA. Custom adjustments can reduce the level of automation that the tools could otherwise achieve. Once the customer has transferred all objects and data flows and run a preliminary system check without error, they can migrate to SAP BW/4HANA.
Q.10. Can customers carry on using SQL-based SAP HANA data warehousing?
Yes, we will continue to support the SQL approach. This provides customers an option additional to SAP BW/4HANA. Which solution is best depends on the customer's priorities, level of expertise, and the model determining their requirements. There is no right or wrong answer. Many customers find that a hybrid approach best meets their needs.
Q.11. Will SAP BW/4HANA have the same capabilities as both the SAP BW 7.5 on SAP HANA releases?
SAP BW/4HANA has similar functions as SAP BW powered by SAP HANA. But SAP BW/4HANA processes only SAP HANA-optimized objects, which cuts modelling effort and the overall complexity of SAP BW/4HANA. Following the SAP S/4HANA road map, within six months SAP BW/4HANA would differ significantly from SAP BW 7.5 powered by SAP HANA. SAP BW/4HANA is not valid for other database platforms.
Q.12. Why should customers switch to SAP BW/4HANA if they have just upgraded to SAP BW 7.5?
The main benefits of SAP BW/4HANA for SAP BW on SAP HANA customers are its simplicity, openness, advanced UIs, and performance. As the road map shows, we plan to enhance the solution considerably in the three releases in the quarters ahead.
Q.13. How do SAP BW/4HANA and SAP S/4HANA relate?
SAP BW/4HANA is completely independent from SAP S/4HANA. Customers do not have to implement one to use the other. SAP S/4HANA Analytics can be used for operational reporting on data taken straight from S/4HANA systems. SAP BW/4HANA on the other hand is an advanced data warehouse that can be used to create reports on current, historical, and external data from a multitude of SAP and non-SAP sources.
Q.14. Is SAP BW/4HANA only for customers already on SAP?
No, it can be used for any data warehousing needs, for data from SAP and non-SAP sources alike.
Q.15. Which analytics tools can be used with SAP BW/4HANA?
SAP BW/4HANA supports SAP BusinessObjects Cloud and SAP BusinessObjects BI. It also has interfaces open to third-party providers.
Q1. What are the payment options? A1. We have multiple payment options: 1) Book your course on our webiste by clicking on Buy this course button on top right of this course page 2) Pay via Invoice using any credit or debit card 3) Pay to our UK or India bank account 4) If your HR or employer is making the payment, then we can send them an invoice to pay. Q2. Will I get certificate? A2. Yes, you will receive course completion certificate from Uplatz confirming that you have completed this course with Uplatz. Once you complete your learning please submit this for to request for your certificate https://training.uplatz.com/certificate-request.php Q3. How long is the course access? A3. All our video courses comes with lifetime access. Once you purchase a video course with Uplatz you have lifetime access to the course i.e. forever. You can access your course any time via our website and/or mobile app and learn at your own convenience. Q4. Are the videos downloadable? A4. Video courses cannot be downloaded, but you have lifetime access to any video course you purchase on our website. You will be able to play the videos on our our website and mobile app. Q5. Do you take exam? Do I need to pass exam? How to book exam? A5. We do not take exam as part of the our training programs whether it is video course or live online class. These courses are professional courses and are offered to upskill and move on in the career ladder. However if there is an associated exam to the subject you are learning with us then you need to contact the relevant examination authority for booking your exam. Q6. Can I get study material with the course? A6. The study material might or might not be available for this course. Please note that though we strive to provide you the best materials but we cannot guarantee the exact study material that is mentioned anywhere within the lecture videos. Please submit study material request using the form https://training.uplatz.com/study-material-request.php Q7. What is your refund policy? A7. Please refer to our Refund policy mentioned on our website, here is the link to Uplatz refund policy https://training.uplatz.com/refund-and-cancellation-policy.php Q8. Do you provide any discounts? A8. We run promotions and discounts from time to time, we suggest you to register on our website so you can receive our emails related to promotions and offers. Q9. What are overview courses? A9. Overview courses are 1-2 hours short to help you decide if you want to go for the full course on that particular subject. Uplatz overview courses are either free or minimally charged such as GBP 1 / USD 2 / EUR 2 / INR 100 Q10. What are individual courses? A10. Individual courses are simply our video courses available on Uplatz website and app across more than 300 technologies. Each course varies in duration from 5 hours uptop 150 hours. Check all our courses here https://training.uplatz.com/online-it-courses.php?search=individual Q11. What are bundle courses? A11. Bundle courses offered by Uplatz are combo of 2 or more video courses. We have Bundle up the similar technologies together in Bundles so offer you better value in pricing and give you an enhaced learning experience. Check all Bundle courses here https://training.uplatz.com/online-it-courses.php?search=bundle Q12. What are Career Path programs? A12. Career Path programs are our comprehensive learning package of video course. These are combined in a way by keeping in mind the career you would like to aim after doing career path program. Career path programs ranges from 100 hours to 600 hours and covers wide variety of courses for you to become an expert on those technologies. Check all Career Path Programs here https://training.uplatz.com/online-it-courses.php?career_path_courses=done Q13. What are Learning Path programs? A13. Learning Path programs are dedicated courses designed by SAP professionals to start and enhance their career in an SAP domain. It covers from basic to advance level of all courses across each business function. These programs are available across SAP finance, SAP Logistics, SAP HR, SAP succcessfactors, SAP Technical, SAP Sales, SAP S/4HANA and many more Check all Learning path here https://training.uplatz.com/online-it-courses.php?learning_path_courses=done Q14. What are Premium Career tracks? A14. Premium Career tracks are programs consisting of video courses that lead to skills required by C-suite executives such as CEO, CTO, CFO, and so on. These programs will help you gain knowledge and acumen to become a senior management executive. Q15. How unlimited subscription works? A15. Uplatz offers 2 types of unlimited subscription, Monthly and Yearly. Our monthly subscription give you unlimited access to our more than 300 video courses with 6000 hours of learning content. The plan renews each month. Minimum committment is for 1 year, you can cancel anytime after 1 year of enrolment. Our yearly subscription gives you unlimited access to our more than 300 video courses with 6000 hours of learning content. The plan renews every year. Minimum committment is for 1 year, you can cancel the plan anytime after 1 year. Check our monthly and yearly subscription here https://training.uplatz.com/online-it-courses.php?search=subscription Q16. Do you provide software access with video course? A16. Software access can be purchased seperately at an additional cost. The cost varies from course to course but is generally in between GBP 20 to GBP 40 per month. Q17. Does your course guarantee a job? A17. Our course is designed to provide you with a solid foundation in the subject and equip you with valuable skills. While the course is a significant step toward your career goals, its important to note that the job market can vary, and some positions might require additional certifications or experience. Remember that the job landscape is constantly evolving. We encourage you to continue learning and stay updated on industry trends even after completing the course. Many successful professionals combine formal education with ongoing self-improvement to excel in their careers. We are here to support you in your journey! Q18. Do you provide placement services? A18. While our course is designed to provide you with a comprehensive understanding of the subject, we currently do not offer placement services as part of the course package. Our main focus is on delivering high-quality education and equipping you with essential skills in this field. However, we understand that finding job opportunities is a crucial aspect of your career journey. We recommend exploring various avenues to enhance your job search: a) Career Counseling: Seek guidance from career counselors who can provide personalized advice and help you tailor your job search strategy. b) Networking: Attend industry events, workshops, and conferences to build connections with professionals in your field. Networking can often lead to job referrals and valuable insights. c) Online Professional Network: Leverage platforms like LinkedIn, a reputable online professional network, to explore job opportunities that resonate with your skills and interests. d) Online Job Platforms: Investigate prominent online job platforms in your region and submit applications for suitable positions considering both your prior experience and the newly acquired knowledge. e.g in UK the major job platforms are Reed, Indeed, CV library, Total Jobs, Linkedin. While we may not offer placement services, we are here to support you in other ways. If you have any questions about the industry, job search strategies, or interview preparation, please dont hesitate to reach out. Remember that taking an active role in your job search process can lead to valuable experiences and opportunities.