BUY THIS COURSE (USD 41)
SAP BO (BusinessObjects Business Intelligence)
Learn about perform analysis, metadata repository, data connectivity to source & target system
( add to cart )
Preview SAP BO (BusinessObjects Business Intelligence) course
View Course Curriculum
Price Match Guarantee
Full Lifetime Access
Access on any Device
Technical Support
Secure Checkout
&nbsp Course Completion Certificate
Bestseller
Trending
Job-oriented
Instant access
Students also bought -
30 Hours
USD 41
199 Learners
50 Hours
GBP 49
548 Learners
600 Hours
USD 139
4489 Learners
Completed the course? Request here for Certificate.
ALL COURSES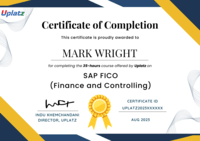 SAP BusinessObjects Business Intelligence (simply known as SAP BO or BOBJ) is a reporting and analytics tool aimed at providing business insights and management reporting.
SAP BO suite consists of a number of reporting applications that allow users to discover data, perform analysis to derive insights and create reports that visualize the insights.
SAP BOBI is a collection of front-end applications that enables business persons to view and analyze BI information. SAP BO BI provides an agile management system for a company Business Intelligence standard that enables the corporate world to confidently make use of it and standardize their Business Intelligence implementations.
We deliver SAP Business Objects Training that includes detailed knowledge of working with the Business Intelligence tool of the SAP family. Curriculum paths include the Web Intelligence 4.1 Business Objects Explorer 4.2 Enhancement of BO 4.1, Crystal reports for enterprise software. The SAP BOBI solutions can help you simplify the way your decision makers use information.
SAP BusinessObjects BI enables the organizations to connect to any data source, structured and unstructured, relational, multidimensional or hybrid databases, OLAP cubes, documents, e-mails, social media, etc., process this data into useful information, and place it in the users hands for easy, yet dynamic and personalized visualization leading to increased sales, conversions, and customer experience.
Important components of SAP BO are SAP BI Launch Pad, Web Intelligence, Information Design Tool (IDT), SAP Lumira, SAP Dashboard Designer, Crystal Reports, SAP BusinessObjects Explorer, Live Office. SAP BO BI suite, supported by flexible and robust architecture powered by SAP HANA, provides real-time business intelligence, increased user autonomy, making information consumption simple, personalized, and dynamic.
Uplatz provides this comprehensive SAP BO course covering practical aspects of SAP BO and the intuitive reports that can be built with the tool.
Course/Topic - SAP BO - all lectures
In this video tutorial, you will get a brief introduction on SAP BO, how it came to be known as SAP BI, what are the different layers in SAP BI, characteristics in Data Warehouse, schema, master data tables and also a detailed explanation on how a student can access and work on the server for practicing his daily SAP system works.

In this tutorial, you will learn how you can access the Business Object components in the SAP system through remote desktop. You will also be able to understand a detailed explanation on the different designing components. Lastly, you will get a detailed demonstration on how to work on the different design tools in the SAP system.

In this lecture, you will be able to understand what a Designer is in the SAP BO module and how to work with the different designing tools available in the SAP system. You will also learn what is a Universe, Role of a Universe and the Semantic Layer in the initial screen of the designing tool.

In this tutorial, you will learn how to create a Universe in the designing tool of the BO module, manually. This is explained in a detailed demonstration by the Instructor which will help you in getting a practical experience on the work process. Further, you will also understand what the different types of OLTP systems are and what is their role in the SAP BO design tool.

In this tutorial, you will learn how you can create the characters in the SAP BO system, how IDT and UDT helps in the Online Analytic Process (OLAP). You will also learn how to create an infocube and what are the steps to be followed while creating an infocube in the SAP BW system.

In this video, you will learn how to create data from scratch using the Universe Design tool in the SAP BO module. You will also learn how you can create the BSO in the system tool, using a pictorial description of the entire work process.

To access anything from the ECC server, one needs to know the Transaction Codes. In this video, you will learn about these Transaction Codes or T-Codes which will be used in working on the SAP BO system module. You will also get an overview on the Object Hierarchies, which allows users in performing multi-dimensional analysis.

In this tutorial, you will be learning the role of IDT and UDT in the SAP BO Design Tool. You will also learn about the types of Web Intelligence and the entire work process with a detailed demonstration from the instructor. Along with this, you will be learning on how to create reports and the different fields and attributes required in creating the reports.

In this video lecture, you will learn the different formatting options available to create and modify reports in the SAP BO Design Tools. You will learn how to add rows and columns, category, margins, pictures, articles and others. Further, you will learn how to work on the sub-reports and the functionalities available in the crystal reports. Moreover, you will also get an overview on the dashboard components.

In this lecture, you will learn what are the parameters to be used while working on a crystal report by a user. Also, you will see a detailed demonstration on how to work on the Table Article Label, Article Lookup and the Body of the report.

In this lecture, you will learn about the different types of dashboard designing components used in the SAP BO module. Further, you will learn how to work on the SAP Lumira Design component, how to add new data set, characteristic dimensions and the different modes in the Lumira Designing Tool.

In this video tutorial, you will get a detailed and practical demonstration on how to work on the Information and Quick Design Tool in the SAP BO module. You will also get some more detail concepts and work around on the SAP Lumira Designing Tool.

In this tutorial, you will be learning how to connect to a SAP HANA database. Also, you will learn how to use the database and the data models. Moreover, you will also learn how to do the HANA connectivity. This whole work process will be practically demonstrated by the instructor in detail.

In this video, you will learn how to access the views using Information Design Tool (IDT), which can be done using the HANA Data Acquisition Connector. You will also be learning how to assign a data source and also working on the whole of the data source work process.

In this tutorial, you will learn what is a Web Application Designer (WAD) and what is its role in connecting with the BW Server. You will also learn how to work on the Basis Analysis Layout Template, which is a pre-defined standard template used for ad-hoc slicing and dicing data sources. You will also learn how to work on the attribute views.

In this last video lecture, you will learn how you can connect to HANA tables and modules using IDT. You will further learn to work on the SAP HANA business layer and other concepts related to the SAP BO module.
• Learn how to install SAP BusinessObjects programs, namely Information Design Tool and Web Intelligence
• Learn how to have an appreciation for the various layers in IDT.
• Learn how to start to use WebI.
• It is an SAP ETL tool provided as part of Business Objects. It used to extract data from different sources into SAP system
• Highly used in industry where SAP implementation is done
1. Introduction:
Understanding BusinessObjects Enterprise

What is BusinessObjects Enterprise?

Working with SAP BO Launchpad (Info view)
2. SAP Business Objects Web Intelligence and BI Launch Pad 4.1
SAP Business Objects Dashboards 4.1

BI launch pad: What's new in 4.1

Restricting data returned by a query

Enhancing the presentation of data in reports

Formatting reports

Using multiple data sources

Analyzing data

Managing and sharing Interactive Analysis documents

Reporting from Other Data Sources

Introducing Web Intelligence

Accessing corporate information with Web Intelligence

Understanding how universes allow you to query databases using everyday business terms.

Managing documents in InfoView

Viewing a Web Intelligence document in InfoView

Setting Info View Preferences

Creating Web Intelligence Documents with Queries

Getting new data with Web Intelligence

Creating a new Web Intelligence document

Modifying a document's query

Working with query properties

Restricting Data Returned by a Query

Modifying a query with a predefined query filter

Applying a single-value query filter

Using prompts to restrict data

Using complex filters

Displaying data in tables and charts

Presenting data in free-standing cells

Enhancing the Presentation of Reports

Using breaks, calculations, sorts and report filters

Ranking data to see top or bottom values

Using alerters to highlight information

Organizing a report into sections

Copying data to other applications

Alternative Query Techniques Using Combined Queries Using Sub-Queries

Creating a Query based on another Query

Character and Date String Functions Using the character string functions Concatenating different data types Using date functions

Using If Logic

Grouping data using If() logic

Using If() to modify calculation behavior

Advanced Reporting Features Formatting breaks

Creating custom sorts

Displaying document data in free-standing cells

Alternative Query Techniques Defining Combined Query Types Using Combined Queries

Using Sub-Queries

Creating a Query on a Query

Character and Date String Functions Understanding Character Strings

Using Date Functions User-Defined Objects Creating User Objects

Using a User Object in a Query

Editing a User Object Deleting a User Object Storing a User Object Grouping Data
3. Information Design Tool 4.0
What is the Information Design Tool (IDT)

Create a project

Create a connection to a relational database (Single and Multiple databases)

Create the data foundation with Single & Multiple databases

Define the different types join in a data foundation

Create a business layer

Create folders and objects

Resolve Loops and Use alias

Resolve Loops Use contexts

Resolving the fan traps and Chasm traps problem

Define data restrictions

Work with LOVs

Use Parameters restrict data

Use @functions also Aggregate Awareness

Create Derived Tables and Index Awareness

Maintain universes

Deploy and manage and maintain universes
4. Universe Designer Tool 4.0
Understanding Business-Objects Universes.

Understanding how universes allow users to query databases using their everyday business terms.

Creating Universe Connections.

The course database and universe.

Creating the universe.

Building and populating the Universe Structure.

Defining joins in a universe.

Creating Dimension Objects.

Understanding classes and objects.

Creating Measure Objects.

Understanding measure objects.

Using List of Values.

Resolving Loops.

Resolving loops using aliases.

Resolving loops using contexts.

Chasm traps and Fan traps.

Restricting the data returned by objects.

Using Functions with Objects.

Using @ Functions.

Using Hierarchies.

Working with hierarchies.

Aggregate Awareness.

Derived Tables

Securing Universes.

Managing Universes
5. SAP Business Objects Dashboards 4.0 (Crystal Xcelsius 2011)
Crystal Xcelsius Overview

Creating Dashboards using Query As A Web Service (QAAWS) and Live Office

Create Drill Down dashboard reports

What's new in SAP Business Objects Dashboards 4.0

Creating a Visualization

Producing interactive visualizations

Getting around in Xcelsius

Working with your Excel workbook

Visualizing data with charts

Using Xcelsius Components

Formatting a Visualization

Applying formatting options

Using themes and templates to apply formatting

Adding Interactivity to a Visualization

Using selectors

Adding dynamic visibility

Using live data sources

Connecting to BO Universes using Query as a Web Service

Using Live Office data

Creating Complex dashboards
6. SAP Crystal Reports 2011
Creating reports

Selecting records

Organizing data on reports

Formatting & section formatting

Creating basic and complex formulas

Using variables

Using report templates

Applying conditional reporting

Building parameterized and specialized reports

Summarizing data with cross tabs

Using report sections

Representing data visually

Managing reports

Distributing reports

Using repository and repository data sources

Report processing

Linking Crystal Reports to Webi reports

Drill down reports
This SAP BO training course is designed for clearing the SAP Certified Application Associate-SAP Business Objects Business Intelligence Platform 4.2 exam. The complete SAP BO course content connects with the certification program and helps the participants to clear it with ease.
In SAP BO Course module the participants can learn to explore the reporting and analytics tool. In the SAP BO course, the participants will learn about business insights and management reporting. This seems to be an essential learning for all SAP BO module users.
The SAP BO Certification is an important benchmark in becoming an expert BO Consultant as the course covers architecture and administration, monitoring and auditing, platform configuration, troubleshooting and security. SAP BO tutorial helps the participants to learn all the key components of SAP BO suite thus attaining a unique SAP certification. SAP BO course offers complete information about SAP BO suite thus making the participant an expert SAP BO Consultant.
Uplatz online training guarantees the participants to successfully go through the SAP BO certification provided by SAP. Uplatz provides appropriate teaching and expertise training to equip the participants for implementing the learnt concepts in an organization.
Course Completion Certificate will be awarded by Uplatz upon the completion of the SAP BO course training.
The official SAP BO certification exam verifies that the participants possess basic knowledge and can prove their skills in the area of SAP Business objects business intelligence. This SAP BO certification exam validates that the participant has an overall understanding about this consultant profile, and able to implement the knowledge practically in projects.
Below given are the Certification details of
SAP Certified Application Associate - SAP Business Objects Business Intelligence Platform 4.2
· Certification Level: Associate
· Exam Name: SAP Certified Application Associate - SAP Business Objects Business intelligence Platform 4.2
· Exam Code: C_BOBIP_42
· Exam Mode: Online
· Total Number of Questions: 80
· Pass Score: 66%
· Time Duration: 180 Minutes
· Exam Price: $550
The SAP BO Consultant draws an average salary of $83,772 per year depending on the knowledge and hands-on experience. The SAP BO Consultant job roles are in high demand and make a rewarding career.
The SAP BO Consultants are recognized across the globe. The increased usage of the SAP BO concepts in many companies help the participants to find a job opportunity easily. The leading companies hire SAP BO Consultant considering the skill of analysing business intelligence data in an organization. The Learners earn most beneficial SAP BO certification through our expert training and course curriculum. Being SAP BO certified is definitely valuable credential and adds value to every organization.
The SAP BO certification is targeted to those participants who are from business background and excel as SAP BO consultant
The following are the job titles:
· SAP BO Expert
· SAP BO Associate
· SAP BO Consultant
· SAP BI Consultant
· SAP BI Associate
The SAP BO online course provides you with an opportunity to explore career opportunities as a SAP BO Consultant.
1. SAP BusinessObjects Characteristics
| | |
| --- | --- |
| Criteria | Result |
| Querying and Data analysis | Ad-hoc querying & complex data analysis |
| Total cost of ownership | Low due to integrated, scalable, highly available, BI enterprise platform |
| Ease of use | Extremely user friendly, with quick up time |
2. What do you understand by SAP BusinessObjects?
Business object detect the solutions for business professionals which could be beneficial to gain data from the corporate database directly from the desktop.
3. Write the advantages of using SAP BusinessObjects.
· There are many advantages of SAP BusinessObjects
· Easy to use
· Dragging and dropping
· Graphical interface
· Business terms that are familiar
· Powerful reports for a lesser amount of time
4. Write the different products linked with SAP BusinessObjects.
There are various products related with SAP BusinessObjects:
· Broadcast Agent
· Info View
· Supervisor
· Auditor
· Designer
· Set Analyzer
· User module
5. What is Designer.
Designer is a set which is linked with Business object IS utilized by designer for developing and maintaining universe .Here universe is the semantic layer which can resolves the problem of end user issues that are technical related to the database.
6. Name the kinds of modes related with designer and SAP BusinessObjects?
There are two kinds of modes related with designer
· Workgroup mode
· Enterprise mode
7. Name different kinds of procedure associated with multidimensional analysis that is inside SAP BusinessObjects.
There are two different methods:
· Drill down
· Slice and Dice
8. Write the kinds of users linked with SAP BusinessObjects.
· There are various kinds of users
· Supervisor Designer
· Designer
· Graphical Interface
· Supervisor
· General Supervisor
· Versatile User
· End User
9. What all data sources are available?
BO allows us to review data from various sources. We can use data from RDBMS such as MS SQL server, Oracle, etc.
10. Write the various kind of data providers?
There are various kinds of data providers are:
· OLAP servers
· Queries over universe
· Personal data files
· SAP
· VBA procedures
· Stored procedures
· Free hand-SQL
11. What do you mean by drill mode?
It is a kind of study mode related to BO and helps in breaching data as well as in presenting data from all the available angles and the levels of details for analyzing the factors which caused the good and bad result.
12. Define personal connection?
It can be made only by one user and can't be used by the others. The details for same are kept in a PDAC.LSI file.
13. Define shared connection?
It is opposite of personal connection as it can be used by others also through a server which is common one. In this details of connections are kept in SDAC>LSI file which is there in installation folder.
14. Define secured connection?
It is a kind of connection which overcomes the disadvantages related with the former connection. We can use universe in central repository by secured connection.
15. What is custom hierarchies?
It defines the universe for providing the drill down which is customized and occur between objects from same or different classes taking care of the user requirements.
16. How we can create Custom Hierarchies?
We can create custom hierarchies by clicking on tools then choosing hierarchies from BO designer.
17. What do you understand by context in the universe?
Context can be explained as the specific path of join between a specific group of joins or the tables for the purpose of a specific query.
18. What is Chasm Trap?
It is a situation which arises at the time when the value in the fact table get wrong when it is measured from two various fact tables.
19. How the problem of Chasm Trap be solved?
Chasm Trap can be solved by two methods:
· By using SQL parameter in universe which generates SQL statement for each measures and result into a correct output.
· The second one is involving two joints in different contexts.
20. Define Derived tables?
They are created in the universe. It is used for complex calculations which can't be sorted out in the report level. The other useful feature of derived table is that by using dblink we can use the table from other schema.
21. What is User Objects?
It is a universe of classes and objects which is developed by the universe designer. Once the objects which is there in the universe does not matches our requirement, then the user can create his own objects which is known as User objects.
22. Name @functions.
The @functions are:
· @where
· @ Prompt
· @ script
· @Variable
· @Select
23. Write the uses of @functions.
The @prompt function tells the end user to write any specific values.
The @script function recovers the result of the Visual Basics for applications macro's.
The @select function re-used the existing statements.
24. SAP BusinessObjects consists of how many domains? Write them.
Three Domains are there in SAP BusinessObjects
· Document
· Security
· Universe
25. How we can use one derived table from another?
Using @Derived_table function, we can use one derived table from another. The syntax is:
@derived_table(derived table name)
26. What is Slice in SAP BusinessObjects?
It is used to reset, rename and omit the blocks. It works with the master or detailed reports.
27. Differentiate between Dice and Slice.
· Dice: It shows the data and removes the data.
· Slice: It reset, rename and delete the blocks.
28. Define master/detail report?
Big block of data can be break into small sections by using master or detail report. Replication in values can be avoided by using this.
29. What is class?
Collection of objects in a universe is known as class. Subclasses are derived from the class.
30. How many possible ways are there for linking universes?
· There are three ways:
· The Master approach
· The Kernal approach
· The Component approach
31. What is data mining?
It is a process by which we can extract the needed details from the database.
32. Write the available Drill modes.
The available Drill modes are;
· Drill down.
· Drill up
· Drill through.
· Drill by
33. What is aggregate_awarness?
We use aggregate_awarness function to define one object for measures in fact tables when we have a same fact tables in different grains, the syntax is as,
@aggregate_aware(highest_level.lower level).
34. What is fan trap?
A one to many join links to a table which answer with another one to many join links is known as fan trap.
35. What is Data provider?
The question or the data source is known as the data provider.
36. At what time we use a context?
Context is developed when the dimension objects are their in one or both fact tables.
37. Define standard mode?
Only the clients inside the group can be accessed in the standard mode.
38. Write the schema supported by SAP BusinessObjects Designer.
There are five different schemas supported by SAP BusinessObjects designer
· Snowflake schema.
· Star schema
· Normalized production schema
· Multistar schema.
· Data warehouse with aggregates.
39. What is Channel?
Channel is to make the users know up-to-date information. Channel is a website with 'push' technology.
40. What are the limitations over user objects?
User objects are not common between the end users. It is kept in a specific user object definition file. Hence if any end-user tries to refresh or edit the query contains another user's user object, it will be routinely cleaned and removed.
41. Name the tasks of universe designer.
The tasks of universe designer are:
· Creating the universe.
· Designing the universe.
· Distributing the universe.
· Maintaining the universe
42. Write the main components of designer interface.
The main components of designer interface are:
· The structure pane.
· The table browser
· The universe pane.
43. Define report bursting?
We use report bursting for maintaining the version documents according to the user profiles.
44. What is WEBI?
WEBI or Web Intelligence suite is a solution that is particular in supporting the decisions related with reports, queries, and analysis.
45. What is the full form of DSS?
Decision Support Systems.
46. What is strategies?
Strategies is used for extracting automatically structural data from database or from a flat file.
47. Define universe?
Universe is a group of objects and classes. These objects and classes will be projected for an application or a set of users.
48. What is secured mode?
Secured mode blocked the contact of specific users over specific commands.
49. Define Drill by?
Drill by is used to move to other hierarchy and examine the other data, which belongs to another hierarchy.
50. Define list of values.
It is a file which has the data values linked with an object.
Q1. What are the payment options? A1. We have multiple payment options: 1) Book your course on our webiste by clicking on Buy this course button on top right of this course page 2) Pay via Invoice using any credit or debit card 3) Pay to our UK or India bank account 4) If your HR or employer is making the payment, then we can send them an invoice to pay. Q2. Will I get certificate? A2. Yes, you will receive course completion certificate from Uplatz confirming that you have completed this course with Uplatz. Once you complete your learning please submit this for to request for your certificate https://training.uplatz.com/certificate-request.php Q3. How long is the course access? A3. All our video courses comes with lifetime access. Once you purchase a video course with Uplatz you have lifetime access to the course i.e. forever. You can access your course any time via our website and/or mobile app and learn at your own convenience. Q4. Are the videos downloadable? A4. Video courses cannot be downloaded, but you have lifetime access to any video course you purchase on our website. You will be able to play the videos on our our website and mobile app. Q5. Do you take exam? Do I need to pass exam? How to book exam? A5. We do not take exam as part of the our training programs whether it is video course or live online class. These courses are professional courses and are offered to upskill and move on in the career ladder. However if there is an associated exam to the subject you are learning with us then you need to contact the relevant examination authority for booking your exam. Q6. Can I get study material with the course? A6. The study material might or might not be available for this course. Please note that though we strive to provide you the best materials but we cannot guarantee the exact study material that is mentioned anywhere within the lecture videos. Please submit study material request using the form https://training.uplatz.com/study-material-request.php Q7. What is your refund policy? A7. Please refer to our Refund policy mentioned on our website, here is the link to Uplatz refund policy https://training.uplatz.com/refund-and-cancellation-policy.php Q8. Do you provide any discounts? A8. We run promotions and discounts from time to time, we suggest you to register on our website so you can receive our emails related to promotions and offers. Q9. What are overview courses? A9. Overview courses are 1-2 hours short to help you decide if you want to go for the full course on that particular subject. Uplatz overview courses are either free or minimally charged such as GBP 1 / USD 2 / EUR 2 / INR 100 Q10. What are individual courses? A10. Individual courses are simply our video courses available on Uplatz website and app across more than 300 technologies. Each course varies in duration from 5 hours uptop 150 hours. Check all our courses here https://training.uplatz.com/online-it-courses.php?search=individual Q11. What are bundle courses? A11. Bundle courses offered by Uplatz are combo of 2 or more video courses. We have Bundle up the similar technologies together in Bundles so offer you better value in pricing and give you an enhaced learning experience. Check all Bundle courses here https://training.uplatz.com/online-it-courses.php?search=bundle Q12. What are Career Path programs? A12. Career Path programs are our comprehensive learning package of video course. These are combined in a way by keeping in mind the career you would like to aim after doing career path program. Career path programs ranges from 100 hours to 600 hours and covers wide variety of courses for you to become an expert on those technologies. Check all Career Path Programs here https://training.uplatz.com/online-it-courses.php?career_path_courses=done Q13. What are Learning Path programs? A13. Learning Path programs are dedicated courses designed by SAP professionals to start and enhance their career in an SAP domain. It covers from basic to advance level of all courses across each business function. These programs are available across SAP finance, SAP Logistics, SAP HR, SAP succcessfactors, SAP Technical, SAP Sales, SAP S/4HANA and many more Check all Learning path here https://training.uplatz.com/online-it-courses.php?learning_path_courses=done Q14. What are Premium Career tracks? A14. Premium Career tracks are programs consisting of video courses that lead to skills required by C-suite executives such as CEO, CTO, CFO, and so on. These programs will help you gain knowledge and acumen to become a senior management executive. Q15. How unlimited subscription works? A15. Uplatz offers 2 types of unlimited subscription, Monthly and Yearly. Our monthly subscription give you unlimited access to our more than 300 video courses with 6000 hours of learning content. The plan renews each month. Minimum committment is for 1 year, you can cancel anytime after 1 year of enrolment. Our yearly subscription gives you unlimited access to our more than 300 video courses with 6000 hours of learning content. The plan renews every year. Minimum committment is for 1 year, you can cancel the plan anytime after 1 year. Check our monthly and yearly subscription here https://training.uplatz.com/online-it-courses.php?search=subscription Q16. Do you provide software access with video course? A16. Software access can be purchased seperately at an additional cost. The cost varies from course to course but is generally in between GBP 20 to GBP 40 per month. Q17. Does your course guarantee a job? A17. Our course is designed to provide you with a solid foundation in the subject and equip you with valuable skills. While the course is a significant step toward your career goals, its important to note that the job market can vary, and some positions might require additional certifications or experience. Remember that the job landscape is constantly evolving. We encourage you to continue learning and stay updated on industry trends even after completing the course. Many successful professionals combine formal education with ongoing self-improvement to excel in their careers. We are here to support you in your journey! Q18. Do you provide placement services? A18. While our course is designed to provide you with a comprehensive understanding of the subject, we currently do not offer placement services as part of the course package. Our main focus is on delivering high-quality education and equipping you with essential skills in this field. However, we understand that finding job opportunities is a crucial aspect of your career journey. We recommend exploring various avenues to enhance your job search: a) Career Counseling: Seek guidance from career counselors who can provide personalized advice and help you tailor your job search strategy. b) Networking: Attend industry events, workshops, and conferences to build connections with professionals in your field. Networking can often lead to job referrals and valuable insights. c) Online Professional Network: Leverage platforms like LinkedIn, a reputable online professional network, to explore job opportunities that resonate with your skills and interests. d) Online Job Platforms: Investigate prominent online job platforms in your region and submit applications for suitable positions considering both your prior experience and the newly acquired knowledge. e.g in UK the major job platforms are Reed, Indeed, CV library, Total Jobs, Linkedin. While we may not offer placement services, we are here to support you in other ways. If you have any questions about the industry, job search strategies, or interview preparation, please dont hesitate to reach out. Remember that taking an active role in your job search process can lead to valuable experiences and opportunities.