BUY THIS COURSE (USD 17 GBP 29)
SAP FICO (comprehensive)
Master Financial Management with SAP FICO. Learn all aspects of FICO with practical demonstrations of each concept. Become SAP Finance SME specialist.
( add to cart )
Save 59% Offer ends on 31-Dec-2023
Preview SAP FICO (comprehensive) course
View Course Curriculum
Price Match Guarantee
Full Lifetime Access
Access on any Device
Technical Support
Secure Checkout
&nbsp Course Completion Certificate
Bestseller
Highly Rated
Job-oriented
Instant access
Students also bought -
30 Hours
USD 17
347 Learners
500 Hours
USD 45
7893 Learners
90 Hours
USD 23
502 Learners
Completed the course? Request here for Certificate.
ALL COURSES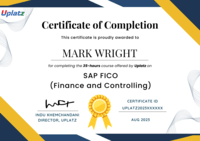 SAP is one of the biggest players in the enterprise software application industry which main goal is at superior enterprise resource planning. SAP is the abbreviation for Systems, Applications, and Products in Data Processing.
SAP Finance and Controlling (FICO) is one of the most widely used SAP modules. SAP FICO module includes SAP FICO configuration, SAP CO configuration, SAP FI user and SAP CO user. Taking up an SAP FICO certification is the first step towards beginning a career as an SAP FICO consultant. The different type of the SAP FI and SAP CO modules are essential to building the skill sets of an SAP FICO consultant or professional.
SAP FICO is an essential module of ERP and FI and Co modules stores the transactional and financial data. SAP FI (financial Accounting) is used in external reporting I.e., P&L statements and Balance sheet. SAP FICO module integrates well with the other different modules of SAP like MM- (Material Management), SD- (Sales & Distribution), PP- (Production Planning), PM- (Plant Maintenance), and PS- (Project Systems). SAP FI (financial Accounting) Module obtains postings from the different modules like Materials Management, Sales & Distribution, and Human Resource) by integration.
All the accounting-relevant transactions made in logistics (LO) are posted real-time to Financial Accounts by automatic account identification. This data also can be passed to Controlling (CO).
Using the SAP FICO (Financial Accounting and Controlling) module offers several benefits for organizations, including:
1) Streamlined Financial Processes: SAP FICO integrates various financial functions, enabling organizations to streamline and automate their financial processes, reducing manual effort and improving efficiency.
2) Real-time Financial Insights: The module provides real-time access to financial data, enabling organizations to make informed decisions based on up-to-date information and have better visibility into their financial performance.
3) Enhanced Cost Management: SAP FICO supports comprehensive cost accounting functionalities, allowing organizations to track and analyze costs at various levels, enabling effective cost management and control.
4) Accurate Financial Reporting: With SAP FICO, organizations can generate accurate and reliable financial reports, such as balance sheets, income statements, and cash flow statements, ensuring compliance with regulatory requirements and providing transparency to stakeholders.
5) Improved Cash Flow Management: SAP FICO facilitates efficient cash flow management by automating processes such as accounts payable and receivable, bank reconciliation, and cash forecasting, helping organizations optimize their working capital.
6) Effective Budgeting and Planning: The module offers robust budgeting and planning capabilities, allowing organizations to create, monitor, and control budgets, perform variance analysis, and align financial goals with strategic objectives.
7) Compliance and Risk Management: SAP FICO helps organizations adhere to financial regulations, tax requirements, and internal control standards. It supports audit trails, segregation of duties, and provides comprehensive tools for risk management and compliance reporting.
8) Integrated Financial Supply Chain Management: SAP FICO includes the Financial Supply Chain Management (FSCM) component, which optimizes processes related to credit management, collections, and electronic invoicing, improving cash flow and reducing credit risks.
9) Multi-currency and Global Operations Support: SAP FICO supports multiple currencies, making it suitable for organizations operating in global markets. It handles foreign currency transactions, exchange rate management, and country-specific financial reporting requirements.
10) Scalable and Flexible Solution: SAP FICO is scalable and can cater to the needs of organizations of all sizes, from small businesses to large enterprises. It also offers flexibility for customization, allowing organizations to adapt the system to their specific financial structures and processes.
11) Integration with Other SAP Modules: SAP FICO seamlessly integrates with other SAP modules, enabling end-to-end business processes across functions such as sales, procurement, production, and human resources, ensuring data consistency and process efficiency.
In summary, SAP FICO provides organizations with streamlined financial processes, real-time insights, accurate reporting, improved cost management, and compliance, ultimately helping them make better financial decisions, drive efficiency, and achieve their financial objectives.
Uplatz provides this in-depth course on SAP FICO module covering all aspects of FICO with practical demonstrations of each concept. This is a consultant level course and will help you become a top SAP Finance Consultant.
Course/Topic - SAP FICO (comprehensive) - all lectures
This introduction of SAP FICO module will be extremely useful for professionals who aspire to learn the ropes of SAP FICO and implement it in practice. It is especially going to help the consultants who are mainly responsible for implementing Financial Accounting and Cost Accounting with SAP ERP Financials.

In this session, you will learn about the Enterprise structure in SAP is an organizational diagram that shows how the whole group is mapped in SAP. It consists of some company units of different modules created for a specific business-related reason and are grouped together.

This session of SAP FI enterprise structures which are the bedrock of the financial solution; without them, you couldn't integrate and configure your program.

This video of SAP Financial Accounting enterprise structure is Organizational Structure that represent an Enterprise Structure in SAP and Enterprise Structure is the key building block to the entire organization.

This General Ledger (G/L) accounts which are used to provide a picture of external accounting and accounts and to record all the business transactions in a SAP system.

The FI chart of accounts represents the list of GL accounts that are used to meet the daily needs and the operating country's legal requirement in a company. The master chart of accounts must be assigned to each company code.

Validation and substitution in SAP are used in document posting. In SAP all input values are validated either by a program or with a table. However, certain validations are not carried on by these standard programs so you have to specifically use validation program to create validation rules in sap for your specific requirements.

In this video of reversal, you will learn about the reversed document, just go to document posting by entering transaction details in the command field and then start the process step by step.

In this SAP Accounts Payable video, you will learn Accounts Payable submodule in SAP FICO step by step from basics to advanced concepts with scenarios. At the end of the video, you will be able to recognize the scope and function of accounts payable, or the AP sub component of financial accounting.

In this video you will understand any postings made in Accounts Payable is updated in General Ledger as well. The Accounts Payable submodule has tons of reports and forecasting to features to track vendor outstanding and payments.

SAP Accounts Payable is one of the important components of SAP Financial (FI) Module. It represents as FI-AP respectively. This video contains the details about those modules.

In this video, you will learn about Manual Bank reconciliation statement which is reconciliation between the account maintained by your company and the account maintained by the bank.

The Data cap Accounts Payable application uses optical character recognition and location rules to capture invoice data.

Check management is used in cases where, when issuing your checks, you do not want to use the payment document number as the check number, but a different numbering method instead.

In this video we have described the SAP Accounts Receivable sub-module in detail. SAP FI Accounts Receivable component records and manages accounting data of all customers. It is also an integral part of sales management. This session will guide you through the basics of AR and AP, what they are, why they're important, and some things you should keep in mind when recording transactions related to them.

This session is all about the AR/accounts receivable which is any money owed by customers to a company. In other words, it's money that a company has a right to receive because it has provided a product or service. This video also guides you about configuration settings of Accounts Receivable in SAP FICO step by step.

In this video the topics provide an introduction to the SAP FICO Accounts Receivable and Accounts Payable application components. Accounts Receivable is a submodule of SAP FI used to manage and record accounting data for all the customers. It handles customer invoices, approvals, payments and other allied activities.

This video describes the process of recording accounts receivable and the allowance for doubtful accounts. The Accounts Payable application component records and manages accounting data for all vendors. The Accounts Receivable application component records and administers accounting data of all customers. It is also an internal part of Sales Management.

This session explains what is Dunning and how to perform Dunning Run Process along with technical information. You will also understand that if a customer misses the payment for the outstanding invoice by payment due date, then how you can generate a dunning letter using SAP FI and send it to the customer address to remind them of the outstanding payment.

In this part we will learn about SAP FI Tax functionality. This is an introductory tutorial about taxes in SAP FI included in our SAP FI course. Learn about the high-level flow of processing of taxes in FI module of SAP ERP. This tutorial also explains how to implement and configure SAP FI (Financial Accounting) and SAP CO (Controlling) module step by step.

In this tutorial on SAP International Currencies you will learn why and how foreign currency valuation is carried out in SAP. This video explains how to configure valuation methods and areas, and teaches you how to execute the valuation. Overall you will understand the international currencies within SAP FI Accounts Receivable.

Many company codes are involved in a cross-company code transaction. In a cross-company code transaction, the system posts a separate document with its own document number in each of the company codes.

Asset Accounting is an important module in SAP that manages assets of an organization by master records. Asset accounting is a sub ledger to the SAP FI module for managing the Asset records.

The FI-Asset Accounting (FI-AA) component is used for managing the fixed assets in FI system. In Financial Accounting, it serves as a subsidiary ledger to the General Ledger, providing detailed information on transactions involving fixed assets.

SAP Asset Accounting is also called as sub ledger accounting, it is one of the important sub-module of SAP financial accounting (SAP FICO) module. Asset Accounting in SAP (FI-AA) is used for managing and supervising the fixed assets of an organization.

Asset Accounting is a sub component of SAP FI Module. It deals with the fixed assets of the company for their management and analysis. It provides the complete information about the fixed assets transactions inside a company.

The SAP HR Payroll India component integrates with other SAP HR components like Personnel Administration (PA) and Personnel Time Management. There are interfaces to Financial Accounting and Controlling (SAP FICO).

SAP HCM is basically Integrated with FICO through the Cost Centre, GL account, Vendor Account etc. For integration link the symbolic accounts (from HR) to GL accounts. Symbolic accounts are the point of integration between FI and HR.

In this tutorial, you will learn about the integration points between MM and FI (there are several of them) and see an example of the integration in action. This tutorial is part of both our SAP MM course and SAP FI course.

SAP ensures that data from one module automatically flows to another module. In case of SAP MM FI integration, functionality and data from SAP MM (Materials Management) module triggers automatic postings in SAP FI (Financial Accounting) module.

In this part, we learn about SD and FI integration point. Whenever we sale a finish material to customer, then the customer have to pay for that. We send a bill to customer. In that position all billing document which is happens to sales and distribution module will be posted into FI module.

ASAP Methodology (Accelerated SAP) is a standard SAP related project preparation and systems implementation method, developed and updated by consultants that are involved in implementing SAP software products. This methodology is also useful for project managers and others who implement systems that support business processes.

The LSMW (Legacy System Migration Workbench) is a tool based on SAP software that supports single or periodic data transfer from non-SAP to SAP systems (and with restriction from SAP-to-SAP system).

In SAP FICO module, FI stands for Financial Accounting and SAP CO stands for Controlling. SAP FICO is one of the important modules of ERP SAP R/3 that deals with financial activities of an organization. This SAP FICO tutorials are designed for beginners from basic concepts including examples and real time scenarios.

This is an elementary session and you can easily understand the concepts explained here with a basic knowledge of how a business deals with its Financials. However, it will help if you have some prior exposure to accounting and how to deal with financial data.

This tutorial on Controlling (CO) module of SAP provides information to managers & decision makers to understand where the company's money is being spent. Controlling is not restricted by any legal requirements as in case of FI & is essentially an internal cost accounting tool.

This SAP Controlling video provides information on a variety of tools that can be used to provide operational information to the management to support business analysis and decision making.

This SAP controlling video provides core information to management on how to use SAP CO module for effective planning, reporting and monitoring of the business operations of an organization.

In this tutorial, you will learn how to implement SAP Controlling module step-by-step for a business organization with real time scenarios. You will develop skills in managing and configuring master data that covers cost and profit centers, internal orders, and other cost elements and functional areas.

SAP CO Product Costing module is used to find the value of internal cost of products. It is also used for profitability and management accounting for production.

This part will give you an overview of important reports which are used frequently in SAP FICO.
SAP FICO(Comprehensive) training will help you to cover and understand the actual functioning and implementation of this software. Amongst all the SAP implementations SAP FI is one of the most important modules. It is essentially used for external reporting. This means, for the profit and loss statements and Balance sheet.
The SAP FICO (Comprehensive) course will teach you all the integrated SAP modules. Apart from this, the SAP FICO (Comprehensive) training course also aims in teaching relevant accounting transactions that are comprised of Logistics (LO) and are eventually posted to real-time financial accounting through Automatic Account Determination.
After the course completion of SAP FICO (Comprehensive), you will be able to:
· · You will Learn the basic concepts and fundamentals of Finance and Controlling modules
· Learn about General Ledger, Accounts Payable, Bank Accounting and Funds Management and its application in finance analysis
· Learn about Business Process and how FICO Module work in R/3
· Apply Implementation Training and Integration with other Modules
· Basics of Financial Accounting which include accounts payable, accounts receivable, and general ledger accounting
· How to manage master data, document control, configuring asset accounting, and postings
· Handling of payments both automatic and correspondence options
· Year-end accounting processes in financial accounting
· Unique general ledger transactions and document parking
· Configuring and using new asset accounting
· Validations, substitution, and archiving in financial accounting, and more
SAP – FI/CO SYLLABUS
Introduction to ERP• What is ERP?
• Why we need ERP?
• Advantage of ERP?
• Major ERP packages
• What is sap?
FINANCE Enterprise Stricture
• Organizational Units
• Define Company
• Define Company Code
• Define Business Area
• Assign Company Code to Company
• Define Plant, Purchase Organization, Storage location
• Define Sales Organization, Shipping Point,
• Distribution Channels and Divisions
• Assign plant and purchasing organization to company code
• Assign purchasing organization to plant
• Assign sales organization,
• Distribution channels and Divisions to company code
• Assign shipping point
Financial Accounting Global Setting:
• Maintain Fiscal year variant
• Maintain posting period variant
• Open and closing periods
• Maintain field status variant
• Enter global parameters
• Define document types and number ranges
• Define posting keys
• Maximum exchange rate difference
• Define text for line items
• Default values for values for document processing
Chart of Accounting List
• Define Operative chart of Accounts
• Define group chart of accounts
• Define country specie chart of accounts
• Assign chart of accounts to company code
• Define account group
• Define retained earning account
GL Account Creation and processing
• Define tolerance groups for G/L accounts
• Define tolerance groups for employees
• Define GL account
• Block/Unblock GL accounts
• General document posting
• Document in G/L park post, Hold, Recurring, Sample,
Account Assignment model etc.
• Open item management
• Incoming payments
• Outgoing payments
• Charge of differences
• Manual clearing
• Automatic clearing
• Foreign currency posting
• Foreign currency valuation
• Work list preparations
• Layout preparations
• Display balances (with variant)
• Control totals
• Multiple currencies
• Reserve Document
• Individual reversal
• Mass reversal
• Reversal of reversal
• Reset cleared item reversal
Account receivable:
• Define account groups with screen layout (customers)
• Create number ranges and assign to accounts groups
• Define tolerance to customers/vendors
• Create customer master record
• Customer document posting
• Customer incoming payment
• Maintain terms of payment
• Define account for cash discount granted
• Charges of differences
• Down payment
• Transfer with clearing
• Automatic clearing
• Dunning
• Item interest calculation
• Sales tax
• Define accounts for exchange rate differences
• Foreign currency posting and valuation
• Credit memo postings
Account payable:
• Define account groups with screen layout (vendors)
• Create number ranges to vendor account groups
• Assign number ranges to vendor account groups
• Create vendor master record
• Vendor invoice posting
• Define accounts for cash discount taken
• Define accounts for bank charges (vendors)
• Define accounts for overpayments/underpayments
• Down payment
• Alternative payee
• Define accounts for exchange rate differences
• Foreign currency posting and valuation
• Automatic payments program (APP)
• Credit memo postings
• Check management
• Individual check payment
• Manual check payment
• Check register
• Create void reason cods
• Reprint check
• Unused checks cancellation
• Issued checks cancellation
• Cancel payment
• Delete manual checks
Country India version (CIN):
• VAT
• Sales tax
• Extended withholding tax (TDS: Tax Deduct at Source)
Bank accounting
• Define house bank
• Creates check lots
• Bank account interest calculation
• Cash journals
• BRS (manual bank stamen, electronic bank statement)
• Lock box processing
Asset management
• Copy chart of depreciation
• Assign tax code for non taxable transactions
• Assign chart of depreciation to company code
• Specify account determination
• Create screen layout rules
• Define asset classes
• Define number ranges
• Creation of GLs
• Integration with GL
• Posting rules
• Determine depreciation areas in asset classes
• Define screen layout for asset master data
• Define number ranges for depreciation posting
• Depreciation key
• Define base method
• Define declining balance method
• Define multi level method
• Define period control method
• Define depreciation key
• Asset master creation
Creation of main asset
Creation of sub­asset
• Asset purchase posting
• Sale of asset
• How to view sub asset value balance
• How to view the asset balance
• Depreciation run
• Asset transfers and asset scrapping
• Asset explorer and asset history sheet
Integration with FICO
• FI­MM
• FI­SD
• FI­HR
Final preparations
• Define financial statement versions
• Display of trial balances
• Display of GL balances
• Display of A/R balances
• Display of A/P balances
• Display of assets balances
Other components
• Data takeover _ masrers up loading and transitional data up loading (LSMW)
• Month end closing activities
• Year end closing activities
• Cross company code transitions
• Validations
ECCC6.0 New Features
SAP ­ CONTROLLING
Basic setting for Controlling
• Maintain controlling area
• Assign company code
• Active control indicators/components
• Maintain versions
• Maintain controlling document number ranges
Cost element Accounting
• Create primary/secondary cost elements
• In financial area
• In controlling area
• In automatic creation of cost elements
• Cost elements group
Cost center accounting
• Creation of cost center Std.Hierachy
• Creation of cost center
• Creation of cost center group
• Activate inactivate cost center
• Create activity types
• Activity type groups
• Create statistical key figures
• Cost center planning
• Define user define planning profile
• Defined user defined distribution keys
• Set planner profile
• Planning of cost center wise
• Posting with cost center actual value
• To view the cost center report
• To view the variance report cost center wise
• Period and closing activities in cost center accounting
• Manual reposting
• Distribution method
• Assessment
Internal orders:
• Create internal settlement cost element
• Manual allocation structure
• Creation of internal order
• Change internal order
• Actual posting to internal order
• Internal order report
• Planning of internal order
• Budgeting and availability control
• Maintain number ranges and budgeting
• Maintain budget profile
• Define tolerance limits for availability control
• Internal order budget report
• Change internal order
• Maintain number ranges for settlement documents
• Maintain settlement profile
• Settlement of internal order to cost center
• Close the internal order
Profits center accounting:
• Maintain controlling area settings
• Define standard hierarchy
• Copy cost center groups
• Copy cost center
• Create dummy profile center
• Create profit center
• Creation of profit center group
• Assigning the profit center to the cross center
• Set control parameter for actual data
• Creation of revenue elements
• Creation of account groups
• Maintain plan version
• Sales invoice posting
• Posting expenditure
• Profit center report
• View variance report profit center wise for balance sheet items
Product costing
• Create overhead cost elements
• Create activity types
• Define overhead keys
• Define overhead group
• Define calculation base
• Define percentage overhead rates
• Define credits
• Define cost sheets
• Define cost component structure
• Assign cost sheet to costing variant
• Define person responsible for work centers
• Define MRP (material requirement planning) controller
• Define production scheduler
• Create GL­account(material consumption account)
• Assign material consumption account(OBYC)
• Activity planning
• Create raw material master
• Create finished goods
• Create bill of material(BOM)
• Create work center
• Creation of cost estimate
• Display material master record
Profitability analysis CO­PA
• Define operating concern
• Define profitability segment characteristics
• Assign controlling area to operation concern
• Activate profitability analysis
• Maintain assignment of SD conditions to CO­PA value field
• Maintain assignment of MM conditions to CO­PA value field
• Sales order creation delivery and billing
• Display profitability by using report painter
Uplatz training and certification program gives you a solid understanding of the key topics covered Certification exams. This is aimed at students who have recently completed, and experienced professionals to enhance their practical knowledge in SAP FICO modules. In addition to boosting your income potential, getting certified, demonstrates your knowledge and the skills, understanding of the fundamentals of SAP FICO along with processes, tools, techniques, and management methodology. The certification validates your ability to produce reliable, high-quality results with increased efficiency and consistency.
The "SAP Certified Application Associate - Financial Accounting with SAP ERP 6.0 EhP7" certification exam verifies that the candidate possesses fundamental knowledge and proven skills in the area of SAP ERP Financial Accounting. It tests that the candidate has a good overall understanding within this consultant profile and can implement this knowledge practically in projects under guidance of an experienced consultant. This certificate is the ideal - although not mandatory - prerequisite for the qualification to SAP Certified Professional in Financial Accounting. It is recommended as an entry-level qualification to allow consultants to get acquainted within Financial Accounting projects.
SAP FI Exam Format
Certification Name: SAP FI Certification Exam
Exam Format: Multiple Choice
Total Questions: 80 Questions
Passing Score: 60%
Exam Duration:3 Hours (180 Minutes)
Languages: English
Course Completion Certificate will be awarded by Uplatz upon the completion of the SAP FICO (Comprehensive) course training
SAP FICO (Comprehensive) online training with certification makes you proficient in topics such as ledgers, ledger reports, cheque management, cash journals, vendor reports, asset accounting, profit center accounting and many more. The SAP FICO (Comprehensive) certification is very beneficial to start off your career as an SAP consultant. With this certification, you can earn salaries as much as you can.
The objective of this training is to provide knowledge on basic and advanced level techniques of SAP FICO to the students. In addition to that, we have a special focus on placing our students in major MNCs so that they could have a bright future ahead. However, in order to get the best results, it is required that you have prior knowledge of accounting as it will help you in understanding the concepts better.
You can go on to become a professional FICO Consultant with the SAP FICO online training. The controlling and financial accounting are related to each other and it aids you to manage the business in the best way possible. Once you are a certified SAP FICO professional, you can make a business run in a very smooth fashion with augmented finance accounting and crisp data management. The implementation of SAP FICO is complex and demands thorough training. SAP FICO Training will in every way enhance your understanding of the financial and controlling of the data in an enterprise.
Companies across industry sectors have implemented SAP ERP to a great extent; considering the widespread adoption, there is a great demand for certified SAP FI professionals globally. Some of the top companies that are hiring SAP FI certified professionals include TCS, TriOpz, HPC America, Xpower, Kaizen Technologies, Deloitte, ITResonance, Hitachi Vantara, IBM, Denken Solutions, Costco Wholesale, and many more
What are the organizational elements in SAP FICO?
These are the following organizational elements in SAP FI such as:
· Company Code
· Business Area
· Chart of Account
· Functional Area
What is APP in SAP FICO?
In SAP FICO, APP means for Automatic Payment Program provided to the customers to pay its vendors and the customers. It helps us to avoid mistakes taken place while posting manually.
What is the most common of G/L reports in FI?
In SAP FI, various G/L reports that can be generated. The most common ones are the following:
G/L Chart of Accounts List
G/L Account Balances
G/L Account List
G/L Account Totals and Balances
What is the scope of SAP FICO module?
SAP FICO stands for Financial Accounting, and Costing is the highest paid salary with excellent growth rate. Many organizations are looking for certified SAP FICO Professionals. But it is not that easy to get a job in SAP FICO as the competition is very high. The job of SAP FICO consultant symbolizes one of the most lucrative career paths in the market today.
What are the future career opportunities as an SAP FICO Consultant?
As the market is growing, many industries are implementing SAP systems. In next five years, there will be a huge demand in the financial perspective.
Is SAP FICO useful?
SAP FICO is one of the SAP core modules and is deeply integrated with other modules such as SAP Sales and Distribution, Sales Material Management, SAP Production Planning and so on.
Q1. What are the payment options? A1. We have multiple payment options: 1) Book your course on our webiste by clicking on Buy this course button on top right of this course page 2) Pay via Invoice using any credit or debit card 3) Pay to our UK or India bank account 4) If your HR or employer is making the payment, then we can send them an invoice to pay. Q2. Will I get certificate? A2. Yes, you will receive course completion certificate from Uplatz confirming that you have completed this course with Uplatz. Once you complete your learning please submit this for to request for your certificate https://training.uplatz.com/certificate-request.php Q3. How long is the course access? A3. All our video courses comes with lifetime access. Once you purchase a video course with Uplatz you have lifetime access to the course i.e. forever. You can access your course any time via our website and/or mobile app and learn at your own convenience. Q4. Are the videos downloadable? A4. Video courses cannot be downloaded, but you have lifetime access to any video course you purchase on our website. You will be able to play the videos on our our website and mobile app. Q5. Do you take exam? Do I need to pass exam? How to book exam? A5. We do not take exam as part of the our training programs whether it is video course or live online class. These courses are professional courses and are offered to upskill and move on in the career ladder. However if there is an associated exam to the subject you are learning with us then you need to contact the relevant examination authority for booking your exam. Q6. Can I get study material with the course? A6. The study material might or might not be available for this course. Please note that though we strive to provide you the best materials but we cannot guarantee the exact study material that is mentioned anywhere within the lecture videos. Please submit study material request using the form https://training.uplatz.com/study-material-request.php Q7. What is your refund policy? A7. Please refer to our Refund policy mentioned on our website, here is the link to Uplatz refund policy https://training.uplatz.com/refund-and-cancellation-policy.php Q8. Do you provide any discounts? A8. We run promotions and discounts from time to time, we suggest you to register on our website so you can receive our emails related to promotions and offers. Q9. What are overview courses? A9. Overview courses are 1-2 hours short to help you decide if you want to go for the full course on that particular subject. Uplatz overview courses are either free or minimally charged such as GBP 1 / USD 2 / EUR 2 / INR 100 Q10. What are individual courses? A10. Individual courses are simply our video courses available on Uplatz website and app across more than 300 technologies. Each course varies in duration from 5 hours uptop 150 hours. Check all our courses here https://training.uplatz.com/online-it-courses.php?search=individual Q11. What are bundle courses? A11. Bundle courses offered by Uplatz are combo of 2 or more video courses. We have Bundle up the similar technologies together in Bundles so offer you better value in pricing and give you an enhaced learning experience. Check all Bundle courses here https://training.uplatz.com/online-it-courses.php?search=bundle Q12. What are Career Path programs? A12. Career Path programs are our comprehensive learning package of video course. These are combined in a way by keeping in mind the career you would like to aim after doing career path program. Career path programs ranges from 100 hours to 600 hours and covers wide variety of courses for you to become an expert on those technologies. Check all Career Path Programs here https://training.uplatz.com/online-it-courses.php?career_path_courses=done Q13. What are Learning Path programs? A13. Learning Path programs are dedicated courses designed by SAP professionals to start and enhance their career in an SAP domain. It covers from basic to advance level of all courses across each business function. These programs are available across SAP finance, SAP Logistics, SAP HR, SAP succcessfactors, SAP Technical, SAP Sales, SAP S/4HANA and many more Check all Learning path here https://training.uplatz.com/online-it-courses.php?learning_path_courses=done Q14. What are Premium Career tracks? A14. Premium Career tracks are programs consisting of video courses that lead to skills required by C-suite executives such as CEO, CTO, CFO, and so on. These programs will help you gain knowledge and acumen to become a senior management executive. Q15. How unlimited subscription works? A15. Uplatz offers 2 types of unlimited subscription, Monthly and Yearly. Our monthly subscription give you unlimited access to our more than 300 video courses with 6000 hours of learning content. The plan renews each month. Minimum committment is for 1 year, you can cancel anytime after 1 year of enrolment. Our yearly subscription gives you unlimited access to our more than 300 video courses with 6000 hours of learning content. The plan renews every year. Minimum committment is for 1 year, you can cancel the plan anytime after 1 year. Check our monthly and yearly subscription here https://training.uplatz.com/online-it-courses.php?search=subscription Q16. Do you provide software access with video course? A16. Software access can be purchased seperately at an additional cost. The cost varies from course to course but is generally in between GBP 20 to GBP 40 per month. Q17. Does your course guarantee a job? A17. Our course is designed to provide you with a solid foundation in the subject and equip you with valuable skills. While the course is a significant step toward your career goals, its important to note that the job market can vary, and some positions might require additional certifications or experience. Remember that the job landscape is constantly evolving. We encourage you to continue learning and stay updated on industry trends even after completing the course. Many successful professionals combine formal education with ongoing self-improvement to excel in their careers. We are here to support you in your journey! Q18. Do you provide placement services? A18. While our course is designed to provide you with a comprehensive understanding of the subject, we currently do not offer placement services as part of the course package. Our main focus is on delivering high-quality education and equipping you with essential skills in this field. However, we understand that finding job opportunities is a crucial aspect of your career journey. We recommend exploring various avenues to enhance your job search: a) Career Counseling: Seek guidance from career counselors who can provide personalized advice and help you tailor your job search strategy. b) Networking: Attend industry events, workshops, and conferences to build connections with professionals in your field. Networking can often lead to job referrals and valuable insights. c) Online Professional Network: Leverage platforms like LinkedIn, a reputable online professional network, to explore job opportunities that resonate with your skills and interests. d) Online Job Platforms: Investigate prominent online job platforms in your region and submit applications for suitable positions considering both your prior experience and the newly acquired knowledge. e.g in UK the major job platforms are Reed, Indeed, CV library, Total Jobs, Linkedin. While we may not offer placement services, we are here to support you in other ways. If you have any questions about the industry, job search strategies, or interview preparation, please dont hesitate to reach out. Remember that taking an active role in your job search process can lead to valuable experiences and opportunities.