BUY THIS COURSE (USD 17 USD 41)
SAP MM (comprehensive)
You can learn inventory and warehouse management, about tasks within the supply chain, including consumption-based planning, evaluation of vendor.
( add to cart )
Save 59% Offer ends on 30-Nov-2023
Preview SAP MM (comprehensive) course
Price Match Guarantee
Full Lifetime Access
Access on any Device
Technical Support
Secure Checkout
&nbsp Course Completion Certificate
Trending
Job-oriented
Best service
Instant access
Students also bought -
30 Hours
USD 17
2423 Learners
50 Hours
USD 23
301 Learners
30 Hours
USD 17
449 Learners
Completed the course? Request here for Certificate.
ALL COURSES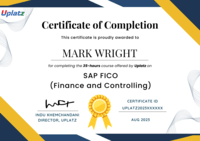 All functions in the supply chain are covered by SAP MM (Material Management) module, including consumption-based planning, purchasing, vendor assessment, and invoice verification. Inventory, production planning, and warehouse management are also included. Many large and small industrial, retail, and other companies utilise SAP MM to handle raw materials and consumables efficiently. Material management as a process guarantees that there are no shortages of materials or holes in the organization's supply chain process.
SAP MM streamlines procurement and material management processes, ensuring that the business runs smoothly and efficiently. It is concerned with the management of an organization's materials (products and/or services) and resources with the goal of increasing productivity and lowering costs. Simultaneously, SAP MM is adaptable enough to accept frequent changes in any company setting. You may become a SAP Certified Application Associate – Procurement with SAP ERP 6.0 after completing our MM training.
Master Data, Purchasing, and Inventory are only a few of the components and sub-components of SAP's Materials Management module. You will master the fundamental skills and principles of SAP MM in this session. Millions of companies throughout the world use the SAP Material Management application to successfully manage production components. It is the most frequently used ERP system in the business. It helps management to efficiently execute procurement operations in the firm because it is part of logistics. SAP MM (Materials Management) is a core module of the SAP ERP system that is used in the majority of SAP installations. This module is connected to SAP's logistics solution. Our team at Uplatz developed an online course that will help interested people to learn SAP MM by following our tutorials.
Uplatz offers SAP MM training that is both real-time and placement-specific. Our sap materials management course ranges from beginner to advanced, and our sap mm course is designed to help you find a job in a good MNC as soon as you finish the sap mm certification training course. Our sap mm instructors are SAP Materials Management certified specialists and seasoned working professionals with real-world expertise in various SAP MM projects. We created our sap mm course material and curriculum to meet the needs of students and help them accomplish their professional goals.In our sap mm training program, you will learn Sap materials management functional and technical overview, sap enterprise structure, material master data creation and management, procurement, inventory management, invoice verification, invoice management, inventory valuation, sap mm real time project and sap materials management placement training.
Course/Topic - SAP MM (comprehensive) - all lectures
In this lecture session we talk about introduction of ERP and SAP MM and also cover basic SAP MM functions.

In this lecture video session we learn about enterprise structure and also cover steps of structure in SAP MM.

In this lecture session we talk about financial services networks connectors and also cover basic functions of SAP MM.

In this lecture session we talk about general logistics and assign fields to field selections groups.

In this lecture session we learn about valuation level and also cover material master number ranges.

In this lecture session we talk about purchasing configuration and also cover document types in SAP MM.

In this lecture video session we talk about purchasing contracts in SAP MM and also learn about general material management.

In this lecture session we learn about schema determination and also talk about schema data in SAP MM.

In this lecture session we learn about vendor evaluation and maintain conditions tools.

In this lecture session we learn about physical inventory and also talk about how we maintain the stock in physical inventory.

In this lecture session we learn about how we set the manual account assignment in SAP MM.

In this lecture session we learn about change view screen layout contracts.

In this lecture session we learn about valuation and account assignment and define the price control for material type.

In this lecture session we learn about logistics invoice verification in SAP MM and also cover msg type description.

In this lecture session we learn about logistic configure and how exchange rate differences are treated.

In this lecture session we learn about MM integration of FI - MM ( Financial to material management).

In this lecture session we learn about mm integration and also define structure of data science for each screen sequence.

In this lecture session we learn about excise duty configuration and also cover excise duty basic data.

In this lecture video session we learn about purchase order and how we create purchase order in SAP MM.

In this lecture session we talk about master data and also talk about info records in SAP MM.

In this lecture session we learn about material master and also cover basic use of material master in SAP MM.

In this lecture session we learn about RFQ Quotation in SAP MM and also talk about outline agreement.

In this lecture session we learn about Quota arrangement and also talk about ME Q1 maintenance.

In this lecture session we learn about info records print buyers negotiation sheets for vendors.

In this lecture session we learn about prices surcharge and discount and also talk about conditions by contracts.

In this lecture session we learn about MIRO posting change G/L account centrally.

In this lecture session we learn about goods receipt and po and how we create a purchasing order in SAP MM.

In this lecture session we learn about procure to pay process and also cover types of transaction in SAP MM.

In this lecture session we learn about tickets in SAP MM and also cover FICO support tickets in SAP MM.

In this lecture session we learn about LSMW legacy data migration workbench in SAP MM.

In this lecture session we learn about material object attributes and also learn about maintaining field mapping and conversion rules.

In this lecture session we learn about accelerated methodology in SAP MM and also learn about Asap methodology.

In this lecture session we learn about contracts goods issue reservation in SAP MM and also talk about good issue material documents.

In this lecture session we learn about services entry sheets and also talk about periodic processing in SAP MM.

In this lecture session we learn about integration of MM and SD and also talk about integration of FI with SD.

In this lecture session we learn about release blocked invoices display invoice documents in SAP MM.

In this lecture session we learn about automatic posting and how we create inventory sampling ERP system initial screen.

In this lecture session we learn about purchase tables and also learn about how you link a document to a vendor master records.

In this lecture session we learn about MRP evaluation and also talk about customizing executive projects.

In this lecture session we learn about special material creation and also talk about initial screen foreign trade/ customs.

In this video session we learn about movement types and transaction keys and also talk about movement types and GL account determination.

In this lecture session we learn about customizing users and roles and also talk about cross application components.

In this lecture session we learn about SAP MM function groups editor and also talk about the number locking system in SAP MM.
• Learn everything there is to know about the functions and goals of material management.
• Learn how to use the SAP R/3 System to learn about an enterprise's organisational structure.
• For Purchasing Documents, define multiple document types such as PR, PO, REQ, Contract, and more.
• Learn about the Release group, the Release codes, the Release indicator, the Release precondition, and the Release strategies.
• Learn about Schema Groups, Calculation Schemas, Schema Group Vendors, and Schema Determination.
• Learn about the organization's service categories, number ranges for the Service Entry Sheet, and other details.
• Create a physical inventory document as well as a list of inventory variances.
Introduction to ERP and SAP MM (Materials Management)

Enterprise Structure

Logistics General

Purchasing

Schema Determination

Vendor Evaluation

Physical Inventory

Valuation and Account Assignment

Logistic Invoice Verification

Integration

Excise Duty Configuration

Purchase Order

Material Master

RFQ Quotation

Quota Arrangement

Info Records

Prices Surcharge and Discount

MIRO Postings

Goods Receipt and PO

Procure to Pay Process

Tickets in SAP MM

LSMW

Accelerated Methodology

Contracts

Service Entry Sheet

Integration of MM with SD

Release Blocked Invoices

Automatic Postings

Purchase Tables overview

MRP Evaluations

Special Material Creation

Movement Types and Transaction Keys

Customizing User and Roles

SAP MM Functional Group Editor
The SAP MM (comprehensive) Certification ensures you know planning, production and measurement techniques needed to stand out from the competition.
SAP MM (Material Management) Module is a SAP ERP component that helps organizations with material management, inventory management, and warehouse management in the supply chain process. It is a part of SAP ECC's logistics functions which consists of several components and subcomponents.
SAP MM's functions include material management, procurement process management, master data management (material and vendor master), inventory management, material requirements planning and invoice verification. All of these MM submodules have functions that perform specific business processes for those modules.
SAP MM (Material Management) is one the largest functional modules in SAP. This module mainly deals with Procurement Process,Master Data (Material & Vendor Master),Inventory Management,Valuation of Material & Account Determination,Material Requirement Planning,Invoice Verification etc.
Uplatz online training guarantees the participants to successfully go through the SAP MM (comprehensive) Certification provided by Uplatz. Uplatz provides appropriate teaching and expertise training to equip the participants for implementing the learnt concepts in an organization.
Course Completion Certificate will be awarded by Uplatz upon successful completion of the SAP MM (comprehensive) online course.
The SAP MM (comprehensive) draws an average salary of $111,000 per year depending on their knowledge and hands-on experience.
SAP ERP has SAP MM (C_TSCM52_67) as the most excellent Certificate, especially in Manufacturing & Trading Industries. If you are looking forward to a career with SAP MM, then it has a proper scope in delivery firms and manufacturing firms which implement SAP MM modules.
SAP MM has a really good future. SAP MM Demand In India. The SAP technology is going to stay in the market for at least the subsequent thirty years at the current state and it is still growing. Among the various modules, it's the functional modules like mm, SD, etc which are in great demand.
An SAP MM job requires a bachelor's degree from an accredited institution with a computer science/business background. It will also be best to have a piece of strong knowledge from designing with SAP data targets and SAP methodology and experience in customization of SAP MM business processes.
Note that salaries are generally higher at large companies rather than small ones. Your salary will also differ based on the market you work in.
Senior Associate - SAP MM – RDC.
Manager-SAP MM-TC.
SAP MM Consultants.
1. What is SAP MM and what do you know about it?
It is one of the modules in SAP that deals with the management of materials and procurement process. It also includes master data, account determination, material valuation, inventory management, invoice verification, material requirement planning, etc.
2. List out the essential components of material management.
· Determine requirements
· Source determination
· Vendor Selection
· Order Processing
· Order follow up
· Goods receipts and Inventory management
· Invoice Verification
3. What are the benefits or uses of material management?
· Material valuation
· Multi-location inventory
· Bin management
· The lot and serial traceability
· Product life cycle management
· Inventory replenishment
· Scheduling and resourcing
4. What are the features of material management?
· Purchasing
· Production and material control
· Non-production stores
· Transportation
· Material handling
· Receiving
5. What is material requirement planning (MRP)?
It is a module in SAP enterprise resource planning. It is a type of planning tool to help production and procurement planners to create feasible and realistic plans which helps to quickly initiate procurement and production process.
6. What is consumption-based planning (CBP)?
It is based on past consumption values which makes use of the forecast or other statistical procedures to determine future requirements. It is triggered when the stock level falls below a predefined reorder point or by forecast requirements calculated using past consumption values.
7. What is the difference between MRP and CBP?
In material requirement planning, the prediction of material requirement is based on sales and operations planning while in, consumption-based planning the prediction of material requirement is made, based on historical demand for materials.
8. What is Master Production Schedule (MSP)?
It is a plan for individual commodities to be produced in each time period such as staffing, production, etc. It is mostly linked with manufacturing in which the plan denotes when and how much of each product will be demanded.
9. What is a planned order in material management?
A planned order is sent to an industry and is a material requirement planning request for the procurement of a particular material at a determined time. It specifies when the internal material movement needs to be made and the amount of material that is demanded.
10. What is production order and purchase order?
A production order determines which material is to be prepared, at which location, and at what time and how much quantity is required. It also defines which components and sequence of operations are to be used and how the order costs are to be resolved.
A purchase order is a formal request or guidance from a purchasing organization to a vendor or a factory to supply or provide a certain quantity of goods or services at or by a certain point in time.
11. What is the process order?
Process Orders (PP-PI-POR) are the central component used for the accurate planning and execution of process manufacturing. A process order represents the production of batches (materials) in a production run or the rendering of services.
12. What is a transaction code in material management?
A transaction code (or t–code) consists of letters, numbers, or both, and is entered in the command field at the top of any SAP GUI screen. Each function in SAP ERP has an SAP transaction code associated with it. You can directly access any function in SAP using t-codes.
13. What are contracts in material management?
A contract is a long-term agreement with a vendor to supply a material or provide a service for a certain period of time. These are specified consequently in release orders issued against the contract when the customer requires them.
14. Define purchase requisition.
A purchase requisition is a primary document which is used as part of the accounting method to launch a merchandise or supply purchase. By processing a purchase order, suitable controls can monitor the legitimacy of purchase, as well as identify the business requirement for the products.
15. How do you create and release purchase requisition in SAP material management?
Purchase requisition creation can be done in T-code ME51N and is a straightforward process:
1) Execute ME51N transaction
2) Purchase requisition document type: NB – standard
3) Source determination: ON or OFF
4) Header note
5) Material: material number
6) Quantity and UoM
7) Storage location: in which the material is stored
8) Vendor: automatically determined by using source determination – field number
9) Tracking number: covered in previous topics, a desired value can be entered manually
10) Valuation price: copied from material master data if maintained there, if not must be entered manually (if this field is not set as optional)
11) After entering the desired information in the fields, we can save transaction data.
16. What is a special stock in material management?
Special Stocks are the stocks which belong to a company code. These are not placed in any storage location & no physical inventory is performed.
17. Mention the different types of stocks.
A. Valuated Stock
1) Unrestricted Stock
2) Quality Inspection Stock
3) Blocked Stock
B. Non-Valuated Stock
C. Special Stock
1) Subcontracting
2) Consignment
3) Stock Transport Order
4) Third Party Processing
5) Returnable Transport Packaging
6) Pipeline Handling
18. Define consignment stock.
During the consignment process, when a vendor provides material or goods, the company stores it in their stores. The vendor remains the owner of the material until a customer takes it. The liability arises as soon as the material is removed from the stores.
19. What is meant by master data?
Master Data is basically created centrally and is valid for almost all the applications. It remains constant over time but it is required to update it on a regular basis. For example, the Vendor is a type of master data and he is used for creating purchase orders.
20. What is master data management?
Master data management is a comprehensive method of enabling an enterprise to link all of its critical data to a common point of reference. When properly done, MDM improves data quality, while streamlining data sharing across personnel and departments. In addition, MDM can facilitate computing in multiple system architectures, platforms, and applications.
21. What is inventory management?
Inventory management is used to manage the inventory for the goods. It is based on several key processes. Definition of movement types, reservations, goods issue, and goods receipt.
22. What is movement type and mention a few standard movement types?
Movement types are used as indicators of what is the purpose of the goods movement (e.g. from the storage location to a storage location, receipt from the purchase order, issue for the delivery, receipt from production).
23. Define stock population.
Stock population is the total of all stock management units included in an inventory sampling. These stock management units are uniquely defined through the allocation of the stock management levels to a given inventory sampling. As a result, the stock population is also defined when you allocate stock management levels.
24. What is returnable transport packaging (RTP)?
Returnable transport packaging (RTP) is a multi-trip packaging medium in which goods can be transported more than once between retailers and customers.
25. What are quotations in SAP material management?
Quotations in SAP MM are certain requests for vendors which provides us with some information about their best prices, terms and conditions, schedules of deliveries and other information in order to select the best source for our procurement needs.
26. What is a request for quotation (RFQ) document?
RFQ or Request for Quotation also known as Invitation for Bid is a document which an organization submits to one or more potential suppliers to invite them for the bidding process for a product or service.
27. Mention the RFQ process.
For creating a request for quotation RFQ :
· Enter the transaction code or t-code as ME41 (This will lead you to 'create RFQ' screen)
· Enter RFQ type as 'AN'
· Enter the quotation deadline i.e the last date by which a vendor must submit their quotation.
· Enter Purch organization and purchasing group
· Enter the delivery date and Plant
· Click on Enter
· Next, you'll see a new screen wherein you need to fill the item codes.
· After entering the item codes, enter the vendor details
You can create more requests with different vendor details.
28. What is a request for proposal (RFP)?
RFP or Request for Proposal is a document which requests a proposal, which is generally made through a bidding process by an agency or a company for the acquisition of some commodity, asset, or service to any potential suppliers to submit business proposals.
29. What is a request for information (RFI)?
A request for information or RFI is a basic business process which collects written information about the capabilities of suppliers. It generally follows a format which can be used for comparative purposes.
30. What is the difference between RFQ, RFP, and RFI?
| | | | |
| --- | --- | --- | --- |
| | RFI | RFP | RFQ |
| What is invoice processing? | Gathers vendors information | Creates the best project | Gets the best price for a project |
| Status of Solution | Not clearly defined | The overview is understood, yet the details need to be defined | Project and details are clearly identified |
| Key deliverables | Provides information about the vendors | Statement of work for a project | Pricing details |
31. What is invoice processing?
Invoice processing is a process a company's account payable uses to manage supplier invoices. It begins when you accept an invoice and ends when payment has been made and reported in the general ledger.
32. What is movement in goods out (MIGO)?
MIGO or Movement in Goods Out is used for goods movement such as goods issue, goods receipt, plant to plant transfer, storage location to storage location transfer, etc. Basically, MIGO is booked by the logistics department where the goods are actually received.
33. What is movement in receipt out (MIRO)?
MIRO or Movement in Receipt Out deals with invoice verification activities for bills raised from the vendors end. So, basically, MIRO is booked by the finance department.
34. What do you mean by goods receipt and post goods receipt?
Goods receipt is the physical inbound transfer for goods or material into the warehouse. It is the transfer of goods which is used to post goods received from external vendors or from in-plant production. All goods receipts result in an increase in stock in the warehouse.
Post-Goods Receipt is used to post the receipt of goods with reference to the purchase order with which the goods were ordered. If the material is delivered for some purchase order, it is important for all of the departments involved that the goods receipt entry in the system references this purchase order.
Q1. What are the payment options? A1. We have multiple payment options: 1) Book your course on our webiste by clicking on Buy this course button on top right of this course page 2) Pay via Invoice using any credit or debit card 3) Pay to our UK or India bank account 4) If your HR or employer is making the payment, then we can send them an invoice to pay. Q2. Will I get certificate? A2. Yes, you will receive course completion certificate from Uplatz confirming that you have completed this course with Uplatz. Once you complete your learning please submit this for to request for your certificate https://training.uplatz.com/certificate-request.php Q3. How long is the course access? A3. All our video courses comes with lifetime access. Once you purchase a video course with Uplatz you have lifetime access to the course i.e. forever. You can access your course any time via our website and/or mobile app and learn at your own convenience. Q4. Are the videos downloadable? A4. Video courses cannot be downloaded, but you have lifetime access to any video course you purchase on our website. You will be able to play the videos on our our website and mobile app. Q5. Do you take exam? Do I need to pass exam? How to book exam? A5. We do not take exam as part of the our training programs whether it is video course or live online class. These courses are professional courses and are offered to upskill and move on in the career ladder. However if there is an associated exam to the subject you are learning with us then you need to contact the relevant examination authority for booking your exam. Q6. Can I get study material with the course? A6. The study material might or might not be available for this course. Please note that though we strive to provide you the best materials but we cannot guarantee the exact study material that is mentioned anywhere within the lecture videos. Please submit study material request using the form https://training.uplatz.com/study-material-request.php Q7. What is your refund policy? A7. Please refer to our Refund policy mentioned on our website, here is the link to Uplatz refund policy https://training.uplatz.com/refund-and-cancellation-policy.php Q8. Do you provide any discounts? A8. We run promotions and discounts from time to time, we suggest you to register on our website so you can receive our emails related to promotions and offers. Q9. What are overview courses? A9. Overview courses are 1-2 hours short to help you decide if you want to go for the full course on that particular subject. Uplatz overview courses are either free or minimally charged such as GBP 1 / USD 2 / EUR 2 / INR 100 Q10. What are individual courses? A10. Individual courses are simply our video courses available on Uplatz website and app across more than 300 technologies. Each course varies in duration from 5 hours uptop 150 hours. Check all our courses here https://training.uplatz.com/online-it-courses.php?search=individual Q11. What are bundle courses? A11. Bundle courses offered by Uplatz are combo of 2 or more video courses. We have Bundle up the similar technologies together in Bundles so offer you better value in pricing and give you an enhaced learning experience. Check all Bundle courses here https://training.uplatz.com/online-it-courses.php?search=bundle Q12. What are Career Path programs? A12. Career Path programs are our comprehensive learning package of video course. These are combined in a way by keeping in mind the career you would like to aim after doing career path program. Career path programs ranges from 100 hours to 600 hours and covers wide variety of courses for you to become an expert on those technologies. Check all Career Path Programs here https://training.uplatz.com/online-it-courses.php?career_path_courses=done Q13. What are Learning Path programs? A13. Learning Path programs are dedicated courses designed by SAP professionals to start and enhance their career in an SAP domain. It covers from basic to advance level of all courses across each business function. These programs are available across SAP finance, SAP Logistics, SAP HR, SAP succcessfactors, SAP Technical, SAP Sales, SAP S/4HANA and many more Check all Learning path here https://training.uplatz.com/online-it-courses.php?learning_path_courses=done Q14. What are Premium Career tracks? A14. Premium Career tracks are programs consisting of video courses that lead to skills required by C-suite executives such as CEO, CTO, CFO, and so on. These programs will help you gain knowledge and acumen to become a senior management executive. Q15. How unlimited subscription works? A15. Uplatz offers 2 types of unlimited subscription, Monthly and Yearly. Our monthly subscription give you unlimited access to our more than 300 video courses with 6000 hours of learning content. The plan renews each month. Minimum committment is for 1 year, you can cancel anytime after 1 year of enrolment. Our yearly subscription gives you unlimited access to our more than 300 video courses with 6000 hours of learning content. The plan renews every year. Minimum committment is for 1 year, you can cancel the plan anytime after 1 year. Check our monthly and yearly subscription here https://training.uplatz.com/online-it-courses.php?search=subscription Q16. Do you provide software access with video course? A16. Software access can be purchased seperately at an additional cost. The cost varies from course to course but is generally in between GBP 20 to GBP 40 per month. Q17. Does your course guarantee a job? A17. Our course is designed to provide you with a solid foundation in the subject and equip you with valuable skills. While the course is a significant step toward your career goals, its important to note that the job market can vary, and some positions might require additional certifications or experience. Remember that the job landscape is constantly evolving. We encourage you to continue learning and stay updated on industry trends even after completing the course. Many successful professionals combine formal education with ongoing self-improvement to excel in their careers. We are here to support you in your journey! Q18. Do you provide placement services? A18. While our course is designed to provide you with a comprehensive understanding of the subject, we currently do not offer placement services as part of the course package. Our main focus is on delivering high-quality education and equipping you with essential skills in this field. However, we understand that finding job opportunities is a crucial aspect of your career journey. We recommend exploring various avenues to enhance your job search: a) Career Counseling: Seek guidance from career counselors who can provide personalized advice and help you tailor your job search strategy. b) Networking: Attend industry events, workshops, and conferences to build connections with professionals in your field. Networking can often lead to job referrals and valuable insights. c) Online Professional Network: Leverage platforms like LinkedIn, a reputable online professional network, to explore job opportunities that resonate with your skills and interests. d) Online Job Platforms: Investigate prominent online job platforms in your region and submit applications for suitable positions considering both your prior experience and the newly acquired knowledge. e.g in UK the major job platforms are Reed, Indeed, CV library, Total Jobs, Linkedin. While we may not offer placement services, we are here to support you in other ways. If you have any questions about the industry, job search strategies, or interview preparation, please dont hesitate to reach out. Remember that taking an active role in your job search process can lead to valuable experiences and opportunities.