BUY THIS COURSE (GBP 12 USD 41)
SAP S/4HANA Finance (fast track)
Learn SAP S/4HANA Finance module - financial closing capability, centralized payables and receivables, predictive accounting, and embedded analytics.
( add to cart )
Save 59% Offer ends on 31-Dec-2023
Preview SAP S/4HANA Finance (fast track) course
Price Match Guarantee
Full Lifetime Access
Access on any Device
Technical Support
Secure Checkout
&nbsp Course Completion Certificate
New & hot
Job-oriented
Trending
Instant access
Students also bought -
50 Hours
USD 23
242 Learners
40 Hours
USD 17
419 Learners
30 Hours
USD 17
5666 Learners
Completed the course? Request here for Certificate.
ALL COURSES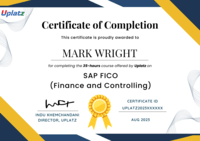 SAP S/4HANA Finance is SAP's flagship financials solution and successor to SAP ERP Financials. First released in 2014, it boasts many process improvements for the financials world, including the introduction of a single source of financial truth, real-time financial close, and predictive accounting. It was developed to run off the SAP HANA platform and primarily utilizes the SAP Fiori user interface. SAP Simple Finance (sFin) S/4HANA is the financial and accounting component of SAP Business Suite for HANA (S/4HANA). SAP increasingly refers to S/4HANA Finance as the SAP S/4HANA Finance solution in anticipation of tighter packaging with the SAP Analytics Cloud.
Simple Finance is an ERP financial software that runs on SAP HANA's in-memory platform which allows users to run real-time reports on operational and financial data. Like other products on the HANA platform, the data is stored and processed in memory so you can analyze data quickly with few constraints. For example, you can run a soft close at any time of the day, month, or quarter with up-to-the-minute accuracy. The "Simple" in Simple Finance refers to the what SAP refers to as a "single source of truth." All data, both financial and operational, is accessible from one source which eliminates the need for data replications, reconciling data, and removing redundancies. Simple Finance calculates financial data in the HANA in-memory platform which allows you to run trail balance sheets, profit, and loss statements, and cash flow analysis reports using real-time data. There's no need to wait for the end of the day, month, or quarter so you can instantly access your data for planning and decision-making.
With its S/4HANA ERP system, SAP offers a holistic platform with a broad portfolio of modules for all-encompassing business transformation. The portfolio element S/4HANA Finance and Controlling (SAP FICO) includes financial solutions for accounting, controlling, reporting, and operational management, among others
SAP S/4HANA Finance uses a Universal Journal as a single repository to record journal entries across multiple applications. A single repository removes redundancies and provides clean data for management accounting, asset accounting, and materials ledgers. The Simple Finance platform only stores data once, so there is no need for reconciliation. Every transaction is immediately available to every decision-maker in your organization to answer questions and run reports. SAP's single source of truth concept combines financial accounting (FI) and Control and Management Accounting (CO) into the ACDOCA table. Many of the index tables, aggregate tables, and the materials ledger have been removed and replaced with HANA Core Data Services (CDS) views.
The financial accounting options include all the features you would expect in an ERP finance tool: G/L, accounts receivable, accounts payable, contract accounts, bank management, travel management, asset management, and consolidation tools. There is also a special purpose ledger for user-defined database tables. You can use this ledger for non-standard data, parallel accounting, fiscal year variants, etc. The data in the special purpose ledger receives data only; it does not send data to other SAP applications.
The primary difference between SAP Simple Finance and traditional ERP finance applications is the additional capability to quickly access and analyze live data. By removing the need for batch-processing and reconciling multiple tables at period end, Simple Finance allows you to run accurate soft closes whenever you need the information. Real-time key performance indicators (KPIs) refresh instantly and automatically.
This SAP S/4HANA Finance course by Uplatz covers the basic concepts of S/4HANA Finance module including end-to-end implementation, configuration, and management.
Course/Topic - SAP S/4HANA Finance (fast track) - all lectures
Lecture 1 - Introduction to SAP S4HANA Simple Finance - part 1

Lecture 2 - Introduction to SAP S4HANA Simple Finance - part 2

Lecture 3 - Introduction to SAP Fiori

Lecture 4 - Migration to SAP S4HANA Finance

Lecture 5 - Organisational Structure in SAP S4HANA Finance

Lecture 6 - Financial Accounting Configuration - part 1

Lecture 7 - Financial Accounting Configuration - part 2

Lecture 8 - General Ledger Configuration Premigration - part 1

Lecture 9 - General Ledger Configuration Premigration - part 2

Lecture 10 - GL Accounting Consolidation Configuration - part 1

Lecture 11 - GL Accounting Consolidation Configuration - part 2

Lecture 12 - Special Purpose Ledger

Lecture 13 - Document Splitting

Lecture 14 - Interest Calculation Types
Advantages of SAP S/4HANA Finance
Faster Processes
Through standardization and automation, but especially through the use of the Universal Journal, the paths to consolidated financial data are significantly shortened. The time required for the preparation of financial statements and group closings is significantly reduced.
Higher Flexibility
The system enables the business model to be made more flexible and agility to be increased - both of which make it possible to respond more quickly to changes in circumstances.
Fewer Errors
Activities that were previously carried out manually, for example in closing, are now handled by rule-based automatisms - examples include data upload, IC reconciliation and the creation of reports. The elimination of manual activities minimizes the potential for errors.
Higher Transparency
With the implementation of SAP S/4HANA Finance, previously separate silos in the finance organization grow together. Consolidated financial data becomes transparent and more auditable through Track&Trace. Transparency for audits and the depth of analysis for forecasting and financial management are increased.
Low TCO, Attractive ROI
Implementing SAP S/4HANA Finance is a manageable investment. Thanks to the significant acceleration of processes and the lower total cost of ownership (TCO), an attractive ROI can be presented.
Flexible Platform
Whether a customized private cloud offering from Arvato Systems or a private cloud solution as part of RISE with SAP: You decide which form of operation best suits your strategy.
Q1. What are the payment options? A1. We have multiple payment options: 1) Book your course on our webiste by clicking on Buy this course button on top right of this course page 2) Pay via Invoice using any credit or debit card 3) Pay to our UK or India bank account 4) If your HR or employer is making the payment, then we can send them an invoice to pay. Q2. Will I get certificate? A2. Yes, you will receive course completion certificate from Uplatz confirming that you have completed this course with Uplatz. Once you complete your learning please submit this for to request for your certificate https://training.uplatz.com/certificate-request.php Q3. How long is the course access? A3. All our video courses comes with lifetime access. Once you purchase a video course with Uplatz you have lifetime access to the course i.e. forever. You can access your course any time via our website and/or mobile app and learn at your own convenience. Q4. Are the videos downloadable? A4. Video courses cannot be downloaded, but you have lifetime access to any video course you purchase on our website. You will be able to play the videos on our our website and mobile app. Q5. Do you take exam? Do I need to pass exam? How to book exam? A5. We do not take exam as part of the our training programs whether it is video course or live online class. These courses are professional courses and are offered to upskill and move on in the career ladder. However if there is an associated exam to the subject you are learning with us then you need to contact the relevant examination authority for booking your exam. Q6. Can I get study material with the course? A6. The study material might or might not be available for this course. Please note that though we strive to provide you the best materials but we cannot guarantee the exact study material that is mentioned anywhere within the lecture videos. Please submit study material request using the form https://training.uplatz.com/study-material-request.php Q7. What is your refund policy? A7. Please refer to our Refund policy mentioned on our website, here is the link to Uplatz refund policy https://training.uplatz.com/refund-and-cancellation-policy.php Q8. Do you provide any discounts? A8. We run promotions and discounts from time to time, we suggest you to register on our website so you can receive our emails related to promotions and offers. Q9. What are overview courses? A9. Overview courses are 1-2 hours short to help you decide if you want to go for the full course on that particular subject. Uplatz overview courses are either free or minimally charged such as GBP 1 / USD 2 / EUR 2 / INR 100 Q10. What are individual courses? A10. Individual courses are simply our video courses available on Uplatz website and app across more than 300 technologies. Each course varies in duration from 5 hours uptop 150 hours. Check all our courses here https://training.uplatz.com/online-it-courses.php?search=individual Q11. What are bundle courses? A11. Bundle courses offered by Uplatz are combo of 2 or more video courses. We have Bundle up the similar technologies together in Bundles so offer you better value in pricing and give you an enhaced learning experience. Check all Bundle courses here https://training.uplatz.com/online-it-courses.php?search=bundle Q12. What are Career Path programs? A12. Career Path programs are our comprehensive learning package of video course. These are combined in a way by keeping in mind the career you would like to aim after doing career path program. Career path programs ranges from 100 hours to 600 hours and covers wide variety of courses for you to become an expert on those technologies. Check all Career Path Programs here https://training.uplatz.com/online-it-courses.php?career_path_courses=done Q13. What are Learning Path programs? A13. Learning Path programs are dedicated courses designed by SAP professionals to start and enhance their career in an SAP domain. It covers from basic to advance level of all courses across each business function. These programs are available across SAP finance, SAP Logistics, SAP HR, SAP succcessfactors, SAP Technical, SAP Sales, SAP S/4HANA and many more Check all Learning path here https://training.uplatz.com/online-it-courses.php?learning_path_courses=done Q14. What are Premium Career tracks? A14. Premium Career tracks are programs consisting of video courses that lead to skills required by C-suite executives such as CEO, CTO, CFO, and so on. These programs will help you gain knowledge and acumen to become a senior management executive. Q15. How unlimited subscription works? A15. Uplatz offers 2 types of unlimited subscription, Monthly and Yearly. Our monthly subscription give you unlimited access to our more than 300 video courses with 6000 hours of learning content. The plan renews each month. Minimum committment is for 1 year, you can cancel anytime after 1 year of enrolment. Our yearly subscription gives you unlimited access to our more than 300 video courses with 6000 hours of learning content. The plan renews every year. Minimum committment is for 1 year, you can cancel the plan anytime after 1 year. Check our monthly and yearly subscription here https://training.uplatz.com/online-it-courses.php?search=subscription Q16. Do you provide software access with video course? A16. Software access can be purchased seperately at an additional cost. The cost varies from course to course but is generally in between GBP 20 to GBP 40 per month. Q17. Does your course guarantee a job? A17. Our course is designed to provide you with a solid foundation in the subject and equip you with valuable skills. While the course is a significant step toward your career goals, its important to note that the job market can vary, and some positions might require additional certifications or experience. Remember that the job landscape is constantly evolving. We encourage you to continue learning and stay updated on industry trends even after completing the course. Many successful professionals combine formal education with ongoing self-improvement to excel in their careers. We are here to support you in your journey! Q18. Do you provide placement services? A18. While our course is designed to provide you with a comprehensive understanding of the subject, we currently do not offer placement services as part of the course package. Our main focus is on delivering high-quality education and equipping you with essential skills in this field. However, we understand that finding job opportunities is a crucial aspect of your career journey. We recommend exploring various avenues to enhance your job search: a) Career Counseling: Seek guidance from career counselors who can provide personalized advice and help you tailor your job search strategy. b) Networking: Attend industry events, workshops, and conferences to build connections with professionals in your field. Networking can often lead to job referrals and valuable insights. c) Online Professional Network: Leverage platforms like LinkedIn, a reputable online professional network, to explore job opportunities that resonate with your skills and interests. d) Online Job Platforms: Investigate prominent online job platforms in your region and submit applications for suitable positions considering both your prior experience and the newly acquired knowledge. e.g in UK the major job platforms are Reed, Indeed, CV library, Total Jobs, Linkedin. While we may not offer placement services, we are here to support you in other ways. If you have any questions about the industry, job search strategies, or interview preparation, please dont hesitate to reach out. Remember that taking an active role in your job search process can lead to valuable experiences and opportunities.