BUY THIS COURSE (USD 17 USD 41)
SAS Admin (basic to advanced)
Learn SAS Administration. Identify, install, configure components of SAS 9 environment & platform for SAS Business Analytics. Manage security & data.
( add to cart )
Save 59% Offer ends on 31-Dec-2023
Preview SAS Admin (basic to advanced) course
Price Match Guarantee
Full Lifetime Access
Access on any Device
Technical Support
Secure Checkout
&nbsp Course Completion Certificate
Cutting-edge
Job-oriented
Trending
Instant access
Students also bought -
250 Hours
USD 23
803 Learners
5 Hours
USD 17
253 Learners
45 Hours
USD 17
2931 Learners
Completed the course? Request here for Certificate.
ALL COURSES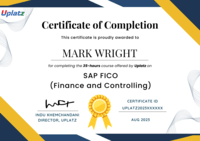 SAS is a command-driven statistical software suite widely used for statistical data analysis and visualization. SAS full form is Statistical Analysis Software. It was developed by Anthony James Barr and can read data from spreadsheets and databases. It allows you to use qualitative techniques and processes which help you to enhance employee productivity and business profits. SAS is also used for advanced analytics like business intelligence, crime investigation, and predictive analysis. SAS is pronounced as "SaaS."
In SAS, data is extracted & categorized which helps you to identify and analyze data patterns. It is a software suite which allows you to perform advanced analysis, Business Intelligence, Predictive Analysis, data management to operate effectively in the competitive & changing business conditions. Moreover, SAS is platform independent which means you can run SAS on any operating system either Linux or Windows. SAS is a generally useful statistical set of applications that helps with various kinds of analysis. In multivariate analysis, SAS can provide focus for analyzing comparisons of large numbers of variables to reach insights and sort through the "noise" of big data. In predictive analytics, SAS can take large amounts of information and build predictive models. It is useful for business intelligence and other purposes.
Compared to other BI tools, SAS provides extensive support to programmatically transform and analyze data, apart from using the drag and drop interface. This provides very granular control over data manipulation and analyzes which is its USP. SAS can be used as a programming language and also as graphical interface. The output can be given as tables, graphs and documents. SAS is used to report, retrieve and analyze statistical data and it is also used to run SQL queries.
SAS architecture
Client Tier: Client tier is where the application is installed on a machine, where the user is sitting. It consists of the components which are used to view the portal and its content. It also includes a standard web browser that is used to interact with the portal over standard HTTP or HTTPS protocol. It also helps you to make the SAS web application firewall friendly.
Middle Tier: The middle tier offers a centralized access point for enterprise information. All access to content is processed by components operating of this tier. The separation of the business logic with display logic helps you to leverage the logic of the middle tier. Moreover, centralized points of access make it easier to enforce security rules, administer the portal and manage code changes.
Back tier: The back tier is an area where the data and computation servers run which may contain business objects. It is an enterprise directory server. The enterprise directory server maintains metadata about content which is located throughout the enterprise.
Why use SAS?
a) Enormous array of statistical methods and algorithms, especially for advanced statistics.
b) Highly customizable analysis options and output options.
c) Publication-quality graphics with ODS.
d) Widely used in many fields, including business and medicine.
e) Large, active online community.
What is SAS platform administration?
To put it in the simplest terms possible, SAS platform administration acclimatises your SAS platform into the overall IT infrastructure. People in this position often act as the bridge between the SAS platform, IT department and business users. Platform administration refers to the installation and maintenance of the platform and ensures that it is working in sync with the IT infrastructure.
SAS administration covers a wide range of responsibilities that include testing and upgrading the platform, evaluating the software for fixes, finding disk space for permanent data, analysing results and creating documentation for the platform. The ideal SAS administrator is someone who not only understands the SAS platform but also someone with business knowledge and an understanding of how the organisation works.
This SAS Admin course by Uplatz covers all SAS administration topics comprehensively and can help you become a sought-after SAS administrator from scratch.
Course/Topic - SAS Admin (basic to advanced) - all lectures
Lecture 1 - SAS PLATFORM ADMINISTRATION INTRODUCTION

Lecture 2 - SAS INTELLIGENE PLATFORM ARCHITECTURE - part 1

Lecture 3 - SAS INTELLIGENCE PLATFORM ARCHITECTURE - part 2

Lecture 4 - SAS GRID ARCHITECTURE

Lecture 5 - SAS ARCHITECTURE DEPLOYMENT DESIGN

Lecture 6 - SAS GRID INSTALLATIONS AND CONFIGURATIONS

Lecture 7 - SAS GRID NODE INSTALLATION

Lecture 8 - SAS VA CONFIGURATION

Lecture 9 - SAS MANAGEMENT CONSOLE

Lecture 10 - UPDATING SAS ENVIRONMENT

Lecture 11 - SAS POST CONFIGURATION STEPS 23522

Lecture 12 - SAS DATA ADMINISTRATION

Lecture 13 - SAS AUTHENTICATION

Lecture 14 - SAS ENVIRONMENT MANAGER ADMINISTRATION

Lecture 15 - SAS BACKUP AND RESTORE

Lecture 16 - SAS MONITORING, LOGGING, TROUBLESHOOTING

Lecture 17 - SAS DESKTOP APPLICATIONS

Lecture 18 - SAS ADMINISTARTION INTERVIEW QUESTIONS

Lecture 19 - SAS ADMINISTRATOR RESUME PREPARATION

Lecture 20 - SAS ADMINISTRATION CERTIFICATION PREPARATION

Lecture 21 - SAS BASE PROGRAMMING BASIC CONCEPTS ADMINISTRATION

Lecture 22 - SAS BASIC WINDOW AND LINUX ADMINISTRATION

Lecture 23 - SAS CUSTOMER CARE SUPPORT
1. Securing The SAS Configuration
Secure a SAS platform configuration
2. Checking The Status And Operation Of SAS Servers
Manage metadata repositories

Identify the properties and functionality of SAS servers

Configure a SAS Metadata server cluster
3. Monitoring, Logging, And Troubleshooting SAS Servers
Monitor SAS servers

Administer SAS server logging and modify logging configurations

Troubleshoot basic SAS server issues
4. Backing Up The SAS Environment
Back up the SAS environment

Restore the SAS environment
5. Administering Users
Manage connection profiles

Manage roles

Register users and groups in the metadata

Give users access to processing servers and data servers

Determine when to store passwords in the metadata
6. Administering Data Access
Register libraries and tables in the metadata

Update table metadata

Pre-assign a library

Troubleshoot data access problems

Use the metadata LIBNAME engine
7. Managing Metadata
Identify how the metadata authorization layer interacts with other security layers

Identify where, how, and to whom metadata permissions are assigned

Determine the outcome of metadata authorization decisions

Use metadata permissions to secure metadata

Create and use Access Control Templates

Promote metadata and associated content
Q1. What are the payment options? A1. We have multiple payment options: 1) Book your course on our webiste by clicking on Buy this course button on top right of this course page 2) Pay via Invoice using any credit or debit card 3) Pay to our UK or India bank account 4) If your HR or employer is making the payment, then we can send them an invoice to pay. Q2. Will I get certificate? A2. Yes, you will receive course completion certificate from Uplatz confirming that you have completed this course with Uplatz. Once you complete your learning please submit this for to request for your certificate https://training.uplatz.com/certificate-request.php Q3. How long is the course access? A3. All our video courses comes with lifetime access. Once you purchase a video course with Uplatz you have lifetime access to the course i.e. forever. You can access your course any time via our website and/or mobile app and learn at your own convenience. Q4. Are the videos downloadable? A4. Video courses cannot be downloaded, but you have lifetime access to any video course you purchase on our website. You will be able to play the videos on our our website and mobile app. Q5. Do you take exam? Do I need to pass exam? How to book exam? A5. We do not take exam as part of the our training programs whether it is video course or live online class. These courses are professional courses and are offered to upskill and move on in the career ladder. However if there is an associated exam to the subject you are learning with us then you need to contact the relevant examination authority for booking your exam. Q6. Can I get study material with the course? A6. The study material might or might not be available for this course. Please note that though we strive to provide you the best materials but we cannot guarantee the exact study material that is mentioned anywhere within the lecture videos. Please submit study material request using the form https://training.uplatz.com/study-material-request.php Q7. What is your refund policy? A7. Please refer to our Refund policy mentioned on our website, here is the link to Uplatz refund policy https://training.uplatz.com/refund-and-cancellation-policy.php Q8. Do you provide any discounts? A8. We run promotions and discounts from time to time, we suggest you to register on our website so you can receive our emails related to promotions and offers. Q9. What are overview courses? A9. Overview courses are 1-2 hours short to help you decide if you want to go for the full course on that particular subject. Uplatz overview courses are either free or minimally charged such as GBP 1 / USD 2 / EUR 2 / INR 100 Q10. What are individual courses? A10. Individual courses are simply our video courses available on Uplatz website and app across more than 300 technologies. Each course varies in duration from 5 hours uptop 150 hours. Check all our courses here https://training.uplatz.com/online-it-courses.php?search=individual Q11. What are bundle courses? A11. Bundle courses offered by Uplatz are combo of 2 or more video courses. We have Bundle up the similar technologies together in Bundles so offer you better value in pricing and give you an enhaced learning experience. Check all Bundle courses here https://training.uplatz.com/online-it-courses.php?search=bundle Q12. What are Career Path programs? A12. Career Path programs are our comprehensive learning package of video course. These are combined in a way by keeping in mind the career you would like to aim after doing career path program. Career path programs ranges from 100 hours to 600 hours and covers wide variety of courses for you to become an expert on those technologies. Check all Career Path Programs here https://training.uplatz.com/online-it-courses.php?career_path_courses=done Q13. What are Learning Path programs? A13. Learning Path programs are dedicated courses designed by SAP professionals to start and enhance their career in an SAP domain. It covers from basic to advance level of all courses across each business function. These programs are available across SAP finance, SAP Logistics, SAP HR, SAP succcessfactors, SAP Technical, SAP Sales, SAP S/4HANA and many more Check all Learning path here https://training.uplatz.com/online-it-courses.php?learning_path_courses=done Q14. What are Premium Career tracks? A14. Premium Career tracks are programs consisting of video courses that lead to skills required by C-suite executives such as CEO, CTO, CFO, and so on. These programs will help you gain knowledge and acumen to become a senior management executive. Q15. How unlimited subscription works? A15. Uplatz offers 2 types of unlimited subscription, Monthly and Yearly. Our monthly subscription give you unlimited access to our more than 300 video courses with 6000 hours of learning content. The plan renews each month. Minimum committment is for 1 year, you can cancel anytime after 1 year of enrolment. Our yearly subscription gives you unlimited access to our more than 300 video courses with 6000 hours of learning content. The plan renews every year. Minimum committment is for 1 year, you can cancel the plan anytime after 1 year. Check our monthly and yearly subscription here https://training.uplatz.com/online-it-courses.php?search=subscription Q16. Do you provide software access with video course? A16. Software access can be purchased seperately at an additional cost. The cost varies from course to course but is generally in between GBP 20 to GBP 40 per month. Q17. Does your course guarantee a job? A17. Our course is designed to provide you with a solid foundation in the subject and equip you with valuable skills. While the course is a significant step toward your career goals, its important to note that the job market can vary, and some positions might require additional certifications or experience. Remember that the job landscape is constantly evolving. We encourage you to continue learning and stay updated on industry trends even after completing the course. Many successful professionals combine formal education with ongoing self-improvement to excel in their careers. We are here to support you in your journey! Q18. Do you provide placement services? A18. While our course is designed to provide you with a comprehensive understanding of the subject, we currently do not offer placement services as part of the course package. Our main focus is on delivering high-quality education and equipping you with essential skills in this field. However, we understand that finding job opportunities is a crucial aspect of your career journey. We recommend exploring various avenues to enhance your job search: a) Career Counseling: Seek guidance from career counselors who can provide personalized advice and help you tailor your job search strategy. b) Networking: Attend industry events, workshops, and conferences to build connections with professionals in your field. Networking can often lead to job referrals and valuable insights. c) Online Professional Network: Leverage platforms like LinkedIn, a reputable online professional network, to explore job opportunities that resonate with your skills and interests. d) Online Job Platforms: Investigate prominent online job platforms in your region and submit applications for suitable positions considering both your prior experience and the newly acquired knowledge. e.g in UK the major job platforms are Reed, Indeed, CV library, Total Jobs, Linkedin. While we may not offer placement services, we are here to support you in other ways. If you have any questions about the industry, job search strategies, or interview preparation, please dont hesitate to reach out. Remember that taking an active role in your job search process can lead to valuable experiences and opportunities.