BUY THIS COURSE (USD 17 USD 41)
Tableau
Learn features of Tableau & explore, experiment, fix, prepare customer purchase behavior, sales trends, or production bottlenecks.
( add to cart )
Save 59% Offer ends on 31-Dec-2023
Preview Tableau course
View Course Curriculum
Price Match Guarantee
Full Lifetime Access
Access on any Device
Technical Support
Secure Checkout
&nbsp Course Completion Certificate
Bestseller
Trending
Job-oriented
Instant access
Students also bought -
20 Hours
USD 17
65 Learners
20 Hours
USD 17
372 Learners
45 Hours
USD 23
1344 Learners
Completed the course? Request here for Certificate.
ALL COURSES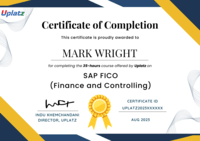 Tableau is a visual investigation platform changing the manner in which we use information to tackle issues—enabling individuals and associations to capitalize on their information. As the leader in modern business intelligence, the Tableau platform is known to quickly and easily transform any type of data from nearly any system into active insights. It's as easy as dragging and dropping. In addition, our industry-leading global education, training and data community resources provide unmatched support for our customers and their analytics investments. Our mission is to help people see and understand data. We go beyond technology to ensure customer success by helping people build a data culture.
Tableau software is one of the fastest growing data visualization tools which is currently being used in the BI industry. It is the best way to change or transform the raw set of data into an easily understandable format with zero technical skills and coding knowledge.
Tableau is greatly used because data can be analyzed very quickly with it. Also, visualizations are generated as dashboards and worksheets. Tableau allows one to create dashboards that provide actionable insights and drives the business forward. Tableau products always operate in virtualized environments when they are configured with the proper underlying operating system and hardware. Tableau is used to explore data with limitless visual analytics.
Tableau connects to a lot of other native databases & servers. Tableau has a lot of analytics capability. It connects with most of the leading Big Data tools and is designed for end-users so that customers directly make changes as required.
With Uplatz Tableau Course you will learn-
Data Visualization.
Business Intelligence tools .
Introduction to Tableau .
Tableau Architecture .
Tableau Server Architecture.
VizQL .
Introduction to Tableau Prep.
Tableau Prep Builder User Interface.
Data Preparation techniques using Tableau Prep Builder tool.
Course/Topic - Tableau - all lectures
In this video lecture we learn basic about Tableau. Tableau is a business intelligent tool for visually analysing the data.

In this video we talk about Tableau Desktop Basics and also cover all the Basic topics of Tableau Desktop.

In this video we learn how to install Tableau business intelligent tool into your desktop and process of Tableau Desktop Installation.

In this video we about Tableau Desktop Workspace Navigation and cover all the importance of Tableau Desktop Workspace Navigation.

In this session we talk about Tableau Design Flow and also cover all the different types of Tableau Design Flows.

In this video we learn about Connections to Multiple Data Sources and cover all techniques of data sourcing.

In this video we talk about Hands-on - Tableau Data Connection and also cover different between live and exact Tableau Data Connection.

In this session we learn basic about Tableau Filters and different types of filters we can use in Tableau business tool.

Data can be organized and simplifies by using various techniques in Tableau. In this session we also cover types of filters and condition of filters in Tableau.

In this session we learn about Tableau Operators. Types of Tableau Operators and how to use these Tableau Operators.

In this video we talk about Bins - Groups - Sets – Parameters and also cover all the parameters we use in Tableau.

In this session we learn about Hands on - Tableau Sets and cover all different sets in Hands on - Tableau Sets..

In this session we talk about Basic Tableau Charts and learn about different types of charts.

In this video we talk about Hands on - Basic Tableau Charts how to make pie chart and importance of charts in Tableau business tool.

In this lecture we learn the Tableau Advanced Topics like Advance graphs, LODS and its usage and extensions etc.

In this video we talk about Tableau Extensions and cover all different types of extensions in a single video.

In this Lecture section we talk and overview the Tableau Dashboards and explore the Dashboards of Tableau.

In this lecture session we talk about the Tableau Story. In Tableau story is a sequence of visualization that work together to convey the information.

In this video we talk about Tableau LODs extension and importance of LODs extension in Tableau business tool.

In this lecture session we talk about Tableau Actions and also cover all Actions filters.
• Understand Tableau terminology. Use the Tableau interface/paradigm to effectively create powerful visualizations.
• Create basic calculations including basic arithmetic calculations, custom aggregations and ratios, date math, and quick table calculations. Build dashboards to share visualizations
• Apply the fundamentals of the tool
• Use all the basic functionality to visualize their data
• Connect to various data sources
• Build a variety of basic charts
• Combine insights into a useable dashboard
• Share and publish visualizations
• Create complex calculations and dynamic parameters
• Build a dashboard with powerful interactivity
• Produce complex chart types
• Apply advanced formatting and data visualization best practices
• Slice and dice your data to mine for critical insights
• You will be able to handle data retrieving, creation, organization and visualization and become an independent analyst in the role of a Tableau Prep Builder, Table Prep Conductor and so on.
The TableauCertification ensures you know planning, production and measurement techniques needed to stand out from the competition.
Tableau is a leading data visualization tool used for data analysis and business intelligence. Gartner's Magic Quadrant classified Tableau as a leader for analytics and business intelligence.
Tableau is a visual analytics engine that makes it easier to create interactive visual analytics in the form of dashboards. These dashboards make it easier for non-technical analysts and end users to convert data into understandable, interactive graphics.
Microsoft Excel is a spreadsheet application used for calculations, statistical operations, data analysis, and reporting. Tableau is a business intelligence and data visualization tool to get insights from data, find hidden trends, and make business decisions.
Uplatz online training guarantees the participants to successfully go through the Tableau Certification provided by Uplatz. Uplatz provides appropriate teaching and expertise training to equip the participants for implementing the learnt concepts in an organization.
Course Completion Certificate will be awarded by Uplatz upon successful completion of the Tableau online course.
The Tableau draws an average salary of $115,000 per year depending on their knowledge and hands-on experience.
The job is a perfect career in tableau if the individual has good team skills, problem-solving skills, managerial skills, and time management. The main job role of a Tableau developer is to prepare visualizations and presentations of the systems. They are also required to infer the data to enhance business excellence.
Tableau developers have a range of job titles to choose from – computer architect, business intelligence developer, business objects developer, data analyst, and microstrategy developer. Once you become a certified professional in Tableau from a reputable institute, your options are endless.
Note that salaries are generally higher at large companies rather than small ones. Your salary will also differ based on the market you work in.
Tableau Developer.
BI Developer.
Technical Developer.
Salesforce Developer.
1. What is TABLEAU?
Tableau is the powerful and fastest visualizing tool that is used in the Business Intelligence(BI) Industry. It simplifies the raw data into an understandable format. Analysis of the data becomes faster with Tableau. The visualizations can be created in the form of dashboards. The visualizations or diagrammatic representation of data can easily be understood by the employees of the organizations who are at different levels.
2. What is data visualization?
Data visualization means the graphical representation of data or information. We can use visual objects like graphs, charts, bars, and a lot more. Data visualization tools provide an accessible way to see and understand the data easily.
3.

List out Tableau File Extensions.
The below ones are few extensions in Tableau:
Tableau Workbook (.twb)

Tableau Data extract (.tde)

Tableau Datasource (.tds)

Tableau Packaged Datasource (.tdsx)

Tableau Bookmark (.tbm)

Tableau Map Source (.tms)

Tableau Packaged Workbook (.twbx) – zip file containing .twb and external files.

Tableau Preferences (.tps)
4. What is the latest version of Tableau Desktop?
Tableau Desktop's latest version is 2021.3(as of, 7thSep 2021).
5. Define LOD Expression?
LOD Expression stands for Level of Detail Expression, and it is used to run complex queries involving many dimensions at the data sourcing level.
6. Define Heat Map?
A heat map is a graphical representation of data that uses the color-coding technique to represent different values of data. As the marks heat up due to their higher value, dark colors will be shown on the map.
7. Define TreeMap?
TreeMap is a visualization that organizes data hierarchically and shows them as a set of nested rectangles. The size and colors of rectangles are respective to the values of the data points they project. Parent rectangles will be tiled with their child elements.
8. What is the difference between a Heat map and Treemap?
TreeMap Heat MapIt represents the data hierarchically and shows them as a set of nested rectangles. It represents the data graphically which uses multiple colors to represent different values. It is used for comparing the categories with colors, size, and it can also be used for illustrating the hierarchical data and part to whole relationships. It is used for comparing the categories based on color and size. And also it is great in spotting the patterns based on the density of the information. The colors and size of rectangles are respective to the values of the data points When their values are higher or density of records, the data will represent in dark color.
9. What is a parameter Tableau? And how does it work?
Parameters are dynamic values, we can replace the constant values in calculations.
10. Give an overview of the fact and dimensions of the table?
Facts are numeric measures of data. They are stored in fact tables. Fact tables store that type of data that will be analyzed by dimension tables. Fact tables have foreign keys associating with dimension tables.
Dimensions are descriptive attributes of data. Those will be stored in the dimensions table. For example, customer's information like name, number, and email will be stored in the dimension table.
Q1. What are the payment options? A1. We have multiple payment options: 1) Book your course on our webiste by clicking on Buy this course button on top right of this course page 2) Pay via Invoice using any credit or debit card 3) Pay to our UK or India bank account 4) If your HR or employer is making the payment, then we can send them an invoice to pay. Q2. Will I get certificate? A2. Yes, you will receive course completion certificate from Uplatz confirming that you have completed this course with Uplatz. Once you complete your learning please submit this for to request for your certificate https://training.uplatz.com/certificate-request.php Q3. How long is the course access? A3. All our video courses comes with lifetime access. Once you purchase a video course with Uplatz you have lifetime access to the course i.e. forever. You can access your course any time via our website and/or mobile app and learn at your own convenience. Q4. Are the videos downloadable? A4. Video courses cannot be downloaded, but you have lifetime access to any video course you purchase on our website. You will be able to play the videos on our our website and mobile app. Q5. Do you take exam? Do I need to pass exam? How to book exam? A5. We do not take exam as part of the our training programs whether it is video course or live online class. These courses are professional courses and are offered to upskill and move on in the career ladder. However if there is an associated exam to the subject you are learning with us then you need to contact the relevant examination authority for booking your exam. Q6. Can I get study material with the course? A6. The study material might or might not be available for this course. Please note that though we strive to provide you the best materials but we cannot guarantee the exact study material that is mentioned anywhere within the lecture videos. Please submit study material request using the form https://training.uplatz.com/study-material-request.php Q7. What is your refund policy? A7. Please refer to our Refund policy mentioned on our website, here is the link to Uplatz refund policy https://training.uplatz.com/refund-and-cancellation-policy.php Q8. Do you provide any discounts? A8. We run promotions and discounts from time to time, we suggest you to register on our website so you can receive our emails related to promotions and offers. Q9. What are overview courses? A9. Overview courses are 1-2 hours short to help you decide if you want to go for the full course on that particular subject. Uplatz overview courses are either free or minimally charged such as GBP 1 / USD 2 / EUR 2 / INR 100 Q10. What are individual courses? A10. Individual courses are simply our video courses available on Uplatz website and app across more than 300 technologies. Each course varies in duration from 5 hours uptop 150 hours. Check all our courses here https://training.uplatz.com/online-it-courses.php?search=individual Q11. What are bundle courses? A11. Bundle courses offered by Uplatz are combo of 2 or more video courses. We have Bundle up the similar technologies together in Bundles so offer you better value in pricing and give you an enhaced learning experience. Check all Bundle courses here https://training.uplatz.com/online-it-courses.php?search=bundle Q12. What are Career Path programs? A12. Career Path programs are our comprehensive learning package of video course. These are combined in a way by keeping in mind the career you would like to aim after doing career path program. Career path programs ranges from 100 hours to 600 hours and covers wide variety of courses for you to become an expert on those technologies. Check all Career Path Programs here https://training.uplatz.com/online-it-courses.php?career_path_courses=done Q13. What are Learning Path programs? A13. Learning Path programs are dedicated courses designed by SAP professionals to start and enhance their career in an SAP domain. It covers from basic to advance level of all courses across each business function. These programs are available across SAP finance, SAP Logistics, SAP HR, SAP succcessfactors, SAP Technical, SAP Sales, SAP S/4HANA and many more Check all Learning path here https://training.uplatz.com/online-it-courses.php?learning_path_courses=done Q14. What are Premium Career tracks? A14. Premium Career tracks are programs consisting of video courses that lead to skills required by C-suite executives such as CEO, CTO, CFO, and so on. These programs will help you gain knowledge and acumen to become a senior management executive. Q15. How unlimited subscription works? A15. Uplatz offers 2 types of unlimited subscription, Monthly and Yearly. Our monthly subscription give you unlimited access to our more than 300 video courses with 6000 hours of learning content. The plan renews each month. Minimum committment is for 1 year, you can cancel anytime after 1 year of enrolment. Our yearly subscription gives you unlimited access to our more than 300 video courses with 6000 hours of learning content. The plan renews every year. Minimum committment is for 1 year, you can cancel the plan anytime after 1 year. Check our monthly and yearly subscription here https://training.uplatz.com/online-it-courses.php?search=subscription Q16. Do you provide software access with video course? A16. Software access can be purchased seperately at an additional cost. The cost varies from course to course but is generally in between GBP 20 to GBP 40 per month. Q17. Does your course guarantee a job? A17. Our course is designed to provide you with a solid foundation in the subject and equip you with valuable skills. While the course is a significant step toward your career goals, its important to note that the job market can vary, and some positions might require additional certifications or experience. Remember that the job landscape is constantly evolving. We encourage you to continue learning and stay updated on industry trends even after completing the course. Many successful professionals combine formal education with ongoing self-improvement to excel in their careers. We are here to support you in your journey! Q18. Do you provide placement services? A18. While our course is designed to provide you with a comprehensive understanding of the subject, we currently do not offer placement services as part of the course package. Our main focus is on delivering high-quality education and equipping you with essential skills in this field. However, we understand that finding job opportunities is a crucial aspect of your career journey. We recommend exploring various avenues to enhance your job search: a) Career Counseling: Seek guidance from career counselors who can provide personalized advice and help you tailor your job search strategy. b) Networking: Attend industry events, workshops, and conferences to build connections with professionals in your field. Networking can often lead to job referrals and valuable insights. c) Online Professional Network: Leverage platforms like LinkedIn, a reputable online professional network, to explore job opportunities that resonate with your skills and interests. d) Online Job Platforms: Investigate prominent online job platforms in your region and submit applications for suitable positions considering both your prior experience and the newly acquired knowledge. e.g in UK the major job platforms are Reed, Indeed, CV library, Total Jobs, Linkedin. While we may not offer placement services, we are here to support you in other ways. If you have any questions about the industry, job search strategies, or interview preparation, please dont hesitate to reach out. Remember that taking an active role in your job search process can lead to valuable experiences and opportunities.