20 Hours
Self-paced Training (pre-recorded videos)
GBP 12 (USD 140)
Save 88% Offer ends on 30-Nov-2023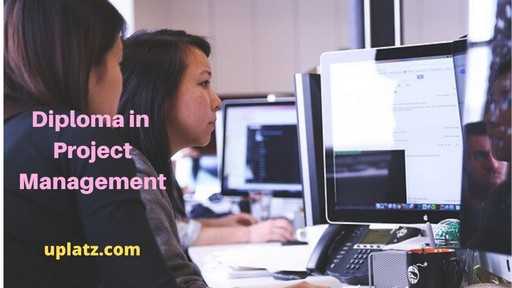 About this Course
Discover what makes the project manager one of the most important human resources today's business has access to! Work your way through this
Project Management Diploma
course and boost your career outlook for life. This exclusive online course is brought to you by
Uplatz
– the web's leading name in affordable, accessible and enjoyable online education. Get to know the duties and responsibilities of professional project managers, studying the art of delegation and the value of strong leadership skills. Build the HR management, team leadership and general admin skills you'll need to succeed in the field. Make this Project Management Diploma your next career development project – enrol today!
---------------------------------------------------------------------------------------------------
Why Study Project Management?
Demand for project managers is consistently high worldwide. Whatever the location and industry, organisations need talented project managers to plan, delegate and supervise important projects. As a result, research suggests that at least 22 million new project management jobs will be created globally within the next ten years. A uniquely fulfilling position, project managers play a direct role in the success of both the organisation and its workforce. In addition, qualified project managers with sufficient experience tend to be among the top earners in most industries. It's simply a case of taking that first vital step up the ladder – precisely where this Project Management Diploma could help.

---------------------------------------------------------------------------------------------------
Diploma in Project Management
Course Details & Curriculum
Module 1: Introduction to Project Management
The course begins with a detailed introduction to the concept of project management, along with its importance and value to the modern business. Candidates get to know the specific duties and responsibilities of project management personnel, along with the component stages of the project lifecycle, how to work with common project management tools and more.
Module 2: Project Lifecycle: Stages of a Project
A more in-depth exploration of the project lifecycle follows in module two. The four core stages of the project lifecycle - project planning, project execution, project monitoring and final project evaluation – are examined both independently and as part of a cohesive whole. Potential challenges to the success of a project are also discusses.
Module 3: Project Integration Management Processes
The importance of accurate projections in project management is examined in module three, along with steps the project manager can take to create accurate financial forecasts and budget for a project. Candidates also learn how to assess the scope of a project and determine both the nature and extent of work required for its successful completion.
Module 4: Project Scope Management Process
Project scope is examined in further detail in module four, which provides a detailed definition of product scope, project scope and how the two concepts are related. The creation and use of an effective project scope statement is discussed, alongside a breakdown of the project scope management plan and more.
Module 5: Project Time Management Processes
Module six focuses on the value and importance of efficient time-management in a project management setting. Candidates learn how to draft and finalise a complete and realistic project schedule, working with various tools and techniques to maximise their efficiency and general time management. The consequences of procrastination are also explored.
Module 6: Project Cost Management Processes
Techniques and strategies for accurately estimating project costs are discussed in-dept in module six, which also brings cost control measures into discussion. Learners study the components and characteristics of an effective cost management plan, along with common pitfalls that can lead overspending.
Module 7: Project Quality Management Processes
The role the project manager plays in ensuring quality standards are met is examined in the seventh module. Effective project quality management processes and associated challenges are discussed, along with how the use of flow charts can help drive project quality and performance to a higher level.
Module 8: Project Human Resource Management
In module eight, candidates explore the art of successful delegation and effective leadership in project management. A series of critical HR management concepts and principles are examined, along with creating roles within the scope of a project, allocating responsibilities and overseeing the performance of a workforce.
Module 9: Effective Communication Management in Projects
Module nine turns attention to the critical role communication plays at the heart of every successful project. The importance of thorough communication planning is discussed, along with assessing communication requirements, the consequences of communication breakdowns and communication modalities.
Module 10: Project Procurement Management Processes
A series of procurement principles are outlined in the tenth chapter, which guides candidates through the processes of determining the project's requirements and obtaining the required materials, goods, information and human resources to make it happen. Several common challenges to successful procurement in project management are also discussed.
Module 11: Effective Strategies for Project Risk Management
Module 11 provides a crash-course introduction to the art of effective risk management, which often determines the success or otherwise of the entire project. Candidates learn how to identify, classify and ultimately deal with threats at a variety of levels, using SWOT analysis to enhance project performance and efficiency.
Module 12: Global Project Management
Concluding the course, module 12 provides a detailed overview of global project management and how it differs from domestic project management. Key subtopics covered include international HR management and leadership, global communication techniques and the potential for conflict when planning and overseeing international projects.

---------------------------------------------------------------------------------------------------

Career Path
Demand for qualified project managers is at an all-time high, opening the door to incredible carers spanning most sectors worldwide. Whether new to project management or already working in the field, this advanced Level 5 Project Management Diploma could hold the key to the career of your dream. Entry-level project managers can expect to earn £20,000 or more, while more senior project managers routinely take home £100,000+.

---------------------------------------------------------------------------------------------------