3 Hours
Self-paced Training (pre-recorded videos)
GBP 12 (USD 140)
Save 88% Offer ends on 30-Nov-2023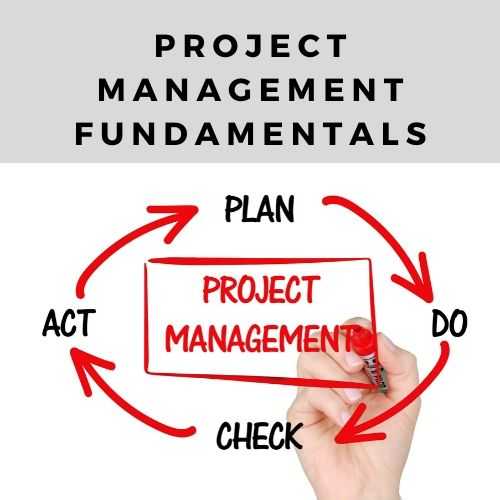 About this Course
Project Management Fundamentals basically involves managing all types of projects. Today, most of the industries, be it an IT industry or Construction Industry is involved in some kind of projects and for that one needs to have proper knowledge and skills on the core aspects of Project Management. In short, we can say, it is the management of a project by an individual starting from initiating the project, planning, execution, and closing of the project.
What is the meaning of a Project in Project Managemen
t?
A project in Project Management is nothing but a series of tasks undertaken by an individual starting from scratch up to the completion of the project. Projects might be complex or simple, depending on the concept and other factors involved around until the execution of that project. The output of a project might involve a single person who is solely responsible for the entire project or it might be a team of members working on a single project.
Classification of Projects
A project is broadly classified into 5 main groups, namely:
Monitoring and Controlling
Course Curriculum of Project Management Fundamentals
The course curriculum for the Project Management Fundamentals at Uplatz mainly involves:


Ø
Introduction to Project Management
Ø
Environments in which Projects operate
Ø
The role of a Project Manager in a Project Management
Ø
Project Integration, Scope, Schedule, Cost, Quality, Resource, Communication, Risk, Procurement and Stakeholder Management, and more.
At the end of this course, an individual will be willing to take the responsibilities of a project in his organization and can see his career growth as a Project Manager or a Project Management Professional.
Uplatz will be offering a Certification on successful completion of the course.
Project Management Fundamentals
Course Details & Curriculum
Project Management Fundamentals course curriculum
1. Introduction
· Introduction
· Changes introduced in 6th Edition
· Maintaining your certification
2. Foundation Elements
· Foundation Elements
· Projects
· The Importance of Project Management
· Relationship of Project, Program, Portfolio Management
· Components of the PMBOK Guide
· Tailoring
· Project Management Business Documents
3. Environments in which Projects Operate
· Environments in which Projects Operate
· Enterprise Environmental Factors
· Organisational Process Assets
· Organizational Systems
4. The Role of a Project Manager
· The Role of the Project manager
· Project manager competencies
· Leadership vs Management
5. Project Integration Management
· Project Integration Management
· Develop Project Charter
· Develop Project Management Plan
· Direct and Manage Project Work
· Manage Project Knowledge
· Monitor and Control Project Work
· Perform Integrated Change Control
· Close Project or Phase
6. Project Scope Management
· Project Scope Management
· Plan Scope Management
· Collect Requirements
· Define Scope
· Create WBS
· Validate Scope
· Control Scope
7. Project Schedule Management
· Project Schedule Management
· Plan Schedule Management
· Define Activities
· Sequence Activities
· Estimate Activity Duration
· Develop Schedule
· Control Schedule
8. Project Cost Management
· Project Cost Management
· Plan Cost Management
· Estimate Costs
· Determine Budget
· Control Costs
9. Project Quality Management
· Project Quality Management
· Plan Quality Management
· Manage Quality
· Control Quality
10. Project Resource Management
· Project Resource Management
· Plan Resource Management
· Estimate Activity Resources
· Acquire Resources
· Develop Team
· Manage Team
· Control Resources
11. Project Communication Management
· Project Communication Management
· Plan Communication Management
· Manage Communication
· Monitor Communication
12. Project Risk Management
· Project Risk Management
· Plan Risk Management
· Identify Risks
· Perform Qualitative Risk Analysis
· Perform Quantitative Risk Analysis
· Plan Risk Responses
· Implement Risk Responses
· Monitor Risks
13. Project Procurement Management
· Project Procurement Management
· Plan Procurement Management
· Conduct Procurement
· Control Procurement
14. Project Stakeholder Management
· Project Stakeholder Engagement Management
· Identify Stakeholders
· Plan Stakeholder Engagements
· Manage Stakeholder Engagement
· Monitor Stakeholder Engagement
15. Ethical and Professional Conduct
· Ethics and Professional Conduct
· Responsibility
· Respect
· Fairness
· Honesty
Certification
Project Management Fundamentals
Career Path
Project Manager
Operations Manager
Project Management Professional