10 Hours
Self-paced Training (pre-recorded videos)
USD 17 (USD 140)
Save 88% Offer ends on 31-Dec-2023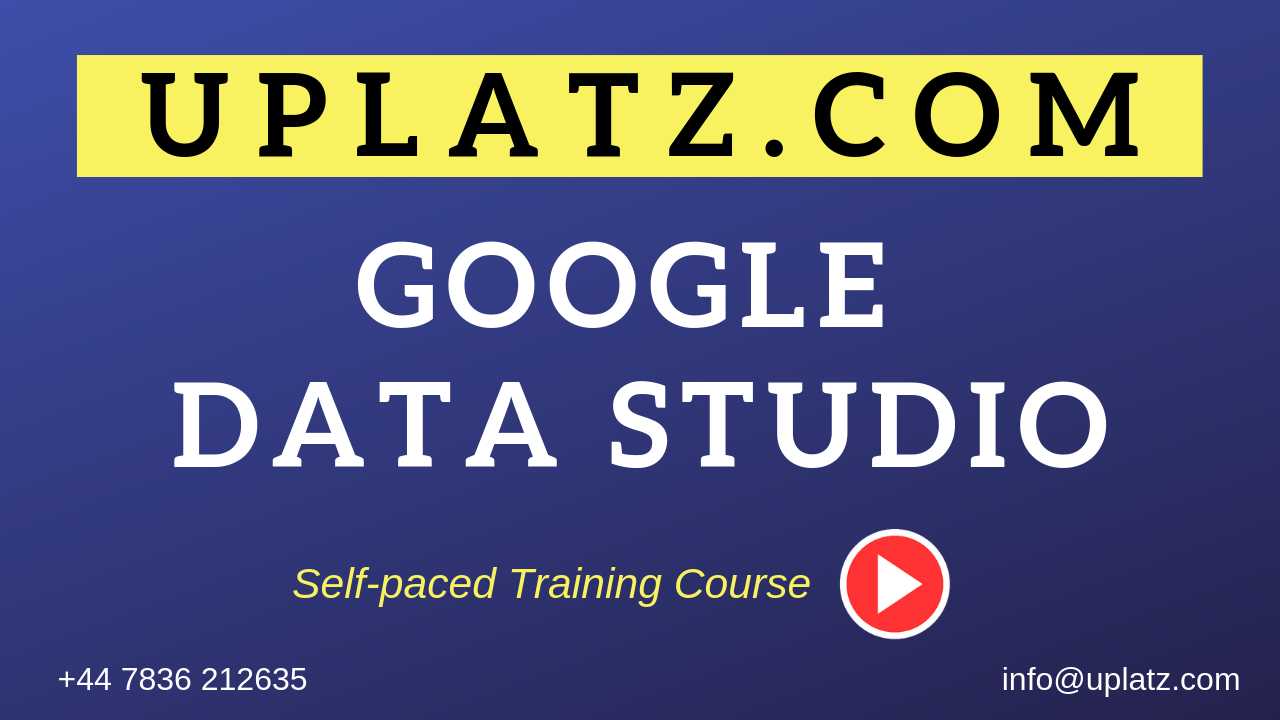 About this Course
Google Data Studio is a free dashboarding / reporting tool from Google that allows visualization and analysis of data for decision-making purposes. Data Studio is an incredibly easy to use drag and drop tool that allows a multitude of different visualizations to be created in minutes. The addition of filtering tools produces stunning reports that will take your data analysis to the next level.
It has a simple drag-and-drop interface, so you can easily add charts and build reports without needing any deep technical knowledge. The premise is that you can connect all your disparate business data sources and easily build beautiful, interactive dashboard reports to display that information.
To get started with Google Data Studio, you need nothing but just a Google account!
Some of the features that you will learn from this course are:
How to connect Data Studio to Google Sheets and MySQL
Directly connect with Google Ads, Google Analytics and other Google product data together to create one report or dashboard
Connect non-Google product data, including social media data
Learn how to calculate Averages, Highest values, Lowest Values and number of Unique Values
Create Scorecards to display key metrics and KPIs
Create powerful trend analysis graphs to help with forecasting
Create Year to Date, Month to Date and Previous Month calculations with the click of a mouse button
Learn to gain powerful analysis from Stacked Bar and 100% graphs
Create powerful Time and Category filters to easily create interactive reports
Learn to share your Reports and Dashboards with other users
Develop measurement plans and visualise your KPIs effectively
Design clear and concise, yet visually appealing dashboards in accordance with best practices
------------------------------------------------------------------------------------------
Google Data Studio
Course Details & Curriculum
Introduction to Data Studio
· Data Studio overview

· How Data Studio works

· Access controls
Navigation
· Data Studio main page

· Data sources and connectors

· Data connectors to internal (Google) and external (non-Google) sources

· Reports overview

· Report edit mode
Build your first report
· Connect data

· Create a new report

· Style and formatting

· Metrics and Dimensions

· Insert a table or chart

· Add and configure report controls
Calculated Fields and Comparison
· What are calculated fields

· Create a calculated field

· Compare your metric with previous period

· Scorecard
Use Templates
· Data visualization basics

· Create and use report templates


Sharing and Control
· How to share a report

· Control access to data sources


-------------------------------------------------------------------------------------------
Career Path
· Data Analyst
· Consultant
· Business Analyst
· Marketing Consultant
FAQs
Will this course help me clear the certification exam?
+
Which is better - Self-paced training or Instructor-led training?
+
What if I miss a class?
+
How will I execute the practical?
+
Is the course material accessible after completion of the course?
+
Is there any offer/discount that I can avail?
+
Will I get a refund if I cancel my enrollment?
+
What if I have queries after completion of the course?
+