30 Hours
Self-paced Training (pre-recorded videos)
GBP 12 (USD 140)
Save 88% Offer ends on 30-Nov-2023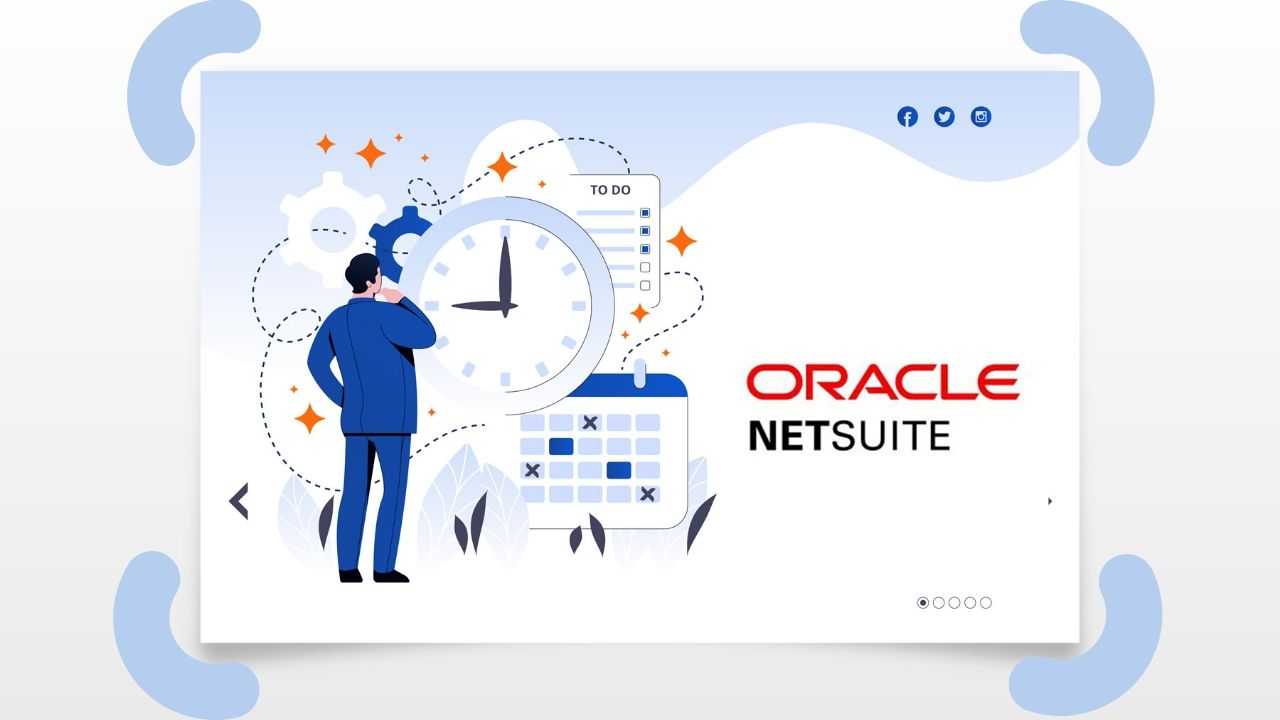 About this Course
Oracle NetSuite is a cloud-based service offered by Oracle to cater to the needs of businesses with the ease and flexibility of providing hassle-free services related to hardware, license fee, complex setups and no maintenance fee. It was originally formed as NetLedger in 1998, but later it was acquired by Oracle in November 2016.
NetSuite provides 5 primary modules of Software which includes:
1. Enterprise Resource Planning (ERP)
2. Customer Relationship Management (CRM)
3. Enterprise Performance Management (EPM)
4. Professional Services Automation (PSA)
5. SuiteCommerce

In this course, students will get a brief introduction and detailed explanation on NetSuite, Suite Analytics, Order, Support and Inventory Management, SuiteFlow, SuiteCloud, SuiteBundler and others.

At the end of this course, students will have a deep understanding of the Oracle NetSuite programme and will be capable enough to clear any interview related to NetSuite and be a NetSuite professional, with a Certificate Of Completion for this course.
Oracle NetSuite
Course Details & Curriculum
The course contents for Oracle NetSuite include:
1. Introduction to NetSuite
2. Account Administration
3. Suite Analytics (Dashboard, Searches & Reports)
4. Marketing, Sales Force Automation & Partners
5. Order Management
6. Inventory Management
7. Vendors, Purchasing, and Receiving
8. Support Management
9. SuiteFlow (Workflow)
10. SuiteCloud (Customization, Scripting, and Integration)
11. Accounting and Finance
12. SuiteBundler & Net Suite for Outlook
Certification
Course Completion Certificate
The NetSuite Certification: SuiteFoundation Exam Preparation course helps you prepare and validate your knowledge before taking the NetSuite SuiteFoundation Certification Exam.
Guided by a NetSuite expert, you examine frequently missed subject areas from the SuiteFoundation exam, while reviewing NetSuite features and capabilities. You begin by studying key setup tasks; reviewing standard process flows; and exploring web store functionality while building an intranet in a demo account. You will also compare audit and search functions, as well as data manipulation options.
By the end of this course, you should be able to evaluate your readiness to take the SuiteFoundation exam and identify where further study might be needed.
This course provides lecture, study materials, and a NetSuite demo account to help you prepare for the NetSuite SuiteFoundation Exam.
This ORACLE NETSUITE training will prepare you for the ORACLE NETSUITE certification exam. Uplatz will also award a Course Completion Certificate upon successful completion of this course.
--------------------------------------------------------------------------------------------------
Career Path
There is a high-growth career path for ORACLE NETSUITE.
NetSuite's cloud-based financials/ERP and omnichannel commerce software suite is the best choice for manufacturers wanting a complete business solution. Its comprehensive functionality, which includes CRM, HCM and ecommerce, provides manufacturers with the software needed to run a modern business.
--------------------------------------------------------------------------------------------------
Job Prospects
Following are some of the key job titles:
Oracle Netsuite Consultant

NetSuite Functional Consultant

NetSuite Developer - ERP Applications

Netsuite - Developer
--------------------------------------------------------------------------------------------------
Oracle NetSuite Interview Questions
--------------------------------------------------------------------------------------------------
Q.1. On What technology Oracle NetSuite is on?
Oracle NetSuite runs on Oracle platform
Q.2. What Are The Different Types Of Scripts In Oracle NetSuite?
• Scheduled scripts
• Client scripts
• Portlet Scripts
• Workflow Action scripts
• User event scripts
Q.3. Explain How A Client Script Can Be Deployed In Oracle NetSuite?
A client script can be deployed in one of the possible ways,
-Deployed at record level
-Deployed at form level
Q.4. Explain What Is A Lead And How Leads Are Captured In Oracle NetSuite?
In accounting terminology, a lead is classified as an individual who is interested in the product or a service that is been offered and they are in a state to take a decision to purchase the product or service.
Within Oracle NetSuite, the term "Lead" is considered as a standard object where several other informational fields are captured while taking up Lead information.
Q.5. Explain What Is A Client Script?
The client scripts are executed at the client level. These scripts are attached and executed to run on the single individual form. Further, their management of scripts is applicable for the entire record.
Q.6. Explain The Lead Conversion Process In Oracle NetSuite?
The lead conversion process in Oracle NetSuite can be executed in two different methods:
Interested in mastering Oracle NetSuite Training? Enroll now for FREE demo on Oracle NetSuite Training.
Within the system, for an opportunity, if we have keyed in the estimates, sales transactions then the lead is automatically converted as per the default statues.
If you are explicitly using the lead
The above process is commonly used in sales organizations and business to consumer businesses
Q.7. What Are The Event Types In A User Event Script?
The event types in a user event script are as follows:
Before loading
Before submitting
After submitting
Q.8. What are different types of Oracle NetSuite Authentications?
User Credentials
Token Based Authentication
Two-Factor Authentication(2FA)
SAML 2.0
Inbound Single Sign-on
Google OpenID Connect
Q.9. Explain What Is The Purchase Order Cycle In Oracle NetSuite?
The purchase order cycle in Oracle NetSuite is as follows:
Receiving
Update Inventory
Enter Bills
Bill Payment
Accounting posting
Q.10. What is a Suitelets?
Suitelets are server side scripts that operate in a request-response model. They are invoked by HTTP GET or POST requests to system generated URLs, and by default they are invoked by making a GET request from a browser.
Q.11.What Is Suitescript, Explain Briefly?
Suitescript is nothing but a Java-based API that enables the developers an enhanced ability to use an extended version of Oracle NetSuite.
Q.12. Does Oracle NetSuite Software Offer Role-based Views For Dashboards?
Yes, Oracle NetSuite software offers role-based views for dashboard when they are logged into the system.
Q.13. Name Some Of The Event Types In A Client Script?
The event types that are in a client script are as follows:
pageInit
save Record
validate Field
field Changed
post Sourcing
line Init
validate Line
Recalc
Q.14. Explain What Is Workflow Action Script?
A workflow action script will allow the user to create custom actions which are later on defined for a record in the form of a workflow.
Q.15. What Is Mass Update Scripts?
Mass update script generally allows the user to perform custom mass updates programmatically and the update fields are not generally available for general mass updates. We can use action scripts to run complex calculations.
Q.16. How To Run A Script In Oracle NetSuite?
The following is the process where you can run a script in Oracle NetSuite and it is fairly very simple and easy.
The steps are:
-First of all, create a JavaScript file for your script
-Then upload a file into Oracle NetSuite
-Create the Oracle NetSuite script
-Define the scripts at runtime options within Oracle NetSuite script deployment page.
Q.17. Within Oracle NetSuite, What Does Non-integrated Shipping Feature Actually Mean?
Within nonintegrated shipping feature within Oracle NetSuite,
The user can do the following functionalities:
User will be able to generate own shipping labels
User will be able to work directly with the carrier
Tracking number and shipping weights are manually handled
For sales orders, users will be able to print the labels
Q.18. Which Of The Suitescript Api Has Maximum Governor Limits?
The following are the Suitescript API which has maximum governor limits:
nlapisetRecoveryPoint
nlapiSubmitCSVImport
nlobJobManager.submit
Q.19. How to setup a user event script for debugging?
Running User Event Script in Oracle NetSuite
To use the Oracle NetSuite Record Listener activity, you must run the user event script in Oracle NetSuite system to define the user event to listen to.
For more information on how to run script in Oracle NetSuite system, see SuiteScript Developer & Reference Guide.
Procedure
-Log on to the Oracle NetSuite website as an administrator.
-Upload the TibcoUserEvent.js file, which is located in the
TIBCO_HOME/bw/palettes/Oracle NetSuite/version_number/suitescript directory, to the TibcoOracle NetSuiteEventSource folder in the Oracle NetSuite website.
-Click Documents > Files > Suitescripts from the menu bar.
-Upload the TibcoUserEvent.js file to the TibcoOracle NetSuiteEventSource folder.
-Click Customization > Scripting > Scripts > New from the Oracle NetSuite website menu.
-Select TibcoUserEvent.js from SCRIPT FILE, and Click Create Script Record.
-Click User Event.
-Specify the following information:
Input an event name in NAME field.
Select TibcoUserEvent.js from SCRIPT FILE.
Input a value in AFTER SUBMIT FUNCTION field.
-Click Save and Deploy.
-Select Account from APPLIES TO.
-Select Testing or Released from STATUS.
Note: If you select Testing as the deployment status of a script, the script is executed only for the script owner.
-Select Create, Edit, or Delete from EVENT TYPE.
Note: This plug-in only supports the Create, Edit, and Delete event types. If you do not select any event types in the EVENT TYPE field, the deployed script is executed on the Create, Edit, and Delete events.
-Click Save.
You can view your script by clicking Customization > Scripting > Scripts from the Oracle NetSuite website menu.
Q.20. Is There Any User Events Limit That Can Have On One Record?
To be honest there is no limit to the number of user events scripts that can be executed on a single record type.
For example:
We can have 10 user events before loading, 10 user events before submitting and 15 user events after submitting on a single customer record. Usually, it is not advisable to assign so many user events to a single record. As this could negatively affect the single record. Also, the execution of this record will be poor.
As per the example, if we had 10 user events that are assigned to the record before loading then it the time taken for the single record to load will also be increased thus giving out performance issues.
By doing this, a negative experience would be generated for the user and it the system won't be performance friendly.
--------------------------------------------------------------------------------------------------