30 Hours
Self-paced Training (pre-recorded videos)
USD 70 (USD 280)
Save 75% Offer ends on 31-Aug-2019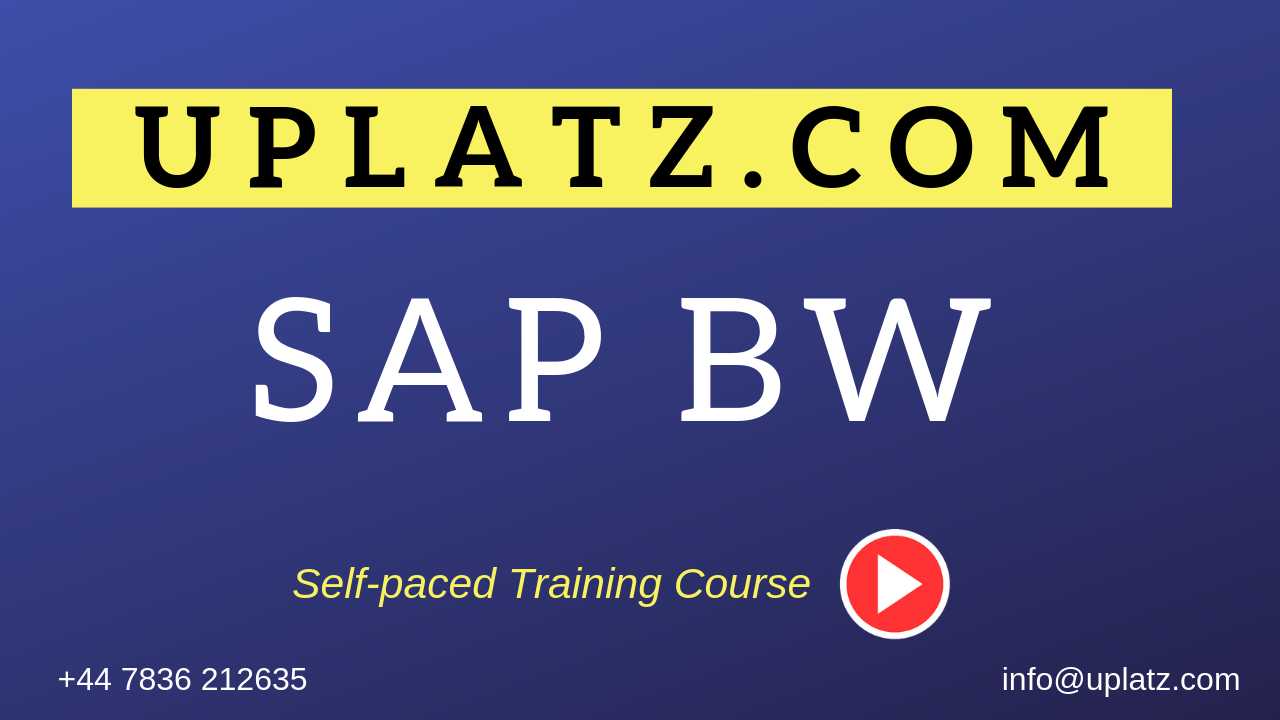 About this Course
SAP BI/BW (Business Information Warehouse) allows for data to be translated into highly useful information, helping to understand the business better and enabling timely and fact based decision making, ultimately leading to remarkable results for the organization.
The SAP BI in conjunction with SAP Business Objects forms one of the best reporting tools currently available in the ERP industry.
SAP BW (Business Warehouse)
Course Details & Curriculum
1. SAP Introduction:
History of SAP

Evolution of ERP

ERP Packages

SAP R/3 System – ERP Backbone

SAP R/3 Modules – SD, MM, FI

Types of all other ERP Packages in Market

Advantages of SAP ERP Compared to other ERP Packages

SAP R/3 (or) ECC Reporting

Limitations of SAP R/3 (or) ECC Reporting.
2. SAP Case Study:
3. SAP Data warehousing:
Introduction to Data warehousing

Fundamentals of Data warehouse

Definition of Data Warehousing

Key functions of Data Warehousing

Applications & Types of SAP

Difference between OLTP vs OLAP

Types of Data in SAP

Multi Dimensional Modelling

Star Schema and Extended Star Schema
4. SAP BW/BI Introduction:
Introduction to SAP BW/BI

History of SAP BW/BI

Necessity of SAP BW/BI
5. SAP BW/BI Architecture:
Source System & Target System

Source system connections

Data Modelling, Extraction & Loading

Data Reporting
6. SAP BW Data Modelling:
Data Warehousing Workbench

Info Objects & Types of Info Objects
Info Area4. Info Object Catalog
Application Component6. Activation of Business Content

Master data & Transaction data

Data Source, Info Source

Data transfer methods for SAP Systems (PSA and IDOC)

Info cube

DSO/ODS

Info Set

Info Provider

Multi Provider

Transformation

Routines

DTP

Info Package

Open Hub Destination

Transfer Rules

Update Rules

Authorisations

Roles
7. SAP BW Data Extraction:
Application Specific Extractors(BW Content Extractors & Customer Generated Extractors)

Cross Application Specific Extractors ( Generic Extractors)

LIS Extraction

LO Extraction

COPA Extraction

Data Extraction using other tools

BW Data Source Enhancement

SAP BW Data Loading & Scheduling – 3 Hours

Introduction to Process Chains

Process Chains in SAP BW/BI

Types of Views in Process Chains

Process Chain Creation

Process Chain Monitoring
8. BW Data Reporting:
Bex Query Designer

Bex Analyzer

Bex WAD

Restricted & Calculated Key figure

Filters

Rows & Columns

Free & Filter Characteristics

Types of Variables

Conditions & Exceptions
9. SAP BW Real Time/Project Scenarios:
Production Support Issues

Implementation Project Issues

Migration/Up gradation Project Issues

Tickets Handling

Batch Jobs Monitoring

Ticketing Tool Tracker.

SAP BW Clients & Projects Discussions:

Importance of SAP BW Projects in Market

Type of Domain Industries & Clients using SAP BW/BI
10. SAP BW Data Transportation:
System Landscape

Transportation Landscape

Overview of Transports

Objects Collection in Transports

Sequence of Transports Migration

Transports Collection & Setting

Transport Issues
11. SAP BW Performance Tuning Techniques:
Aggregates

Partitioning

Compressions

PSA Table Deletions

BI Accelerators
12. SAP Knowledge Sharing Sessions:
SAP OSS Notes

SAP Marketplace

SAP Developer Forum

SAP Issues Forum
Interested to learn? Get in touch with us
Phone: +44 7836 212635
WhatsApp: + 44 7836 212635
Email: info@uplatz.com
Website: training.uplatz.com
Browse https://training.uplatz.com to see more courses.
Uplatz.com is a Learning Marketplace for IT and Certification courses.
Career Path
A general understanding of IT terminologies
FAQs
Will this course help me clear the certification exam?
+
Which is better - Self-paced training or Instructor-led training?
+