30 Hours
Self-paced Training (pre-recorded videos)
USD 70 (USD 280)
Save 75% Offer ends on 31-Jul-2019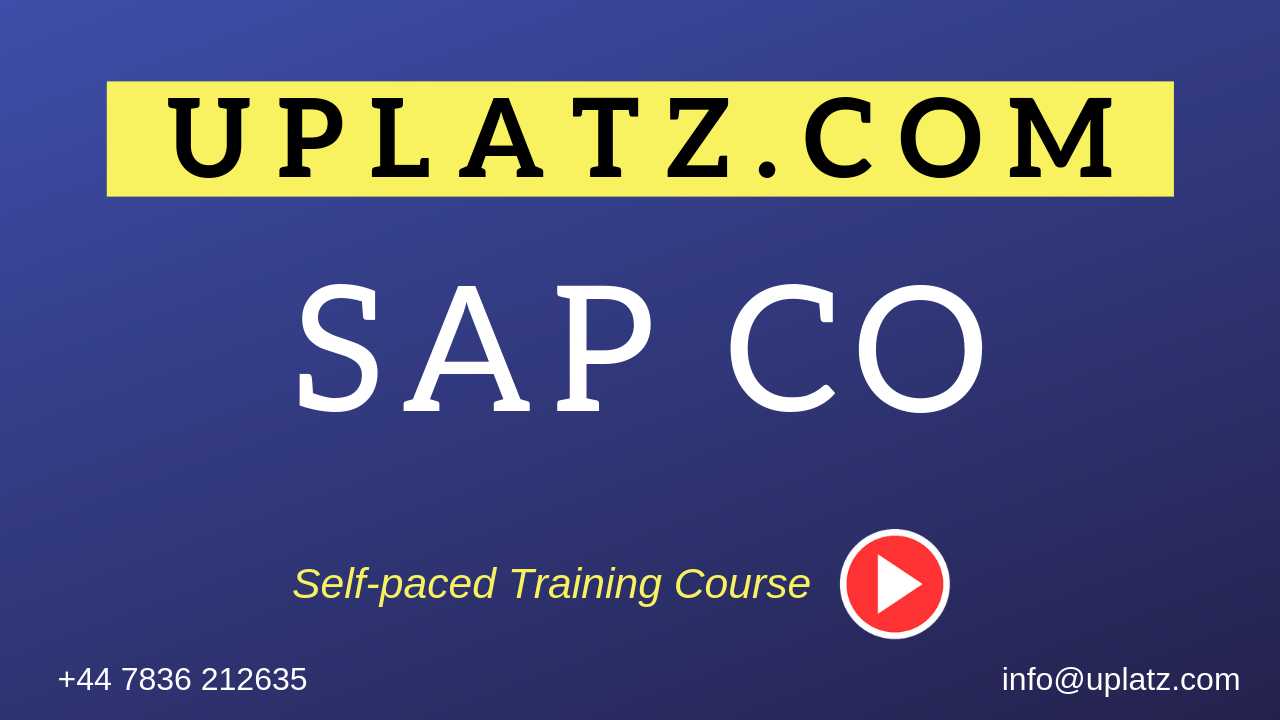 About this Course
The SAP Controlling (SAP CO) Module has the capability of meeting all the accounting and financial needs of an organization. It is within this module that Financial Managers as well as other Managers within your business can review the financial position of the company in real time as compared to legacy systems, which often times require overnight updates before financial statements can be generated and run for management review.
The real-time functionality of the SAP modules allows for better decision making and strategic planning. The CO (Control and Logistics) Module integrates with other SAP Modules such as MM (Materials Management), PP (Production Planning), and SD (Sales and Distribution).
The CO Module integrates with PP (Production Planning), includes SD (Sales and Distribution), as well as MM (Materials Management), Product Costing, and Probability Management etc.

To learn SAP CO module, please contact info@uplatz.com or call +44 7836 212635 for a customized and discounted quote.
SAP CO (Controlling)
Course Details & Curriculum
1. Introduction
SAP CO Basic Concepts
Setting up Controlling Area
2. Cost center Accounting
Cost center creation, change and Display
Creation of Activity types, Change display.
Distribution and Assessment
Activity dependent planning and Independent Planning
Statistical key figures
Creation of allocation structure
Cost center splitting
Plan and actual activity rate calculations
3. Profit center Accounting
Creation profit center hierarchy
Creation of Profit center
Profit center integration with other module
Profit center reporting
Profit center month end process
4. Cost Element Accounting
Define Primary and secondary cost elements
Automatic and Manual creation of Cost elements
Assigning cost elements to cost centers and profit centers
5. Internal order
Creation of order types
Creation of internal orders
Creation of settlement profile
Creation of budget profile
Creation of planning profile
Internal order settlement
6. Product costing
Cost component structure
Auxiliary cost component structure
Costing variant
Valuation variant
WIP settings
Settlement profile
Date control and transfer control
Costing sheet
Product cost by order process
Product cost by period process
Product cost by sales order process
Co product and By product
CO/PP Integration
CO/MM Integration
FI/CO Integration
Over view of PP Master data
Over view of Material master
7. Profitability analysis
Creation of operating concern
Characteristics and Value fields
Valuation strategy
FI/COPA Integration
CO/COPA integration
SD/COPA Integration
PA transfer structure
Creation of Forms
Creation of reports through report painter
COPA derivation
Product hierarchy
8. Material ledger and Costing
Material ledger and actual costing overview
Month end process
FAQs
Which is better - Self-paced training or Instructor-led training?
+
Will this course help me clear the certification exam?
+