20 Hours
Self-paced Training (pre-recorded videos)
USD 140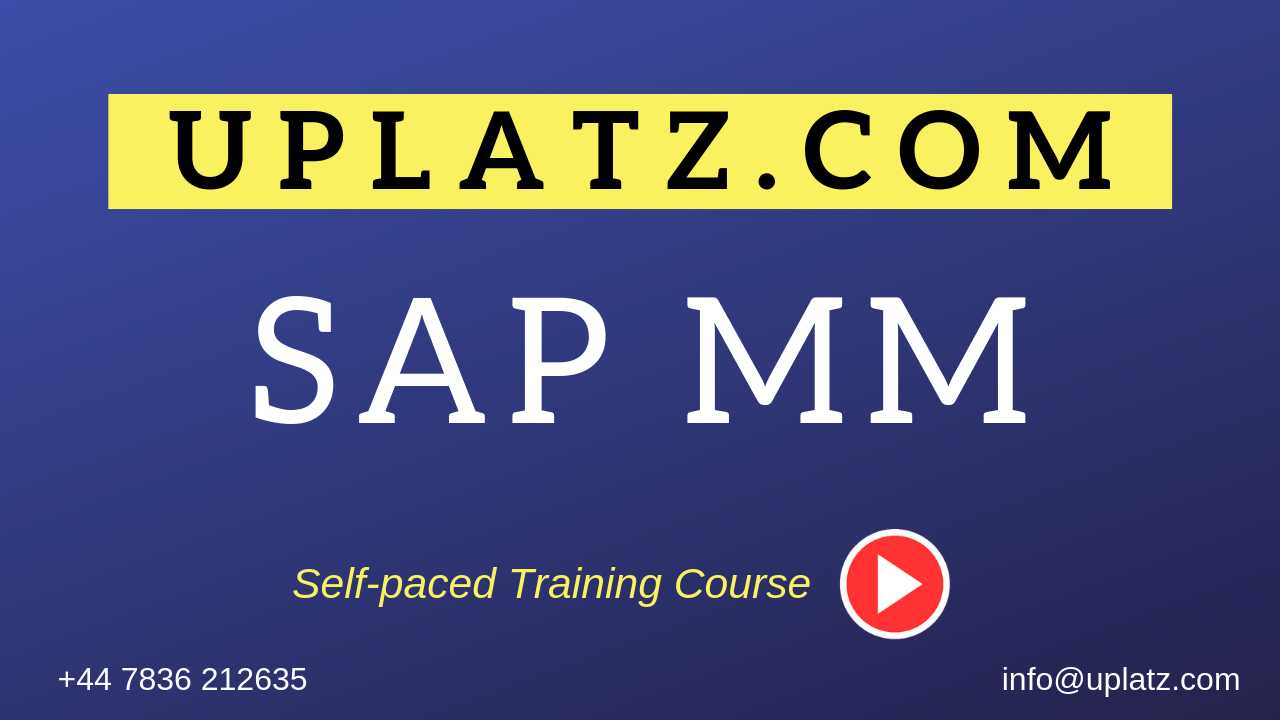 About this Course
SAP MM (Material Management)
is a module of the SAP Enterprise Resource Planning (ERP) package that is used for Procurement Handling and Management.
Materials Management module in SAP consists of several components and sub-components including Master Data, Purchasing and Inventory.
All of these components have their subcomponents that are essential in specific business processes, and all of the processes are executed by using transactions. Transaction (in SAP) means processing of certain information in order to complete business process requirement. For example, if you have purchased 10 pieces of litter buckets, you can perform particular transaction code (t-code) that will reflect those changes in SAP. Most of the business processes involve multiple SAP transactions to be accomplished and are spread over one, two or more modules.
SAP MM is a material management tool that can help automate and streamline corporate Procurement Handling and Inventory Management (in other words it is about managing resources). The SAP MM or master management is a part of logistics functionality and is useful in managing the procurement related tasks of an organization. Materials management is integrated with other modules such as SD, PP and QM.
Uplatz
offers comprehensive SAP MM Training course with focus on imparting world-class quality. This course will equip you with knowledge and hands-on practical business scenarios. This will also prepare you well for SAP MM job market as well as for SAP MM certification. Our SAP MM Training course is delivered by a highly experienced and expert tutor. We will also provide you SAP MM training material, tutor notes, all sessions video recordings, free server access, and a lot more.
This SAP MM certification course is developed and designed by leading SAP consultants. In this course, you will learn about the significant SAP Material Management processes like Procurement, Physical Inventory, Material Management, and Consumption-based planning. The SAP MM online training course is curated keeping in mind the current requirements of industries that will help you understand the concept of SAP MM and apply it in the real world.
----------------------------------------------------------------------------------------------------
Course Objective

The SAP Master management online certification course offered by SAP is intended for participants to provide the understanding of concepts and skills to excel in managing material management to give assurance for the maintenance of resources and materials for the purpose of productivity and cost-efficiency.

----------------------------------------------------------------------------------------------------

Course Description
SAP MM also known as material management is designed to support all phases of material management. SAP Material management is the backbone support of logistics systems that combines with module such as sales and distribution, production planning, plant maintenance, project systems and warehouse management.
The Key features of SAP material management are:
SAP MM is one of the key module of SAP that manages material and inventory management.

Material management process make sure to have zero shortage of any materials in the supply chain process of an organization.

Material management enhances the procurement and material management tasks to make the business run seamlessly with cost efficiency and time-saving methodology.

Material management deals with materials and resources of an organization with an intent of gain productivity and reduce product cost.

----------------------------------------------------------------------------------------------------
SAP MM (Materials Management)
Course Details & Curriculum
1. Introduction to ERP
2. Introduction to SAP
3. Initial Screens
4. Enterprise Structure
5. Master Data
a) Material Master
b) Vendor Master
c) Purchasing Info Record

d) Source Determination
6. Purchasing
7. Inventory Management
8. Special Procurement Process / Special Stocks
9. External Services Management
10. Valuation and Account Determination
11. Logistics Invoice Verification
12. Pricing Procedure
13. Batch Management
14. Output Determination
15. Integration with FI/CO



----------------------------------------------------------------------------------------------------



Certification
SAP Certified Development Associate – SAP Material Management online certification exam
The SAP certified Development Associate – SAP Material Management online certification exam validates that the participants possess the basic knowledge and proven skills needed for the MM professional consultant profile. The SAP MM online training certification course with the help of expert trainers make sure that the participants can learn how to utilise the latest material and resource management effectively within an organization
------------------------------------------------------------------------------------------------------------------------------------------------------------------------
Career Path
The SAP MM online certification course trained by expert professionals provides wide range of job opportunities owing its efficiency in handling materials. The leading companies hire SAP MM consultants to manage material effectively.
The following are the job titles:
MM Consultant

MM Functional Consultant

MM Senior Functional Consultant

Data Consultant

----------------------------------------------------------------------------------------------------
Job Prospects
An SAP MM consultant draws an average salary of $120,910 per year based on seniority level.
------------------------------------------------------------------------------------------------------------------------------------------------------------
SAP MM Interview Questions
------------------------------------------------------------------------------------------------------------------------------------------------------------
1. What is SAP MM and what do you know about it?
It is one of the modules in SAP that deals with the management of materials and procurement process. It also includes master data, account determination, material valuation, inventory management, invoice verification, material requirement planning, etc.
2. List out the essential components of material management.
· Determine requirements
· Source determination
· Vendor Selection
· Order Processing
· Order follow up
· Goods receipts and Inventory management
· Invoice Verification
3. What are the benefits or uses of material management?
· Material valuation
· Multi-location inventory
· Bin management
· The lot and serial traceability
· Product life cycle management
· Inventory replenishment
· Scheduling and resourcing
4. What are the features of material management?
· Purchasing
· Production and material control
· Non-production stores
· Transportation
· Material handling
· Receiving
5. What is material requirement planning (MRP)?
It is a module in SAP enterprise resource planning. It is a type of planning tool to help production and procurement planners to create feasible and realistic plans which helps to quickly initiate procurement and production process.
6. What is consumption-based planning (CBP)?
It is based on past consumption values which makes use of the forecast or other statistical procedures to determine future requirements. It is triggered when the stock level falls below a predefined reorder point or by forecast requirements calculated using past consumption values.
7. What is the difference between MRP and CBP?
In material requirement planning, the prediction of material requirement is based on sales and operations planning while in, consumption-based planning the prediction of material requirement is made, based on historical demand for materials.
8. What is Master production schedule (MSP)?
It is a plan for individual commodities to be produced in each time period such as staffing, production, etc. It is mostly linked with manufacturing in which the plan denotes when and how much of each product will be demanded.
9. What is a planned order in material management?
A planned order is sent to an industry and is a material requirement planning request for the procurement of a particular material at a determined time. It specifies when the internal material movement needs to be made and the amount of material that is demanded.
10. What is production order and purchase order?
A production order determines which material is to be prepared, at which location, and at what time and how much quantity is required. It also defines which components and sequence of operations are to be used and how the order costs are to be resolved.
A purchase order is a formal request or guidance from a purchasing organization to a vendor or a factory to supply or provide a certain quantity of goods or services at or by a certain point in time.
11. What is the process order?
Process Orders (PP-PI-POR) are the central component used for the accurate planning and execution of process manufacturing. A process order represents the production of batches (materials) in a production run or the rendering of services.
12. What is a transaction code in material management?
A transaction code (or t–code) consists of letters, numbers, or both, and is entered in the command field at the top of any SAP GUI screen. Each function in SAP ERP has an SAP transaction code associated with it. You can directly access any function in SAP using t-codes.
13. What are contracts in material management?
A contract is a long-term agreement with a vendor to supply a material or provide a service for a certain period of time. These are specified consequently in release orders issued against the contract when the customer requires them.
14. Define purchase requisition.
A purchase requisition is a primary document which is used as part of the accounting method to launch a merchandise or supply purchase. By processing a purchase order, suitable controls can monitor the legitimacy of purchase, as well as identify the business requirement for the products.
15. How do you create and release purchase requisition in SAP material management?
Purchase requisition creation can be done in T-code ME51N and is a straightforward process:
1. Execute ME51N transaction.
2. Purchase requisition document type: NB – standard.
3. Source determination: ON or OFF.
4. Header note.
5. Material: material number.
6. Quantity and UoM.
7. Storage location: in which the material is stored.
8. Vendor: automatically determined by using source determination – field number
9. Tracking number: covered in previous topics, a desired value can be entered manually
10. Valuation price: copied from material master data if maintained there, if not must be entered manually (if this field is not set as optional).
11. After entering the desired information in the fields, we can save transaction data.
16. What is a special stock in material management?
Special Stocks are the stocks which belong to a company code. These are not placed in any storage location & no physical inventory is performed.
17. Mention the different types of stocks.
A. Valuated Stock
1. Unrestricted Stock
2. Quality Inspection Stock
3. Blocked Stock
B. Non-Valuated Stock
C. Special Stock
1. Subcontracting
2. Consignment
3. Stock Transport Order
4. Third Party Processing
5. Returnable Transport Packaging
6. Pipeline Handling
18. Define consignment stock.
During the consignment process, when a vendor provides material or goods, the company stores it in their stores. The vendor remains the owner of the material until a customer takes it. The liability arises as soon as the material is removed from the stores.
19. What is meant by master data?
Master Data is basically created centrally and is valid for almost all the applications. It remains constant over time but it is required to update it on a regular basis. For example, the Vendor is a type of master data and he is used for creating purchase orders.
20. What is master data management?
Master data management is a comprehensive method of enabling an enterprise to link all of its critical data to a common point of reference. When properly done, MDM improves data quality, while streamlining data sharing across personnel and departments. In addition, MDM can facilitate computing in multiple system architectures, platforms, and applications.
21. What is inventory management? Inventory management is used to manage the inventory for the goods. It is based on several key processes. Definition of movement types, reservations, goods issue, and goods receipt.
22. What is movement type and mention a few standard movement types?
<p
FAQs
Will this course help me clear the certification exam?
+
What is Purchasing Requisition in SAP MM?
+
What is Request For Quotation (RFP) in SAP MM?
+
What is Quotation in SAP MM?
+
What is Purchasing Order in SAP MM?
+
What is Inventory Management?
+
What is Goods Receipt in SAP MM?
+
What is Return To Vendor in SAP MM?
+
What is Stock Transfer in SAP MM?
+
What is Goods Issue in SAP MM?
+
What is Reservation in SAP MM?
+
What is Physical Inventory in SAP MM?
+
What are Special Procurement / Special Stock Types in SAP MM?
+
What is External Services Management?
+
What is Split Valuation?
+
What is Batch Management?
+
What is Pricing Procedure?
+
What is Output Determination?
+
What is Logistics Invoice Determination?
+
What is MM integration with FI/CO?
+
What is MM integration with PP?
+
Which is better - Self-paced training or Instructor-led training?
+
What if I miss a class?
+
How will I execute the practical?
+
Is the course material accessible after completion of the course?
+
Is there any offer/discount that I can avail?
+
Will I get a refund if I cancel my enrollment?
+
What if I have queries after completion of the course?
+