30 Hours
Self-paced Training (pre-recorded videos)
USD 17 (USD 140)
Save 88% Offer ends on 31-Dec-2023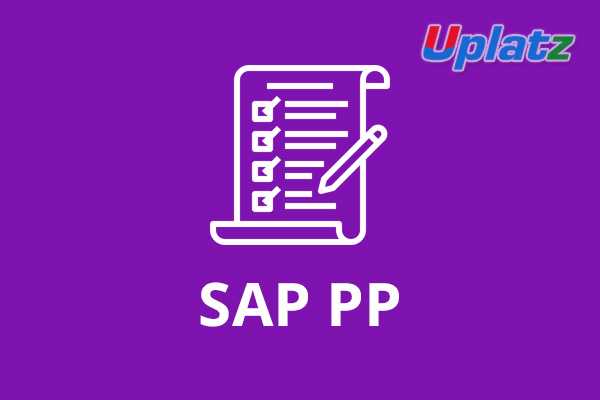 About this Course
SAP PP or Production Planning is one of the key modules of SAP which enables a user to keep track and make a record of the manufacturing flow for an organization. This module is fully integrated with other SAP modules as well namely SD, MM, QM, FICO & PM.
Master Data in SAP PP


There are 5 master data that needs to be maintained in an SAP PP module. They are:
Production Version


In this SAP PP Course at Uplatz, one will learn:
Ø
The Overview of ERP, SAP and SAP PP
At the end of this course, Uplatz is offering a Certificate of Completion on the SAP PP (Basics to Advanced) Course.
SAP PP (basic to advanced)
Course Details & Curriculum
SAP PP course curriculum
1. Overview of ERP, SAP, SAP PP
Understanding ERP and ERP as an ERP

Architecture of ERP

Discuss on the implementation methodology and importance of the same

Importance of SAP PP as a functional module
2. SAP PP process flow
PP total flow understanding
3. Master Data Overview
Material Master

BOM configuration and use in production planning

Routings (task lists) configuration and use in production planning

Production Versions

Importance as per business needs

Work Center
4. Master Planning
Sales Operations Planning

Demand Management

Long term Planning

Planned independent requirements
5. Forecasting
Process review

Process overview and flow to demand management

Forecasting process and MRP control

Example with real Business Process
6. Material Requirement Planning (MRP) and Master Production Schedule (MPS)
Process review

MPS

MRP

MRP run configuration and evaluation tools

Consumption Based Planning

Lot Size Procedures

Example with real Business Process
7. Production Orders
Scheduling of production orders

Production order components

Production Resources & Tools (PRTs)
8. Scheduling
Scheduling process

Capacity planning

Example with real Business Process
9. Discrete Manufacturing
Master Data involved

Configurations needs

Purpose

Planned order structure

Production order types

Material staging and withdraw

Production confirmation

Goods movement

Order settlement
10. Repetitive Manufacturing
Master Data

Planning

Backflushing
11. REM
REM process review

Master Data involved

Configuration needs

Purpose
12. Support Process
Support Process discussion
13. Integration of SAP PP with other SAP modules
Material Management (MM)

Sales and Distribution (SD)

Quality Management (QM)

Plant Maintenance (PM)
14. Reporting and Tools
Production planning reporting

Material requirement planning reporting
15. Other aspects of PP
Production Planning in process industries

Classification system
Certification
SAP PM Basics to Advanced
Career Path
SAP PP Consultant
SAP Consultant