15 Hours
Self-paced Training (pre-recorded videos)
USD 17 (USD 140)
Save 88% Offer ends on 31-Dec-2023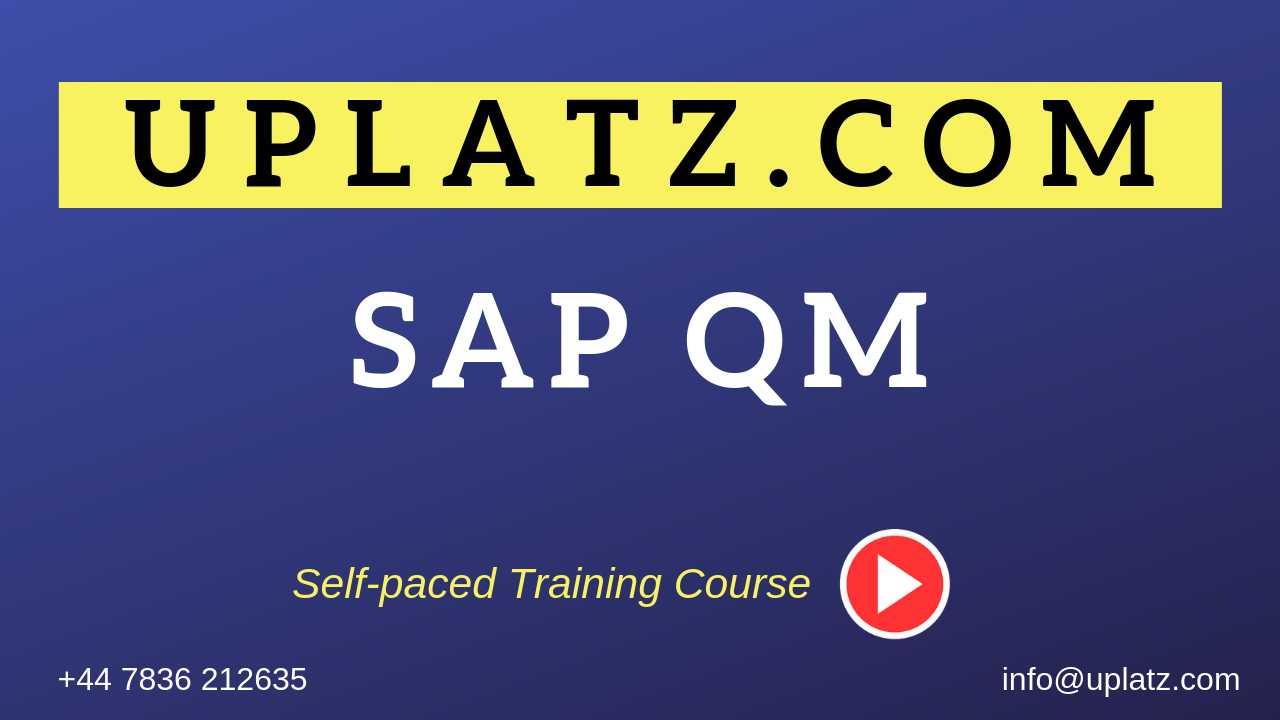 About this Course
Uplatz provides SAP QM online course covering all topics of SAP QM (Quality Management).
After completion of SAP QM training you can apply for SAP QM Certification exam.
This is self-paced (video-based) training course. The videos can be watched comfortably any time from any device through a web browser.
SAP QM (Quality Management)
Course Details & Curriculum
Introduction to ERP
ERP Packages

Introduction to SAP

Functions and Objectives of QM

QM Overview
SAP Navigation
Organizational structure of an Enterprise in the SAP R/3 System
Company, Company code, Controlling Area, Plant, Storage Location, Purchase Organization, Purchasing group

Controlling Settings (Cost Center and Cost Element etc.)
Master Data
Material Master – Activation of QM view

Master Inspection characteristics – Qualitative & Quantitative

Sampling Procedure, Sampling Scheme

Codes and Code Groups

Catalog, Selected set, Catalog Profile

Inspection Method
Planning & Execution
Inspection plan

Creation of inspection lot (Automatic and Manual)

Results Recording

Usage Decision and Stock Posting

Inspection type

Material Specification
Quality Management in Procurement
Goods receipt inspection against Purchase Order

Goods receipt inspection without Purchase Order

Stock Transfer Inspection

Controls in procurement

QM info Record
Quality Management in Production
In process inspection for Production Order

In process inspection for Production Order with Inspection Points

Goods Receipt Inspection after Production
Quality Management in Sales and Distribution
Inspection during delivery

Inspection during customer returns
Inspection with Physical Samples
Types of physical samples

Sample Drawing Procedure

Inspection lot processing for physical samples
Calibration Inspection
Test equipment Management

Process flow of calibration inspection
Quality Management with Batches
Automatic Batch Valuation with QM

Recurring inspection
Quality Certificates
Certificate Profile creation

Certificate Printing
Quality Control
Statistical Process Control

Control charts
Quality Notifications
Quality Notifications in the Logistics Supply Chain

Record and process notifications in the system

Defect notification processing
Stability Studies
Objects in the Stability Study

Stability Study Process Flow
Important Configuration and Integration with other modules
Configuration steps involved in QM

QM integration with MM, PP, PM and SD modules
FAQs
Will this course help me clear the certification exam?
+
Which is better - Self-paced training or Instructor-led training?
+
What if I miss a class?
+
How will I execute the practical?
+
Is the course material accessible after completion of the course?
+
Is there any offer/discount that I can avail?
+
Will I get a refund if I cancel my enrollment?
+
What if I have queries after completion of the course?
+