30 Hours
Self-paced Training (pre-recorded videos)
USD 17 (USD 140)
Save 88% Offer ends on 31-Dec-2023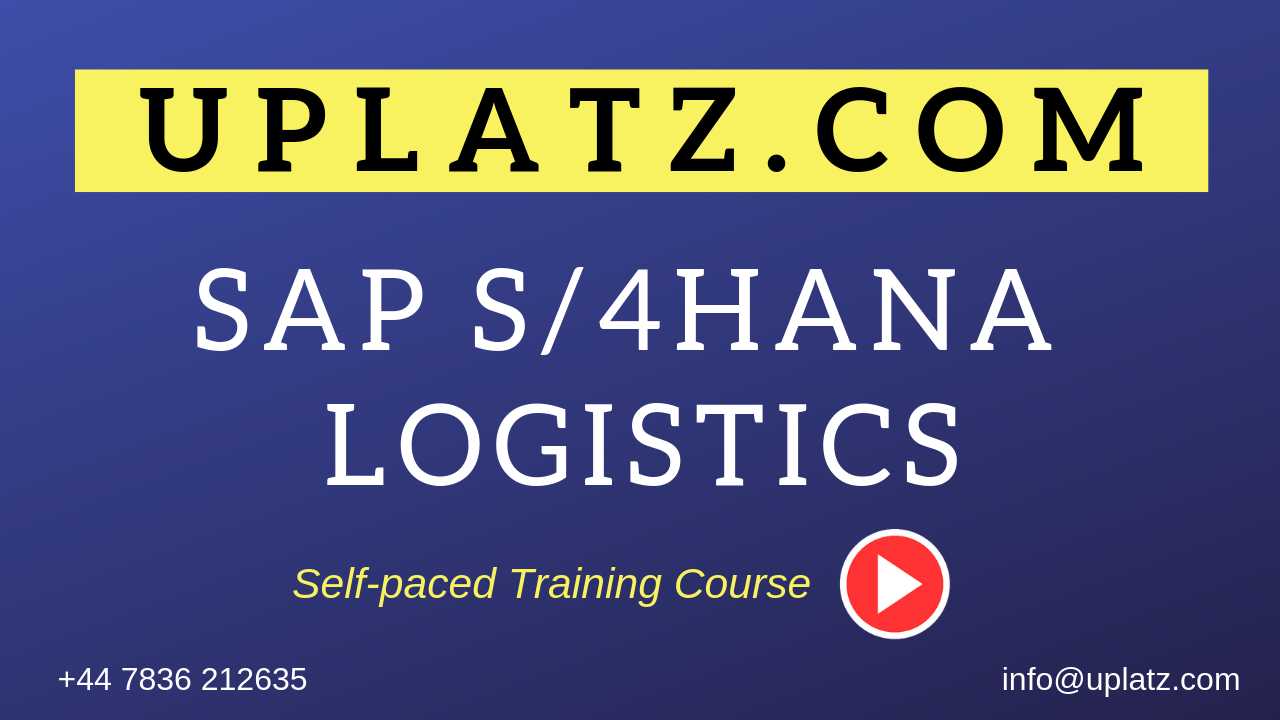 About this Course
SAP S/4HANA Logistics (previously called SAP Simple Logistics) Training has vast changes in the areas of Material management, production planning supply chain management and sales and distribution. SAP Simple logistics stabilizes the order to cash, procure to pay and plan to product
SAP S/4HANA LOGISTICS
Course Details & Curriculum
SAP S/4HANA LOGISTICS COURSE CONTENTS

Enterprise Management
· Streamlined Procure-to-Pay

· Accelerated Plan-to-Product

· Optimized Order-to-Cash

· Enhanced Request-to-Service
Inventory Management
· SAP S/4HANA Changes

· Warehouse Processing

· Physical Inventory Management
Manufacturing
· Material Requirements Planning

· Production Execution
SAP Extended Warehouse Management
· Delivery Processing in Extended Warehouse Management
Sourcing and Procurement
· Materials Requirements Planning

· Operational Purchasing

· Collaborative Sourcing and Contract Management

· Supplier Management, Invoicing and Payables Management

· SAP Ariba
Sales Order Management
· Sales Contract Management

· Sales Order Management and Processing

· Billing and Invoicing, Output Management

· Claims, Returns, and Refund Management

· SAP Hybris

· SAP Transportation Management
Quality Management
· Quality Notification, Planning and Inspection

· Material Master Quality Management View
Plant Maintenance and Enterprise Asset Management
Maintenance Processing
Job Prospects
--------------------------------------------------------------------------------------------
SAP S/4HANA LOGISTICS Interview Questions
--------------------------------------------------------------------------------------------
1. What are some of the strengths of SAP S/4 HANA Logistics?
| | |
| --- | --- |
| Criteria | How S4 HANA Logistics wins |
| Availability | Both as on-premise and cloud |
| User Experience | Role based UX with SAP Fiori |
| Features | Combines multiple SCM applications |
| Planning & executing supply chain tool | SAP Advanced Planner Optimizer |
2. What is SAP S/4 HANA Logistics?
SAP S/4HANA is next-generation business suite built on the most advanced in-memory platform. Logistics is used to handle Material Requirement Planning, Inventory Management, Material Valuation, Capacity Planning, Stock keeping, Reordering, Order Management and Billing, Procurement to help businesses .
3. What Are the Different Deployment Types in SAP HANA?
There are 3 different types of Deployment options –
• On-premise solution – In this model, the customer purchases software and hardware; the operations are managed by the customer itself.
• Cloud solution – In this model, the hardware and software is provided by the cloud solution provider and it is rented to the customer.
• Hybrid solutions – In this model, some part of the software is run by the client on-premise server owned by the client, and additional solution is provided by the client provider.
4. What Is Demand Planning?
The company can use demand planning to forecast the demand for specific customers, regions, or sales organizations. It is used to avoid stock outs, loss sales and proper reordering can be done. Also in case of seasonal demands, it can be predicted earlier for stockpiling.
5. What is inventory management in SAP S/4?
Inventory and warehouse management solutions from SAP enable companies to holistically control goods movements and warehouse operations, from inbound activities to fulfillment, in real time. By integrating real-time data from manufacturing planning, plant maintenance, inventory, and other enterprise resource planning processes, companies can efficiently manage procurement and order processing.
6. What is PPDS in SAP?
Production Planning and Detailed Scheduling(PPDS) on SAP S/4HANA is the product running on SAP S/4HANA. Production planning and detailed scheduling is a tool in APO(Advanced Planning and Optimization) which takes care of planning and scheduling considering the capacities of various resources. It includes the data like planning procedure, horizon, plan explosion etc…
7. What are the various mathematical methods can be used to analyze historical data for demand planning?
• Moving average
• Constant model
• Trend model
• Seasonal model
• Exponential smoothing
8. What are MPS in ERP and MRP in SAP?
A master production schedule (MPS) is a plan for individual commodities to be produced in each time period such as production, staffing, inventory, etc.. MRP is a part of MPS which is used to determine how the materials procurement are planned. MRP is performed based on the sales of present and future,where in they are used to plan the requirement quantities for production.
9. What is Lean Manufacturing?
Lean manufacturing includes a set of principles that firms use to achieve improvements in productivity, profitability, quality, and lead-time without sacrificing productivity by eliminating waste through kaizen.
10. What is BRF plus?
Business Rule Framework plus (BRFplus) provides a comprehensive application programming interface (API) and user interface (UI) for defining and processing business rules. It allows you to model rules in an intuitive way and to reuse these rules in different applications. BRFplus supports features such as simulation, trace, transport, XML export and import.
11. List some applications of BRF plus.
• Matching responsibilities, suitable products, and locations
• Calculation of costs, overhead, and risks
• BRFplus as a technical configuration engine
• Validation of data and detection of invalid data and states
12. What is Rebate processing?
Rebate processing is used to process special discounts that are paid retroactively to a customer. These discounts are based on specific terms and conditions that are defined in rebate agreements. The goal of rebates is to build long-term customer relationships.
13. What is SAP Fiori Launch pad?
SAP Fiori launchpad is like a shell which is used to host SAP Fiori apps. The services provided by SAP Fiori includes navigation, personalization, application configuration and embedded support. It is deployed on multiple platforms such as ABAP (available today), SAP Portal, Cloud Portal and HANA.
14. What are the different types of Compression Methods in SAP?
• Prefix encoding (PREFIXED)
• Run length encoding (RLE)
• Custer encoding (CLUSTERED)
• Sparse encoding (SPARSE)
• Indirect encoding (INDIRECT)
15. List the advantage of SLT application.
• Working of SAP SLT is a trigger based approach; it has no measurable performance impact in source system.
• It is fully integrated with HANA studios and it offers filtration and transformation.
• It is used for real-time related data replication into HANA from non-SAP and SAP systems.
• Replication from multiple systems to one HANA system is allowed and also vice versa.
16. What is the master data in SAP?
Data stored is generally categorized as
• Master Data
• Transactional Data.
Master data is the important data that is used as a base for all transaction in the database. For any kind of activity such as creating, storing, producing, transferring, purchasing, which involves data requires certain master data. Transactional data are based on daily activities performed.
--------------------------------------------------------------------------------------------
FAQs
Will this course help me clear the certification exam?
+
Which is better - Self-paced training or Instructor-led training?
+
What if I miss a class?
+
How will I execute the practical?
+
Is the course material accessible after completion of the course?
+
Is there any offer/discount that I can avail?
+
Will I get a refund if I cancel my enrollment?
+
What if I have queries after completion of the course?
+