30 Hours
Online Instructor-led Training
USD 2800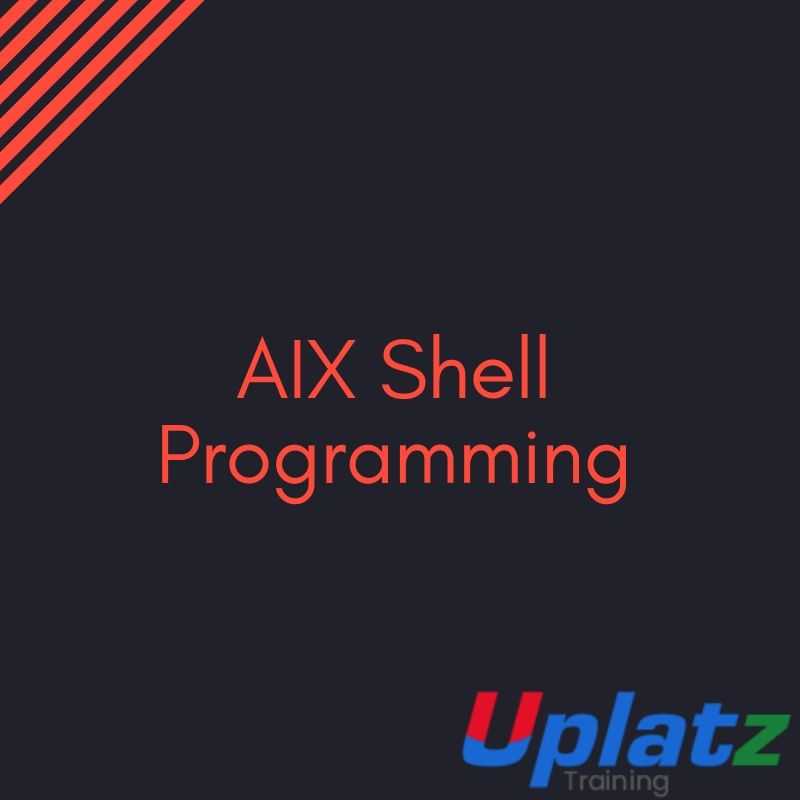 About this Course
AIX Shell Programming Course Overview
This IBM AIX Korn Shell Programming training course is designed to give delegates practical experience using a range of AIX tools to manipulate text and incorporate them into AIX shell scripts.
-----------------------------------------------------------------------------------------------------------------------------------
Who will the Course Benefit?
Programmers, administrators and support personnel who need to understand existing shell scripts, automate procedures and write their own utilities.
The AIX Shell Programming course assumes knowledge of the AIX Operating System to the level covered in the course. Some programming experience may also prove advantageous.
------------------------------------------------------------------------------------------------------------------------------------------
Course Objectives
To provide the skills needed to develop and customise shell programs.
--------------------------------------------------------------------------------------------------------------------------------------------
Course Description
AIX Shell Programming online course get started with shell programming. AIX Shell Programming online course intention is to provide a foundation to implement the shell programming.
AIX Shell Programming online course will allow the participants to understand the benefits of learning the shell programming.
AIX Shell Programming online course is ideally developed for any unix or linux developers who wants to specialize in shell programming.
In the AIX Shell Programming online training course, Uplatz provides an in-depth online training for the participants or learners to gain knowledge and able to manage AIX Shell Programming and configuration. Uplatz provides appropriate teaching and expertise training to equip the participants for implementing the learnt concepts in an enterprise.
AIX Shell Programming online training course curriculum covers introduction to shell, shell command syntax, script writing, process management, string manipulation, security, compound commands.
With the help of AIX Shell Programming online course, the learners can discover:
Inhouse Terminology and concepts related to the Korn shell programming

To define functions

Know to compare files of any format

Know when to use varied constructs
Uplatz provides an in-depth training to the learners to accelerate their knowledge and skill set required for an AIX Shell Programme.
--------------------------------------------------------------------------------------------------------------------------------------------
This is a AIX Shell Programming course by Uplatz.
AIX Shell Programming
Course Details & Curriculum
AIX Shell Programming Training Course
Course Introduction
Administration and Course Materials
Course Structure and Agenda
Delegate and Trainer Introductions
Session 1: AIX COMMAND REVIEW
Basic Unix commands
General commands
File and directory handling commands
Filename generation characters and regular expressions (regex)
I/O Redirection features
Other commands
Session 2: GETTING STARTED
What is a shell script?
Development guidelines
Creating and editing shell scripts
Naming and storing shell scripts
Executing shell scripts
Exercise: Write a simple shell script
Session 3: USING VARIABLES
Environment variables
Local variables
Assigning values to variables
Assessing variable values
Using quotes
Delimiting variable names
Echo control sequences
Exercise: Add variables to a script
Session 4: INTEGER ARITHMETIC
Using the expr command
Using the (( )) notation
Exercise: Add integer arithmetic to a shell script
Session 5: HANDLING RUN TIME DATA
The read command
Command line arguments
Exercise: Writing a generic shell script
Exercise: Writing an interactive shell script
Session 6: CONDITIONAL EXECUTION
The if statement
The test command
Exercise: Adding validation to previous scripts
Session 7: ADDITIONAL KORN, BASH & POSIX SYNTAX
Other test notations
Default and substitute variables
Exit status codes
Exercise
AIX Shell Programming Training Course
Session 8: LOOP CONSTRUCTS
The while loop
The until loop
The for loop
The while true and until false loops
Loop control commands
Exercise: Enhancing the previously written scripts
Exercise: Writing a script to copy files using a 'for' loop
Exercise: Writing a script to generate numbers with the 'while' loop
Session 9: MULTI-BRANCH DECISIONS
The case statement
Menu driven applications
Exercise: Developing and writing a menu system
Session 10: FUNCTIONS
What is a function?
Syntax
Examples
Creating a Function Library
Exercise: Add a function to a script
Session 11: INTERRUPT HANDLING
Interrupt signals
Trapping interrupts
Exercise: Adding traps to the menu script
Session 12: ADDITIONAL FEATURES AND FACILITIES
The exec commands
The includes notation
More about loops
Arrays
Here Documents
Exercise: Create a here script
-----------------------------------------------------------
Certification
C9010-022: IBM AIX Administration V1 exam.
Attending this course will help gain some of the skills and product knowledge outlined in the exam objectives. Studying this course and its associated reference materials can form part of the preparation to achieve certification. Experience, practice, self-study and aptitude are also key requirements for exam success.
Before taking any exam, ensure you have the recommended experience. The HP-UX website lists all exam requirements and these are updated regularly.
Career Path
AIX Shell Programming online certification course with the help of expert professionals training is recognized across the globe. Because of the increased adoption of the shell programming in various companies the participants are able to find the job opportunity easily. The leading companies hire AIX shell programmer considering their skill of mastering AIX shell programming concepts. AIX Shell Programming online certification course is known for their knowledge in managing AIX programming environment. After pursuing AIX Shell Programming online certification course the participants can become as an AIX programmer, shell developer, linux developer, network analyst, software developer, system administrator and can pursue a wide range of career paths.
--------------------------------------------------------------------------------------------------------------------------------------------