30 Hours
Online Instructor-led Training
USD 1399 (USD 2800)
Save 50% Offer ends on 31-Dec-2023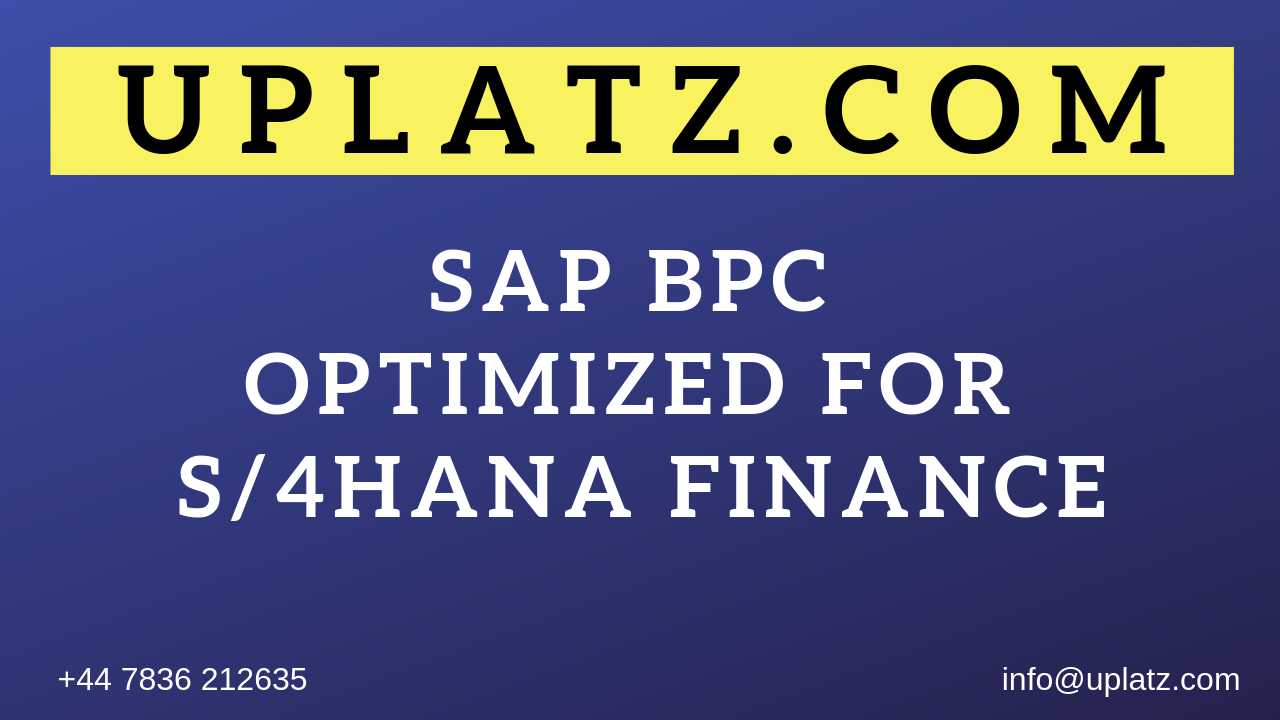 About this Course
The SAP Business Planning and Consolidations (BPC) tool is now optimized for S/4HANA Finance with a new name SAP BPC OPTIMIZED FOR S/4 HANA Finance. This is an Add-on to S/4HANA Finance introduced to overcomes the pain points of multiple parallel planning process, transfer programs and Extraction, Loading and Transformation (ELT) between different planning systems, batch jobs, manual steps etc.
Key Capabilities / Benefits of SAP BPC OPTIMIZED FOR S/4 HANA Finance (Formerly SAP IBPF)
· It eliminates data replication and have real time access to master and transactional data maintained in SAP ERP for modelling and variance analysis.
· It enables flexible drill-down on drivers of profitability including customer, segment, product category, product, geography and channel
· It provides a Seamless integration of BPC planning screens into ERP by replacing the current planning capabilities in SAP ERP like Cost Center Planning, Profit Center planning etc. It also enables Retraction of Plan data generated in SAP BPC to SAP ERP for variance analysis with the actuals.
· It Provides End-to-End simulation capabilities. If a sales manager enters planned sales/revenue, the same will be reflected in Profit and loss planning in BPC.
· It offers Single Planning solution with strengths of BPC, BW-IP solutions integrated with ERP which gives line item level drill down and single source of truth.
· It enables identification of trends, insight and forecasts using predictive analysis through SAP HANA
· It comes with pre-defined planning models for easy and quick adoption with various planning templates and BW/HANA content

Pre-defined Planning Templates and BW/HANA content
Following templates are available for supporting:
· Cost Center planning
· Functional Areas / Work Analysis
· Internal Order Planning
· Project systems Planning
· Profit Centre Planning
· Cost of Sales Planning
· P&L Planning
· Market Segment
· WIP Analysis
· Balance sheet
Following BW/ HANA Content available as part of offering:
· Info-Providers
· Queries
· Planning Functions
· Filters
· Sequences
· HANA Information Models

-----------------------------------------------------------------------------------------------------------------
SAP BPC optimized for S/4HANA Finance
Course Details & Curriculum
Course Content - SAP BPC optimized for S/4HANA (BPC 10.1 embedded)
· Real Time Consolidation RTC & Real Time Planning
· Overview of SAP BPC Optimized for SAP S/4HANA Finance
· Describe the functionality of SAP Optimized Planning, based on SAP S/4HANA Finance
· SAP S/4HANA Finance and SAP HANA
· Configure SAP BW for SAP Optimized Planning
· SAP Business Warehouse
· SAP Planning Application Kit
· Use SAP BO Analysis for Office to perform planning activities
· SAP Business Objects Analysis for Office
· Configure BPC Embedded for Optimized Planning
· SAP Business Planning and Consolidation 10.1 Embedded
· Configure Information Models in HANA for Optimized Planning (Calculation Views)
· Use SAP Design Studio for planning - on HANA studio
· Setup SAP Integrated Planning Objects
· Enter Global Master Data in BPC Web Client - on BPC web client
· Global Master Data Maintenance
· Use the Cost Simulation Tool to execute allocations
· Comments in SAP Optimized Planning
· Cost Simulation
· Local Planning Scenarios
· Balance Sheet Planning on Profit Centers
· Setup Balance Sheet Planning in Embedded BW using aDSO and Composite Providers
· Understand how to configure local planning scenarios using BPC Workspace technique.
-----------------------------------------------------------------------------------------------------------
FAQ
Will this course help me clear the certification exam?
+
Which is better - Self-paced training or Instructor-led training?
+
What if I miss a class?
+
How will I execute the practical?
+
Is the course material accessible after completion of the course?
+
Is there any offer/discount that I can avail?
+
Will I get a refund if I cancel my enrollment?
+
What if I have queries after completion of the course?
+