30 Hours
Online Instructor-led Training
USD 1399 (USD 2800)
Save 50% Offer ends on 31-Dec-2023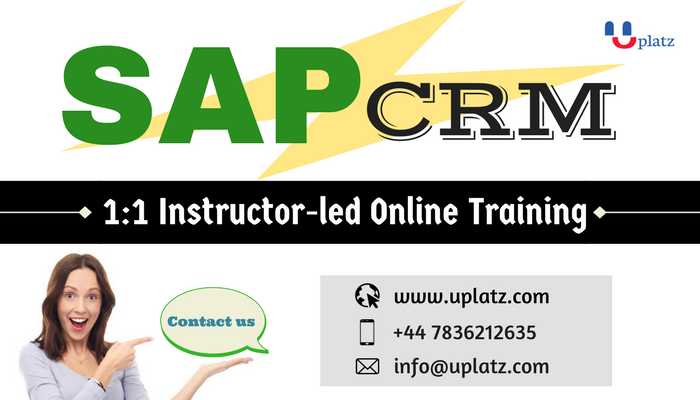 About this Course
Understand the SAP CRM Solution features.
Analyze SAP CRM processes and functions in the marketing, sales and service area and the various interaction channels.
Evaluate integration aspects between SAP CRM and other components.
Understand basic data and functions in the CRM Enterprise System.
Explain the internal data processing of the CRM Middleware.
Set up and monitor the connection between SAP CRM and SAP ERP.
Monitor the flow of data within the CRM Middleware.
Gain an overview of the CRM WebClient User Interface.
Adapt the CRM WebClient User Interface using customizing and standard tools.
Implement simple customer specific enhancements.
SAP CRM Solution
Course Details & Curriculum
Introduction

Fundamentals and architecture of SAP CRM
SAP CRM Marketing
SAP CRM Web Channel (E-Commerce)
SAP CRM Partner Channel Management
SAP CRM Sales
SAP CRM Interaction Center
SAP CRM Service
SAP CRM Field Applications
SAP CRM Analytics
Implementation & operation of SAP CRM
CRM Basic Data

Account Management
Organizational model
Product master
Customizing settings for each object
CRM Business Transactions

Overview of generic functions in business transactions
Activity management
Customizing for these objects

Process control and determination

Partner determination
Actions
Overview of pricing in CRM

CRM Billing
Basics concepts of CRM middleware
Introduction to the CRM WebClient User Interface
Introduction to the CRM architecture and CRM Middleware
Connecting an SAP back-end system to an SAP CRM system: - CRM Middleware / Administration Console - Messaging BDoc - Initial load / delta load / request load - Data flow, configuration and monitoring
Connecting an external system using the XIF adapter
Business Warehouse adapter
SAP CRM User Interface Overview
UI Concept
Customizing of Business Roles
Navigation Bar Customizing and Transaction Launcher
Architecture
UI Configuration
Application Enhancement Tool and Easy Enhancement Workbench
Component Enhancement Concept
Skin Configuration
FAQ
Will this course help me clear the certification exam?
+
Which is better - Self-paced training or Instructor-led training?
+
What if I miss a class?
+
How will I execute the practical?
+
Is the course material accessible after completion of the course?
+
Is there any offer/discount that I can avail?
+
Will I get a refund if I cancel my enrollment?
+
What if I have queries after completion of the course?
+