40 Hours
Online 1:1 Instructor-led Training
USD 560 (USD 1120)
Save 50% Offer ends on 30-Jun-2019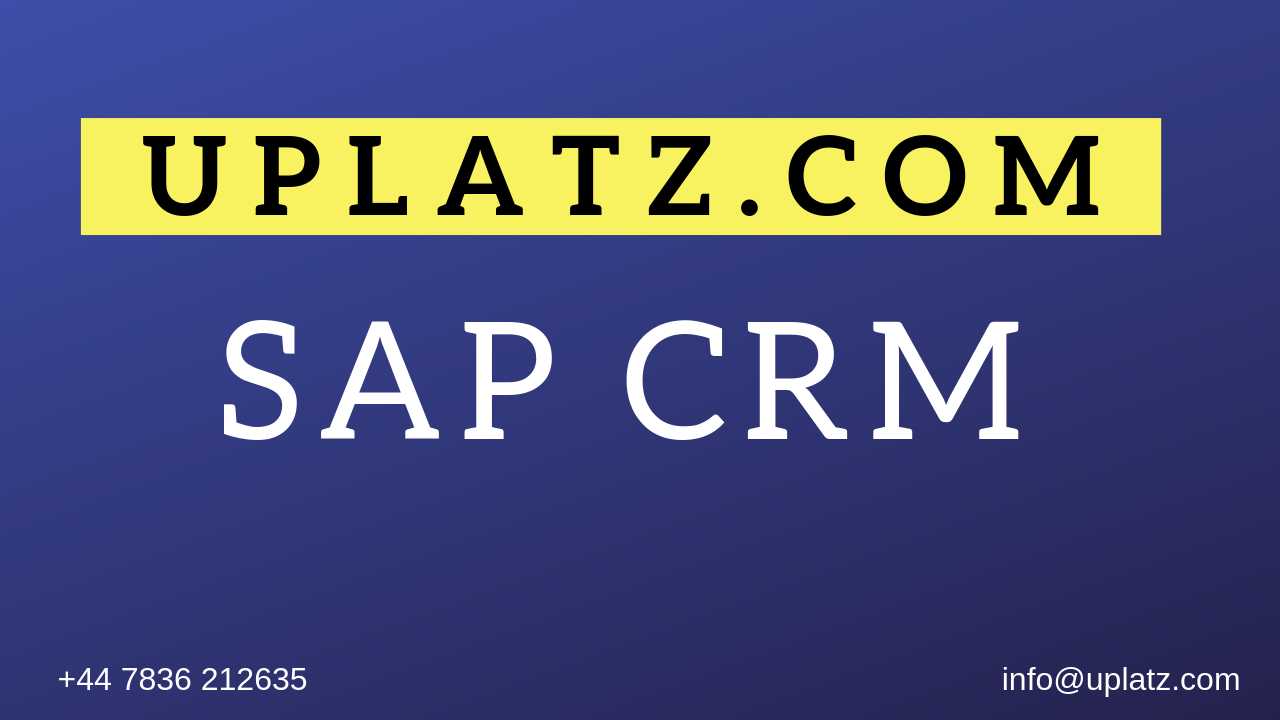 About this Course
The SAP CRM application is an integrated Customer Relationship Management (CRM) software developed by SAP SE that targets business software requirements of midsize and large organizations in all industries and sectors.

What will students learn?
• The terms and benefits of CRM on a company's bottom line
• Analyze the different components of a CRM plan
• Develop a checklist for readiness and success in CRM
• Describe how CRM creates value for organizations and customers
• Consider developmental roles that have the greatest impact on CRM

Course Prerequisites
• Fundamental knowledge on IT
• Fundamental Knowledge on required Functional Area.


What is the target audience?
Individuals who want an understanding of Customer Relationship Management (CRM) and its benefits.

About Uplatz
Welcome to Uplatz, the biggest IT & SAP training provider in Europe!
Uplatz is well known for providing instructor-led training and video-based courses on SAP, Oracle, Salesforce, AWS, Big Data, Machine Learning, Python, R, SQL, Google & Microsoft Technologies, and Digital Marketing.
SAP and AWS training courses are currently the most sought-after courses globally.
An SAP consultant on an average earns a package of $80,000 ($100,000) per annum based on the skills and experience.
To learn this course -
1) Pay the course fees directly through secured payment gateway by clicking "Pay Now" and relax. After this Uplatz team will take over and get the course conducted for you.
2) If you are based in UK or India, you can directly pay to our respective bank accounts. To do this, you just need to send an email to info@uplatz.com and the Uplatz team will respond back with the details.
For any questions, queries, or payment related issues, simply contact us at -
Call: +44 7836 212635
WhatsApp: +44 7836 212635
Email: info@uplatz.com
https://training.uplatz.com

---------------------------------------------------------------------------------------------
SAP CRM Training
Course Details & Curriculum
Solution Overview (Introduction):
• Overview of SAP ERP and SAP CRM
• Introduction to SAP CRM
• Overview of CRM 2007 Architecture
• Channel of CRM
• CRM Application
• Role in my SAP CRM

SAP CRM Web User Interface (WEB UI)
• Architecture of WEB UI
• UI Concept & UI Component Concept
• Navigation Bar & Business Roles
• UI Configuration
• Personalization
• Additional Features in Web UI

( CR100)-- Base Customization/Master Data (SAP CRM7.0 & SAP ECC 6.0)

• CRM Business Partner (BP)
 Creation of BP on Category
 Basic setting on Field grouping & No ranges
 BP Relationships
 BP Roles
 Mapping BP Classification & Account Group from R3 ‡ CRM

• Organizational Management
 Fundamentals of SAP CRM Org Structure
 Organizational Data determination
 Mapping Org Model & Enterprise Structure from R3 ‡ CRM

• Territory Management
 Hierarchy Levels, Hierarchy ID
 Assign employee to Hierarchy

• Product Master
 CRM Product Types
 Creation of Hierarchies & Categories
 Creation of Attributes & Set Types
 Mapping Product Master & Material Master from R3 ‡ CRM


• Transaction Processing
 Transaction Processing for Enquiry, Quotation & Order
 Customization of Transaction Types
 Assignment of Item Category Determination
 Mapping Transaction Types & Sales doc Processing from R3 ‡ CRM

• Activity Management
 Business Activity / Task
 Activity Monitor

• Partner Processing
 Partner determination Procedure

• Action Profile

• Pricing Fundamental (SAP CRM)
 Configuration setting for Pricing Procedure
 Pricing fundamentals (ECC 6.0)
 Condition technique and pricing procedure determination (ECC 6.0)

• CRM Billing
 CRM Billing Fundamental (ECC 6.0)

CR300 --- CRM SALES

• Introduction to Sales architecture
• The Sales cycle Process flow
• Opportunity Management
• Process flow of Quotation and Order Management
• Configuration of Quotation and Order Management
• Special Functions in Quotation and Order Management
• Product determination/Material determination
• Product Listing/Exclusion
• Free goods pricing Procedure
• Copying Controls
• Contract Management
• Credit Management {integration with FSCM}
• Business Transactions processing for order types
• Mapping Sales Transaction between SAP ERP ‡ SAP CRM

CR600 --- CRM MARKETING

• Overview on SAP CRM Sales
• Marketing planning & Campaign management
• Marketing Calendar
• Marketing Analytics
• Segmentation of business partners
• Segment builder tool
• Personalized mail forms
• External list management
• Product Proposal
• Lead Management

CR700 --- CRM SERVICES

• Overview of CRM Service
• Installed Base Management and Individual Objects
• Service Agreements and Service Contracts
• Service Plans
• Service Order Management
• Product Service Letters
• Complaints and Returns Management
• Warranty Claim Services
• Inhouse repair Management
• Case Management
• Couponing
• Mapping Transaction from R3 ‡ CRM

CR500 --- CRM MIDDLEWARE

• CRM Middleware Overview
• Concepts of Middleware
• Administration Console
• Adapter Objects
• Initial Load, Delta Load
• BDocs and types of BDocs
• BDoc Modeler
• Data exchange between R/3 backend
• Monitoring and Error handling


WORKSHOP (Project Orientation Training)

• Overview of Solution Manager
• ASAP Methodology
• Project Orientation – Business Blue Print
• Functional Specification
• End user Manual
• Resume Preparation
• Overview on ABAP Concepts
• Business Cases

---------------------------------------------------------------------------------------------
Job Prospects
The average salary ranges from approx. £50,698 per year for SAP CRM Consultant to £134,383 per year for SAP CRM Lead/Manager.
There are currently 9,000+ open SAP CRM jobs in UK ranging from CRM end-users to consultants to managers.
For more details, please visit Uplatz Resourcing

------------------------------------------------------------------------------------------------------