30 Hours
Online Instructor-led Training
USD 500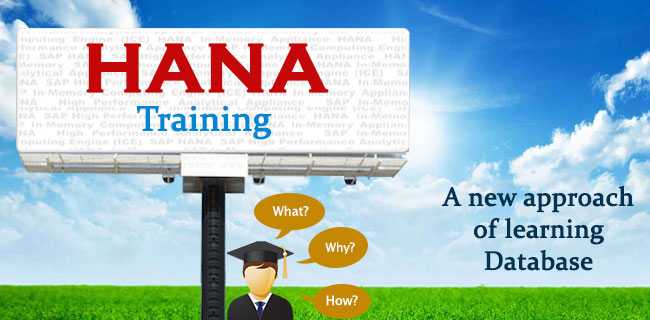 About this Course
SAP HANA is a next Generation In Memory Database and Application Development platform.

Deployable on premise or in the cloud, SAP HANA is an in-memory data platform that lets you accelerate business processes, deliver more business intelligence, and simplify your IT environment. By providing the foundation for all your data needs, SAP HANA removes the burden of maintaining separate legacy systems and siloed data, so you can run live and make better business decisions in the new digital economy.
Benefits:
Simplify IT with ONE platform for trans-analytic applications. Use SAP HANA to analyze live data to support real-time business, while reducing data redundancy, footprint, hardware, and IT operations.


Run Anywhere
Modernize your data center with flexible SAP HANA deployment options – public or private
cloud, tailored data center, or 1000+ certified appliance configurations from 13 leading vendors

SAP HANA transforms database management. It processes transactions and analytics in-memory on a single data copy – to deliver real-time insights from live data. And simplify operations with modern tools and a secure, rock-solid foundation.

SAP HANA Administration
Course Details & Curriculum
SAP HANA technology Overview Architecture & Key Technologies
SAP HANA Hardware and software Requirements
HANA TDI Approach v/s HANA Appliance
SAP HANA Implementation Strategy
SAP HANA Sizing
SAP HANA Editions
Hana Tools Look & Feel
SAP HANA Installation of SPS12
DATA Replication Technologies for SAP HANA
SAP HANA DB Backup Strategy
HANA UPDATE & Refresh Strategy
Native Hana Transport
Overview of SAP HANA Cockpit
Analyzing logs & Traces
Monitor & Troubleshoot SAP HANA
Maintaining Users & Authorizations in HANA Security
Career Path
SAP BASIS Level of Understanding
Basics of SQL
Knowledge of Linux
Knowledge on ETL
FAQ
Will this course help me clear the certification exam?
+
Which is better - Self-paced training or Instructor-led training?
+
What if I miss a class?
+
How will I execute the practical?
+
Is the course material accessible after completion of the course?
+
Is there any offer/discount that I can avail?
+
Will I get a refund if I cancel my enrollment?
+
What if I have queries after completion of the course?
+