40 Hours
Online 1:1 Instructor-led Training
USD 560 (USD 1120)
Save 50% Offer ends on 30-Jun-2019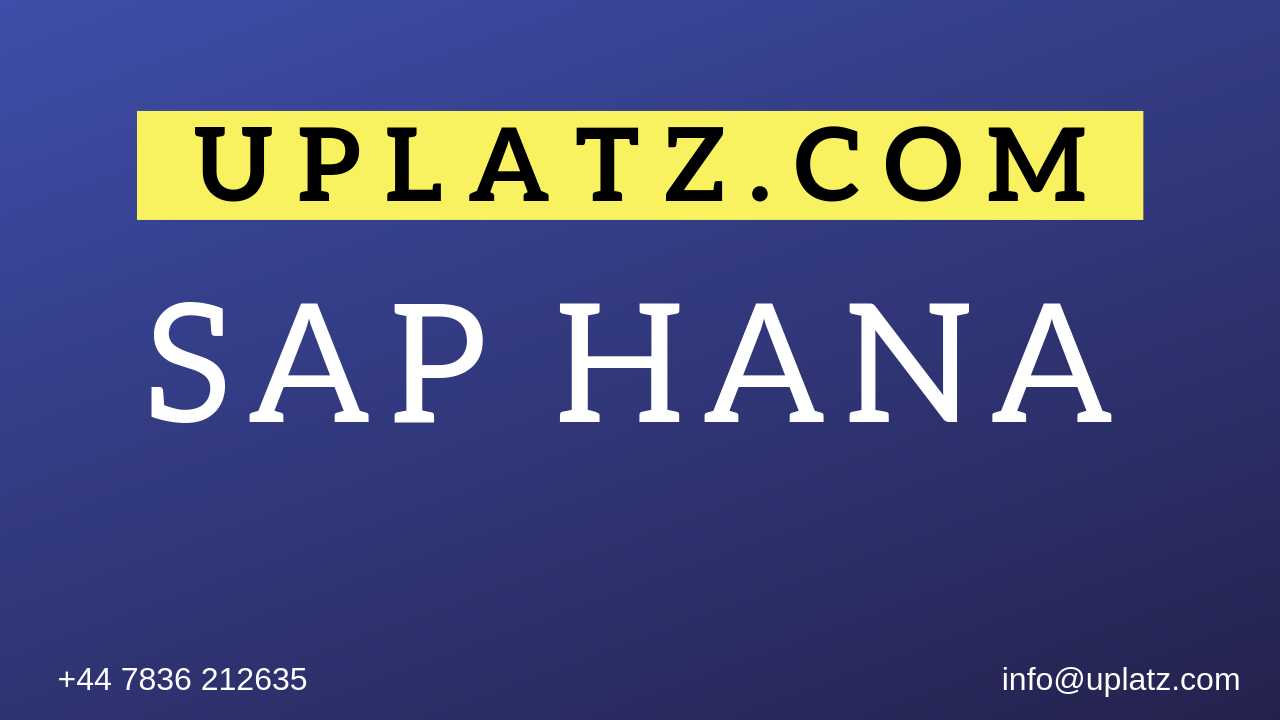 About this Course
SAP HANA stands for High Performance Analytic Appliance; it is modern age in-memory database, simple and cost-effective SAP ERP application solution, which is combination of Hardware and Software. HANA can be deployed on premises or cloud according to the business types and needs. SAP HANA provides fast access and monitoring of real time analytical data therefore most of the MNCs are moved towards SAP HANA platform to run their business more effectively.
SAP HANA or High Performance Analytic Appliance is an In-Memory computing combines with a revolutionary platform to perform real time analytics and deploying and developing real time applications. It is also combined with pre tuned server, networking hardware and storage. HANA includes In-Memory Database to store the data and analyze larger volumes of transactional data in real time, an embedded web server and a control repository for application development. Some of the real time cases and uses of SAP HANA include:

· Telecom Networks Monitoring and Optimization
· Fraud Detection and Security
· Forecast and Profitability Reports
· Retail and Supply Chain Optimization
· Energy Usage Monitoring and Optimization

SAP HANA is the current age in-memory database SAP ERP Application software. It provides real-time analytical data reporting, monitoring, and fastest data access and can be installed on-premises or cloud. It is a simple and cost-effective SAP ERP Business Solution; therefore, most of the companies are now moved on the SAP HANA in-memory database platform.
As SAP HANA is now being more popular among company owners and most of the MNCs have started using SAP HANA therefore the demand of HANA Consultants and SAP HANA training are increased. As the demand of SAP HANA online training is more as compared to other ERPs therefore we at Uplatz started to provide you a high quality hands on practical and project based SAP HANA training by using modern online tutoring methods.
We are always motivated to update our SAP HANA course curriculum which will meet the current industrial demand. Apart from using best online SAP HANA tutoring methods, we also have great focus on providing you the best SAP HANA certified tutors. Our tutors are highly experienced and skilled to explain you the concepts as well as to clear your doubts.
If you are planning to learn SAP HANA course, Uplatz will be best online site for you to learn SAP HANA under the guidance of Expert Certified Tutors who have great skills to make all the topics very easily understandable for you. SAP HANA Training provides you an awesome opportunity to dive deep down into the world of big data and massive parallel computing.
This course is the instructor-led course giving you better experience than classroom learning at extremely affordable cost. Server access is included to give you the practical experinece. Constant assignments will be given and mock interviews will be held.
Our professional SAP HANA tutors have great teaching experience and are able to provide 100% practical-based HANA training thus making the entire SAP HANA course content easily understandable for you.

After successful completion of SAP HANA training, you are advised to appear and qualify the SAP HANA certification exam. This will also help you validate your practical knowledge and skills in the field of SAP HANA. On completion of SAP HANA Training, you will be able to apply advanced concepts on SAP HANA into your work and can really push your career to new dimensions.
By the end of this training you will:
- Acquire the relevant knowledge required to clear the SAP certification exam.
- Understand the core concepts of SAP's HANA module.
- Be able to apply the knowledge learned to progress in your career as a SAP HANA consultant.
Objectives of SAP HANA Training course


·
SAP HANA basics, features, architecture and terminology involved

·
Work on HANA Studio Modelers and gain expertise in modelling

·
Master SAP HANA Interface, client and connectivity

·
SAP HANA administration activities like managing users, storage and security

·
Master System Replication, data provisioning and ABAP Data flow

·
Configuring, reporting, monitoring & dashboard creation using SAP HANA

·
Work on real time and complex HANA projects

·
Writing SAP HANA queries and performance tuning

·
Ability to pass SAP HANA Certification


Target Audience
SAP HANA online training & certification program is beneficial for SAP Functional consultant, ABAP developers, Business Analyst, or any interestedgraduate/post graduate who computer literate and have basic understanding of SQL are most suitable audience for SAP HANA course.


SAP HANA Certification
After successful completion of SAP HANA Training, students are recommended to appear and qualify the SAP HANA Certification Exam to explore their market value and to switch to premium jobs.

SAP HANA Exam Certification Codes For Associate level:

Exam Name: SAP Certified Technology Associate - SAP HANA 2.0
Exam Code: C_HANATEC_14
Exam Name: SAP Certified Development Associate - SAP HANA 2.0 SPS02
Exam Code: C_HANADEV_14
Exam Name: SAP Certified Development Associate - SAP HANA 2.0 SPS03
Exam Code: C_HANADEV_15

SAP HANA Module has two levels of examinations:

1. Associate (Fresher)

Exam Duration: 180 Minutes
Total Questions: 80
Types of Questions: MCQs, multiple response matching questions and answers


2. Professional ( Experienced)

Exam Duration: 180 Minutes
Total Questions: 80
Types of Questions: MCQs, multiple response, scenario based andmatching questions and answers.

-----------------------------------------------------------------------------------------
SAP HANA Training
Course Details & Curriculum
SAP HANA Introduction and Architecture

· SAP HANA Overview
· SAP In-Memory Computing Overview
· SAP HANA Features
· Look and Feel of SAP HANA
· SAP HANA Architecture
· SAP HANA Landscape
· Structure of SAP in-memory computing studio
· Row Store and Column Store Architecture
· Multi Version Concurrency Control (MVCC)
· Persistence Layer in In-memory Computing Engine
· Back-up & Recovery
· High-Availability
· Distributed System
· Data Provisioning Options in SAP HANA
· Reporting Options on SAP HANA
· Security Options in HANA
· SAP HANA Appliance Model
· How SAP HANA Appliance is delivered
· Sizing Considerations
· SAP HANA – Licensing Options
· SAP HANA Project Implementation
· Overview: Key Activities
· Key Roles
· Key points to keep in mind
· Administration
· Modeling
Basic Modeling

· Modeling Overview
· Terminology
· SAP HANA Studio Features
· Information Modeler: Overview
· Installation and Configuration of HANA Studio
· Prerequisites for Modeling
· Modeling Considerations
· Levels of Modeling
· Attribute Views
· Analytic Views
· Calculation Views
· Modeling Considerations
· Joins: Different types and when to use what.
· Where Clause Vs Constraint Filters
· HANA Studio Preview (use with caution)
· Impact of Query Execution
· Demo
· Modeling Suggestions
· Troubleshooting Modeling Issues
· Export and Import Models
Analytics Option on HANA

· HANA, Reporting Layer & Connectivity Options
· Reporting on HANA Clients
· Reporting on HANA Open Interfaces
· Prerequisites for reporting on SAP HANA
· IMDB client installation
· Setting up new connection
· SAP Business Objects BI 4.0 - Overview & tool comparison
· Analytical Reporting on HANA
· Relational Reporting on HANA
· Reporting on HANA: (Demo Included)
· Native Excel Interface via ODBO
· SAP Business Object Analysis (Office Edition)
· SAP Business Object Explorer
· Semantic Layer Approach
· IDT Vs Universe Designer
· SAP BOBJ WebI
· SAP BOBJ Xcelsius
· SAP Crystal Reports
· Enterprise Vs 2011
· Front end tool reporting considerations on top of HANA
· Troubleshooting common reporting issues
Advanced Data Modeling with SQL Script

· Modeling Overview
· Calculation View: Overview & Types
· SQL Script: Motivation
· SQL Script: Overview
· SQL Script Processing
· Data Type Extensions
· Scalar Data type
· Table type
· Functional Extension
· Concept
· Procedure
· Procedure Calls
· Implementing Functional logic
· Operators
· SQL Script/Built in Function
· Debugging and troubleshooting SQL Script
· Restrictions for SQL Statements
Data Provisioning: Data Services and Sybase Replication

· Data Provisioning: Overview
· Data Provision Options
· Trigger Based Replication
· ETL-Based Replication
· Log-Based Replication
· SAP Business Objects Data Services 4.0 and HANA
· ODP enabled Extractor Support in Data Services 4.0
· HANA and Data Service Process flow for SAP and non-SAP data
· How it works for SAP System
· How it works for Non-SAP System
· Advanced Data Service Options
· column tables creation
· Bulk Loader Options & Config
· Bulk extracting Options & Config
· Log Based Replication Overview
· Technical System Landscape
· User Administration
· Authorization
· Installing Log Based Replication
· Updating the SAP Host Agent on Source System
· Installing Sybase Components
· Deploying the SAP HANA Load Controller and Related Components
· Configuring Log Based Replication
· Configuring Sybase Components
· Sybase Replication Server
· Enterprise Connect Data Access (ECDA)
· Sybase Replication Agent
· Test Sybase Components
· Configure SAP HANA Load Controller on SAP HANA System
· Initializing Replication using SAP HANA Load Controller
SAP HANA 6 - Data Provisioning: SAP LANDSCAPE TRANSFORMATION (SLT)

· Data Provisioning Overview
· SAP Landscape Transformation Set-up
· Options for SLT Landscape Installation
· Post Installation Step
· Concept of SLT Replication
· Architecture and Key Building Block
· Technical Requirement and System Set-up Information for LT Replication Server
· Key Benefits of LT Replicating Server
· Transformational Capabilities
· Operations
Security and User Management in HANA

· Creation of Users
· Creation of Roles
· Assignment Privileges to Roles
· Assignment of Users to roles

-----------------------------------------------------------------------------------------


Career Path
SAP HANA training & Certification will open many new job opportunities for you, some of them are:


1.
SAP HANA Consultant

2.
SAP HANA Front-end and/or Back-end User

3.
SAP HANA Technical Support

4.
SAP HANA Application Developer
5. SAP HANA Administrator

-----------------------------------------------------------------------------------------

Job Prospects
The average salary ranges from approx. £55,509 per year for SAP HANA Consultant to £162,752 per year for SAP HANA Lead/Manager.
There are currently 20,000+ open SAP HANA jobs in UK ranging from HANA end-users to consultants to managers.
For more details, please visit Uplatz Resourcing

------------------------------------------------------------------------------------------------------

FAQ
Why is SAP HANA Training beneficial?
+
How long does it take to learn SAP HANA?
+
What are the prerequisites to learn SAP HANA?
+
Can I learn SAP HANA without any technical qualification?
+
Which coding language is required to learn SAP HANA?
+
What sub-modules are part of SAP HANA?
+
What is SAP HANA Global Certification Exam code?
+
Why should I choose Uplatz for SAP HANA Online Training?
+
What will the students learn in SAP HANA training?
+
What are the functions of SAP HANA Consultant?
+
Why companies are motivated to choose SAP HANA?
+
Where you can learn SAP HANA?
+