BUY THIS COURSE (USD 45 USD 139)
Career Path - Project Manager
Learn Agile Project Management skills, track work to be completed, set deadlines and delegate tasks to your project team, identify any potential risks
( add to cart )
Save 68% Offer ends on 30-Nov-2023
Preview Career Path - Project Manager course
Price Match Guarantee
Full Lifetime Access
Access on any Device
Technical Support
Secure Checkout
&nbsp Course Completion Certificate
Bestseller
Trending
Job-oriented
Instant access
Students also bought -
400 Hours
USD 45
1781 Learners
150 Hours
USD 45
1680 Learners
120 Hours
USD 45
612 Learners
Completed the course? Request here for Certificate.
ALL COURSES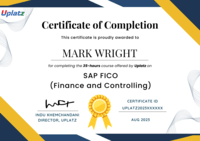 Courses included in Project Manager Career Path Program by Uplatz are:
1) Project Management Fundamentals
2) PRINCE2 Fundamentals
3) Product Management
4) Microsoft Project (beginner)
5) Microsoft Project (basic to advanced)
Project Management is one of the most intricate fields of work out there. There is no space for monotony in this vocation. A project manager (PM) is responsible for leading a complete project through initiation, planning, execution, control, and completion.
The roles of a project manager will include: taking part in the creation process, executing the project, preparing communication methods, finding solutions to recurring issues, monitoring the project's progress from start to finish, ensure your team is actually getting things done, and many more. A project manager is responsible for connecting each project to the business world and to its clients.
Key roles & responsibilities of a project manager are:
1) Lead both your team members, such as those who report to you, as well as stakeholders on the project and communicate well to senior members of your team about the project's status and what needs to be done next.
2) Manage risk and be adept at budgeting, scheduling, and planning to ensure the project stays on track and that it is finished on time and there are no project overruns.
3) Have expert knowledge of the industry you work in, as well as project management tools, techniques, and methodologies.
4) Follow a standard process, as defined by a professional project management organisation, such as the APM (Association for Project Management) or the PMI (Project Management Institute)
5) Initiate the project - check feasibility and work out budgets, teams and resources
6) Carry out planning - this will include setting goals and objectives, defining roles and producing schedules and timelines for tasks - in accordance with the needs of your client. Some tools, such as Gantt charts, can be used to create a visual project plan
7) Select, lead and motivate your project team from both internal and external stakeholder organisations
8) Manage the project - which includes coordinating the project team to keep them on track and keeping the project on budget
9) Perform monitoring and control activities in order to track the progress of the project
10) Identify and manage risks to ensure delivery is on time
11) Implement any necessary changes throughout the process
12) Report regularly to management and the client
13) Close the project - including evaluating successes and challenges to enhance learning for your next project.
Uplatz provides this end-to-end program on Project Management thus helping you pick up the track to become a successful Project Manager / Program Manager.
Course/Topic 1 - Project Management Fundamentals - all lectures
In this first video tutorial on Project Management, you will learn an Introduction to Project Management, its history, benefits, an illustration to Gantt Chart, a view on some of the International standards of practicing Project Management, an overview of what exactly is a project, its relationship with General Project Management practices, Triple Constraints Theory and the role of a Project Manager and its characteristics in Project Management.

In this second session of Project Management, you will understand what is Process Oriented Project Management, Project Processes and its categories, what is Project Management and Product Oriented processes and an overview of different process groups and its knowledge areas.

In this lecture, you will learn what is a process in Project Management and its different stages in a Project Life cycle, how a process is linked to different process groups. Also, you will learn about the different Knowledge Areas related to a Process in Project Management.

In this video, you will learn about the Project Planning Process and Group Processes and the different processes involved in managing the Scope and Scheduled Constraints.

In this last session on Project Management Fundamentals, you will learn about the different constraints involved like Cost, Quality, Resources, Risks, etc. in a Process Group and how it helps in managing the entire project in Project Management.
Course/Topic 2 - PRINCE2 Fundamentals - all lectures
Lecture 1 - Introduction to PRINCE2

Lecture 2 - PRINCE2 Principles

Lecture 3 - Aspects - Phases - Conclusion
Course/Topic 3 - Product Management - all lectures
Lecture 1 - Introduction to Product Management

Lecture 2 - Deep-dive into Product Management
Course/Topic 4 - Microsoft Project - all topics
Lecture 1 - Getting Started with Microsoft Project

Lecture 3 - Modifying Project Information

Lecture 4 - Views and Tables

Lecture 8 - Work Resources

Lecture 9 - Material and Cost Resources

10 - Calendar Work Resource
Course/Topic 5 - Microsoft Project (basic to advanced) - all lectures
Lecture 1 - Overview of Microsoft Project

Lecture 3 - The Back Stage

Lecture 4 - Views and Tables in MSP

Lecture 5 - Project Initiation - part 1

Lecture 6 - Project Initiation - part 2

Lecture 7 - Tasks and Milestones

Lecture 8 - Linking Tasks

Lecture 9 - More on Linking Tasks

Lecture 10 - Creating Resources

Lecture 11 - Creating Resources - advanced

Lecture 12 - Assigning Resources

Lecture 13 - Applying Cost Tables

Lecture 14 - Units Work Duration

Lecture 15 - Handy Features - revised

Lecture 16 - Critical Path Identification

Lecture 17 - Resource Leveling

Lecture 19 - Updating Project - part 1

Lecture 20 - Updating Project - part 2

Lecture 21 - Updating Project - part 3

Lecture 23 - Controlling - part 1

Lecture 24 - Controlling - part 2

Lecture 25 - Reports Pack
The goals are:
· To measure accuracy, productivity and success
· To stick with the ethical standards and legal necessities
· To maintain confidential information
· To report any unethical behaviour and more
TheProject ManagerCertification ensures you know planning, production and measurement techniques needed to stand out from the competition.
A project manager is the person responsible for leading a project from its inception to execution. This includes planning, execution and managing the people, resources and scope of the project.
A project manager usually reports to a manager, director, or vice president of project management although they can report to any manager in the hierarchy.
Product managers generally earn more than project managers. They also tend to oversee more higher-level decisions than project managers, making product managers the more senior position. You might see more variety in your work through project management, as you'll likely be assigned to several different projects.
You may not have all the skills right now, but with dedication, perseverance, and passion, anyone can learn to be an outstanding project manager. Based on our experience, we'll answer some questions you may have, whether you are a fresh graduate or someone in the early stages of their career.
Uplatz online training guarantees the participants to successfully go through the Project Manager Certification provided by Uplatz. Uplatz provides appropriate teaching and expertise training to equip the participants for implementing the learnt concepts in an organization.
Course Completion Certificate will be awarded by Uplatz upon successful completion of the Project Manager online course.
The Project Manager draws an average salary of $120.000 per year depending on their knowledge and hands-on experience.
Project management is definitely a good career with high salaries and plenty of variety at work, but it's also a demanding job that can be highly stressful at times.
Project Management Job Growth and Talent Gap 2017–2027. Demand over the next 10 years for project managers is growing faster than demand for workers in other occupations.
Essentially, a project manager who's qualified has the temperament, skills, and experience needed for the position. Typical requirements generally include at least three years of experience in a related role, the ability to communicate, formal training, and a PMP certification.
Note that salaries are generally higher at large companies rather than small ones. Your salary will also differ based on the market you work in.
Project Manager.
EUC Project Manager.
Project Management
1.How to define a project?
A project defines a set of task or activities commenced to create a product, services or results.
2. What is Project Management?
Project management is applying the knowledge & skills of the project team members comprising the project manager, application of tools and techniques available to make sure the assigned tasks are completed properly.
3. Define projects?
Projects are started for a specific or a set of related purposes.
4. Define Program?
A program is known as a set of projects managed in a synchronized manner to achieve the different parts of a goal.
5. Define Portfolio?
A portfolio refers to a collection of projects, programs and even other portfolios that is useful in an organization in order to achieve high business purpose.
6. Define stakeholder?
The stakeholder is any person, organization or an entity whose interest is affected, in a positive or negative manner, because of the project. The stakeholders influence is an important issue to take into consideration in any planning and then during execution of it as well.
7. Define organizational influences?
Every organization has a certain method of doing things, protocol about how things can best be done, etc. and these things certainly influences the planning and execution processes. These influences are taken into account when assessing, planning for activities related to projects. They are often mentioned as organizational environmental factors.
8. Define project life cycle?
A project has separate phases when the range of activities required to carry out the project work differ.
9. What is plan baselines?
Baselines are known as the final version of all plans before the project execution starts. Project baselines are the beginning versions of all related plans of a project, such as time schedule, the quality plan, the communication plan and more stuff related to project. This acts as the reference against which project performance is measured.
10. Define processes?
A process is a definite way of doing things. The process not only define the actions to be taken but also knows the sequence they have to be carried out.
11. Define Process Groups?
Process groups defines a set of processes that are applicable to various stages of a project.
12. What are the knowledge areas relevant to doing a project?
Scope management, time and cost management knowledge project integration knowledge area, Procurement and risk management areas are the vital support areas.
13. Expand RAID?
RAID also known as risks, assumptions, issues and dependencies.
14. Define SOW?
SOW also known as the statement of work refers to a detailed description of the outcomes of the project in terms of products, services or results are expected from the project.
15. What does Scope management contain?
The Scope management involves gathering requirements, defining scope, creating WBS, verifying scope and controlling the scope.
Q1. What are the payment options? A1. We have multiple payment options: 1) Book your course on our webiste by clicking on Buy this course button on top right of this course page 2) Pay via Invoice using any credit or debit card 3) Pay to our UK or India bank account 4) If your HR or employer is making the payment, then we can send them an invoice to pay. Q2. Will I get certificate? A2. Yes, you will receive course completion certificate from Uplatz confirming that you have completed this course with Uplatz. Once you complete your learning please submit this for to request for your certificate https://training.uplatz.com/certificate-request.php Q3. How long is the course access? A3. All our video courses comes with lifetime access. Once you purchase a video course with Uplatz you have lifetime access to the course i.e. forever. You can access your course any time via our website and/or mobile app and learn at your own convenience. Q4. Are the videos downloadable? A4. Video courses cannot be downloaded, but you have lifetime access to any video course you purchase on our website. You will be able to play the videos on our our website and mobile app. Q5. Do you take exam? Do I need to pass exam? How to book exam? A5. We do not take exam as part of the our training programs whether it is video course or live online class. These courses are professional courses and are offered to upskill and move on in the career ladder. However if there is an associated exam to the subject you are learning with us then you need to contact the relevant examination authority for booking your exam. Q6. Can I get study material with the course? A6. The study material might or might not be available for this course. Please note that though we strive to provide you the best materials but we cannot guarantee the exact study material that is mentioned anywhere within the lecture videos. Please submit study material request using the form https://training.uplatz.com/study-material-request.php Q7. What is your refund policy? A7. Please refer to our Refund policy mentioned on our website, here is the link to Uplatz refund policy https://training.uplatz.com/refund-and-cancellation-policy.php Q8. Do you provide any discounts? A8. We run promotions and discounts from time to time, we suggest you to register on our website so you can receive our emails related to promotions and offers. Q9. What are overview courses? A9. Overview courses are 1-2 hours short to help you decide if you want to go for the full course on that particular subject. Uplatz overview courses are either free or minimally charged such as GBP 1 / USD 2 / EUR 2 / INR 100 Q10. What are individual courses? A10. Individual courses are simply our video courses available on Uplatz website and app across more than 300 technologies. Each course varies in duration from 5 hours uptop 150 hours. Check all our courses here https://training.uplatz.com/online-it-courses.php?search=individual Q11. What are bundle courses? A11. Bundle courses offered by Uplatz are combo of 2 or more video courses. We have Bundle up the similar technologies together in Bundles so offer you better value in pricing and give you an enhaced learning experience. Check all Bundle courses here https://training.uplatz.com/online-it-courses.php?search=bundle Q12. What are Career Path programs? A12. Career Path programs are our comprehensive learning package of video course. These are combined in a way by keeping in mind the career you would like to aim after doing career path program. Career path programs ranges from 100 hours to 600 hours and covers wide variety of courses for you to become an expert on those technologies. Check all Career Path Programs here https://training.uplatz.com/online-it-courses.php?career_path_courses=done Q13. What are Learning Path programs? A13. Learning Path programs are dedicated courses designed by SAP professionals to start and enhance their career in an SAP domain. It covers from basic to advance level of all courses across each business function. These programs are available across SAP finance, SAP Logistics, SAP HR, SAP succcessfactors, SAP Technical, SAP Sales, SAP S/4HANA and many more Check all Learning path here https://training.uplatz.com/online-it-courses.php?learning_path_courses=done Q14. What are Premium Career tracks? A14. Premium Career tracks are programs consisting of video courses that lead to skills required by C-suite executives such as CEO, CTO, CFO, and so on. These programs will help you gain knowledge and acumen to become a senior management executive. Q15. How unlimited subscription works? A15. Uplatz offers 2 types of unlimited subscription, Monthly and Yearly. Our monthly subscription give you unlimited access to our more than 300 video courses with 6000 hours of learning content. The plan renews each month. Minimum committment is for 1 year, you can cancel anytime after 1 year of enrolment. Our yearly subscription gives you unlimited access to our more than 300 video courses with 6000 hours of learning content. The plan renews every year. Minimum committment is for 1 year, you can cancel the plan anytime after 1 year. Check our monthly and yearly subscription here https://training.uplatz.com/online-it-courses.php?search=subscription Q16. Do you provide software access with video course? A16. Software access can be purchased seperately at an additional cost. The cost varies from course to course but is generally in between GBP 20 to GBP 40 per month. Q17. Does your course guarantee a job? A17. Our course is designed to provide you with a solid foundation in the subject and equip you with valuable skills. While the course is a significant step toward your career goals, its important to note that the job market can vary, and some positions might require additional certifications or experience. Remember that the job landscape is constantly evolving. We encourage you to continue learning and stay updated on industry trends even after completing the course. Many successful professionals combine formal education with ongoing self-improvement to excel in their careers. We are here to support you in your journey! Q18. Do you provide placement services? A18. While our course is designed to provide you with a comprehensive understanding of the subject, we currently do not offer placement services as part of the course package. Our main focus is on delivering high-quality education and equipping you with essential skills in this field. However, we understand that finding job opportunities is a crucial aspect of your career journey. We recommend exploring various avenues to enhance your job search: a) Career Counseling: Seek guidance from career counselors who can provide personalized advice and help you tailor your job search strategy. b) Networking: Attend industry events, workshops, and conferences to build connections with professionals in your field. Networking can often lead to job referrals and valuable insights. c) Online Professional Network: Leverage platforms like LinkedIn, a reputable online professional network, to explore job opportunities that resonate with your skills and interests. d) Online Job Platforms: Investigate prominent online job platforms in your region and submit applications for suitable positions considering both your prior experience and the newly acquired knowledge. e.g in UK the major job platforms are Reed, Indeed, CV library, Total Jobs, Linkedin. While we may not offer placement services, we are here to support you in other ways. If you have any questions about the industry, job search strategies, or interview preparation, please dont hesitate to reach out. Remember that taking an active role in your job search process can lead to valuable experiences and opportunities.