BUY THIS COURSE (USD 14)
Overview Course - SAP S/4HANA Logistics
Learn about Material Management, Supply Chain, Demand Planning, Sourcing and Procurement, Contract Management, and Manufacturing.
( add to cart )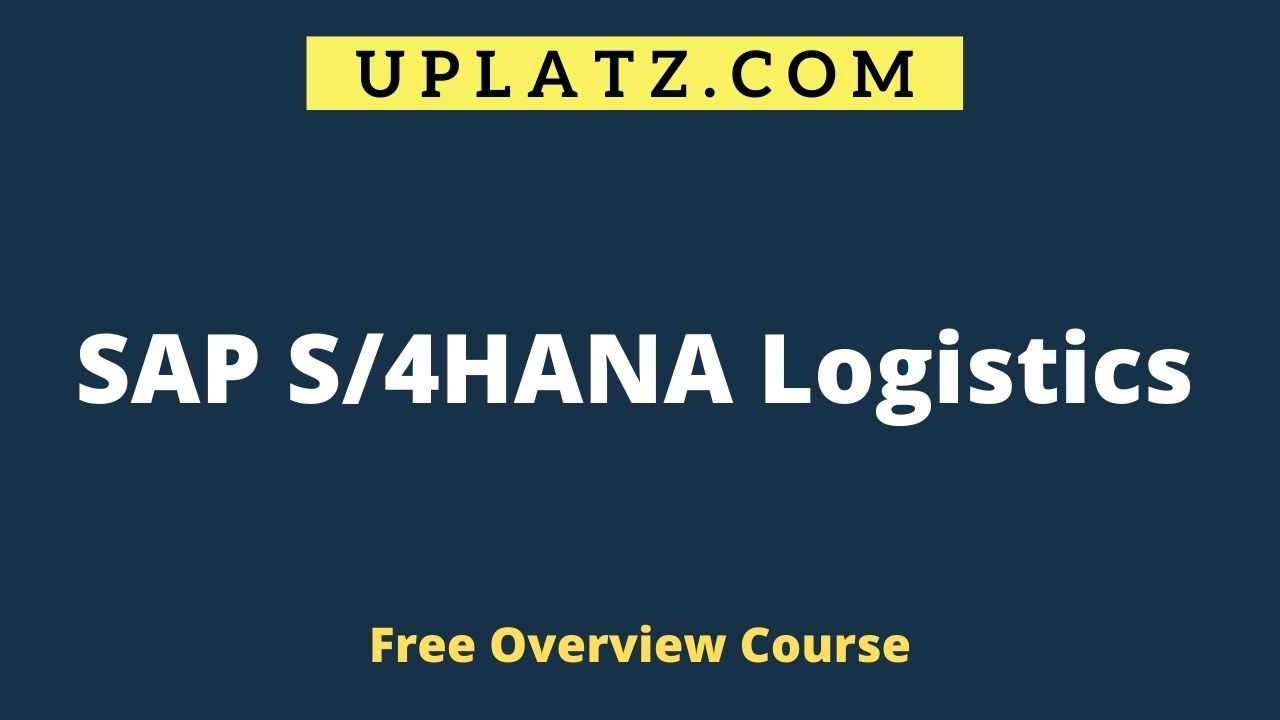 View Course Curriculum
Price Match Guarantee
Full Lifetime Access
Access on any Device
Technical Support
Secure Checkout
&nbsp Course Completion Certificate
Overview
Trending
Job-oriented
Instant access
Students also bought -
25 Hours
USD 41
533 Learners
30 Hours
GBP 29
449 Learners
32 Hours
USD 41
1643 Learners
Completed the course? Request here for Certificate.
ALL COURSES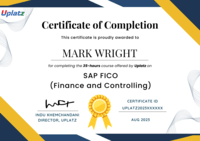 This is an overview course on SAP S/4HANA Logistics while the complete detailed-level SAP S/4HANA Logistics course is available at - https://training.uplatz.com/online-it-course.php?id=sap-s4hana-logistics-55. SAP S/4HANA Logistics is a one stop solution for new-age Material Management, Production Planning, Supply Chain Management, as well as sales and distribution of organizations with medium to large infrastructure. SAP S/4HANA Logistics is also known as SAP S4HANA Enterprise Management which includes all the modules not only the Finance but also the modules like SAP MM, SAP SD and now they are available as a part of SAP S4HANA as a product and enterprise management is the complete business street. SAP S/4HANA Logistics uses the data processing ability of S4HANA to provide simpler, faster and more efficient approaches to logistics and supply chain problems.
With Uplatz SAP S/4 HANA Logistics course you will learn-
· End-to-end concepts of SAP S/4HANA Logistics & Enterprise Management.
· Become an SAP S/4HANA Consultant.
· Prepare for SAP S/4HANA Logistics Certification Exam.
· SAP S/4HANA Architecture & Enterprise Structure.
· SAP S/4HANA MM, SD, PP modules.
· Step-by-step execution of all functionalities of SAP S/4HANA Logistics.
· In-depth knowledge of all configurations in SAP S/4HANA Enterprise Management.
· SAP S/4HANA Sales.
· SAP S/4HANA Best Practices.
· Data Migration to SAP S/4HANA.
· Demonstration of practical scenarios and examples from industry.
Course/Topic - SAP S/4HANA Logistics overview - all lectures
In this video, you will be introduced to SAP S/4HANA, where it started and where it is now. You will be also introduced to what was the sudden need for SAP to look at the new product launch and how data plays an important role in that. You will also learn the challenges faced by the IT & businesses and what were the pain points.

In the session, you will have a deeper knowledge of the evolution of S/4HANA from 1973 to till now. You will be introduced to four sets of services offered in SAP S/4HANA. Further, you will be preceded with what are the differences in old and new way data analytics technology. You will also learn about the user experience.

In this video, you will be introduced to SAP Fiori Apps types, core functions of SAP S/4HANA and its business scope. You will also learn about the new improved functionality of S/4 HANA, i.e. system data module and user experience. Further, you will be preceded with principles of S/4 HANA.
The SAP S/4HANA Logistics Certification ensures you know planning, production and measurement techniques needed to stand out from the competition.
SAP Certification is an online and onsite program that enables your organization to keep pace with the latest SAP technology advances. With this program, certification courses and exams can be accessed on-demand for maximum flexibility and convenience. Exams can also be taken onsite.
The "SAP Certified Application Associate - SAP HANA 2.0 (SPS05)" certification exam verifies that the candidate possesses the required knowledge in the area of the SAP HANA 2.0 based on SPS05 for the profile of an SAP HANA application consultant.
There are three different levels of SAP certifications: associate, specialist, and professional.
Uplatz online training guarantees the participants to successfully go through the SAP S/4HANA Logistics Certification provided by Uplatz. Uplatz provides appropriate teaching and expertise training to equip the participants for implementing the learnt concepts in an organization.
Course Completion Certificate will be awarded by Uplatz upon successful completion of the SAP S/4HANA Logistics online course.
The SAP S/4HANA Logistics draws an average salary of $111,000 per year depending on their knowledge and hands-on experience.
SAP certification is one of the best career options for those candidates who dream to become a successful SAP HANA consultant. There is no doubt that SAP HANA job offers complete job satisfaction with a higher salary range.
SAP S/4HANA Logistics is the unofficial name for the collection of supply chain management lines of business (LoBs) that run on the SAP HANA platform. Sometimes referred to as "Logistics with SAP S/4HANA" and "SAP Simple Logistics," it was built to run on SAP HANA and utilizes the SAP Fiori user interface.
Note that salaries are generally higher at large companies rather than small ones. Your salary will also differ based on the market you work in.
SAP Security Specialist.
SAP Logistics Execution.
Manager, IT Operations.
SAP SCM/TM Consulting Manager.
1.What are the responsibilities of a logistician?
The Primary role of a logistician is to:
Manage the supply chain
Transportation and storage of material
Transportation management
2. What is the different position a person can work in the logistic industry?
A person can work under various positions:
Logistic Director
Logistic Supervisor
Logistic Associate
Logistic Engineer
Logistic Coordinator
Logistic Specialist
Logistic Analyst
3. Explain what is supply chain management?
Supply chain management includes an integrated approach of planning, implementing and controlling the flow of information, materials and service from raw material to the finished good for the ultimate distribution to the customer.
4. Explain what is Advance Shipping Notice (ASN)?
It is a notice that is sent to the customer about the detailed shipment information in advance of delivery. It may also include carrier and shipment related information like time of shipment and expected time of arrival.
5. Explain what is an Anti-Dumping duty?
Anti-dumping duty is an import duty levied in cases where imported goods are priced at less than the normal price in the exporter's domestic market and cause material loss to the domestic industry of the importing country.
6. Explain what is LTL (Less than truckload)?
LTL (Less than Truckload) shipment is a contract between the shipper and transport owner. According to the contract, instead of the entire truck, the shipment is priced according to the weight of the freight and mileage within designated lanes.
7. Explain the term deadweight tonnage?
Deadweight tonnage is the difference between the laden and unlades weight of the ship. In other words, it is the weight of everything that ship carries except the ship itself.
8. Explain how to organize storage area for bulk items?
The storage place which has the facility of single, double or multiple depth locations,
Bulk storage in vertical or straight direction: It is the most common method of organizing the container; it is organized in a vertical direction piling the container over each other.
Bulk storage at angle: It is one of the solutions that can be applied in a situation when there is a limited place to accommodate containers. But it is applicable in special cases only, depending upon what material it carries.
9. Explain what is cross docking?
Cross docking is a process of unloading materials from an incoming semi-truck and loading directly into out-bounds trucks or trailers. It reduces handling costs, operating costs and the storage of inventory.
10. Explain what is TEU?
TEU stands for Twenty-foot Equivalent Unit. It is a method of calculating vessel load or capacity, in units of containers that are twenty feel long. For example, a 40ft long container measure 2TEUs.
11. What is the advice of shipment and advising bank?
Advice of shipment – It is a notice sent to a foreign buyer or local trader informing them that the shipment has processed forward and carried information about packing, routing, etc. A copy of the invoice is often sent with it and if recommended a copy of landing also attached along with that.
Advising Bank – Advising bank is a bank operating in the seller's country, that handles letters of credit in behalf of a foreign bank
12. Explain what is affreightment?
Affreightment is a contract between ship owner and merchant, where ship owner provides or rented the space in the ship to the merchant for an agreed amount and for a specific period. In this contract, merchant is liable for the payment whether or not the ship is ready for the shipment.
13. What does a bill of lading include?
A bill of lading includes following details
Name and complete address of shippers and receivers
Special account numbers or PO used between business for order tracking
Instruction for the carrier for secure delivery
Date of the shipment
Number of shipping units
Types of packaging that includes cartons, pallets, skids and drums
Description about the shipped items (common name & material of manufacture)
Declared value of the goods being shipped
Note included if there is any hazardous substance in it
Exact weight of the shipments – for multiple commodities, weight for each commodity is mentioned separately
Freight classification of the items shipped, according to NMFC (National Motor freight classification)
14. Explain what is blanket way bill?
A way bill which covers two or more consignment of freight is referred as blanket way bill.
15. What are the activities performed at an operational level in logistics'?
Various activities at operational level includes
Goods Receipt and Checking
Bulk Storage
Order Picking
Stock Replenishment
Order Marshalling
Load Scheduling
Returns
Availability of Personnel
Update of Stock
Completion of Documentation
16. Mention what is freight class based on?
Freight class is based on four factors
Density: Weight per cubic foot
Freight Stowability: width and length based on carrier mode rules
Ease of handling: Evaluation of the effort required in transporting
Liability: It includes liability to damage, breakability and perishability, freight price per pound and susceptibility of theft
17. Explain what is declared the value for carriage?
Declared value for carriage is the value of the goods, declared by the shipper on the bill of lading, to determine the limit of the carrier's liability or a freight rate.
18. Explain what is export declaration?
Export declaration is a government document that defines the goods to be supplied out of the country. This declaration should be filed by exporter to the U.S government.
19. Explain what are document against acceptance?
A document against acceptance are an arrangement or provision, where exporter instructs a bank to hand over shipping and title documents to the importer only if the importer agrees the accompanying bill of exchange or draft by signing it. This provision ensures that the buyer is legally bound to pay the full price to the exporter for the shipments, before ownership is transferred.
20. Explain what is the difference between document against acceptance and document against payment?
The difference between document against acceptance and document against payment is:
Document against payment: The document remains with bank and importers have to pay the exporter before they release the documents. In this payment is immediate, and document is released quickly
Document against acceptance: In this importer gives 30-45 days to bank to deduct the amount and then release the documents. In this provision, there is much risk, and if there is no sufficient balance in the account then, the process will get delayed.
Q1. What are the payment options? A1. We have multiple payment options: 1) Book your course on our webiste by clicking on Buy this course button on top right of this course page 2) Pay via Invoice using any credit or debit card 3) Pay to our UK or India bank account 4) If your HR or employer is making the payment, then we can send them an invoice to pay. Q2. Will I get certificate? A2. Yes, you will receive course completion certificate from Uplatz confirming that you have completed this course with Uplatz. Once you complete your learning please submit this for to request for your certificate https://training.uplatz.com/certificate-request.php Q3. How long is the course access? A3. All our video courses comes with lifetime access. Once you purchase a video course with Uplatz you have lifetime access to the course i.e. forever. You can access your course any time via our website and/or mobile app and learn at your own convenience. Q4. Are the videos downloadable? A4. Video courses cannot be downloaded, but you have lifetime access to any video course you purchase on our website. You will be able to play the videos on our our website and mobile app. Q5. Do you take exam? Do I need to pass exam? How to book exam? A5. We do not take exam as part of the our training programs whether it is video course or live online class. These courses are professional courses and are offered to upskill and move on in the career ladder. However if there is an associated exam to the subject you are learning with us then you need to contact the relevant examination authority for booking your exam. Q6. Can I get study material with the course? A6. The study material might or might not be available for this course. Please note that though we strive to provide you the best materials but we cannot guarantee the exact study material that is mentioned anywhere within the lecture videos. Please submit study material request using the form https://training.uplatz.com/study-material-request.php Q7. What is your refund policy? A7. Please refer to our Refund policy mentioned on our website, here is the link to Uplatz refund policy https://training.uplatz.com/refund-and-cancellation-policy.php Q8. Do you provide any discounts? A8. We run promotions and discounts from time to time, we suggest you to register on our website so you can receive our emails related to promotions and offers. Q9. What are overview courses? A9. Overview courses are 1-2 hours short to help you decide if you want to go for the full course on that particular subject. Uplatz overview courses are either free or minimally charged such as GBP 1 / USD 2 / EUR 2 / INR 100 Q10. What are individual courses? A10. Individual courses are simply our video courses available on Uplatz website and app across more than 300 technologies. Each course varies in duration from 5 hours uptop 150 hours. Check all our courses here https://training.uplatz.com/online-it-courses.php?search=individual Q11. What are bundle courses? A11. Bundle courses offered by Uplatz are combo of 2 or more video courses. We have Bundle up the similar technologies together in Bundles so offer you better value in pricing and give you an enhaced learning experience. Check all Bundle courses here https://training.uplatz.com/online-it-courses.php?search=bundle Q12. What are Career Path programs? A12. Career Path programs are our comprehensive learning package of video course. These are combined in a way by keeping in mind the career you would like to aim after doing career path program. Career path programs ranges from 100 hours to 600 hours and covers wide variety of courses for you to become an expert on those technologies. Check all Career Path Programs here https://training.uplatz.com/online-it-courses.php?career_path_courses=done Q13. What are Learning Path programs? A13. Learning Path programs are dedicated courses designed by SAP professionals to start and enhance their career in an SAP domain. It covers from basic to advance level of all courses across each business function. These programs are available across SAP finance, SAP Logistics, SAP HR, SAP succcessfactors, SAP Technical, SAP Sales, SAP S/4HANA and many more Check all Learning path here https://training.uplatz.com/online-it-courses.php?learning_path_courses=done Q14. What are Premium Career tracks? A14. Premium Career tracks are programs consisting of video courses that lead to skills required by C-suite executives such as CEO, CTO, CFO, and so on. These programs will help you gain knowledge and acumen to become a senior management executive. Q15. How unlimited subscription works? A15. Uplatz offers 2 types of unlimited subscription, Monthly and Yearly. Our monthly subscription give you unlimited access to our more than 300 video courses with 6000 hours of learning content. The plan renews each month. Minimum committment is for 1 year, you can cancel anytime after 1 year of enrolment. Our yearly subscription gives you unlimited access to our more than 300 video courses with 6000 hours of learning content. The plan renews every year. Minimum committment is for 1 year, you can cancel the plan anytime after 1 year. Check our monthly and yearly subscription here https://training.uplatz.com/online-it-courses.php?search=subscription Q16. Do you provide software access with video course? A16. Software access can be purchased seperately at an additional cost. The cost varies from course to course but is generally in between GBP 20 to GBP 40 per month. Q17. Does your course guarantee a job? A17. Our course is designed to provide you with a solid foundation in the subject and equip you with valuable skills. While the course is a significant step toward your career goals, its important to note that the job market can vary, and some positions might require additional certifications or experience. Remember that the job landscape is constantly evolving. We encourage you to continue learning and stay updated on industry trends even after completing the course. Many successful professionals combine formal education with ongoing self-improvement to excel in their careers. We are here to support you in your journey! Q18. Do you provide placement services? A18. While our course is designed to provide you with a comprehensive understanding of the subject, we currently do not offer placement services as part of the course package. Our main focus is on delivering high-quality education and equipping you with essential skills in this field. However, we understand that finding job opportunities is a crucial aspect of your career journey. We recommend exploring various avenues to enhance your job search: a) Career Counseling: Seek guidance from career counselors who can provide personalized advice and help you tailor your job search strategy. b) Networking: Attend industry events, workshops, and conferences to build connections with professionals in your field. Networking can often lead to job referrals and valuable insights. c) Online Professional Network: Leverage platforms like LinkedIn, a reputable online professional network, to explore job opportunities that resonate with your skills and interests. d) Online Job Platforms: Investigate prominent online job platforms in your region and submit applications for suitable positions considering both your prior experience and the newly acquired knowledge. e.g in UK the major job platforms are Reed, Indeed, CV library, Total Jobs, Linkedin. While we may not offer placement services, we are here to support you in other ways. If you have any questions about the industry, job search strategies, or interview preparation, please dont hesitate to reach out. Remember that taking an active role in your job search process can lead to valuable experiences and opportunities.