BUY THIS COURSE (USD 17 USD 41)
SAP Ariba - Contract Management
Learn how to deal with buyers, vendors and suppliers by handling various aspects of contracts management etc.
( add to cart )
Save 59% Offer ends on 31-Dec-2023
Preview SAP Ariba - Contract Management course
View Course Curriculum
Price Match Guarantee
Full Lifetime Access
Access on any Device
Technical Support
Secure Checkout
&nbsp Course Completion Certificate
Bestseller
Trending
Job-oriented
Instant access
Students also bought -
10 Hours
USD 17
54 Learners
10 Hours
USD 17
303 Learners
10 Hours
USD 17
120 Learners
Completed the course? Request here for Certificate.
ALL COURSES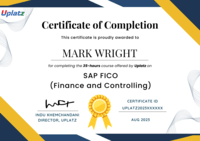 SAP Ariba Contract Management is an integrated and efficient solution for companies that deal with buyers, vendors and suppliers by handling various aspects of contracts management - define the payment terms, legal documents, workflow, and other mutual agreements, etc.
The Ariba Supply Chain Network makes Suppliers/Vendors/Buyers onboarding very easy.
With Ariba Contract Management, companies can:
a) Manage procurement and sales contracts, IP licenses, internal agreements
b) Automate and accelerate the entire contract lifecycle
c) Standardize and control contract development
d) Collaborate with all stakeholders
e) Strengthen operational, contractual, and regulatory compliance
Ariba Contract Management is well integrated with Ariba network and hence sharing contractual documents and information is easy and secured. Ariba provides integration with SAP ERP.
This is a comprehensive course by Uplatz on SAP Ariba Contract Management.
At a high level this course covers:
a) Introduction to Ariba Contract Management,
b) Application Orientation,
c) Creating Contract Workspace,
d) Working on Contracts,
e) Approving and Executing Contracts,
f) Managing Contracts,
g) Creating Contract Requests,
h) Running Contracts Pre-Packaged Reports
Course/Topic - SAP Ariba Contracts - all lectures
This video will demonstrate the features of SAP Ariba Contract Compliance. We'll discuss blanket purchase orders, no-release orders, and release orders. We'll also discuss the types of spend that fit with the different methods of contracting.

This video will show the use of messaging in Contract Workspaces to capture contract communications into the contract history. Capturing these communications into the contract history improves the contract administration process, reduces risk in managing contracts and improves contract audits.

Watch this SAP Ariba Contracts video to see how a unified platform supporting the end-to-end contracts lifecycle management process helps customers cut turnaround times and eliminate savings leakages while managing obligations and exposure.

This SAP Ariba contract management tutorial enables you to share, modify, approve, and execute any type of contracts online to eliminate inefficient, costly, long contract cycles.

The goal of this video is to demonstrate how Contract Owners can utilize Amendment amendments for expired contracts versus completing an Administrative or Renewal amendment. This provides a simpler process to update the expiration date and publish the contract immediately without having to first create an Administrative or Renewal amendment.

In SAP Ariba solutions, the project types for "request"— such as Sourcing Request and Contract Request— provide many benefits. In this webinar, we'll discuss the different request types, the template configuration, and the process from request to official project. A spotlight will also be shown on the Master Data Manager and how data from external ERP systems such as SAP ERP Central Component (SAP ECC), can be easily configured and used.

In this Tutorial, you will learn about the main agreement.

Centralize management of default clauses and pre-approved alternatives. The Clause Library is intended to help you manage and reuse contract clauses. The Clause Library is a knowledge repository, and as such, is located in the Knowledge Areas.
• Learn how to manage procurement and sales contracts, IP licenses, internal agreements, and more
• Learn how to automate and accelerate the entire contract lifecycle
• Learn how to standardize and control contract development
• Learn how to deal with strengthen operational, contractual, and regulatory compliance
Contracts Introduction

Workspaces

Working on Contracts

Approving and Executing

Managing Amendments

Search-Delete and Contract Requests

Main Agreements

Clause Library
This SAP Ariba Contract Management training course is designed for clearing the SAP Certified Application Associate-SAP Ariba Contractsexam.
The SAP Ariba Contract Management Course module the participants learn about Contract management solutions. In the SAP Ariba Contract Management course, the participants will learn to enhance compliance, reporting and administration process using the software solution. This seems to be an essential learning for all SAP Ariba module users.
SAP Ariba Contract Management Certification is an important benchmark in becoming an SAP Ariba Contract Manager as the course covers varied aspects of contracts management. SAP Ariba Contract Management tutorial helps the participants to learn all the key concepts of SAP Ariba Contract management such as procurement management and sales contracts, IP licenses, internal agreements, contract development and thus attaining a unique SAP certification. SAP Ariba Contract Management course offers complete information about Ariba Contract management, contract workspace, application orientation and other concepts thus making the participant a skilled SAP Ariba Contract Manager.
Uplatz online training helps the participants to successfully go through the SAP Ariba Contract Management certification provided by SAP. Uplatz provides appropriate teaching and expertise training to equip the participants with skills for implementing the learnt concepts in an organization.
Uplatz Course Completion Certificate will be awarded upon the completion of the SAP Ariba Contract Management course training.
The SAP Ariba Contract Management certification exam verifies that the participants possess basic knowledge in SAP Ariba Contract management. This SAP Ariba Contract Management certification exam validates that the participant has an overall understanding about this Ariba Contract Management consultant profile, and able to implement the knowledge practically in projects.
Below given are the certification details of SAP Certified Application Associate -SAP Ariba Contracts
• Certification Level: Associate
• Exam Name: SAP Certified Application Associate- SAP Ariba Contracts
• Exam Code: C_ARCON_2005
• Exam Mode: Online
• Total Number of Questions: 80
• Pass Score: 68%
• Time Duration: 180 Minutes
• Exam Price: $550
The SAP Ariba Contract Manager draws an average salary of $91,415 per year depending on the knowledge and hands-on experience. The SAP Ariba Contract Manager job roles are in high demand and make a rewarding career.
The SAP Ariba Contract Administrator are recognized across the globe. The involvement of the SAP Ariba contract management tool kit in many companieshelp the participants to find a job opportunity easily. The leading companies hire SAP Ariba Contract Managerconsidering their efficiency in reducing financial riskin an organization.
The learners earn most beneficial SAP Ariba Contract certification through our expert training and course curriculum. Being SAP Ariba certified is definitely valuable credential and adds value to every organization.
The SAP Ariba Contract Management is targeted to those participants who are from business background and excel as SAP Ariba Contract consultant
The following are the job titles:
• SAP Contract Administrator
• SAP Contract Associate
• SAP Contract Consultant
• SAP Ariba Contract Assistant
• Contract Professional
The SAP Ariba Contract Management certification program helps the participants to get placed in reputed MNCs and organizations.
Q:1 What is the Ariba system?
SAP Ariba is an American software and information technology services company located in Palo Alto, California. It was acquired by German software maker SAP SE for $4.3 billion in 2012.
Q:2 What are active and Passive Components?
ACTIVE.COMPONENTS
The components which produce the energy in the form of current or voltage are called as active components.
Example: transistors etc,.
PASSIVE.COMPONENTS
The components which stores the energy in the form of current or voltage are called as passive components.
Example: inductors, resistors, capacitors, etc.
Q:3 Without any training on domain with out any document only with the help of build screen is it possible to write test cases.
Yes it is possible to write the test cases with the screen nut only the happy flow of the test cases can be written. in order to write behaviuoral testing you need to know the exact functionality of the software either written in document or through the training.
Q:4 What is the difference between an interface and abstract class?
An Interface contains only the definition / signature of functionality, and if we have some common functionality as well as common signatures, then we need to use an abstract class. By using an abstract class, we can provide behavior as well as functionality both in the same time. Another developer inheriting abstract class can use this functionality easily, as they would only need to fill in the blanks.
Q:5 Is SAP purchases Ariba?
Yes, SAP purchased Ariba Inc. in May 2012 for about $4.3 billion. As of July 2014, roughly 1.5 million companies use the Ariba Network, according to SAP.
Q:6 What is the real difference between SAP MM, SRM and Ariba?
SAP MM deals with whole material management solution which includes procurement and inventory management.
SAP SRM is a enterprise buyer professional software, where it links customer and supplier directly . End customer can create Carts and purchase order gets created as sap ecc backend.
SAP Ariba is helpfull in outsourcing quotation similar to our government tender outsourcing and it helps to collect the quoted quotation and process effectively and based on the quotation selected, ECC MM can create purchase contracts.
Q:7 What is the Ariba business network?
Ariba is the creator and provider of the Ariba Network, a cloud-based B2B marketplace where buyers and suppliers can find each other and do business within a single, networked platform.
Q:8 What is Ariba Discovery?
Ariba Discovery is the premier service for matching business buyers and sellers globally, where US$5 billion in annual business postings meet over one million sellers on the world's largest and most trusted business commerce network.
Q:9 What are the features of SAP Ariba?
1.Supply.chain.collaboration
2.Strategic.sourcing
3.Procurement
4.Contract.management
5.Spend.analysis
6.Supplier.management
7.Financial.supply.chain.management
8.Invoice.management
9.Dynamic.discounting
10.Payments
11.Supplier.discovery
12.Strategic.sourcing
13. Ariba Exchange
Q:10 What are the benefits of SAP Ariba?
SAP Ariba provides cloud-based solutions to make it easier for businesses to collaborate and compete. Installation requires no costly hardware or software, and no upgrades are expected on the user's behalf. Companies can simply access it on a multi-tenant platform through a user-friendly interface, wherever they may be, or whatever browser they are using. It can also be integrated to any existing ERP or back-office system as it extends their functionality, and allows users to share processes and collaborate with trading partners towards a more competitive business commerce.
SAP Ariba offers spend management solutions and expertise that reveals everything about a company's spending habits and uses that knowledge to help users negotiate better deals. Users are also connected to a diverse network of high-quality suppliers who can lower costs for goods and services while minimizing risks while ensuring compliance. There is also the financial chain management which utilizes new capabilities, intelligence, and global reach to transform liabilities into strategic assets.
With SAP Ariba, users now have a simple, smart, and open way to connect all systems and stakeholders through the powerful global Ariba Network. Being part of this network enables users to reduce costs, mitigate risks, and get products to the market thanks to comprehensive solutions such as the integration of sourcing and product design teams, item cost tracking, contract compliance enhancement, supply availability tracking and assessment, and reduction of excess inventory, among many others.
Q:11 What are Ariba's products?
Ariba sells separate "business commerce" products for buyers and sellers on the Ariba network. Here's a sampling:
>Buyers—Spending Visibility, Sourcing, Contract Management, Procure-to-Pay, T&E + Supplier Management
>Sellers—"Discovery Service" (to find new buyers), Contract Management for Sales, Order and Catalog solutions
Q:12 Why does a Spot Quote look different than a normal Ariba Discovery response?
Buyers use Ariba Sourcing to create a Spot Quote event and purchase order in their ERP back-end system. When a seller gets a Spot Quote RFQ from Ariba Discovery, their response goes back to the buyer through Ariba Sourcing, not Ariba Discovery, which is why the user interface looks different than a normal Discovery response.
Q:13 Where does Ariba fit in SAP's evolving cloud strategy?
The four areas of the SAP cloud application story are: money, people, customer and suppliers. (Business ByDesign is kind of its own category.) Just as SuccessFactors is the core of the "people" segment, Ariba will constitute the core of the "suppliers" category. In addition, as part of SAP's enterprise cloud strategy (i.e., applications, platform, infrastructure), Ariba will serve as a new "business network" category, connecting suppliers, customers and partners.
Q:14 What is Ariba's pitch?
Ariba's view: "Simplified connectivity, dramatic improvements in process efficiency, enhanced visibility and status into key orders, deliveries, invoices, payments and other vital business commerce activities." Simplicity will be the key word going forward. You'll hear Ariba (and now SAP) execs extoll the similarities between consumer-driven commerce (i.e. Amazon, eBay) and Ariba's commerce network.
Q1. What are the payment options? A1. We have multiple payment options: 1) Book your course on our webiste by clicking on Buy this course button on top right of this course page 2) Pay via Invoice using any credit or debit card 3) Pay to our UK or India bank account 4) If your HR or employer is making the payment, then we can send them an invoice to pay. Q2. Will I get certificate? A2. Yes, you will receive course completion certificate from Uplatz confirming that you have completed this course with Uplatz. Once you complete your learning please submit this for to request for your certificate https://training.uplatz.com/certificate-request.php Q3. How long is the course access? A3. All our video courses comes with lifetime access. Once you purchase a video course with Uplatz you have lifetime access to the course i.e. forever. You can access your course any time via our website and/or mobile app and learn at your own convenience. Q4. Are the videos downloadable? A4. Video courses cannot be downloaded, but you have lifetime access to any video course you purchase on our website. You will be able to play the videos on our our website and mobile app. Q5. Do you take exam? Do I need to pass exam? How to book exam? A5. We do not take exam as part of the our training programs whether it is video course or live online class. These courses are professional courses and are offered to upskill and move on in the career ladder. However if there is an associated exam to the subject you are learning with us then you need to contact the relevant examination authority for booking your exam. Q6. Can I get study material with the course? A6. The study material might or might not be available for this course. Please note that though we strive to provide you the best materials but we cannot guarantee the exact study material that is mentioned anywhere within the lecture videos. Please submit study material request using the form https://training.uplatz.com/study-material-request.php Q7. What is your refund policy? A7. Please refer to our Refund policy mentioned on our website, here is the link to Uplatz refund policy https://training.uplatz.com/refund-and-cancellation-policy.php Q8. Do you provide any discounts? A8. We run promotions and discounts from time to time, we suggest you to register on our website so you can receive our emails related to promotions and offers. Q9. What are overview courses? A9. Overview courses are 1-2 hours short to help you decide if you want to go for the full course on that particular subject. Uplatz overview courses are either free or minimally charged such as GBP 1 / USD 2 / EUR 2 / INR 100 Q10. What are individual courses? A10. Individual courses are simply our video courses available on Uplatz website and app across more than 300 technologies. Each course varies in duration from 5 hours uptop 150 hours. Check all our courses here https://training.uplatz.com/online-it-courses.php?search=individual Q11. What are bundle courses? A11. Bundle courses offered by Uplatz are combo of 2 or more video courses. We have Bundle up the similar technologies together in Bundles so offer you better value in pricing and give you an enhaced learning experience. Check all Bundle courses here https://training.uplatz.com/online-it-courses.php?search=bundle Q12. What are Career Path programs? A12. Career Path programs are our comprehensive learning package of video course. These are combined in a way by keeping in mind the career you would like to aim after doing career path program. Career path programs ranges from 100 hours to 600 hours and covers wide variety of courses for you to become an expert on those technologies. Check all Career Path Programs here https://training.uplatz.com/online-it-courses.php?career_path_courses=done Q13. What are Learning Path programs? A13. Learning Path programs are dedicated courses designed by SAP professionals to start and enhance their career in an SAP domain. It covers from basic to advance level of all courses across each business function. These programs are available across SAP finance, SAP Logistics, SAP HR, SAP succcessfactors, SAP Technical, SAP Sales, SAP S/4HANA and many more Check all Learning path here https://training.uplatz.com/online-it-courses.php?learning_path_courses=done Q14. What are Premium Career tracks? A14. Premium Career tracks are programs consisting of video courses that lead to skills required by C-suite executives such as CEO, CTO, CFO, and so on. These programs will help you gain knowledge and acumen to become a senior management executive. Q15. How unlimited subscription works? A15. Uplatz offers 2 types of unlimited subscription, Monthly and Yearly. Our monthly subscription give you unlimited access to our more than 300 video courses with 6000 hours of learning content. The plan renews each month. Minimum committment is for 1 year, you can cancel anytime after 1 year of enrolment. Our yearly subscription gives you unlimited access to our more than 300 video courses with 6000 hours of learning content. The plan renews every year. Minimum committment is for 1 year, you can cancel the plan anytime after 1 year. Check our monthly and yearly subscription here https://training.uplatz.com/online-it-courses.php?search=subscription Q16. Do you provide software access with video course? A16. Software access can be purchased seperately at an additional cost. The cost varies from course to course but is generally in between GBP 20 to GBP 40 per month. Q17. Does your course guarantee a job? A17. Our course is designed to provide you with a solid foundation in the subject and equip you with valuable skills. While the course is a significant step toward your career goals, its important to note that the job market can vary, and some positions might require additional certifications or experience. Remember that the job landscape is constantly evolving. We encourage you to continue learning and stay updated on industry trends even after completing the course. Many successful professionals combine formal education with ongoing self-improvement to excel in their careers. We are here to support you in your journey! Q18. Do you provide placement services? A18. While our course is designed to provide you with a comprehensive understanding of the subject, we currently do not offer placement services as part of the course package. Our main focus is on delivering high-quality education and equipping you with essential skills in this field. However, we understand that finding job opportunities is a crucial aspect of your career journey. We recommend exploring various avenues to enhance your job search: a) Career Counseling: Seek guidance from career counselors who can provide personalized advice and help you tailor your job search strategy. b) Networking: Attend industry events, workshops, and conferences to build connections with professionals in your field. Networking can often lead to job referrals and valuable insights. c) Online Professional Network: Leverage platforms like LinkedIn, a reputable online professional network, to explore job opportunities that resonate with your skills and interests. d) Online Job Platforms: Investigate prominent online job platforms in your region and submit applications for suitable positions considering both your prior experience and the newly acquired knowledge. e.g in UK the major job platforms are Reed, Indeed, CV library, Total Jobs, Linkedin. While we may not offer placement services, we are here to support you in other ways. If you have any questions about the industry, job search strategies, or interview preparation, please dont hesitate to reach out. Remember that taking an active role in your job search process can lead to valuable experiences and opportunities.