BUY THIS COURSE (USD 17 USD 41)
SAP HCM (Human Capital Management)
You'll get comprehensive training on SAP HCM course is designed to cover all the concepts of SAP HR and the elements of SAP HR.
( add to cart )
Save 59% Offer ends on 31-Dec-2023
Preview SAP HCM (Human Capital Management) course
View Course Curriculum
Price Match Guarantee
Full Lifetime Access
Access on any Device
Technical Support
Secure Checkout
&nbsp Course Completion Certificate
Job-oriented
Trending
Best Service
Instant access
Students also bought -
15 Hours
USD 17
1850 Learners
10 Hours
USD 17
2122 Learners
25 Hours
USD 17
2185 Learners
Completed the course? Request here for Certificate.
ALL COURSES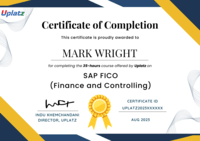 SAP HCM (Human Capital Management), also called SAP HR (Human Resource), is one of the most popular and demanding SAP ERP modules that plays very important role in the monitoring and management of entire Human Resource operations like Payroll, Recruitment, Performance management and Termination, Time & General Administration processes of any organisation.
SAP HCM is a comprehensive business solution to automate, streamline and optimize the various HR processes of a company, from recruit to retire. SAP HCM ERP allows one to organize a structure HR process system in a work station. Many tasks can be automated thus reducing manual work and increasing productivity.
HCM consists of many sub-modules, the key ones are:
1) Recruitment - This component facilitates the end-to-end recruitment process of a company.
2) Personnel Administration - Personnel administration is often considered the backbone of the SAP HCM module. And rightfully so. It is in this space that employees are hired, all their information is stored and their employment life cycle is recorded.
3) Organizational Management - This component is the basis for various business and HR processes, as well as for workflows. It is here where the organizational plan (a functional structure of an organization) is created and managed.
4) Time Management - Time management is the SAP HCM component that facilitates the planning, recording and valuation of employees' working times.
5) Payroll - SAP provides a robust payroll solution to calculate gross earnings, deductions and net pay in accordance with legal as well as company-specific policies.
6) Objective Setting and Appraisals - There are two dimensions to implementing this component: The designing of the appraisal template and the mapping of the end-to-end appraisal process.
7) Training and Events Management - This SAP HCM component enables you to plan and manage your company's training calendar and all booking-related activities.
8) Reporting - Reporting allows HR team to deliver comprehensive and up to date information of all its employees. The reporting tool also enables one to track the hierarchal structure followed in an organization.
9) Self-services (ESS and MSS) - The last but not the least sub-module of HCM solution is self-services. SAP HCM self-services allow employees and managers to be directly involved in HR processes, thus reducing cycle time, eliminating red tape and ensuring better service.
Uplatz is one of the most trusted SAP training providers and provides this comprehensive training on SAP HCM module. This SAP HCM course is designed to cover all the concepts of SAP HR and the elements necessary for learning the advanced topics in SAP HR.
Course/Topic - SAP HCM - all lectures
In this Video you will learn about Organization Management and its elements. You will also learn how to set up org structure in SAP HCM process.

In this lecture video session we learn about organisation management and also cover creation of folder transaction codes on SAP access.

In this lecture session we learn about setup number assignment for all plan versions in organisation management in SAP.

In this lecture session we learn about simple maintenance and also cover two ways in which we can create SAP HCM structure.

In this lecture session we learn about expert mode structure and also cover types of structure present in SAP HCM.

In this lecture session we learn about expert mode and also cover how we create the object in expert mode.

In this lecture session we learn about structure display and maintenance and organisation structure with work centers.

In this lecture session we learn about master data structure and also learn about enterprise structure in SAP HCM.

In this lecture session we learn about how we create name affixes and also cover creating possible academic tiles in HCM.

Personal Administration - Part 3- In this lecture video we learn about infotype and sub info type in SAP HCM.

In this lecture session we learn about contractual and corporate agreement in SAP HCM.

In this lecture session we learn about organisation data in SAP and also talk about master data maintenance.

In this lecture session we learn about performance assistants and also cover education and training.

In this lecture session we learn about p-30 maintenance and also talk about display and personal files.

In this lecture session we learn about workforce requirements and advertisement in SAP HCM.

In this lecture video we learn how to create a short profile in SAP HCM and also talk about all the steps of creating a short profile.

In this lecture session we learn about how we manage the initial data in recruitment.

In this lecture session we learn about enterprise compensation management in SAP HCM and also talk about enterprise compensation management.

In this lecture session we learn about compensation management and also cover compensation areas.

In this lecture session we learn about guidelines and also cover calculating methods in SAP HCM.

In this video session we learn about benefits models and also talk about health plans, insurance plans and saving plans in SAP HCM.

In this lecture session we learn about flexible benefits scheme attributes in SAP HCM and also talk about plan attributes in SAP.

In this video tutorial we learn about compensation of benefits and also cover insurance plan general data in SAP.

In this lecture session we learn about family members grouping modules in SAP and also cover the master data.

Lecture 25 - Employee Self Service & Management Self Service - ESS & MSS - Part 1

In this lecture session we learn about employees self services and management self services in SAP HCM.

In this lecture session we learn about training and event management in SAP and also cover the master data maintenance in HCM.

In this lecture session we learn about business event location switches and also cover how we create location in SAP HCM.

In this lecture session we learn about business event menus and also cover types of business event menus in SAP HCM.

In this session of SAP Payroll which is one of the key modules in SAP Human Capital Management. It is used to calculate the remuneration for each employee with respect to the work performed by him.

In this lecture session we learn about valuation of absences and also cover creating counting classes for valuation absences in SAP HCM payroll.

In this lecture video session we learn about assign wage type model for pay scale grouping for allowances in SAP HCM.

In this lecture video session we learn about assigning universal contribution grouping for universal contribution types and also cover professional tax in SAP.

In this lecture session we learn about SAP menu and also cover types of SAP menu in SAP HCM Payroll.

This video describes the SAP HCM Payroll configuration process and the wrappers around it.

In this lecture video session we learn about time management and work schedule in SAP HCM.

In this lecture session we learn about setting default values for the work schedule in SAP HCM.

In this lecture session we learn about work schedule rules in SAP and also talk about all rules of SAP HCM.

In this lecture session we learn about integration of SAP HR with FI in SAP HCM.

In this lecture video session we talk about "real time concepts" of SAP HCM module.

This video describes the Real-time LSMW (Legacy System Migration Workbench), a tool that supports single or periodic data transfer from non-SAP to SAP systems.
• Navigate confidently within SAP systems
• Describe how various business transactions are performed using the SAP ERP system
• Explain the integration points between applications within SAP ERP
• Actively participate in blueprint definition for your implementations
• Explain the main HCM Business Processes
• Configure Human Capital Management structures
• Customize the Personnel Structure
• Update the Organizational Structure
• Configure Wage Types
• Set up Default Wage Types
• Explain Customizing Procedures and Interfaces:
-Infotype Characteristics
-Screen Modifications
-Create Infotype Menus
-Create a Personnel Action
-Create a Dynamic Action
SAP HR-HCM Contents
1.Introduction to ERP and SAP
a. History of SAP
b. ERP Need and Advantages
c. Overview of Centralized and Decentralized System
d. Organizational structure in HR
e. Technology
f. Implementation Tools (Asap and Solution Manager)
g. System Landscape in 3 Tier Architecture
h. Roles and Responsibilities of a Consultant
i. Types of Projects
j. Change Transport System
k. Gap Analysis
l. Versions
m. Architecture in SAP HRM
n. Create Folders, Transaction codes
o. Adding to Favorites
p. Creating Users and Roles


2. Organizational Management in HR
a. Organizational Management Introduction
b. Structure in SAP HCM
c. Objects
d. Relationships
e. Structure of Relationships
f. Syntax of Relationship
g. Methods of Creating Org. Structure (Org.Units, Job, Position)
h. Simple Maintenance


3. Expert Mode
a. Organizational and Staffing
b. Editing of Objects and Relationships
c. Validity Period
d. Info type in OM
e. Plan version Definition and setting of New plan Versions
f. Custom Objects Number Ranges
g. Features in OM
h. Evaluation Paths
i. Integration Switches
j. Integration Reports between Organizational Management to Personnel Management OM to PA/PD
k. Reports in OM


4. Personnel Administration:
a. Structure in SAP HCM
b. Master Data Definition and its use in SAP HCM
c. Enterprise structure- Definition and Assignment
d. Company, Company Code
e. Personnel Area, Personnel Sub Area
f. Personnel structure Definition and Assignment
g. Employee Group
h. Employee Subgroup
i. Payroll Area and Control Record (with Retroactive Accounting Period)
j. Employee Attributes


5.Info types and Sub types
a. Features in SAP HCM importance and various feature configurations according to requirement
b. Number Ranges for Employee personnel numbers-internal & External with Feature Setup
c. Customizing User Procedures:
d. Configuration of Personnel actions Info group Action Menu
e. Hiring, Promotion, Transfer, Organizational Re- assignment, Termination
f. Info type Menus
g. Customizing User Interfaces:
h. Info type screen modifications
i. Administrator group & defaulting through feature
j. Date Specifications with Feature
k. Organizational key with feature
l. Discussion on business requirement in OM and PA modules in Combine for easy understanding of Real time Business Scenario.
m. PA Reports


6. Recruitment
a. Set up integration with other components
b. Create number ranges for applicant numbers
c. Choose number ranges
d. Workforce Requirements and Advertising
e. Create positions
f. Create media
g. Create recruitment instruments
h. Create addresses for recruitment instruments
i. Applicant Administration
j. Create personnel officer
k. Applicant Structure
l. Create applicant groups
m. Create applicant ranges
n. Create unsolicited application groups
o. Short Profile
p. Create standard text, Assign standard text
q. Applicant Selection
r. Change status texts, Create status reasons
s. Set permissible status reasons for each applicant status
t. Create priorities for vacancy assignment
u. PB10 - Initial data entry
v. Maintain - Vacancy PBAY


7. Enterprise Compensation management and Compensation management
a. Activate Enterprise Compensation Management
b. Define Stock Units
c. Define Stock Unit Conversion Rules
d. Define Reference Currency for Budgeting
e. Define Budget Types, Define Budget Periods
f. Set Budget Control Parameters


8.Compensation Areas and feature
a. Compensation Plans and Reviews
b. Define Eligibility Rule Variants
c. Define Eligibility Grouping Feature
d. Define Guideline Variants
e. Define Guideline Groupings
f. Plan Attributes
g. Define First Compensation Program Groupings
h. Define First Compensation Program Grouping Feature
i. Define Second Compensation Program Groupings
j. Define Second Compensation Program Grouping Feature
k. Long-Term Incentive Plans
l. Compensation Statements


10. Benefits
a. Define Benefit Area
b. Assign Currency to Benefit Area
c. Define Benefit Providers
d. Set Current Benefit Area
e. Define Flexible Benefits Scheme Attribute (FLEX)
f. Define Benefit Plan Types
g. Define Flexible Benefits Miscellaneous Plan Type Indicators (FLEX)
h. Assign Plan Type Attributes for Flexible Benefits (FLEX)
i. Define Benefit Plan Status
j. Define Employee Groupings, Define Employee Criteria Groups
k. Define Cost Groupings, Define Credit Groupings
l. Define Coverage Groupings, Define Employee Contribution Groupings
m. Define Employer Contribution Groupings
n. Health Plans. Insurance Plans, Savings Plans, Stock Purchase Plans
o. Credit Plans, Holiday Plans (FLEX) Claims
p. Flexible Administration, Define Administrative Parameters
q. Prerequisites and Corequisites, Benefits Adjustment Reasons
r. Define First Program Grouping, Define Second Program Grouping


11. Time Management
a. Introduction to time management time management process in HR
b. Domain HR and SAP HR time management differentiation a discussion
c. Positive and Negative Time Recording with Business Process Discussion
d. Public Holidays configuration of different types of Holidays
e. Holiday Calendar with Business scenarios Applicability with Enterprise Structure
f. Factory Calendar in HR Perspective
g. Grouping Personnel Sub Area & Employee Sub Group Grouping in Time Management
h. Work Schedules
i. Break Schedule
j. Daily work Schedules (with Variants-with Business Scenarios)
k. Period work schedules
l. Day types and Day type selection rules
m. ESG, Holiday calendar assignment for PSA


12.Work Schedule Rules
a. Introduction to Absences and Attendance
b. Absences quotas Configuration
c. Counting Rules for Absences/Attendances
d. Deduction Rules
e. Assignments of different rules in Absences/Attendances.
f. TMSTA, SCHKZ, WWEEK, WRKHR and QUOMO Features
g. Time Management Info type
h. Quota Updates:
i. Manual (PA30)
j. Through Report RPTQTAOO
k. Negative Time Recording Understanding of different Time Evaluation Schemas Used.
l. How to use Negative time Evaluation in the Organizations with different business scenarios.
m. Configured various PCR's for different requirements.


13. Payroll
a. Introduction to payroll- HR domain process and SAP HCM Process-discussion on understanding the same
b. Payroll area and Control Record (with Retroactive Accounting)
c. Generation of payroll periods- period and date modifiers (with different country fiscal year settings) Relevancy of this Time management
d. Payment date setup and modifications
e. ESG for CAP and PCR
f. Pay scale structure
g. Pay scale Area , Pay scale type, Pay scale Group, Pay scale level
h. Wage Types- concept, types & use of wage types


14.Wage Type Structure
a. Primary wage types/Standard/Master Wage Types
b. Secondary Wage types/Technical wage types
c. Custom Wage Types
d. Features used in payroll Wage types characteristics
e. Valuation of wage type (INVAL) --> Direct, Indirect
f. Wage type model and defaulting of WT model
g. Configuration of basic pay info type
h. Configuration of Recurring Payments and Deductions info type
i. Configuration of Additional Payments info type


15. Indian And International Payrolls
a. Configuration of INDIA specific payroll settings
b. Concepts of Allowance grouping for INDIA (RAP's)
c. Concepts of Basic salary for India
d. Overview pf Allowances of salary.
e. Perquisites of salary
f. Retrenchments and Holiday leaves


16.Statutory configuration on TAX, PF, ESI, Professional TAX
a. Statutory configuration on exemptions, HRA, Car & Conveyance etc.,
b. Maintain Income tax Slab Codes
c. Understanding of Processing Class, Cumulation Class and Evaluation Class
d. Understanding of Factoring concept with Business scenarios.
e. Understanding of Indian Payroll driver, payroll schema & India specific Payroll functions in SAP HCM
f. India specific reports and subsequent payroll activities.
g. Checking of payroll results
h. Understanding and customizing the Remunerations statement (HR Form editor)
i. Subsequent payroll activities:
j. Configuration of Country Specific Info types 0580 to 0590.
k. Payroll processing in SAP system
l. Payroll driver- For US & India. (with Reference to other countries too)
m. Off-Cycle payroll activities (0267)
n. Integration with Time and Payroll Modules
o. Hr with Fi Integration


17. Employee Self Service & Management Self Service (ESS & MSS)
a. Overview of ERP and Role of ESS in SAP ERP
b. Introduction - ESS and MSS, Portal functionality
c. Components of ESS


18. Training and Event Management
a. Difference: SAP Learning Solution - Training and Event Management
b. Plan Version Maintenance, Number Range Maintenance
c. Specify Attendance Types
d. Define Incompatible Attendance and Absence Types
e. Business Event Preparation
f. Define Cost Items, Define Time Schedule
g. Create Building Address,
h. Location, Organizers
i. Create Business Event Group
j. Create Business Event Type
k. Resource Management,
l. Control Elements, Create Resource Type
m. Day-to-Day Activities,
n. Recurring Activities


19.Integration HR with FI
a. Define symbolic accounts.
b. Defining wages types.
c. Mapping wages types to symbolic Accounts.
d. Mapping symbolic accounts to G/L.
e. Payroll posting with amount changes


20.SAP Real time Concepts
a. ASAP Methodology/Roadmap
b. Overview of Remedy/Radix Tool
c. Issue /Ticket Tracking system
d. Data Migration (Bapi, Idoc, Batch input)
e. LSMW
f. SAP Query
g. Transport creation
h. HR Tables
i. Payroll Generation
This SAP HCMtraining course is designed for clearing the SAP HCM Consultant exam. The completecourse content connects with the certification program and helps the participants to clear it with ease.
The SAP HCM Course module the participants learn about HCM ERP software. In the SAP HANA course, the participants will learn about the human resource management process. This seems to be an essential learning for all SAP HR and HCM module users.
SAP HCM Certification is an important benchmark in becoming a SAP HCM Consultant as the exam topic covers organization management configuration, HCM business processes, time and attendance management and payroll business processes. SAP HCM tutorial helps the participants to learn about HCMenterprise structure and thus attaining a unique SAP certification. SAP HCM course offers complete information about the HCM program thus making the participant a skilled SAP HCM Consultant.
The SAP HCM certification exam verifies that the participants possess basic knowledge and can prove their skills in the area of SAP Human Capital Management. This SAP HCM certification exam validates that the participant has an overall understanding about this consultant profile, and able to implement the knowledge practically in projects.
Uplatz online training guarantees the participants to successfully go through the SAP HCMcertification provided by SAP. Uplatz provides appropriate teaching and expertise training to equip the participants for implementing the learnt concepts in an organization.
Uplatz Course Completion Certificate will be awarded upon the completion of the SAP HCM course training.
Below given are the certification Details of SAP Certified Development Associate- SAP HCM with ERP 6.0 EhP7
• Certification Level: Associate
• Exam Name: SAP Certified Development Associate- SAP HCM with ERP 6.0 EhP7
• Exam Code: C_THR12_67
• Exam Mode: Online
• Total Number of Questions: 80
• Pass Score: 54%
• Time Duration: 180 Minutes
• Exam Price: $550
The SAP HCM Consultant draws an average salary of $70,526 per year depending on the knowledge and hands-on experience. The SAP HCM Consultant job roles are in high demand and make a rewarding career.
The SAP HCM Consultants are recognized across the globe. The increased usage of the SAP HCM concepts in many companieshelp the participants to find a job opportunity easily. The leading companies hire SAP HCM Consultant considering the skill of managing human resource management system in an organization. The Learners earn most beneficial SAP HCMcertification through our expert training and course curriculum. Being SAP HCMcertified is definitely valuable credential and adds value to every organization.
The SAP HCM certification is targeted to those participants who are from SAP ERP and business consulting background and excel as SAP HCM consultant
The following are the job titles:
• SAP HCM Associate
• SAP HCM Expert
• SAP HCM Functional Consultant
• HCM E-recruitment consultant
The SAP HCM certification program helps the participants to get placed in reputed MNC's and organizations.
Q1) How can you say that SAP HR is better than PeopleSoft HR
| | | |
| --- | --- | --- |
| S.No | SAP HR | PeopleSoft HR |
| 1 | Various structures of data are allowed | Limited structures of data are allowed |
| 2 | Restrictions on the employees data make it secure | For restrictions, additional programming or modeling is to be done |
| 3 | It is dynamic in nature | Only a few features are dynamic |
Q2) What do you mean by Human resources?
These are basically the people that build up workforce for a business or for an organization and are mainly responsible for the successful accomplishment of many important task. Depending upon the size and type of business, there can be more or less human resources in an arena. Human resources can also be referred as labor, manpower, skills or simply people in an organization.
Q3) Which structure in the SAP HR provides information regarding the job functions of employees?
Personnel Structure
Q4) What do you mean by the term Fringe benefits?
These are basically the benefits that are provided to the employees of an organization in addition o their salary or compensation. It is not always necessary that they are provided directly in the form of salary. Generally, they are non-wage compensation. The common examples of fringe benefits include:
1.Providing.accommodation.to.the.employee
2.Providing.health.benefits.such.as.insurance
3.Income.protection
4.Vacation
5.Profit.sharing
6.Loan.contribution
7. Proving benefits to the family of employees such as education loans
Q5) What do you mean by the term rewards management?
It is basically a strategy with the help of which an organization make sure that workers who performed well in their responsibilities and tasks are rewarded in affair manner and are provided various benefits. The rewards can be in the form of a gift, salary hike, promotion and so on. There are certain benefits can be assured by an organization with effective rewards management approach. The biggest one is they can simply motivate other employees to handle their jobs reliably and easily.
Q6) What are the various methods that can be considered when it comes to recording time in the SAP HR machine?
This can be done with the help of any of the following methods:
1. By using cross application time sheet
2.By using time administrators online
3. By ESS application
Q7) Can you tell any one component of the rewards management?
It can be remuneration. The same can be considered as the tips and advice that is offered to the workforce by the employer. It is not necessary always that all the employees are provided the same tips and advice. This is generally done in exchange of their services. There are a number of future benefits that both an employee and an employer can have from remuneration.
Q8) What is the significance of Organizational structure in the SAP HR application?
This is basically the structure that is considered as very essential. It simply makes sure of healthy relation among the employees and their departments. There are some regular guidelines on which it is based on and can vary depending on the nature and the type of a business. SAP HR application enables users to make changes in the same structure and the users are free to add a lot of information as per their needs.
Q9) How SAP HR can be trusted for the recruitment and training of the employees?
Both of these modules are very essential and simply enable and organization to get results they also expect from their workforce. SAP HR tool is good enough to provide information on what sort of training is to be provided to the employees and how they can benefit them. The tool can be trusted for its suggested approach which is based on the employee's performance and the weak portion.
Q10) Can SAP HR be trusted for dealing with the discrimination?
Yes, it has several features for the same and there are many organizations who are already utilizing it for the same task.
Q11) What do you know about the Matchcode W?
Sometime there is a need to access the personnel numbers in a payroll which are no longer valid due to rejection by the payroll run. Matchcode W is used to make sure that the rejected data is to run successfully again. This is done by making appropriate corrections in the same. The overall time taken for the same depends largely on the type of errors and how they are generally addressed.
Q12) In SAP HR, what is the purpose of module Organization Management SAP HR?
It is basically an approach that is very beneficial for a business. As the name itself indicates, the organization management module in the SAP HR simply make sure of handling all the complex tasks in a very reliable manner and the good thing is the users are free to derive many additional benefits. Tasks such as managing the relations, collaborating, time management, advising, reporting as well as dealing with others can simply be accomplished with this module and the good thing is users need not to worry about the bulk investments for the same.
Q13) How many records can exist for a given period in SAP HR?
Only record can be there for a specified period in SAP HR. Also, there is a condition which the users have to make sure and i.e. the records should be free from any sort of gaps between them. The new records when added, the SAP HR instructs the system to overlap record on the key.
Q14) Name a few sub modules in SAP HR?
These are Training and event management, Personnel Administration, Payroll, Compensation Management and MSS.
Q15) What are the different structures in the SAP HR with which you are familiar?
In most of the businesses, there is actually a need of different structures for the successful representation of conditions related to the organizations, their policies, as well as their implementation. The SAP HR simply provides following three important structures with the help of which the users are free to keep up the pace simply.
1. Enterprise Structure
2. Organizational Structure
3. Personnel Structure
Q16) What are the responsibilities of a human resource department of an organization?
All the tasks related to employee welfare and handling different aspect of employment are the responsibilities of the HR department in an organization. The department head has to compliance with the labor law and have to make sure that all the employment standards are met in the organization. Assuring administration and providing employee all the benefits is also the responsibility if the same department. In addition to this, they are responsible for dismissal, as well as recruitment of employees in the organization.
Q17) What are the two options that the users can consider when it comes to maintaining the information for a defined Prototype?
These are PA 30 and PA 40. Also, known as Personal Administration Maintenance and Personal Actions.
Q18) Why it is important to determine the needs of the staff? How SAP HR application is useful when it comes to same?
Staff often needs to be motivated for the successful accomplishment of their tasks. For this, the first condition is to make them feel that all their needs would be fulfilled. The fact is employees often made demands and it is not always necessary that the management has to invest money in fulfilling the same. Determining the staff need is important because it simply enhances the productivity and enable employee to perform all their tasks with dedication. Also, determining the needs of the staff can simply help in marinating a secure and healthy work environment in the organization/
The SAP HR tool has been equipped with some useful features with the help of which a close eye can be kept on the departments and the way they are a performing. It offers a lot of useful information on the same such as reporting and documents which provide information on the staffing. The same can be utilized for determining the needs of the staff. Also, it has a lot of dedicated features for this task.
Q19) What do you know about the term Infotype and how it is of significant importance in the SAP HR?
SAP HR tool needs user's data for accomplishing few of its task such as record keeping and marinating personal profiles. All the information about the employees is generally grouped into the small units and these units are recognized as Infounits. In SAP HR, they can have 4 digit keys.
Q20) What is PCL 2 cluster in SAP HR and how as a user you can access the same?
It is basically a cluster in which the Payroll outcomes are stored. It can be accessed with the help of transaction PC simply. It's not necessary that all the employees are allowed to access the same.
Q21) Can you name a few Time Related Info types in the SAP HR?
Attenances, Absences, Work Schedule and Time Quotas
Q22) How can you define a processing class?
It is basically a characteristic of wage type that is considered for the purpose of determining the way processing is done in the payroll run. It is a trusted approach and is useful for providing favorable results in the payroll.
Q23) Can you tell something about the Internal Payroll Process and how it is beneficial?
International Payroll process is used when then the employees are to be paid more than their basic remuneration. This can be due to reasons such as paying them bonus, rewarding, overtime salary or any other special payments.
Q24) Is there a need to restrict the data to be entered in the Payroll area?
There is not always a need for the same. Generally the employees are defined based on other ethics and policies.
Q25) In SAP HR tool, what do you mean by the term Authorizations?
These are the basic transactions which are given to the employees or the end users for a defined time period. This is when the end users have to work on a special assignment and have to access the concerned data. The authorization may or may not be provided depending on the various factors. The SAP HR tool simply makes sure of reliability and addressability of the various modules in a very easy manner.
Q26) What do you mean by the term TMSTA?
It is basically a link between the payroll and the Time Management. It stands for Time Management Status.
Q27) What do you mean by the term Go Live?
It is basically an approach when the users have to transfer the data from one server to another. Generally, this is done between the development and the production server. There is a need for the same due to various reasons that may not always be enclosed by the organization.
Q28) In Payroll, how the employees can be grouped?
The common method is to group them based on the overall allowances which are to be paid to them. This can vary depending on their pay structure and other benefits that are usually given to them.
Q29) What is Dynamic Action Feature in the SAP HR?
It is basically an approach to automate some basic tasks and features. The users can consider it for multitasking. They are free to save a lot o time. However, it is not necessary that all the tasks can be accomplished through automation in the SAP HR. Presently, it has a limited scope but SAP is working to enhance its visibility in the coming versions.
Q30) What do you mean by the term Concurrent employment?
Concurrent employment is the situation when an employee is given an additional charge. In other words it's when an employee holds more than one charge in an organization. Generally, it is not always permanent and is considered only when issues such as sudden resignations, death of an employee, or transfer takes place. Also, there are conditions which the employees have to meet for this.
Q1. What are the payment options? A1. We have multiple payment options: 1) Book your course on our webiste by clicking on Buy this course button on top right of this course page 2) Pay via Invoice using any credit or debit card 3) Pay to our UK or India bank account 4) If your HR or employer is making the payment, then we can send them an invoice to pay. Q2. Will I get certificate? A2. Yes, you will receive course completion certificate from Uplatz confirming that you have completed this course with Uplatz. Once you complete your learning please submit this for to request for your certificate https://training.uplatz.com/certificate-request.php Q3. How long is the course access? A3. All our video courses comes with lifetime access. Once you purchase a video course with Uplatz you have lifetime access to the course i.e. forever. You can access your course any time via our website and/or mobile app and learn at your own convenience. Q4. Are the videos downloadable? A4. Video courses cannot be downloaded, but you have lifetime access to any video course you purchase on our website. You will be able to play the videos on our our website and mobile app. Q5. Do you take exam? Do I need to pass exam? How to book exam? A5. We do not take exam as part of the our training programs whether it is video course or live online class. These courses are professional courses and are offered to upskill and move on in the career ladder. However if there is an associated exam to the subject you are learning with us then you need to contact the relevant examination authority for booking your exam. Q6. Can I get study material with the course? A6. The study material might or might not be available for this course. Please note that though we strive to provide you the best materials but we cannot guarantee the exact study material that is mentioned anywhere within the lecture videos. Please submit study material request using the form https://training.uplatz.com/study-material-request.php Q7. What is your refund policy? A7. Please refer to our Refund policy mentioned on our website, here is the link to Uplatz refund policy https://training.uplatz.com/refund-and-cancellation-policy.php Q8. Do you provide any discounts? A8. We run promotions and discounts from time to time, we suggest you to register on our website so you can receive our emails related to promotions and offers. Q9. What are overview courses? A9. Overview courses are 1-2 hours short to help you decide if you want to go for the full course on that particular subject. Uplatz overview courses are either free or minimally charged such as GBP 1 / USD 2 / EUR 2 / INR 100 Q10. What are individual courses? A10. Individual courses are simply our video courses available on Uplatz website and app across more than 300 technologies. Each course varies in duration from 5 hours uptop 150 hours. Check all our courses here https://training.uplatz.com/online-it-courses.php?search=individual Q11. What are bundle courses? A11. Bundle courses offered by Uplatz are combo of 2 or more video courses. We have Bundle up the similar technologies together in Bundles so offer you better value in pricing and give you an enhaced learning experience. Check all Bundle courses here https://training.uplatz.com/online-it-courses.php?search=bundle Q12. What are Career Path programs? A12. Career Path programs are our comprehensive learning package of video course. These are combined in a way by keeping in mind the career you would like to aim after doing career path program. Career path programs ranges from 100 hours to 600 hours and covers wide variety of courses for you to become an expert on those technologies. Check all Career Path Programs here https://training.uplatz.com/online-it-courses.php?career_path_courses=done Q13. What are Learning Path programs? A13. Learning Path programs are dedicated courses designed by SAP professionals to start and enhance their career in an SAP domain. It covers from basic to advance level of all courses across each business function. These programs are available across SAP finance, SAP Logistics, SAP HR, SAP succcessfactors, SAP Technical, SAP Sales, SAP S/4HANA and many more Check all Learning path here https://training.uplatz.com/online-it-courses.php?learning_path_courses=done Q14. What are Premium Career tracks? A14. Premium Career tracks are programs consisting of video courses that lead to skills required by C-suite executives such as CEO, CTO, CFO, and so on. These programs will help you gain knowledge and acumen to become a senior management executive. Q15. How unlimited subscription works? A15. Uplatz offers 2 types of unlimited subscription, Monthly and Yearly. Our monthly subscription give you unlimited access to our more than 300 video courses with 6000 hours of learning content. The plan renews each month. Minimum committment is for 1 year, you can cancel anytime after 1 year of enrolment. Our yearly subscription gives you unlimited access to our more than 300 video courses with 6000 hours of learning content. The plan renews every year. Minimum committment is for 1 year, you can cancel the plan anytime after 1 year. Check our monthly and yearly subscription here https://training.uplatz.com/online-it-courses.php?search=subscription Q16. Do you provide software access with video course? A16. Software access can be purchased seperately at an additional cost. The cost varies from course to course but is generally in between GBP 20 to GBP 40 per month. Q17. Does your course guarantee a job? A17. Our course is designed to provide you with a solid foundation in the subject and equip you with valuable skills. While the course is a significant step toward your career goals, its important to note that the job market can vary, and some positions might require additional certifications or experience. Remember that the job landscape is constantly evolving. We encourage you to continue learning and stay updated on industry trends even after completing the course. Many successful professionals combine formal education with ongoing self-improvement to excel in their careers. We are here to support you in your journey! Q18. Do you provide placement services? A18. While our course is designed to provide you with a comprehensive understanding of the subject, we currently do not offer placement services as part of the course package. Our main focus is on delivering high-quality education and equipping you with essential skills in this field. However, we understand that finding job opportunities is a crucial aspect of your career journey. We recommend exploring various avenues to enhance your job search: a) Career Counseling: Seek guidance from career counselors who can provide personalized advice and help you tailor your job search strategy. b) Networking: Attend industry events, workshops, and conferences to build connections with professionals in your field. Networking can often lead to job referrals and valuable insights. c) Online Professional Network: Leverage platforms like LinkedIn, a reputable online professional network, to explore job opportunities that resonate with your skills and interests. d) Online Job Platforms: Investigate prominent online job platforms in your region and submit applications for suitable positions considering both your prior experience and the newly acquired knowledge. e.g in UK the major job platforms are Reed, Indeed, CV library, Total Jobs, Linkedin. While we may not offer placement services, we are here to support you in other ways. If you have any questions about the industry, job search strategies, or interview preparation, please dont hesitate to reach out. Remember that taking an active role in your job search process can lead to valuable experiences and opportunities.