BUY THIS COURSE (GBP 29)
SAP Product Costing
Learn about Product Cost Controlling, Product Cost Planning, Cost Object Controlling, Master Data, Unit Cost Estimate etc.
( add to cart )
Preview SAP Product Costing course
View Course Curriculum
Price Match Guarantee
Full Lifetime Access
Access on any Device
Technical Support
Secure Checkout
&nbsp Course Completion Certificate
Bestseller
Trending
Job-oriented
Instant access
Students also bought -
25 Hours
USD 41
195 Learners
20 Hours
USD 41
173 Learners
32 Hours
GBP 29
1643 Learners
Completed the course? Request here for Certificate.
ALL COURSES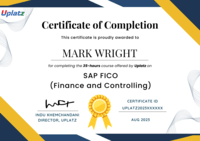 SAP Product Costing module is used to find the value of internal cost of products. It is also used for profitability and management accounting for production.
Product Costing is the tool used in SAP for planning costs and establishing material prices. It helps in estimating the Cost of goods sold manufactured and COGS of each for each product unit. Product Costing, part of the Controlling module, is used to value the internal cost of materials and production for profitability and management accounting. Product Costing is a niche skill.
Product Costing in SAP is a core module that relies on the correct setup of master data in logistics modules to create cost estimates. These cost estimates help plan and analyze costs and their different components. The result of using product costing is a standard price that you can release to the material master. Further, you can use this price for at least one period for the inventory valuation of those manufactured goods.
While configuring Product Costing, it involves two areas for setting −
1) Product Cost Planning
2) Cost Object Controlling
The basics of Product Costing is Cost Center Planning. The goal of cost center planning is to plan total dollars and quantities in each Cost Center in a Plant.
SAP provides two different types of material costing process viz Material cost estimate with quantity structure and Material cost estimate without quantity structure.
Product Costing in SAP is the most important part of SAP Controlling. This means, to know the controlling, you certainly need to know Product Costing. Moreover, if you wish to make a career in SAP Management Accounting, or if you want to upgrade your S/4HANA Finance profile with controlling knowledge, you must gain expertise on product costing in SAP.
In order to use Product Costing in SAP and create cost estimates with quantity structure, you need to activate Material Management and Production Planning Modules.
Core components of SAP Product Costing:
a) Product Cost Controlling, b) Product Cost Planning, c) Cost Object Controlling, d) Master Data, e) Unit Cost Estimate, f) Costing Sheet, g) Costing Variant, h) Material Ledger
Uplatz offers this comprehensive SAP Product Costing course covering each component of product costing module in detail.
Course/Topic - SAP Product Costing - all lectures
In this tutorial, you will get a detailed overview of the Cost Component Structure, why it is used in the SAP system, how to create the Cost Component Structure, adding new entries in it, working with the Financial Accounting, Transport Organizer, Transfer Structure and creating G/L account centrally.

This is continuation of the previous lecture on Cost Component Structure.

In this tutorial, you will be learning about the different Costing Types like the standard cost estimates and the valuation variants. You will also be learning about the Planned Price, Valuation Price according to Price Control, Standard Price and Moving Average Price. Along with this, you will be learning about the Activity Types, Subcontracting and Quantity Structure Determination.

Lecture 3.1 - Recap of previous videos

This is continuation of the previous lecture on Recap of previous videos

In this tutorial, you will learn which object to be costed, how the data to be saved, what types of costing users need to use like product cost, using bill of material (BOM) or routing or unit cost without BOM. Further, you will also learn how to create costing variants.

This is continuation of the previous lecture on Defining Costing Types. In this tutorial, you will learn which object to be costed, how the data to be saved, what types of costing users need to use like product cost, using bill of material (BOM) or routing or unit cost without BOM. Further, you will also learn how to create costing variants.

In this tutorial, you will learn the detail concepts of the Cost Object Controlling along with the Product Cost by Order, Manufacturing Order, Costing Variants, the strategies used for Valuation Variants like Net Purchase Order Price, Net Quotation Price and Effective Price from Purchase Order.

In this tutorial, you will learn how to work on the Controlling Area, creating cost elements, working with the Valuation Method, defining Line ID's and Assignments. You will see a complete practical and detailed demonstration from the instructor of all the work process mentioned here.

In this tutorial, you will learn to define assignments, the configuration steps involved in it, the assignment of cost elements for WIP and Results Analysis, new entries, defining updates, creating G/L account centrally and configuration of WIP calculation.

This is continuation of Lecture 6.2 - Defining Assignments

In this tutorial, you will learn how to create a Settlement Profile in the SAP system, working with the order types, working with the PA transfer structure and maintaining intervals in the CO object settlement. All these will be explained with a detailed and practical demonstration by the instructor.

This is continuation of Lecture 7.2 - Working with the Settlement Profile
• Performance of Product Cost Planning during the entire product life cycle
• Analysis of the required master data and structures and integration within the SAP system
• Use of the different calculation methods
• Setting up the information system
• Understanding how to use the SAP system efficiently
• Overhead and work-in-progress
• Goods movement, settlements
• Reporting plan/actual, line items, variance analysis
• Create production order
• Order costing time confirmation
1) Intro – Profitability Analysis
· Introduction to Controlling and Management Reporting
· Introduction to COPA
· Gross Profit and Net Profit Margin Analysis
· Cost Components and Analysis
· Multi-Dimensional Analysis
· Assessment of the topic
2) COPA Technical Setup
· COPA Table Structures
· OLTP – Link to Transactional Data
· OLAP – Link to Data-warehousing
· Working with SAP Operating Concern Templates
3) Configuring Costing-Based CO-PA
· Types of COPA Modules
· Costing-based CO-PA versus Account-based CO-PA
· Creating Characteristics and Value Fields
· Maintaining an Operating Concern
· Accessing and Creating Operating Concerns
· Creating User-defined Value Fields and Characteristics
· Defining Profitability Segments and CO-PA Exceptions
· Operating Concern Attributes
· Org structure -Controlling Area and Operating Concern
· Assigning a Company Code to a Controlling Area
· Checking the Current Profitability Analysis Activation
· Import Operating Concern
· Performing CO-PA Transports
· Automatic Transport or Manual Transport
· Client-specific and Cross-client Settings
4) Master Data in CO-PA
· Components of Master Data Menus in CO-PA
· Maintaining Characteristic Values
· Define Characteristics Hierarchy
· Creating Characteristic Derivations and Derivation Rules
· Customer Master Values
· Product Master Values
5) COPA Integration with SD
· Pricing Procedure and Conditions
· Condition Mapping to Value Fields
· Handling of sign / –
· Prevention of Values
6) COPA – Product Costing
· Concept of Valuation
· Configure Cost Components
· Cost Estimation for COPA Access
· Configure Standard Cost Access
7) Flows of Actual Values into CO-PA
· Overview of values from all other modules
· Transfer of Incoming Sales Orders – Record – A
· Transfer of Billing Documents – Record – F
· Order and Project Settlement – Record – C
· Define PA Transfer Structure for Settlement
· Direct Posting from FI/ MM – Record – B
· Maintain PA Transfer Structure for Direct Postings
· Automatic Account Assignment
· Settlement of Production Variances
· Transfer of Overhead
· Assessment of Topic
8) CO-PA Reporting: Basics
· CO-PA Reporting Scenarios
· Working with Reports in CO-PA
· Report Types – Basic and Line Items
· Working with Forms
· Assessment of Topic
· Predefining Headers and Footers
· Other Elements
· Defining Variables in Reports
· Creating Frozen Reports
· Key Figure Schemes
· Assessment of Topic
9) Working with Account-Based CO-PA
· Need for Account-Based COPA
· Defining Cost Elements for CO-PA
· Set the type of COPA
· Controlling Areas and Account-Based CO-PA
· Currencies and Account-Based CO-PA
· Actual Data Flow and Data Transfer
· Profitability Analysis Reports
· Assessment of Cost Center Costs
· Order and Project Settlement
· Reconcile between Costing Based and Account Based
10) Introduction to Costing based CO-PA Planning
· Introduction – Costing Based CO-PA Planning
· The Framework of Corporate Planning
· A First Look at the CO-PA Planning Framework
· Number Ranges for Planning Data
· Maintaining Versions
· Planning with the CO-PA Planning Framework
· Planning Levels
· Planning Package
· Working with Planning Methods
· The Report Painter and CO-PA Planning Layouts
· Planning Profiles
· Basic Planning Methods CO-PA Planning Framework
· Enter Planning Data
· Display Planning Data
· Copy
· Forecast
· Valuation
· Revaluation
· Ratios
· Delete
· Planning Sequences
11) Introduction to Account based CO-PA Planning
· Introduction – Account Based CO-PA Planning
· The Framework of Corporate Planning
· A First Look at the CO-PA Planning Framework
· Number Ranges for Planning Data
· Maintaining Versions
· Planning with the CO-PA Planning Framework
· Integration with other modules
· User Exits and Special functions 1 Partner Function
· Inter-Company Profit elimination
· MM Integration
· Material Ledger Integration with COPA
· User Exits used in COPA
This SAP COPA training course is designed for exploring the profitability analysis. The intention of the SAP COPA training course is to make the learners understand about the architecture and business terminology from profitability analysis in the SAP system.
In SAP COPA Course module, the participants will learn to apply the flow of data into profitability analysis. In the SAP COPA course, the participants will learn about the planning methods involved within an organization. This seems to be an essential learning for all SAP CO module users. The CO-PA also known as Controlling and profitability analysis is a sub-module of SAP CO. The Participants can demonstrate entire concepts and implement SAP CO activities.
The SAP COPA tutorial helps the participants to analyse varied market segments based on sales and order, services and products. SAP COPA course offers complete information about CO-PA components thus making the participant an expert SAP COPA Consultant.
Uplatz online training guarantees the participants to successfully go through the SAP COPA training course. Uplatz provides appropriate teaching and expertise training to equip the participants for implementing the learnt concepts in an organization.
Course Completion Certificate will be awarded by Uplatz upon the completion of the SAP COPA course training.
The Profitability analyst draws an average salary of $99,035 per year depending on the knowledge and hands-on experience. The Profitability analyst job roles are in high demand and make a rewarding career.
The Profitability analyst are recognized across the globe. The increased usage of the SAP COPA strategies in many companies help the participants to find a job opportunity easily. The leading companies hire Profitability analyst considering the skill of taking a decision in sales and marketing in an organization. The Learners earn most beneficial SAP COPA completion certification through our expert training and course curriculum.
The SAP COPA course is targeted to project manager, IT support and application consultants and excel as Profitability Analyst.
The following are the job titles:
· Business Analyst
· Profit Analyst
· Finance Analyst
· Data Analyst
· SAP Consultant
The SAP COPA online course provides you with an opportunity to explore career opportunities as SAP COPA Analyst or Profit Analyst.
SAP COPA is not similar to other modules in SAP.
Profitability Analysis (CO-PA) enables you to evaluate market segments, which can be classified according to products, customers, orders or any combination of these, or strategic business units, such as sales organizations or business areas, with respect to your company's profit or contribution margin.
Q.2. WHAT ARE THE DIFFERENCES BETWEEN PROFIT CENTER ACCOUNTING (PCA) AND PROFITABILITY ANALYSIS (CO-PA)?
PCA

CO-PA

PCA is aimed at Profit reporting on internal responsibility lines or SBU's

CO-PA is aimed at external market segment reporting for example by customer and customer groupings (industries), geographical areas.

PCA is limited to reporting by the profit center hierarchies that you can setup.

PCA can slice & dice your information by a variety of dynamic hierarchies (a 'Rubik's' cube is often used to symbolize this idea.

PCA can be reconciled easily back to the GL

PCA has 2 'styles'

Account based which will reconcile to the GL

· Costing Based which Allows approximations, estimations or standards to be posted, which may make reconciliation difficult to explain to the user
Q.3. WHY DOES SAP TALK ABOUT STATISTICAL ASSIGNMENTS IN CO - WHY ARE THESE DIFFERENT FROM REAL COST ACCOUNTING ASSIGNMENTS?
The reason is to facilitate reconciliation between FI and CO. The sum of all 'real' assignments in CO should add up to the sum of all expense and revenue postings (where cost/revenue elements have been created for the GL account of course) in FI. A normal expense invoice posting to expense accounts / cost elements will be a 'real' posting. If the system is displaying an error message insisting on a 'cost accounting assignment' and you think you have entered one, then possibly you have specified a statistical assignment. A common error is in thinking that the business area will do – Business areas are FI elements not CO elements.
Example:
| | |
| --- | --- |
| All Profit Center assignments are statistical | EC-PCA is defined as statistical, therefore if posting to a revenue element, the system will insist on a real cost accounting assignment even if profit center is specified. A cost center will not do, since revenue elements are statistical in cost centers. The system will accept the following as 'real': CO-PA profitability segment, sales order, customer project or a revenue bearing order. |
| Revenue elements assigned to cost centers will always be statistical | 'Revenue' when defined to the system by setting up a revenue element is always statistical in a cost center. If however you have setup your revenue accounts as primary cost elements then the assignment will be 'real'. |
Q.4. WHAT DO YOU MEAN BY PERIOD BASED ACCOUNTING (GL BASED) AND COST OF SALES ACCOUNTING (COPA BASED)?
'Period Based Accounting' is Accrual Accounting and 'Cost of Sales' is 'Cost of Goods Sold' Accounting.
Period based Accounting
"Period based" means that during the month or period, all and only actual events / transactions are posted in the appropriate period. At the end of the period estimated accruals and deferrals are made and posted to that posting period to give a more accurate view of profit. IE any expected revenues and expenditures that should relate to the current period are accrued for and equally any prepaid expenses or revenues are deferred to the next period. (Accruals and Deferrals are posted temporarily, usually to special accounts, and reversed prior to the next period end.)
These accruals and deferrals are usually done at a fairly high level of summarization (eg: at company or business area). The FI Ledgers and financial statements etc are always period based.
Cost of Sales Accounting
Cost of Sales in SAP means that we attempt to record or rather report the "costs of sales" against the actual sale at as low a level as possible and during the period. (In CO-PA this is down to a transaction level.) This enables the company to get a reasonably accurate view of profitability on a real time basis.
This is done by using either standards or estimates for many of the components that make up the "cost of goods sold". Any variations from the standards are usually posted through to the cost of sales system either at month end or when they occur.
For example: A product cost estimate might be used to calculate and post a manufactured cost through to CO-PA when every sale goes through. The actual production orders variances from the product cost estimate can then be settled to a separate line in CO-PA. This has the benefits that
a reasonably accurate gross profit could be reported in real time at a transaction level and of course therefore at all the characteristic levels in CO-PA.
The impact of any abnormal variances in production can quite clearly be seen and analyzed separately from the normal profitability of a product.
Q.5. HOW DATA FLOWS FROM SD TO COPA?
The normal SD document flow is as follows:
Sales order
Delivery (the delivery creates the goods issue, which debits COGS and credits Inventory – COGS is updated in CO-PA at this time)
Billing Document (the billing document updates A/R, Sales revenue, Discounts, Freight, etc.)
Q.6. HOW DATA FLOWS FROM CO TO COPA?
Through Assessments. Allocates costs from cost centers to profitability segments.
Q.7. HOW DATA FLOWS THROUGH MM INTO FI?
Through Account assignment model OKB9. Automatic postings created in materials management, can be passed on to CO-PA by means of automatic account assignment to a profitability segment.
Q.8. HOW DATA FLOWS FROM PP INTO FI & COPA?
Through Production Variances It Posts variances from the production (product cost) estimates or standards to the GL accounts and to Profitability Analysis if real costs are required (vs standard costs). Standard cost figures would have been used to update Stock and Cost of Goods sold figures when finished stock was issued from the production runs.
Q.9. WHAT DO YOU MEAN BY VALUE FIELD GROUPS?
Value Field Groups represent the possible combinations of value fields in an operating concern. Value field groups are used to specify:
Which value should be made available to users entering or displaying a line item
In what order these value fields should be displayed
Which specific value fields can be filled
You plan your data for the characteristics Product, Product group and Customer group. You define three planning levels for which planning data is to be entered: Customer group/product group (independent of the product), product/product group (independent of the customer group), and product/product group/customer group (the lowest, most detailed level). By using transaction-based top-down distribution, you can ensure that all planning data is saved at the lowest level
Q.10. WHAT ARE CHARACTERISTICS VALUES?
Characteristics are aspects on which we want to break down the profit logically such as customer, region product, sales person etc.
Q.11. WHAT DO YOU MEAN FIXED CHARACTERISTIC FIELDS?
Predefined characteristic fields in SAP R/3 system, which are obvious, are known as fixed characteristic fields such as product, sales org and customer
Q.12. WHAT ARE NON-FIXED CHARACTERISTICS OR USER DEFINED CHARACTERISTICS?
Up to 50 non-fixed characteristics can be added to an operating concern. E.g. Bill-to-party
Create -> Derived the value from Table PAPARTNER (SD partner that can be used in COPA) -> Create user defined characteristic name WW008 -> Save
Q1. What are the payment options? A1. We have multiple payment options: 1) Book your course on our webiste by clicking on Buy this course button on top right of this course page 2) Pay via Invoice using any credit or debit card 3) Pay to our UK or India bank account 4) If your HR or employer is making the payment, then we can send them an invoice to pay. Q2. Will I get certificate? A2. Yes, you will receive course completion certificate from Uplatz confirming that you have completed this course with Uplatz. Once you complete your learning please submit this for to request for your certificate https://training.uplatz.com/certificate-request.php Q3. How long is the course access? A3. All our video courses comes with lifetime access. Once you purchase a video course with Uplatz you have lifetime access to the course i.e. forever. You can access your course any time via our website and/or mobile app and learn at your own convenience. Q4. Are the videos downloadable? A4. Video courses cannot be downloaded, but you have lifetime access to any video course you purchase on our website. You will be able to play the videos on our our website and mobile app. Q5. Do you take exam? Do I need to pass exam? How to book exam? A5. We do not take exam as part of the our training programs whether it is video course or live online class. These courses are professional courses and are offered to upskill and move on in the career ladder. However if there is an associated exam to the subject you are learning with us then you need to contact the relevant examination authority for booking your exam. Q6. Can I get study material with the course? A6. The study material might or might not be available for this course. Please note that though we strive to provide you the best materials but we cannot guarantee the exact study material that is mentioned anywhere within the lecture videos. Please submit study material request using the form https://training.uplatz.com/study-material-request.php Q7. What is your refund policy? A7. Please refer to our Refund policy mentioned on our website, here is the link to Uplatz refund policy https://training.uplatz.com/refund-and-cancellation-policy.php Q8. Do you provide any discounts? A8. We run promotions and discounts from time to time, we suggest you to register on our website so you can receive our emails related to promotions and offers. Q9. What are overview courses? A9. Overview courses are 1-2 hours short to help you decide if you want to go for the full course on that particular subject. Uplatz overview courses are either free or minimally charged such as GBP 1 / USD 2 / EUR 2 / INR 100 Q10. What are individual courses? A10. Individual courses are simply our video courses available on Uplatz website and app across more than 300 technologies. Each course varies in duration from 5 hours uptop 150 hours. Check all our courses here https://training.uplatz.com/online-it-courses.php?search=individual Q11. What are bundle courses? A11. Bundle courses offered by Uplatz are combo of 2 or more video courses. We have Bundle up the similar technologies together in Bundles so offer you better value in pricing and give you an enhaced learning experience. Check all Bundle courses here https://training.uplatz.com/online-it-courses.php?search=bundle Q12. What are Career Path programs? A12. Career Path programs are our comprehensive learning package of video course. These are combined in a way by keeping in mind the career you would like to aim after doing career path program. Career path programs ranges from 100 hours to 600 hours and covers wide variety of courses for you to become an expert on those technologies. Check all Career Path Programs here https://training.uplatz.com/online-it-courses.php?career_path_courses=done Q13. What are Learning Path programs? A13. Learning Path programs are dedicated courses designed by SAP professionals to start and enhance their career in an SAP domain. It covers from basic to advance level of all courses across each business function. These programs are available across SAP finance, SAP Logistics, SAP HR, SAP succcessfactors, SAP Technical, SAP Sales, SAP S/4HANA and many more Check all Learning path here https://training.uplatz.com/online-it-courses.php?learning_path_courses=done Q14. What are Premium Career tracks? A14. Premium Career tracks are programs consisting of video courses that lead to skills required by C-suite executives such as CEO, CTO, CFO, and so on. These programs will help you gain knowledge and acumen to become a senior management executive. Q15. How unlimited subscription works? A15. Uplatz offers 2 types of unlimited subscription, Monthly and Yearly. Our monthly subscription give you unlimited access to our more than 300 video courses with 6000 hours of learning content. The plan renews each month. Minimum committment is for 1 year, you can cancel anytime after 1 year of enrolment. Our yearly subscription gives you unlimited access to our more than 300 video courses with 6000 hours of learning content. The plan renews every year. Minimum committment is for 1 year, you can cancel the plan anytime after 1 year. Check our monthly and yearly subscription here https://training.uplatz.com/online-it-courses.php?search=subscription Q16. Do you provide software access with video course? A16. Software access can be purchased seperately at an additional cost. The cost varies from course to course but is generally in between GBP 20 to GBP 40 per month. Q17. Does your course guarantee a job? A17. Our course is designed to provide you with a solid foundation in the subject and equip you with valuable skills. While the course is a significant step toward your career goals, its important to note that the job market can vary, and some positions might require additional certifications or experience. Remember that the job landscape is constantly evolving. We encourage you to continue learning and stay updated on industry trends even after completing the course. Many successful professionals combine formal education with ongoing self-improvement to excel in their careers. We are here to support you in your journey! Q18. Do you provide placement services? A18. While our course is designed to provide you with a comprehensive understanding of the subject, we currently do not offer placement services as part of the course package. Our main focus is on delivering high-quality education and equipping you with essential skills in this field. However, we understand that finding job opportunities is a crucial aspect of your career journey. We recommend exploring various avenues to enhance your job search: a) Career Counseling: Seek guidance from career counselors who can provide personalized advice and help you tailor your job search strategy. b) Networking: Attend industry events, workshops, and conferences to build connections with professionals in your field. Networking can often lead to job referrals and valuable insights. c) Online Professional Network: Leverage platforms like LinkedIn, a reputable online professional network, to explore job opportunities that resonate with your skills and interests. d) Online Job Platforms: Investigate prominent online job platforms in your region and submit applications for suitable positions considering both your prior experience and the newly acquired knowledge. e.g in UK the major job platforms are Reed, Indeed, CV library, Total Jobs, Linkedin. While we may not offer placement services, we are here to support you in other ways. If you have any questions about the industry, job search strategies, or interview preparation, please dont hesitate to reach out. Remember that taking an active role in your job search process can lead to valuable experiences and opportunities.