40 Hours
Online Instructor-led Training
USD 1399 (USD 2800)
Save 50% Offer ends on 31-Dec-2023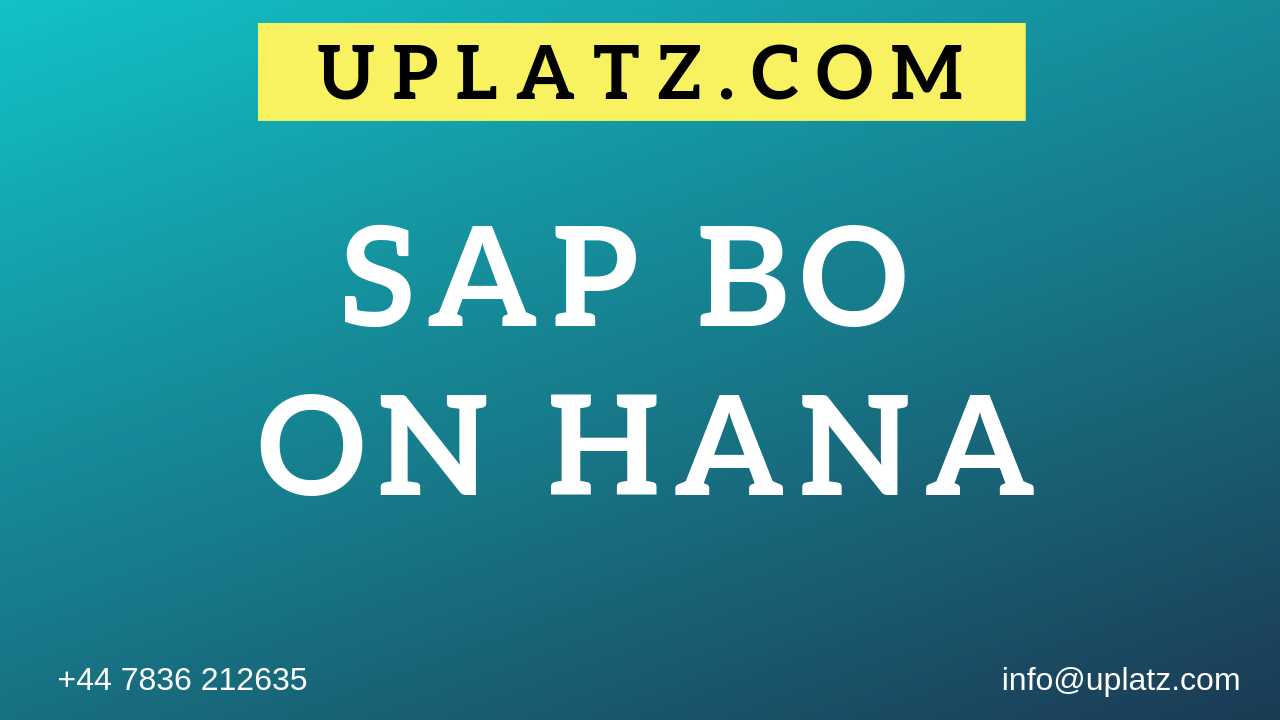 About this Course
SAP BusinessObjects (BO) is an analytics tool that reports the data from any database/datawarehouse such as Oracle, Teradata, SAP BW system, and so on. The integration of BO with BW is even more optimized as both are SAP products. Very attractive dashboards and reports can be created utilizing this reporting tool. In summary, SAP BO is a user focused BI suite that has data exploration, reporting and dashboard capabilities. Also, SAP BO has its own server for publishing and sharing. Though BO is not a data repository by itself but it utilizes HANA and BW as sources of data. SAP HANA is an in-memory database and analytical appliance and a column-oriented database management sysetm. SAP HANA professionals are in great demand across the globe. Nearly, 90% of the HANA jobs require knowledge and experience on SAP BO. Thus, integrated training on both SAP BO and SAP HANA will ensure a promising career in SAP.
Uplatz
offers this comprehensive course on
SAP BO on HANA
where you will learn all concepts of BO as well as HANA and how BO integrates with HANA as data source for real-time reporting and analytics. Our SAP BO on HANA training program comprises of highly interactive classes delivered by industry expert instructors. The course has an in-depth curriculum that focuses on both theoretical concepts and hands-on practical exercises.
----------------------------------------------------------------------------------------------------------------------------------
Objectives of SAP BO on HANA Training
·
Gain capability to apply end-user reporting tools for different scenarios

·
Expertise in core concepts of SAP BO 4.2 on HANA like Data Provisioning methods, SAP BO Reporting tools & applications, and SAP HANA Modeling

·
Attain ability to connect SAP HANA through semantic Layer and create quick Ad-Hoc reports with functionalities Tables, Charts, Master Detail, Breaks, Pivot Table, Formulas and Variables

·
Resolve few real-time based scenarios related to SAP BO 4.2 on HANA

----------------------------------------------------------------------------------------------------------------------------------
SAP BO on HANA Training
Course Details & Curriculum
Lesson 1: Overview of SAP HANA 1.0
• Introduction to SAP HANA
• Information Explosion
• Consumerization of 'IT'
• What 'IT' cannot deliver
• Reality with SAP HANA
• SAP In-Memory Appliance
• Hardware Innovations
• Bottlenecks
• Understanding Columnar Data Storage
• When to use Column store
• When to user Row Store
• Avoid Bottlenecks
• Customer feedback and benefits of SAP HANA
• SAP HANA Implementation Use Cases
Lesson 2: Product Availability Matrix (Supported H/w Vendors Platform)
Lesson 3: BusinessObjects Business Intelligence (BOBI) 4.1 Architecture
• SAP HANA Appliance Architecture View
• SAP HANA Database Engine View
• SAP HANA Data Loading View
• SAP HANA Data Modeling View
• SAP HANA Reporting View
• SAP HANA Administrator View
• Persistence Layer, Backup and Recovery
Lesson 4: SAP HANA System Landscapes
Lesson 5: SAP HANA System Sizing Guidelines
Lesson 6: Data Provisioning
• Direct in HANA: Loading Data from Excel file to HANA Database with/ without Template Tables
• Via Data Services
a. Loading Data from Oracle / Sql Server Database
b. Loading Data from SAP ECC with Dataflow
c. Loading Data from ECC with ABAP Dataflow
d. Loading Data from BW to SAP HANA Databse
e. Loading Metadata from SAP ECC to HANA Database
• Via Replication (Landscape Transformation)
a. SAP Landscape Replication server for HANA
b. Key benefits of SLT replication server
c. Key benefits of Trigger-Based Approach
d. Architecture for SAP source replication
e. Architecture for Non-SAP source replication
f. Configuration and monitoring Dashboard
g. Creating new Configuration for SAP Sources
h. Creating New Configuration for Non-SAP sources
i. Result of Creating new Configuration
j. Launching Data provisioning UI in HANA studio
k. Start Load/Replication
l. Stop/Suspend replication
m. Status Monitoring in HANA Studio
n. SLT based transformation Concept
o. Advanced replication settings
p. Change of table structuring and partitioning
q. Filtering and selective data replication
• Via SAP DXC
Lesson 7: SAP HANA Studio View
Lesson 8: SAP HANA Modeling
• Datawarehouse concepts
• Data Modeling techniques
• Attribute Views (Standard / Derived / Time Dimension)
• Analytical View
• Calculation View
• HANA Modelling Approach
• Connecting Tables using Inner / Left outer / Right Outer / Full Outer / Text / Referential Join
• SAP HANA SQL
a. Data Definition Language (Create / Alter / Drop)
b. Data Manipulation Language (Insert / Update Delete)
c. Data Query Language (Select)
• Functions
• Creating procedures
• Creating Table Types
• Using CE-Functions
• Control Statements
• Export and Import Models
• HANA Modelling Approach
• Case Study based on
a. Real world data warehouse Model
b. SAP ERP Tables
Lesson 9: SAP BO Reporting
• Client connectivity options
• SAP BO System Landscape Architecture and Product Availability Matrix
• MS-Excel
a. Reporting via MDX
b. Reporting via BICS
• SAP BO Analysis
a. Creating Analysis Workspace
b. Putting up Visualizations
• SAP BO Explore
a. Create Information Spaces
b. Reporting via BICS
c. Create Exploration sets
d. Use case of SAP BO Explorer
• SAP Lumira
a. Connect directly to SAP HANA
b. Connect through Semantic Layer (Universe)
c. Prepare Data
d. Visualize Data
e. Create Storyboards (as good as simple Dashboard)
f. Case Study to discover information
• Semantic Layer (Universe)
a. Connect to SAP HANA using OLAP Connection
b. Connect to SAP HANA using Relational Connection
c. Create Data Foundation Layer
d. Create Business Layer
e. Deep dive to Universe like resolve loops, Object Qualifications, Customizing list of values, Derived Tables etc.
f. Case Study based on Data warehouse model
• SAP Crystal Reports and Dashboards
a. Connectivity to SAP HANA
b. Create sample reports and Dashboards
• Webi
a. Connect to SAP HANA through Semantic Layer (Universe)
b. Create quick Ad-Hoc reports with below Functionalities
i. Tables, Charts, Master Detail, Breaks, Pivot Table
ii. Formulas and Variables
iii. Apply Rankings, Conditional Formatting
iv. Apply Sorts
v. Static and Dynamic filtering
vi. Case Study on creating quick Ad-Hoc Report
• Distribution to Users
a. Send manually to various destinations like BI Inbox, Outlook Inbox, Shared Folder, FTP Destination
b. Automate the Distribution Process to above Destinations
c. Automate the Distribution Process with data level security to above Destinations
Lesson 10: SAP HANA User Management
Lesson 11: SAP HANA System Monitoring & Administration
Lesson 12: SAP HANA Security & Authorization
Lesson 13: Distributed System Landscape
Lesson 14: Role of Solution Manager in SAP HANA


------------------------------------------------------------------------------------------------------------------------------