40 Hours
Online Instructor-led Training
USD 420 (USD 1120)
Save 63% Offer ends on 29-Feb-2020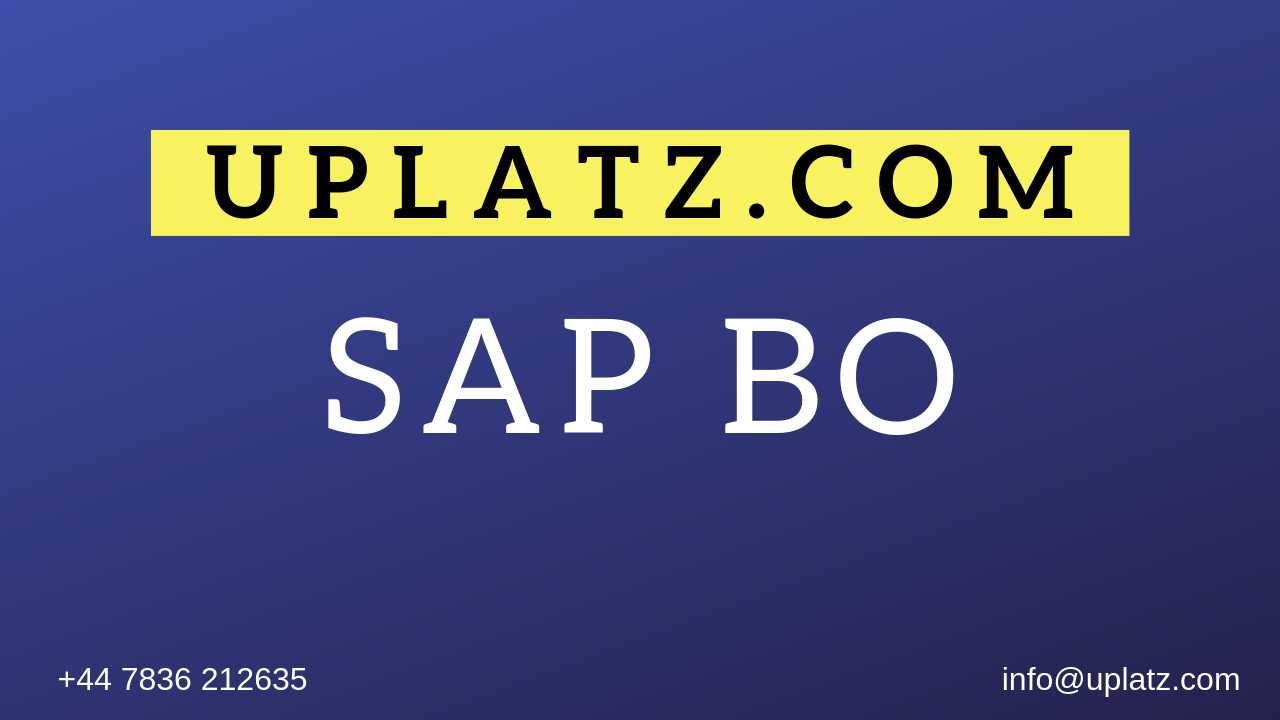 About this Course
SAP BusinessObjects Business Intelligence (or simply called SAP BO) is a reporting tool offered by SAP. SAP BO offers Intelligent solutions that can be made use of by people ranging from analysts and other people who work with information to CEOs. BO is also a tool to provide instant answers of the business-related queries by market analysis that helps management to take right decisions in right direction.

SAP BusinessObjects is very important functional application of SAP ERP Software that helps in reporting and analysis of business processes and consists of many reporting applications to understand the instant business market scenario so that management can take right decisions for the business growth. Because of huge market competitions it is necessary to do proper market analysis before taking any business related decisions.
Because most of the companies are using SAP BO applications therefore SAP BO plays a vital role in the management decision-making process.
Our SAP BO course content is designed by SAP BO Experts by considering the modern requirement of any business operations. Therefore during this you will learn the entire basic fundamental to advance concepts and features of SAP BI course module. SAP BO online course is focused on deep step-by-step practical-based learning of SAP BO module which helps you to understand the SAP BO application and its uses for the business growth.
If you are planning for SAP BO Certification and looking for SAP BO online Training you are at perfectly the right place. Explore your career with SAP BO online instructor led & video based Training & Certification program.
By the end of SAP Business Objects Training you will be able to:
a) Acquire the relevant knowledge required to clear the SAP BO certification exam.
b) Understand the core concepts of SAP BO
c) Be able to apply the knowledge learned to progress in your career as SAP BO consultant

SAP BusinessObjects Training & Course will equip you with necessary skills to get a highly-paid job in the fiercely competitive job market.


Target Audience
SAP BO online training & certification program is beneficial for any interested Graduate/ Post Graduate Students /Professionals or Graduate with computer literacy and SQL Knowledge.


SAP BO Certification
After completing SAP BO training you are advised to appear and qualify the SAP BO Certification Exam to boost your market value and to get industry recognized.
Exam Name: SAP Certified Application Associate - SAP BusinessObjects Web Intelligence 4.2
Exam Code: C_BOWI_42
SAP BO module has two levels of examination:
1. Associate (Fresher)
Exam Duration: 180 Minutes
Total Questions: 80
Types of Questions: MCQs, multiple response matching questions and answers


2. Professional (Experienced)
Exam Duration: 180 Minutes
Total Questions: 80
Types of Questions: MCQs, multiple response, scenario based and matching questions and answers
------------------------------------------------------------------------------------------------------
SAP BO Training
Course Details & Curriculum
SAP Business Objects Training will broadly cover these topics (please download detailed curriculum for elaborate details):
1. Introduction:
Understanding BusinessObjects Enterprise

What is BusinessObjects Enterprise?

Working with SAP BO Launchpad ( Infoview)
2. SAP Business Objects Web Intelligence and BI Launch Pad 4.2
SAP Business Objects Dashboards 4.2

BI launch pad: What's new in 4.2

Restricting data returned by a query

Enhancing the presentation of data in reports

Formatting reports

Calculating data with formulas and variables

Using multiple data sources

Analyzing data

Managing and sharing Interactive Analysis documents

Reporting from Other Data Sources

Introducing Web Intelligence

Accessing corporate information with Web Intelligence

Understanding how universes allow you to query databases using everyday business terms.

Managing documents in InfoView

Viewing a Web Intelligence document in InfoView

Setting Info View Preferences

Creating Web Intelligence Documents with Queries

Getting new data with Web Intelligence

Creating a new Web Intelligence document

Modifying a document's query

Working with query properties

Restricting Data Returned by a Query

Modifying a query with a predefined query filter

Applying a single-value query filter

Using prompts to restrict data

Using complex filters

Displaying data in tables and charts

Presenting data in free-standing cells

Enhancing the Presentation of Reports

Using breaks, calculations, sorts and report filters

Ranking data to see top or bottom values

Using alerters to highlight information

Organizing a report into sections

Copying data to other applications

Alternative Query Techniques Using Combined Queries Using Sub-Queries

Creating a Query based on another Query

Character and Date String Functions Using the character string functions Concatenating different data types Using date functions

Using If Logic

Grouping data using If() logic

Using If() to modify calculation behavior

Advanced Reporting Features Formatting breaks

Creating custom sorts

Displaying document data in free-standing cells

Alternative Query Techniques Defining Combined Query Types Using Combined Queries

Using Sub-Queries

Creating a Query on a Query

Character and Date String Functions Understanding Character Strings

Using Date Functions User-Defined Objects Creating User Objects

Using a User Object in a Query

Editing a User Object Deleting a User Object Storing a User Object Grouping Data
3. Information Design Tool 4.2
What is the Information Design Tool (IDT)

Create a project

Create a connection to a relational database (Single and Multiple databases)

Create the data foundation with Single & Multiple databases

Define the different types joins in a data foundation

Create a business layer

Create folders and objects

Resolve Loops and Use alias

Resolve Loops Use contexts

Resolving the fan traps and Chasm traps problem

Define data restrictions

Work with LOVs

Use Parameters restrict data

Use @functions also Aggregate Awareness

Create Derived Tables and Index Awareness

Maintain universes

Deploy and manage and maintain universes
4. Universe Designer Tool 4.2
Understanding Business-Objects Universes.

Understanding how universes allow users to query databases using their everyday business terms.

Creating Universe Connections.

The course database and universe.

Creating the universe.

Building and populating the Universe Structure.

Defining joins in a universe.

Creating Dimension Objects.

Understanding classes and objects.

Creating Measure Objects.

Understanding measure objects.

Using List of Values.

Resolving Loops.

Resolving loops using aliases.

Resolving loops using contexts.

Chasm traps and Fan traps.

Restricting the data returned by objects.

Using Functions with Objects.

Using @ Functions.

Using Hierarchies.

Working with hierarchies.

Aggregate Awareness.

Derived Tables

Securing Universes.

Managing Universes
5. SAP BusinessObjects Dashboards 4.2 (Xcelsius)
Crystal Xcelsius Overview

Creating Dashboards using Query As A Web Service (QAAWS) and Live Office

Create Drill Down dashboard reports

What's new in SAP Business Objects Dashboards 4.2

Creating a Visualization

Producing interactive visualizations

Getting around in Xcelsius

Working with your Excel workbook

Visualizing data with charts

Using Xcelsius Components

Formatting a Visualization

Applying formatting options

Using themes and templates to apply formatting

Adding Interactivity to a Visualization

Using selectors

Adding dynamic visibility

Using live data sources

Connecting to BO Universes using Query as a Web Service

Using Live Office data

Creating Complex dashboards
6. SAP Crystal Reports
Creating reports

Selecting records

Organizing data on reports

Formatting & section formatting

Creating basic and complex formulas

Using variables

Using report templates

Applying conditional reporting

Building parameterized and specialized reports

Summarizing data with cross tabs

Using report sections

Representing data visually
------------------------------------------------------------------------------------------------------
Career Path
After successful completion of SAP BO training & certification you would get following job/role opportunities:


1.
SAP BO Consultant

2.
SAP BO End User / Power User

3.
SAP BO Project Manager

4. SAP BO Analyst



------------------------------------------------------------------------------------------------------



Job Prospects
The average salary ranges from approx. £68,637 per year for SAP BO Consultant to £139,272 per year for SAP BO Lead/Manager.
There are currently 25,000+ open SAP BO jobs in UK ranging from BO end-users to consultants to managers.
For more details, please visit Uplatz Resourcing

------------------------------------------------------------------------------------------------------

FAQ
Will this course help me clear the certification exam?
+
What is SAP BusinessObjects?
+
How many domains are there in SAP BO?
+
What are the main components of SAP BO designer interface?
+
What is the extension of a webi document?
+
What does DSS stand for?
+
Which is better - Self-paced training or Instructor-led training?
+
What if I miss a class?
+
How will I execute the practical?
+
Is the course material accessible after completion of the course?
+
Is there any offer/discount that I can avail?
+
Will I get a refund if I cancel my enrollment?
+
What if I have queries after completion of the course?
+