35 Hours
Online Instructor-led Training
USD 980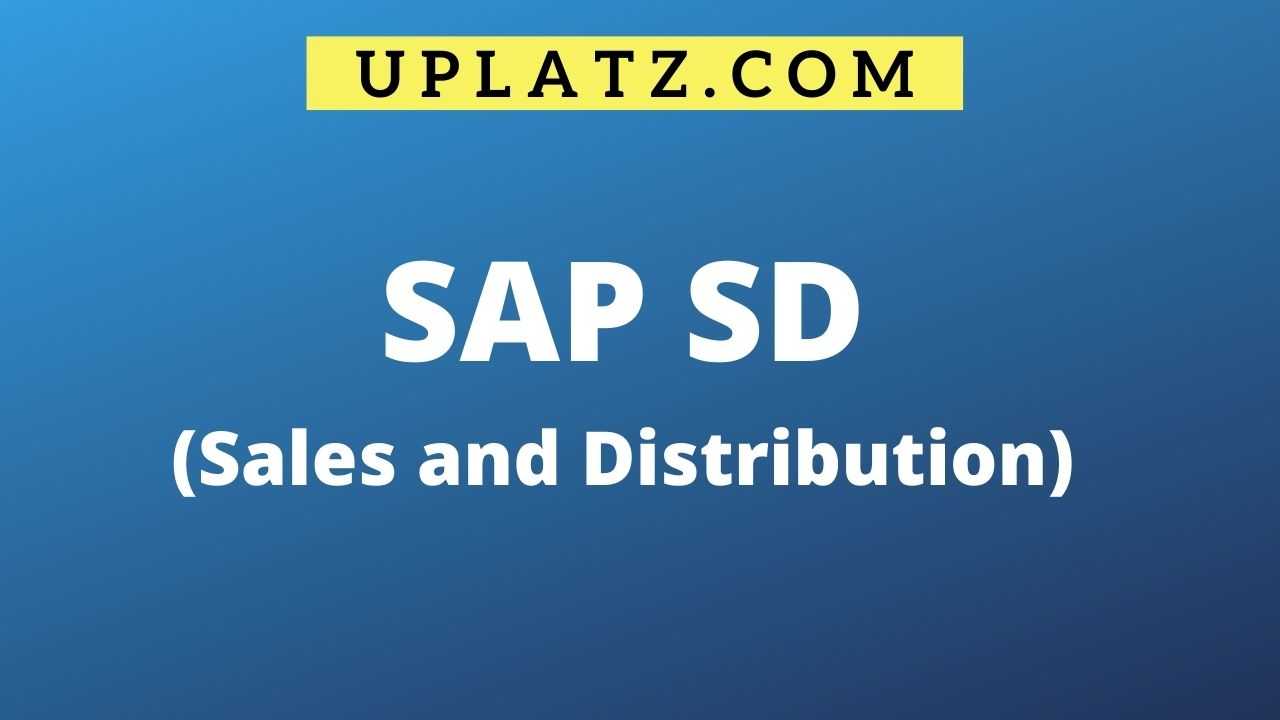 About this Course
SD stands for Sales and Distribution. SD is one of the core modules of SAP. This course contains 35 hours demonstrating both the theory and hands-on on how to configure the major areas of SAP SD. If you are from a Sales or Customer Service background and you want to enter into the functional consulting world of SAP, this is the module for you.
SAP Sales and Distribution
Course Details & Curriculum
1 Introduction      
2 SAP GUI Setup
2.1 SAP GUI Installation and Configuration  
3 Order to Cash Cycle
3.1 Inquiry  
3.2 Quotation 
3.3 Sales Order 
3.4 Delivery 
3.5 Picking/Packing and PGI 
3.6 Invoices 
3.7 Quiz 
4 Master Data
4.1 Master Data Overview  
4.2 Customer Master 
4.3 Customer Master notes 
4.4 Material MasterSignificance of Material Master Data
Important Fields
Extension
4.5 Material Master Grouping 
4.6 Customer Master Customization 
4.7 Blocking Customer Master Data 
4.8 Quiz 
5 Enterprise Structure
5.1 What is Enterprise Structure 
5.2 Company and Company Codes 
5.3 Sales Areas 
5.4 Sales Organisation 
5.5 Plants 
5.6 Configuration 
5.7 Common Distribution Channels and Divisions 
5.8 Quiz 
6 Sales Document Type
6.1 Business Processes  
6.2 Document Type 
6.3 Document Type Template 
6.4 Copy Document Type 
6.5 Number Ranges 
6.6 Sales Document Type Configuration 
6.7 Notes 
6.8 Quiz 
7 Item Category
7.1 Bill of MaterialBOM
Notes
7.2 Item Category Controls and Hands on
Notes
8 Schedule Line Category
8.1 What is Schedule Line Category  
8.2 Schedule Line Category Controls 
8.3 Delivery Block 
8.4 Movement Type 
8.5 Availability and Transfer of Requirements 
8.6 NotesSchedule Line Category
9 Delivery and Billing Document Type
9.1 Delivery Document Types and Item Categories  
9.2 Billing
Business Scenarios
Configuration
9.3 Copy Controls
Possible Data Flows
Requirements and Data Transfer Routines
Standard Requirement Routines
Custom Requirement Routines
10 Pricing
10.1 Introduction to Pricing and Condition technique  
10.2 Condition TechniqueField Catalog
Condition Tables
Access Sequence
Condition Type
Pricing Procedure & Determination
Condition Records
10.3 Configuration Walk through 
10.4 Notes 
10.5 Pricing Hands-on
Master Data Set-up and Scenario Walkthrough
Configuration
10.6 Notes - Pricing Exercise 
10.7 Pricing Procedure
Introduction
Sub-totals
Manual Flag
Required Flag
Statistical Flag
Requirement Routine
Alternate Calculation Routine
10.8 Freight Determination based on Pricing Requirement Routine 
11 SD-FI Interface
11.1 Account Determination
Theory
Scenario & Master Data
Configuration
11.2 Credit Management
Introduction
Simple Credit Management
Static Credit Management
Dynamic Credit Management
Configuration
End user Transactions
12 Texts
12.1 Text Determination 
13 Partners
13.1 What is Partner Determination 
Partner determination in Transactions 
14 Plants
14.1 Plant Determination 
Notes - Plant Determination 
15 Contracts
15.1 Quantity, Value and Service Contracts 
16 Consignments
16.1 Consignment
Theory
Hands on and Configuration
Accounting Entries
17 Customer Material info Records (CMIR)
CMIR 
18 Outputs 
Output Determination 
19 Listing and Exclusion 
Listing and Exclusion Configuration 
20 Availability Check
20.1 Basic Concepts 
20.2 Configuration 
21 Route Determination 
How are Routes Determined  
22 Documents Status 
Status Profile Configuration 
23 Scheduling/Rescheduling and Backorder Processing
23.1 Scheduling 
23.2 What is a Back-order 
23.3 What is Rescheduling  
23.4 How to do Back-order Processing 
23.5 Summary of Back-order Processing and Rescheduling 
23.6 Back order Processing Notes 
24 Landscape 
Typical Landscapes 
25 SAP Project lifecycle 
Typical Project Lifecycle
FAQ
Will this course help me clear the certification exam?
+
Which is better - Self-paced training or Instructor-led training?
+
What if I miss a class?
+
How will I execute the practical?
+
Is the course material accessible after completion of the course?
+
Is there any offer/discount that I can avail?
+
Will I get a refund if I cancel my enrollment?
+
What if I have queries after completion of the course?
+