BUY THIS COURSE (GBP 49)
Bundle Course - SAS BI with Data Integration Studio and SAS Admin
Learn how SAS transforms data into insight.
( add to cart )
Preview Bundle Course - SAS BI with Data Integration Studio and SAS Admin course
Price Match Guarantee
Full Lifetime Access
Access on any Device
Technical Support
Secure Checkout
&nbsp Course Completion Certificate
Bestseller
Trending
Job-oriented
Instant access
Students also bought -
15 Hours
GBP 29
1555 Learners
250 Hours
GBP 49
2454 Learners
55 Hours
GBP 49
237 Learners
Completed the course? Request here for Certificate.
ALL COURSES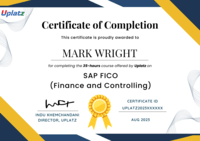 Courses included in Bundle Course – SAD BI and SAS Admin Career Path Program
1) SAS Business Intelligence
2) SAS Admin
SAS Business Intelligence (BI) is a broad category of application programs and technologies for gathering, storing and, analyzing. SAS is a leader in business analytics. SAS transforms data into insight which can give a fresh perspective on business.
It is a software suite which allows you to perform advanced analysis, Business Intelligence, Predictive Analysis, data management to operate effectively in the competitive. The term Business Intelligence refers collective of tools and techniques used for the collection, integration, analysis and, visualization of raw data.
SAS ADMIN, for IT admin to keep the SAS server hardware and Oss going and for SAS administrators to stick to the SAS software. The essential knowledge to perform the job functions of the SAS platform administrator.
The skills and knowledge for the administration of the platform
· To Secure the SAS configuration on each server machine
· Monitor server activity and administer logging
· Establish formal, regularly scheduled backup processes
· Administer repositories and move metadata
· Monitor, log and troubleshoot SAS servers
The SAS BI and SAS Admin course by Uplatz is a complete end-to-end course covering all topics.
Course/Topic 1 - SAS Business Intelligence - all lectures
This tutorial teaches you the integrated platform for delivering enterprise intelligence. This platform, which we call the SAS Enterprise Intelligence Platform, optimally integrates individual technology components within your existing IT infrastructure into a single, unified system.

This session teaches the change management feature enables a team of SAS Data Integration Studio users to work simultaneously with a set of related metadata and avoid overwriting each other's changes. With change management, most users are restricted from adding or updating the metadata in a change-managed folder in the Folders tree.

This teaches you the Data marts which are small slices of data warehouse. This module is a collection of tips on how to run your data mart implementation project Planning a Data Warehouse, Exercises

This Help you to Learn how to build a data mart during SAS BI training, starting from reviewing a case study. Review of the Case Study, Define the Source Data, what are the Target Tables in SAS BI, Load the Target Tables, Exercises

In this session, you will learn the On-Line Analytical Processing (or OLAP) has long been part of the data storage and exploitation strategy for SAS professional. Take an overview on OLAP in this module of SAS BI Training. What Is OLAP, Building an OLAP Cube in SAS BI, Solutions to Exercises

This tutorial is designed to give you a good idea about SCD, its dimensions, load transformation and Lookup transformation. Defining Slowly Changing Dimensions in SAS BI How to use SAS BI SCD Type 2 Loader Transformation Using the Fact Table Lookup Transformation

This session teaches you how to schedule data integration studio jobs during SAS BI training. Scheduling SAS Data Integration Studio Jobs

In this session you will understand about the online analytical processing concepts, building an OLAP cube with SAS OLAP Cube Studio, building an information map from a SAS OLAP cube

This video teaches you about the introduction to SAS Visual BI and exploring the SAS integration with JMP

This tutorial helps you to Reviewing the platform for SAS Business Analytics and reviewing the course environment

This video teaches you about the SAS Stored Process concepts, creating a stored process from a SAS Enterprise Guide project creating a stored process from a SAS program, creating stored process parameters, creating a stored process to provide a dynamic data source
Course/Topic 2 - SAS Admin - all lectures
In this lecture session we learn about SAS admin and also talk about features of SAS ADMIN.

In this lecture session we learn about exploring the client tier in SAS admin and also talk about platform administration.

In this lecture session we learn about the Data Integration (DI) Studio in SAS admin and also talk about features of integration studio.

In this lecture session we learn prompt value specification in SAS admin and also talk about features of specification.

In this lecture session we learn about SAS admin stored procedures and also talk about the function of stored procedures.

In this lecture session we learn about overview of SMC and also talk about function of SMC in SAS admin.

In this lecture session we learn about server console script and also talk about window service (Jboss only).

In this lecture session we learn about metadata server configuration files and also talk about features of metadata server configuration files.

In this lecture session we learn about monitoring SAS servers and spawners and also talk about features of SAS server and spawners.

In this lecture session we learn application & service logs in SAS and also talk about diagnostic levels in brief.

In this lecture session we learn about troubleshooting SAS server and also talk about features of objectives.

In this lecture session we learn about SAS management console in SAS admin and also talk about features solutions to exercise.

In this lecture session we learn about scheduling backups and also talk about features of scheduling backups.

In this lecture session we learn about connection profiles in SAS admin and also talk about features of connection profile.

In this lecture session we learn about defining regular users and groups and also talk about features of SAS admin.

In this lecture session we learn about registering libraries and tables in the SAS metadata.

In this lecture session we learn about introduction to metadata security in SAS admin and also talk about features of metadata security.

In this lecture session we learn about SAS environment configurations and also talk about features of updating the SAS environment.

In this lecture session we learn about create operating systems users and groups and designate ports.
•Learn about SAS BI
•Learn about SAS Admin
•Learn about Administer repositories and how to move metadata
•Learn how to Monitor, log and troubleshoot SAS servers
The SAS BI with Data Integration Studio and SAS Admin Certification ensures you know planning, production and measurement techniques needed to stand out from the competition.
SAS or Statistical Analysis System is a suite of enterprise systems developed by SAS Institute for different analytics aspects. The systems encompass a wide range of business intelligence including multivariate analysis, predictive analytics, advanced analytics and data management.
SAS Business Intelligence (BI) is a suite of applications that allows you to prepare and display data for statistics, predictive analytics, data mining, text mining, and forecasting. The tools provide interactive visualizations backed by analytics.
SAS is a Business Intelligence tool that facilitates analyses, reporting, data mining, and predictive modeling with the help of powerful visualizations and interactive dashboards.
Salaries for those with SAS certifications typically range from $52,000 to $126,000 annually, with $81,038 being the average. A specific role can significantly influence an individual's salary, as there are many different types of SAS certifications that are designed for different types of positions.
Uplatz online training guarantees the participants to successfully go through the SAS BI with Data Integration certification provided by Uplatz. Uplatz provides appropriate teaching and expertise training to equip the participants for implementing the learnt concepts in an organization.
Course Completion Certificate will be awarded by Uplatz upon successful completion of the SAS BI with Data Integration online course.
The SAS BI with Data Integration draws an average salary of $105,080 per year depending on their knowledge and hands-on experience. The SAS BI with Data Integration job roles are in high demand and make a rewarding career.
Data integration is the process of combining data from different sources into a single, unified view. ... Data integration ultimately enables analytics tools to produce effective, actionable business intelligence.
Note that salaries are generally higher at large companies rather than small ones. Your salary will also differ based on the market you work in.
The following are the job titles:
SAS Data Analyst.
Data Integration Studio.
SAS Data Quality
Q1. What is SAS Business Intelligence?
Ans: SAS business intelligence has analytical capabilities like statistics, reporting, data mining, predictions, forecasting and optimization. They help in getting data in the format desired. It helps in improving quality of data.
Q2. Where to Use SAS Business Intelligence?
Ans: SAS BI provides the information about an enterprise when needed. It provides this information in customized format. SAS BI integrates data across the enterprise and delivers the self-service reporting and analysis. This consumes less time for responding requests and for business uses to view the information. An integrated, flexible and robust presentation layer for SAS Analytics with full breadth is also offered by SAS BI. All these are integrated within the context of business for better and faster decision making.
Q3. What is Business Intelligence?
Ans: As name suggests it's the Intelligence one gains from the business; about the business. Typically it is achieved by various Data warehousing, Data mining and reporting tools and techniques.
These tools and techniques help the system to provide right information to right people at right time and right format. So decision makers can more concentrate on their business of making decisions instead of wasting time in digging plies of enterprise data.
Q4. How SAS deals with Business Intelligence?
Ans: SAS has developed end to end business intelligence solution named as SAS Enterprise Intelligence Platform. It enables the users to extract and transform enterprise wide data into fully integrated reporting warehouse, leading to more usable business data and more effective decision making.
With the way; the platform is structured and the way metadata (The metadata is explored in details at the below sections) is handled; it becomes feasible to represent the single version of truth to the intended users.
SAS stores the data only once which and shares its metadata across all the applications dealing with that data which might be ETL tool trying to update that data or data mining tool trying to dig out that data for some ad-hoc queries or might be reporting tool producing monthly report for the business.
Q5. What is METADATA?
Ans: Metadata is often referred as "data about data"; but I would like to say it as it is nothing but additional information of your data.
Usually many applications which deal with the DATA need some basic information about it from their perspective; for example a database system where you are going to save the data needs to know how user wants the data to be saved? So when you fire a create table command on the database is nothing but you give that information to the database system. In more specific term you define the table structure which is gets recognized as tables Metadata.
In another example when some reporting application needs to produce the weekly report it needs the information about the fields on the report, format of those fields which are going to be represented to the user; what all database tables its going to deal with; in which library or schema they are located etc. etc. All those terms are referring nothing other than metadata.
So it is same with SAS as well; In the context of SAS; metadata is the information about all the resources used in the provision of BI. The name of the column rather than the actual values stored within it. Information about How to read in data from non SAS location.Description of report content rather than the actual report itself.Details of the access rights of all users.A description of the source and target tables used in data integration jobs; as well as details of all the transformations.
Q6. What is SAS Metadata Repository?
Ans: It is the location where all this metadata is saved in some specific format.SAS stores its metadata in centralised repository; which in turn is managed by SAS Metadata Server. This metadata is then shared with all the applications under SAS Open Metadata Architecture. This helps SAS in achieving single storage of data and consistency of the information among all the applications using it.
Q7. What is SAS Enterprise Intelligence Architecture?
Ans: It is platform designed for Business intelligence solution.It has got different parts or tiers. The metadata sits alongside these tiers and works as glue to stick all these layers together. There are 4 different tiers; Data tier, Server tier, Client and Web tier.
All tiers can have been installed on the same machine or might be on different machines; however it is common practise to have server tier and web tier on one machine and data tier and client tier on different machines.
Data tier – Is nothing but where the all Enterprise level data resides.
It includes SAS Datasets, OLAP cubes, SAS SPDS (Special Performance Data Server), SAS SPDE, Other RDBMS tables like oracle, ERP systems etc. Using SAS/ACCESS we can connect to external databases like Oracle; DB2 etc.
Server Tier – This includes all different types of SAS Servers. SAS Servers are similar to windows servers; which run in the background to serve the requests rose from client.
SAS servers are usually installed on different machines. Various SAS servers all listed as below;
SAS Workspace Server – The SAS Code generated by various client applications is sent to this server for execution. SAS Workspace server then access various datasets and libraries included in the code and executes them providing the output back to the end users. Each user has individual process allocated on the server.
SAS Stored Process Server – This is place where all SAS Stored Process are executed. SAS stored processes are centrally stored SAS programs that can be accessed from different SAS client and web applications. Object Spawner – Its part of Server tier which is responsible for start up of SAS Work space server and connect them with the Metadata Server.
SAS OLAP Server – This is used to access previously created OLAP cubes. It can read the cubes which have been created with other non-SAS applications. Process MDX queries. It is interesting to know that building the OLAP cubes is done by using SAS Workspace server while OLAP server can be used just for reading purpose.
SAS/Connect Server – It used to submit SAS code from one machine to be executed on another. Provides Remote Library Services, Data transfer services etc.
SAS/SHARE – Gives access to SAS files for multiple users at a time; and avoid connecting to the files thru different SAS/Connect remote logins.
Apart from this there are some additional SAS servers like Batch Server, Grid Server, Platform suit for SAS etc. However most important of all are SAS Workspace Server, SAS Stored Process Server, SAS OLAP server and Object Spwaner.
Q8. What is SAS Application Server?
Ans: SAS application server is a way of grouping together different logical servers.A logical server is nothing but a group of one or more servers. Might be a group of logical workspace servers; a group of many workspace servers.Or a logical stored process servers etc.On SAS Application servers these different types of logical servers are usually grouped together. Different logical servers taking part to form SAS application server are SAS Work space servers, SAS Stored process servers, SAS OLAP Server, SAS Grid Server, SAS Batch Server and SAS/Connect Server.
SASMain and SASApp. When SAS application Server and SAS Metadata Server are installed on the same machine then this machine will be called as SASMAIN.Otherwise the individual SAS Application server will be called as SASApp.
SAS Web Tier – This tier contains number of components which are required to run any SAS Web applications like SAS Web Report Studio or SAS Information Delivery Portal.
The list of components of SAS Web Tier is as follows,
Servlet container or J2EE application server.Java 2 Software Development Kit.
WebDAV Server.
SAS Application services.
SAS Foundation services.
SAS Web Infrastructure kit.
SAS Web Applications.
Client Tier – This tier consist of all the client applications of SAS. Usually those applications get installed on users PC'S. These applications are users interface to SAS EIP. Through these applications users log into SAS metadata server and share the metadata through centralised metadata repository. These client applications are java based, windows based or accessed via a web browser.
list of client applications
Java Based Client Applications – SAS Management Console, SAS DI Studio, SAS OLAP Cube studio, SAS Information Map Studio.
Window Based Client Applications – SAS Enterprise Guide, SAS Add in for Microsoft office etc.
Web Based Client Applications- SAS Web Report Studio, SAS Information Delivery Map.
SAS Metadata Server:
As mentioned earlier metadata server sits besides all the tiers and holds them together.
Metadata describing the whole SAS environment is stored in SAS metadata repositories; and is accessed and managed by SAS Metadata server.
There are 3 types of metadata repositories, Foundation, Custom, and Project.
Foundation – It isthe parent repository and contains metadata of which is common to all the users e.g. Servers and Library definitions Custom – This repository is dependent on either Foundation repository or some other Custom repository. It contains metadata specific to some department or project team. e.g. ETL jobs for sales department warehouse.
Project – This repository is dependent on Foundation or other custom repository. This is used in change managed environment; it protects multiple users potentially making changes to the same data file.
Metadata is stored in terms of metadata objects in repositories. The common metadata objects are Data Tables, Libraries, jobs, cubes, information maps, reports, servers, users etc.
Q9. What are sas BI dashboard components?
Ans: Datamodel, dashboard, indicator, ranges
Q10. Where are dashboard compnents are created and maintained?
Ans: SAS BI dashboard web application
Q1. What are the payment options? A1. We have multiple payment options: 1) Book your course on our webiste by clicking on Buy this course button on top right of this course page 2) Pay via Invoice using any credit or debit card 3) Pay to our UK or India bank account 4) If your HR or employer is making the payment, then we can send them an invoice to pay. Q2. Will I get certificate? A2. Yes, you will receive course completion certificate from Uplatz confirming that you have completed this course with Uplatz. Once you complete your learning please submit this for to request for your certificate https://training.uplatz.com/certificate-request.php Q3. How long is the course access? A3. All our video courses comes with lifetime access. Once you purchase a video course with Uplatz you have lifetime access to the course i.e. forever. You can access your course any time via our website and/or mobile app and learn at your own convenience. Q4. Are the videos downloadable? A4. Video courses cannot be downloaded, but you have lifetime access to any video course you purchase on our website. You will be able to play the videos on our our website and mobile app. Q5. Do you take exam? Do I need to pass exam? How to book exam? A5. We do not take exam as part of the our training programs whether it is video course or live online class. These courses are professional courses and are offered to upskill and move on in the career ladder. However if there is an associated exam to the subject you are learning with us then you need to contact the relevant examination authority for booking your exam. Q6. Can I get study material with the course? A6. The study material might or might not be available for this course. Please note that though we strive to provide you the best materials but we cannot guarantee the exact study material that is mentioned anywhere within the lecture videos. Please submit study material request using the form https://training.uplatz.com/study-material-request.php Q7. What is your refund policy? A7. Please refer to our Refund policy mentioned on our website, here is the link to Uplatz refund policy https://training.uplatz.com/refund-and-cancellation-policy.php Q8. Do you provide any discounts? A8. We run promotions and discounts from time to time, we suggest you to register on our website so you can receive our emails related to promotions and offers. Q9. What are overview courses? A9. Overview courses are 1-2 hours short to help you decide if you want to go for the full course on that particular subject. Uplatz overview courses are either free or minimally charged such as GBP 1 / USD 2 / EUR 2 / INR 100 Q10. What are individual courses? A10. Individual courses are simply our video courses available on Uplatz website and app across more than 300 technologies. Each course varies in duration from 5 hours uptop 150 hours. Check all our courses here https://training.uplatz.com/online-it-courses.php?search=individual Q11. What are bundle courses? A11. Bundle courses offered by Uplatz are combo of 2 or more video courses. We have Bundle up the similar technologies together in Bundles so offer you better value in pricing and give you an enhaced learning experience. Check all Bundle courses here https://training.uplatz.com/online-it-courses.php?search=bundle Q12. What are Career Path programs? A12. Career Path programs are our comprehensive learning package of video course. These are combined in a way by keeping in mind the career you would like to aim after doing career path program. Career path programs ranges from 100 hours to 600 hours and covers wide variety of courses for you to become an expert on those technologies. Check all Career Path Programs here https://training.uplatz.com/online-it-courses.php?career_path_courses=done Q13. What are Learning Path programs? A13. Learning Path programs are dedicated courses designed by SAP professionals to start and enhance their career in an SAP domain. It covers from basic to advance level of all courses across each business function. These programs are available across SAP finance, SAP Logistics, SAP HR, SAP succcessfactors, SAP Technical, SAP Sales, SAP S/4HANA and many more Check all Learning path here https://training.uplatz.com/online-it-courses.php?learning_path_courses=done Q14. What are Premium Career tracks? A14. Premium Career tracks are programs consisting of video courses that lead to skills required by C-suite executives such as CEO, CTO, CFO, and so on. These programs will help you gain knowledge and acumen to become a senior management executive. Q15. How unlimited subscription works? A15. Uplatz offers 2 types of unlimited subscription, Monthly and Yearly. Our monthly subscription give you unlimited access to our more than 300 video courses with 6000 hours of learning content. The plan renews each month. Minimum committment is for 1 year, you can cancel anytime after 1 year of enrolment. Our yearly subscription gives you unlimited access to our more than 300 video courses with 6000 hours of learning content. The plan renews every year. Minimum committment is for 1 year, you can cancel the plan anytime after 1 year. Check our monthly and yearly subscription here https://training.uplatz.com/online-it-courses.php?search=subscription Q16. Do you provide software access with video course? A16. Software access can be purchased seperately at an additional cost. The cost varies from course to course but is generally in between GBP 20 to GBP 40 per month. Q17. Does your course guarantee a job? A17. Our course is designed to provide you with a solid foundation in the subject and equip you with valuable skills. While the course is a significant step toward your career goals, its important to note that the job market can vary, and some positions might require additional certifications or experience. Remember that the job landscape is constantly evolving. We encourage you to continue learning and stay updated on industry trends even after completing the course. Many successful professionals combine formal education with ongoing self-improvement to excel in their careers. We are here to support you in your journey! Q18. Do you provide placement services? A18. While our course is designed to provide you with a comprehensive understanding of the subject, we currently do not offer placement services as part of the course package. Our main focus is on delivering high-quality education and equipping you with essential skills in this field. However, we understand that finding job opportunities is a crucial aspect of your career journey. We recommend exploring various avenues to enhance your job search: a) Career Counseling: Seek guidance from career counselors who can provide personalized advice and help you tailor your job search strategy. b) Networking: Attend industry events, workshops, and conferences to build connections with professionals in your field. Networking can often lead to job referrals and valuable insights. c) Online Professional Network: Leverage platforms like LinkedIn, a reputable online professional network, to explore job opportunities that resonate with your skills and interests. d) Online Job Platforms: Investigate prominent online job platforms in your region and submit applications for suitable positions considering both your prior experience and the newly acquired knowledge. e.g in UK the major job platforms are Reed, Indeed, CV library, Total Jobs, Linkedin. While we may not offer placement services, we are here to support you in other ways. If you have any questions about the industry, job search strategies, or interview preparation, please dont hesitate to reach out. Remember that taking an active role in your job search process can lead to valuable experiences and opportunities.