BUY THIS COURSE (USD 17 USD 41)
SAP SuccessFactors Compensation
Learn how an organisation manages their workforce and optimises performance culture with the help of SAP SuccessFactors Compensation solution.
( add to cart )
Save 59% Offer ends on 31-Dec-2023
Preview SAP SuccessFactors Compensation course
View Course Curriculum
Price Match Guarantee
Full Lifetime Access
Access on any Device
Technical Support
Secure Checkout
&nbsp Course Completion Certificate
Bestseller
Trending
Job-oriented
Google Drive
Students also bought -
10 Hours
USD 17
2122 Learners
20 Hours
USD 17
2492 Learners
20 Hours
USD 17
293 Learners
Completed the course? Request here for Certificate.
ALL COURSES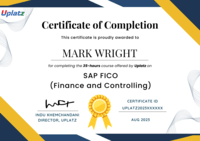 SAP SuccessFactors Compensation is a module within the SAP SuccessFactors suite, which is a cloud-based human capital management (HCM) software solution designed to help organizations manage their workforce effectively.
The Compensation module specifically focuses on managing employee compensation, rewards, and incentives. Create a pay-for-performance culture by tying employee performance to rewards. Influence employee pay decisions in line with company guidelines. Take the guesswork out of compensation planning to make smarter decisions about Compensation. To get attention of, motivate, and retain a skilled, diverse, and global workforce with limited budgets, organizations need to take a strategic approach to compensation planning and management. When integrated with the talent management strategy, compensation can engage employees, ignite better performance, and ensure retention of top talent. Compensation works as a motivating force for an employee to work and give their best at work. It is an investment that the organisation make to ensure the delivery of desire result.
The SAP SuccessFactors Compensation solution transforms workforce compensation into a key component of your overall talent strategy. This strategic compensation management solution enables compensation professionals, business leaders, and managers to align compensation programs with business objectives. Unlike personal productivity tools or other solutions that simply automate and streamline compensation planning, SAP SuccessFactors Compensation features a unique set of capabilities to help you model and manage competitive compensation programs and motivate your workforce. SAP SuccessFactors Compensation module helps management to plan compensation program effectively for every level of employee from higher to executive level.
Key features of SAP SuccessFactors Compensation are:
1. Compensation Planning: This feature allows organizations to streamline the process of planning, budgeting, and allocating compensation for employees. It provides tools for creating and managing compensation plans, adjusting salary structures, and distributing rewards.
2. Variable Pay: This component helps organizations design and manage variable pay programs, such as bonuses, incentives, and commissions. It enables the creation of performance-based reward structures that align with business goals.
3. Compensation Statements: Employees can view detailed compensation statements that provide a breakdown of their total compensation, including salary, bonuses, allowances, and other forms of compensation. This transparency helps employees understand the value of their compensation package.
4. Merit Increases and Promotion: The module allows for the management of merit-based salary increases and promotions. Compensation managers can define rules and guidelines for awarding salary hikes based on employee performance and other factors.
5. Integration: SAP SuccessFactors Compensation can be integrated with other modules within the SuccessFactors suite, such as Performance Management, Employee Central, and Learning Management, to create a comprehensive talent management solution.
6. Analytics and Reporting: The system provides tools for generating reports and analyzing compensation data, helping organizations make informed decisions about compensation strategy, budget allocation, and performance-related rewards.
7. Global Compensation Management: Organizations with a global workforce can use this module to manage compensation programs across different countries, currencies, and regulatory environments.
In this SAP SuccessFactors Compensation course by Uplatz, you will be able to learn the basics and introduction to how an organisation manages their workforce and optimises performance culture with the help of SAP SuccessFactors Compensation solution. You will be awarded a Course Completion Certificate by Uplatz at the end of the course.
Course/Topic - SAP SuccessFactors Compensation - all lectures
Session 1 - SAP SF Compensation

Session 2 - SAP SF Compensation

Session 3 - SAP SF Compensation

Session 4 - SAP SF Compensation

Session 5 - SAP SF Compensation

Session 6 - SAP SF Compensation

Session 7 - SAP SF Compensation

Session 8 - SAP SF Compensation

Session 9 - SAP SF Compensation

Session 10 - SAP SF Compensation

Session 11 - SAP SF Compensation

Session 12 - SAP SF Compensation

Session 13 - SAP SF Compensation
• It provides Scalability and complete End-to-End Recruitment solutions
• Increases Job Satisfaction, Productivity, Time Management through a Planned Process
• Motivates the Workforce through Pay-for-Performance Culture to increase efficiency and productivity
• How to use all features of the SAP ALV-Grid
Compensation Mastery
• Pre-work
• Compensation Management Introduction
• Provisioning exercises
• Discovery and Kickoff
• Data Integration
• Provisioning and XML
• Comp admin tools
• Comp Mastery Salary Sheet
• Executive Review
• Multi-currency review
• Budgets
• Bonus Sheet
• Stock Options
• Reporting
• Compensation Statement
• Admin Maintenance
• Trouble shooting
• EC Integration
Get a Course Completion Certificate on successfully completing the course.
1. How do you integrate Employee Central with other SuccessFactors Products?
Employee Central integrates internal with other SuccessFactors products through HRIS Sync.
2. How do you integrate Employee Central externally with other products?
There is a cloud-based integration platform available for external integration.
3. What does the Succession Data Model contain?
The Employee Records are contained in the Succession Data Model. The succession data mode configures the fields that will appear in the Employee's Personal Information (outside of work) Employment Information (inside of work).
4. What is configured in the Country -Specific Succession Data Model?
Address formats, country-specific fields, and international standards are set in the country-specific succession data model.
5. What does the Corporate Data Model define?
Foundation Objects and their relationships are defined in the corporate data Model. Foundation Objects are also called Foundation Tables. They include Organization, Job, and Pay.
6. What is defined in the Country -Specific Corporate Data Model?
Here foundation object fields for a separate country are defined.
7. What is the propagation data model used for?
HRIS Propagation Data Model is used for the Auto Population from Foundation Tables
8. What other two data models are used?
Data Model Workflow Rules Data Model, Event and Event Derivation Rules Data Model
9. How many data models are there in Employee Central?
There are 7 data models in Employee Central
10. How do you masked sensible data in a field?
Set the attribute pii="true"
11. How do you set a field so the user can edit it?
Set the attribute visible="both"
12. How do you make a field be required to be filled?
Set the attribute required="true"
13. What is a DTD?
Document Type Definition of the data model
My vision is to build a truly integrated HR in the cloud. A truly integrated HR is the key enabler for organizations to maximize their business outcomes.
14. Why are they called 'Success Factors'?
Because they are behaviors that lead to successful performance in the job.
15. Why are there three levels within the framework?
They describe a range of different types of behavior that are relevant to a range of different job roles. However, the levels are not hierarchical.
Q1. What are the payment options? A1. We have multiple payment options: 1) Book your course on our webiste by clicking on Buy this course button on top right of this course page 2) Pay via Invoice using any credit or debit card 3) Pay to our UK or India bank account 4) If your HR or employer is making the payment, then we can send them an invoice to pay. Q2. Will I get certificate? A2. Yes, you will receive course completion certificate from Uplatz confirming that you have completed this course with Uplatz. Once you complete your learning please submit this for to request for your certificate https://training.uplatz.com/certificate-request.php Q3. How long is the course access? A3. All our video courses comes with lifetime access. Once you purchase a video course with Uplatz you have lifetime access to the course i.e. forever. You can access your course any time via our website and/or mobile app and learn at your own convenience. Q4. Are the videos downloadable? A4. Video courses cannot be downloaded, but you have lifetime access to any video course you purchase on our website. You will be able to play the videos on our our website and mobile app. Q5. Do you take exam? Do I need to pass exam? How to book exam? A5. We do not take exam as part of the our training programs whether it is video course or live online class. These courses are professional courses and are offered to upskill and move on in the career ladder. However if there is an associated exam to the subject you are learning with us then you need to contact the relevant examination authority for booking your exam. Q6. Can I get study material with the course? A6. The study material might or might not be available for this course. Please note that though we strive to provide you the best materials but we cannot guarantee the exact study material that is mentioned anywhere within the lecture videos. Please submit study material request using the form https://training.uplatz.com/study-material-request.php Q7. What is your refund policy? A7. Please refer to our Refund policy mentioned on our website, here is the link to Uplatz refund policy https://training.uplatz.com/refund-and-cancellation-policy.php Q8. Do you provide any discounts? A8. We run promotions and discounts from time to time, we suggest you to register on our website so you can receive our emails related to promotions and offers. Q9. What are overview courses? A9. Overview courses are 1-2 hours short to help you decide if you want to go for the full course on that particular subject. Uplatz overview courses are either free or minimally charged such as GBP 1 / USD 2 / EUR 2 / INR 100 Q10. What are individual courses? A10. Individual courses are simply our video courses available on Uplatz website and app across more than 300 technologies. Each course varies in duration from 5 hours uptop 150 hours. Check all our courses here https://training.uplatz.com/online-it-courses.php?search=individual Q11. What are bundle courses? A11. Bundle courses offered by Uplatz are combo of 2 or more video courses. We have Bundle up the similar technologies together in Bundles so offer you better value in pricing and give you an enhaced learning experience. Check all Bundle courses here https://training.uplatz.com/online-it-courses.php?search=bundle Q12. What are Career Path programs? A12. Career Path programs are our comprehensive learning package of video course. These are combined in a way by keeping in mind the career you would like to aim after doing career path program. Career path programs ranges from 100 hours to 600 hours and covers wide variety of courses for you to become an expert on those technologies. Check all Career Path Programs here https://training.uplatz.com/online-it-courses.php?career_path_courses=done Q13. What are Learning Path programs? A13. Learning Path programs are dedicated courses designed by SAP professionals to start and enhance their career in an SAP domain. It covers from basic to advance level of all courses across each business function. These programs are available across SAP finance, SAP Logistics, SAP HR, SAP succcessfactors, SAP Technical, SAP Sales, SAP S/4HANA and many more Check all Learning path here https://training.uplatz.com/online-it-courses.php?learning_path_courses=done Q14. What are Premium Career tracks? A14. Premium Career tracks are programs consisting of video courses that lead to skills required by C-suite executives such as CEO, CTO, CFO, and so on. These programs will help you gain knowledge and acumen to become a senior management executive. Q15. How unlimited subscription works? A15. Uplatz offers 2 types of unlimited subscription, Monthly and Yearly. Our monthly subscription give you unlimited access to our more than 300 video courses with 6000 hours of learning content. The plan renews each month. Minimum committment is for 1 year, you can cancel anytime after 1 year of enrolment. Our yearly subscription gives you unlimited access to our more than 300 video courses with 6000 hours of learning content. The plan renews every year. Minimum committment is for 1 year, you can cancel the plan anytime after 1 year. Check our monthly and yearly subscription here https://training.uplatz.com/online-it-courses.php?search=subscription Q16. Do you provide software access with video course? A16. Software access can be purchased seperately at an additional cost. The cost varies from course to course but is generally in between GBP 20 to GBP 40 per month. Q17. Does your course guarantee a job? A17. Our course is designed to provide you with a solid foundation in the subject and equip you with valuable skills. While the course is a significant step toward your career goals, its important to note that the job market can vary, and some positions might require additional certifications or experience. Remember that the job landscape is constantly evolving. We encourage you to continue learning and stay updated on industry trends even after completing the course. Many successful professionals combine formal education with ongoing self-improvement to excel in their careers. We are here to support you in your journey! Q18. Do you provide placement services? A18. While our course is designed to provide you with a comprehensive understanding of the subject, we currently do not offer placement services as part of the course package. Our main focus is on delivering high-quality education and equipping you with essential skills in this field. However, we understand that finding job opportunities is a crucial aspect of your career journey. We recommend exploring various avenues to enhance your job search: a) Career Counseling: Seek guidance from career counselors who can provide personalized advice and help you tailor your job search strategy. b) Networking: Attend industry events, workshops, and conferences to build connections with professionals in your field. Networking can often lead to job referrals and valuable insights. c) Online Professional Network: Leverage platforms like LinkedIn, a reputable online professional network, to explore job opportunities that resonate with your skills and interests. d) Online Job Platforms: Investigate prominent online job platforms in your region and submit applications for suitable positions considering both your prior experience and the newly acquired knowledge. e.g in UK the major job platforms are Reed, Indeed, CV library, Total Jobs, Linkedin. While we may not offer placement services, we are here to support you in other ways. If you have any questions about the industry, job search strategies, or interview preparation, please dont hesitate to reach out. Remember that taking an active role in your job search process can lead to valuable experiences and opportunities.