30 Hours
Online Instructor-led Training
USD 700 (USD 1120)
Save 38% Offer ends on 30-Sep-2019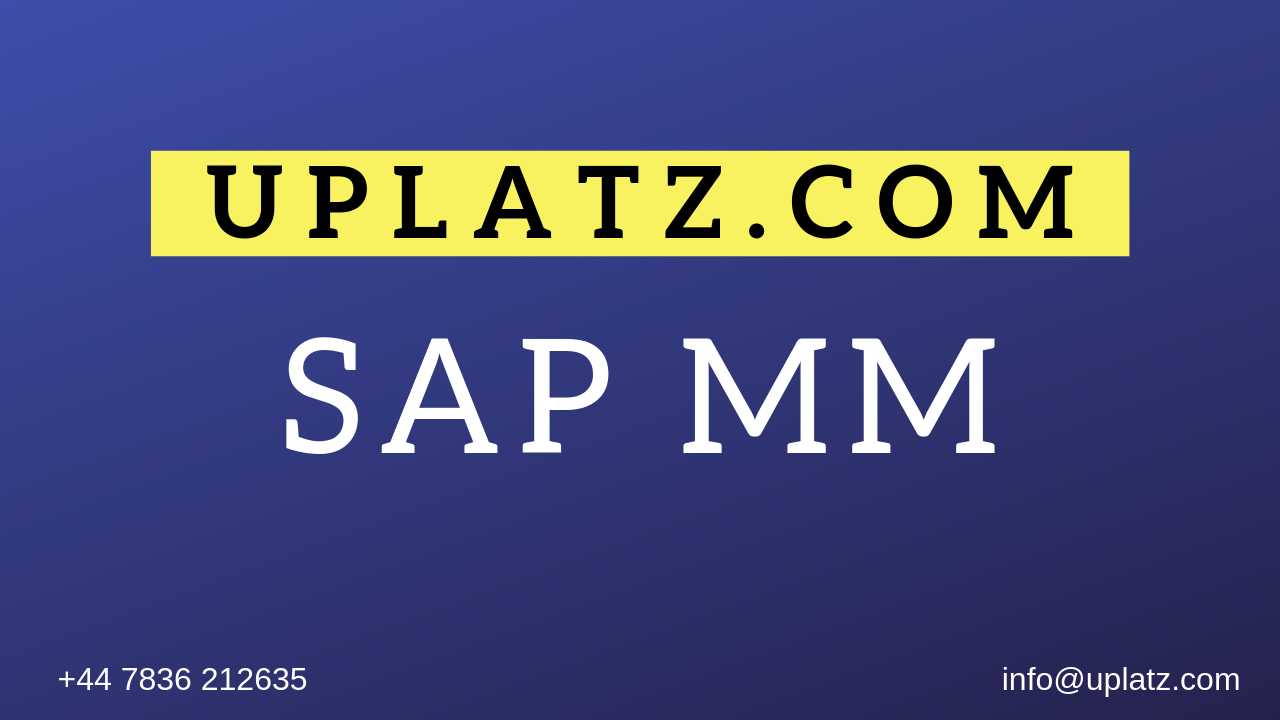 About this Course
SAP MM (Material Management) is a module of the SAP Enterprise Resource Planning (ERP) package that is used for Procurement Handling and Management. SAP MM is a material management tool that can help automate and streamline corporate Procurement Handling and Inventory Management (in other words it is about managing resources). Materials management is well integrated with other modules such as SD, PP and QM.

SAP Materials Management (SAP MM) is one of the most important SAP functional modules that deals with management of material and inventory that helps to run any business operation smoothly. SAP MM module also supports other logistic functions where material and inventory information is required. SAP MM plays vital role in speeding up the procurement and material management activities as well as to run business operations.

Uplatz.com offers comprehensive SAP MM Training course with focus on imparting world-class quality. This course will equip you with knowledge and hands-on practical business scenarios. SAP MM course will also prepare you for the job market as well as for SAP MM certification. Our SAP MM training course is delivered by highly experienced and expert tutors. We will also provide you SAP MM training material, tutor notes, all sessions video recordings, free server access, and a lot more.

If you are looking for the SAP MM online training provider, Uplatz is one of the most reputed SAP online training providers in the market. All our SAP courses have been designed by experts and can help you learn the SAP modules from basics to advanced level. The SAP MM syllabus focuses on practical and project sessions along with comprehensive explanation of concepts. MM trainers will help the students to work on SAP Materials Management software and learn the functions and configuration involved in management of material and inventories of any organisation. Our aim is to provide high class SAP MM online training that will not only help you in the practical learning of major business processes of SAP MM but also to equip you with the knowledge to qualify in SAP MM certification exam.
Who is the target audience?
Anybody who is interested to learn SAP MM People with Retail Experience, people looking to build a career in Retail Industry. SAP MM online training & certification program can be learned by working professionals/SAP functional Consultant or Any interested Graduate who have computer literacy.
What will you learn in SAP MM course?

· Prepare you to take SAP MM certification Exam
· Provide you the knowledge of SAP MM end-to-end transaction in a business process
· You will be able to perform configuration and do implementation on SAP MM
· You will learn about Introduction to ERP & SAP, Master date, Inventory management, purchasing, Invoicing etc.
· You will be able to do integration of SAP with FICO and PP



SAP MM Certification details
What certification Exam student can give after this course?
SAP MM Certification is required after successful completion of SAP MM course to validate your knowledge & Skills.
Exam Code: C_TSCM52_66
C_TSCM52_67
SAP MM module has two levels of examination:

1. Associate (Fresher)
Exam Duration: 180 Minutes
Total Questions: 80
Types of Questions: MCQ, multiple response matching questions and answers

2. Professional (Experienced)
Exam Duration: 90 Minutes
Total Questions: 40
Types of Questions: MCQ, multiple response, scenario based and matching questions and answers

----------------------------------------------------------------------------------------------------------
SAP MM Training
Course Details & Curriculum
1. INTRODUCTION TO ERP
a. ERP Definition

b. Characteristics of ERP

c. Products of ERP

d. Benefits of using ERP
2. INTRODUCTION TO SAP
a. SAP History

b. SAP Product line

c. New Products of SAP

d. Relation of New SAP Products with the core product

e. Industry specific Products

f. Type of SAP Projects

g. Type of SAP Roles

h. Architecture of SAP

i. System Landscape

j. Types of data used in the SAP system
3. INITIAL SCREENS
a. How to login to the SAP system

b. SAP Client / GUI

c. SAP Session - What it is

d. How to open a new Session

e. Create new Sessions

f. Navigation between Sessions

g. Transactions and Activities

h. Shortcuts or Transaction Codes

i. SAP Easy Access screen

j. SAP IMG screen

k. Difference between Easy Access and IMG screens
4. ENTERPRISE STRUCTURE
i.What is Enterprise Structure

ii.The different types of Enterprise Structure

iii.Company structure in real time

iv.Company structure for each process

v.MM Structure against other process structure

vi.Enterprise Structure terms in real time against those used in the SAP system

vii.Definitions of the elements of enterprise structure

viii.Creation of Enterprise Structure elements in the SAP system

a.Group

b.Company

c.Plant

d.Store

e.Purchasing Department

f.Valuation Area

g.Controlling Area

ix.Assignment of the Enterprise Structure elements in the SAP system

a.Assign Company to Group

b.Assign Plant to Company

c.Assign Store to Plant

d.Assign Purchasing Departments

e.Assign Controlling Area
5. MASTER DATA
a. Basics of Master Data

b. Significance of Master Data

c. Usage of Master Data

I.Material Master

i.What is Material Master

ii.Views

iii.Subscreens

iv.Fields

v.Maintenance of material data in the SAP system

vi.Prerequisites for creation of Material Master Record

vii.Creation of Material Master Record

viii.Changes to Material Master Record

ix.Other end user activities in Material Master

x.Configuration of Material Master

a.Screen Sequence

What is Screen Sequence

Significance and usage of Screen Sequence

b.Screen Reference

What is Screen Reference

Creating and using Screen Reference

c.Field Selection

What is Field Selection

Criteria for defining field selection

d.Field Reference

What is Field reference

Creating and using field references

e.Material Type

What is Material Type

Usage of Material Type in the SAP system

Defining and using Material Types

f.Assign Number Range to Material Type

g.Material Number formatting

h.Material Groups

i.Purchasing Group

j.Purchase Value Key

k.Shipping Instruction

II.Vendor Master

i.Who is a Vendor

ii.What is Vendor Master Record

iii.Division of Vendor Master data

General Data

Company Code Data

Purchasing Data

iv.Vendor Classification

v.Types of Vendor

Regular Vendor

One-time Vendor

Accounting Vendor

Purchasing Vendor

Central Vendor

vi.Prerequisites for creating Vendor Master Record

vii.Vendor Account Group and its significance

viii.Creation of Vendor Master Record

ix.Changing the Vendor Master Record

x.Other End user activities of Vendor Master

xi.Configuration of Vendor Master

a.Vendor Field Selection

What is Vendor field selection

Significance of vendor field selection

Criteria for maintaining vendor field selection

b.Assignment of Number Ranges

c.Screen selection for Vendor Master records

d.Vendor Industries

e.Terms of Payment

III.Purchasing Info Record

i.Basics of Purchasing Info Record

What is Purchasing Info Record

Significance of Purchasing Info Record

ii.Types of Purchasing Info Record

iii.Prerequisites for Purchasing Info Record

iv.Creation of Purchasing Info Record

v.Changing the Purchasing Info Record

vi.Other End User activities for Purchasing Info Record

vii.Configuration

Defining Number Ranges for Purchasing Info Record

Screen Selection for Purchasing Info Record

IV.Source Determination

i.Basics of Source Determination

What is Source Determination

Source Determination options in the SAP system

ii.Source List

1.Basics of Source List

What is Source List

Significance and usage of Source List

2.Creation of Source List

3.Changing the Source List

4.Other End User activities for Source List

5.Configuration

iii.Quota Arrangement

1.Basics of Quota Arrangement

What is Quota Arrangement

Significance and usage of Quota Arrangement

2.Prerequisites for creating Quota Arrangement

3.Creation of Quota Arrangement

4.Changing the Quota Arrangement

5.Other End User activities of Quota Arrangement

6.Configuration
6. Purchasing
I.Basics of Purchasing

What is Purchasing

Difference Between Purchasing and Procurement

II.Purchasing Cycle

III.Purchasing Documents

Different types of Purchasing documents used

Division of Purchasing Document in the SAP system

Type of data maintained in each division of the purchase document

IV.Purchase Requisition

i.Basics of Purchase Requisition

ii.Creation of Purchase Requisition

iii.Other End User activities of Purchase Requisition

V.Request for Quotation (RFQ)

i.Basics of RFQ

ii.Creation of RFQ

iii.Other End User activities of RFQ

VI.Quotation

i.Basics of Quotation

ii.Creation of Quotation

iii.Other End User activities of Quotation

VII.Comparison

i.What is comparison

ii.Criteria for comparison in the real time and in the SAP system

iii.The comparison process

VIII.Purchase Order

i.What is a Purchase Order

ii.Creation of Purchase Order with reference

iii.Creation of Purchase Order without reference

IX.Release Procedure

i.Basics of Release Procedure

ii.Release Procedure and Approval process

iii.Release Characteristics

iv.Release Classes

v.Release Groups

vi.Release Codes

vii.Release Indicators

viii.Release Strategies

ix.Releasing the Purchase Order through Release Procedure

X.Optimization of Purchasing

i.Concepts of Purchase Optimization

ii.Prerequisites for creating a Purchase Order automatically

iii.Creation of Purchase Order automatically

XI.Outline Agreements

i.Basics

ii.Contracts

1.Concepts

2.Quantity Contract

3.Value Contract

4.Creation of a Contract

5.Other End User activities of Contract

iii.Scheduling Agreements

1.Concepts

2.Creation of Scheduling Agreement

3.Other End User activities of Scheduling Agreement

4.Creation of Delivery Schedule

XII.Configuration of Purchasing

i.Document Types configuration

ii.Assigning Number Ranges to Document Types

iii.Screen Selection for the Document Types

iv.Text Types and Copying Rules

v.Tolerances for Archiving documents
7. Inventory Management
I.Basics of Inventory Management

II.Stock Types

III.Movement Types

IV.Process of Goods Receipt

V.Process of Goods Issue

VI.Stock Transfers

i.What is Stock Transfer

ii.Types of Stock Transfer

iii.Transfer between Plants

iv.Transfer between Storage Locations

v.Transfer between Stock types

vi.Transfer using Stock Transport Order

VII.Return to vendor

i.Conditions under material returned to vendor

ii.Prerequisites for return to vendor

VIII.Cancellation

IX.Initial Stock

X.Reservations

XI.Physical Inventory

XII.Configuration

i.Plant Parameters

ii.Number Range assignment

iii.Screen Selection

iv.End User Restrictions for Inventory Management activities

v.Movement Types and its attributes

vi.Individual transaction configuration
8. Special Procurement Process / Special Stocks
I.Basics of Special Procurement Process / Special Stocks

II.Subcontracting

i.What is the Subcontracting process

ii.Where used

iii.Steps defining the subcontracting process

iv.Configuration for subcontract process

III.Consignment

i.What is the Consignment process

ii.Where used

iii.Steps defining the Consignment process

iv.Configuration for Consignment process

IV.Pipeline

i.What is the Pipeline process

ii.Where used

iii.Steps defining the Pipeline process

iv.Configuration for Consignment process
9. External Services Management
I.Basics of External Services Management

II.Service Master

III.Service Conditions

IV.Service Purchase Order

V.Service Entry Sheet

VI.Configuration of External Services Management
10. Valuation and Account Determination
I.Valuation Types

II.Split Valuation

i.What is Split Valuation

ii.Usage and Significance of Split Valuation

iii.Global Types

iv.Global Categories

v.Assignment
11. Logistics Invoice Verification
I.Concepts

II.Planned Costs

III.Unplanned Costs

IV.Entry of Invoice

V.Blocking of Invoice

VI.Releasing the blocked invoice

VII.Holding / Parking the invoice

VIII.Releasing the parked invoice
12. Pricing Procedure
I.Condition Table

II.Access Sequence

III.Condition Types

IV.Calculation Schema

V.Schema Group

VI.Schema Determination

VII.Condition Records

VIII.Execution of Pricing Procedure
13. Batch Management
I.Basics of Batch Management

II.Configuration of Batch Management process in the SAP system

III.Creation of Batch Master Record

IV.End User activities of Batch Management

V.Batch Management with Classification
14. Output Determination
I.Access Sequences

II.Message Types

III.Message Determination Schema

IV.Partner Roles per Message Type

V.Assign Output Devices to Purchasing Groups
15. Integration with FI/CO
I.Concepts

II.Valuation Grouping Code

III.Valuation Class

IV.Account Category Reference

V.Automatic Postings

VI.Modifiers
16. Integration with PP (Materials Requirement Planning)
I.Concepts

II.MRP Methods / Types

III.MRP Group

IV.MRP Controller

V.MRP Area

VI.MRP Configuration
17. ASAP Methodology
I.What is ASAP Methodology

II.Steps of ASAP Methodology

Project Preparation

Blueprint

Realization

Final Preparation

Go-Live / Initial Support

III.Time duration for each step

IV.Post implementation process
18. Support Project Process
19. Real-time Project scenarios

****************************************************************************************
1) WHAT IS ERP?

ERP stands for Enterprise Resource Planning. It is a term used for identifying all the software products used for business process / activities automation in an integrated way.
This term was first coined by the company GARTNER in 1990
· Enterprise can be defined as a group of people working to achieve a common objective using a specified set of resources. It is also known as Company / Organization / Firm / Business / Industry.
· Resources - Can be defined as the set of elements required to achieve the objective of the enterprise
· Planning - It is the process of optimizing the utilization of resources to best achieve the objective.
2) WHAT IS SAP?
SAP stands for Systems, Applications and Products for Data Processing. SAP is the best ERP product. It was first developed in 1972 in Germany by 5 ex-employees of IBM
SAP products are broadly classified into technical, functional & cloud divisions
Technical modules in SAP: SAP ABAP, SAP BI, SAP BO, SAP PI, SAP FIORI, SAP UI, SAP HANA
Functional modules in SAP: SAP MM, SAP WM, SAP PP, SAP PM, SAP QM, SAP SD, SAP FICO, SAP PS, SAP CRM, SAP HR,
Cloud based modules in SAP: SAP SuccessFactors, SAP S/4HANA Finance, S/4HANA Logistics, SAP Ariba, SAP Leonardo
3) WHAT ARE DATA TYPES IN SAP?
Data Type is all the data used in the SAP application, for carrying out various business transactions / activities, It is divided into three types
· Configuration Data
· Master Data
· Transaction Data


4) WHAT IS ENTERPRISE STRUCTURE?
An Enterprise structure is used for defining the company's operational structure into the SAP instance (An SAP instance is a copy of the SAP application installed in one physical server).
The operational structure is dependent on the kind of business activities carried out in a company. Usually, these activities can be divided into three groups: Manufacturing (OR) Trading (OR) Services.


5) WHAT IS MASTER DATA IN SAP MM?
It is defined as the set of data which remains constant for a long time in the database. Each Component will have its own set of Master Data. For the MM Component, the following are the set of Master Data.
· Material Master
· Vendor Master
· Purchasing Info Record
· Source Determination


6) WHAT IS PURCHASING REQUISITION IN SAP MM?
It is a document used for maintaining the list of items to be purchased and it is created without a Vendor or Purchasing Organization. It is only an internal document and is not sent outside the Company Code


7) WHAT IS REQUEST FOR QUOTATION(RFQ) IN SAP MM?
It is created by the Company Code for getting comparative prices from different Vendors for various material / services required for carrying out the business activities in the Company Code. It is created based on Vendor and Purchasing Organization


8) WHAT IS QUOTATION IN SAP MM?
It is the document which is used for maintaining the price & other purchase terms at which each Vendor is ready to supply the material or provide the service to the specified Plant under the specified Purchasing Organization.


9) WHAT IS PURCHASING ORDER IN SAP MM?
It is a type of purchase document which is used for acquiring the material / services from an external source. Usually, this document is legally binding on both parties. In most of the Company Codes, Purchase Order is one of the frequently used / created documents.


10) WHAT IS INVENTORY MANAGEMENT?
It is used for managing the stock of the different material used in the Company Code. Stock is normally divided into three types.
· Unrestricted Stock: The Unrestricted stock is the normal stock and is used for any issues / transfers or uses. Whenever material is normally used in the Plant, it is the Unrestricted type. No other stock type can be used for internal / external issue.


· Quality Inspection Stock: The Quality Inspection Stock is used for maintaining the stock of material kept aside for checking the quality of the material. It is not used for any other purpose.


· Blocked Stock: Are the stocks rejected due to bad quality of the material.


11) WHAT IS GOODS RECEIPT IN SAP MM?
Goods receipt is nothing but the movement of goods or materials in the warehouse. These goods may be received from external vendors or in-plant production. Good Receipt will always lead to increase in the stock of the warehouse. Most of the time, stock is received with reference to a Purchase Order.


12) WHAT IS RETURN TO VENDOR IN SAP MM?
If the organization wants to return the material already purchased by a vendor due to any reason for example damage or quality issues etc then they can do so in SAP MM system.


13) WHAT IS STOCK TRANSFER IN SAP MM?
Stock can be moved between storage locations between different plants or within the same plant and between stock types for various reasons.


14) WHAT IS GOODS ISSUE IN SAP MM?
Goods issue in SAP MM is moving the stock out of inventory due to several reasons.


15) WHAT IS RESERVATION IN SAP MM?
It is the process of keeping aside stock of any material for a specific purpose. The purpose of reservation is identified by the movement type used for issuing stock to that purpose. Reservation of stock takes place only against Unrestricted Stock Type.


16) WHAT IS PHYSICAL INVENTORY IN SAP MM??
It is the process of checking the physical stock against the system stock on a periodic basis. Every company that maintains stock of any material carries out this process on a regular basis. The regularity / periodicity of this checking differs from company to company.


17) WHAT ARE SPECIAL PROCUREMENT TYPES/SPECIAL STOCK IN SAP MM?
These are used for specifying the purchase types other than the standard / regular purchase process. These are carried out in specific companies / situations based on the process requirement.


18) WHAT IS EXTERNAL SERVICES MANAGEMENT?
Service can be defined as an activity provided by an external source in order for the Company Code to carry out its business activities.


19) WHAT IS MM INTEGRATION WITH FI/CO?
It is carried out to ensure the value of all the transactions is updated in the relevant G/L account automatically. For this update to happen, the G/L accounts need to be created for the relevant plant/posting location.


20) WHAT IS MM INTEGRATION WITH PP?
The integration with PP is carried out to ensure the material stock required for various production activities is maintained as per the production schedules created in the specific plant. This integration process is called as the "Requirements Planning" process (MRP).

----------------------------------------------------------------------------------------------------------
Career Path
With SAP MM training and certification, you would get following career and Job opportunities.
1. SAP-MM Consultant
2. SAP MM Executive
3. SAP-MM End User
4. SAP MM Project Manager
5. SAP MM Super User
6. SAP Project Team Leader

------------------------------------------------------------------------------------------------------
Job Prospects
The average salary ranges from approx. £40,648 per year for SAP MM Consultant to £125,757 per year for SAP MM Lead/Manager.
There are currently 23,000+ open SAP MM jobs in UK ranging from MM end-users to consultants to managers.
For more details, please visit Uplatz Resourcing
----------------------------------------------------------------------------------------------------------
FAQ
Will this course help me clear the certification exam?
+
What is Vendor in SAP MM?
+
What is Purchasing Info Record?
+
What is Pricing Procedure?
+
What is Output Determination?
+
What is Batch Management?
+
What is Logistics Invoice Determination?
+
What is Split Valuation?
+
What is Material Master in SAP MM?
+
What are the essential components of SAP MM?
+
What is the code to transaction view of material in SAP MM?
+
What is the material requirement access code for single item in SAP MM?
+
What do you understand by reservation in SAP MM?
+
What is SAP MM online course duration?
+
Which is better - Self-paced training or Instructor-led training?
+
What if I miss a class?
+
How will I execute the practical?
+
Is the course material accessible after completion of the course?
+
Is there any offer/discount that I can avail?
+
Will I get a refund if I cancel my enrollment?
+
What if I have queries after completion of the course?
+