22:30 Hours
Online Instructor-led Training
USD 400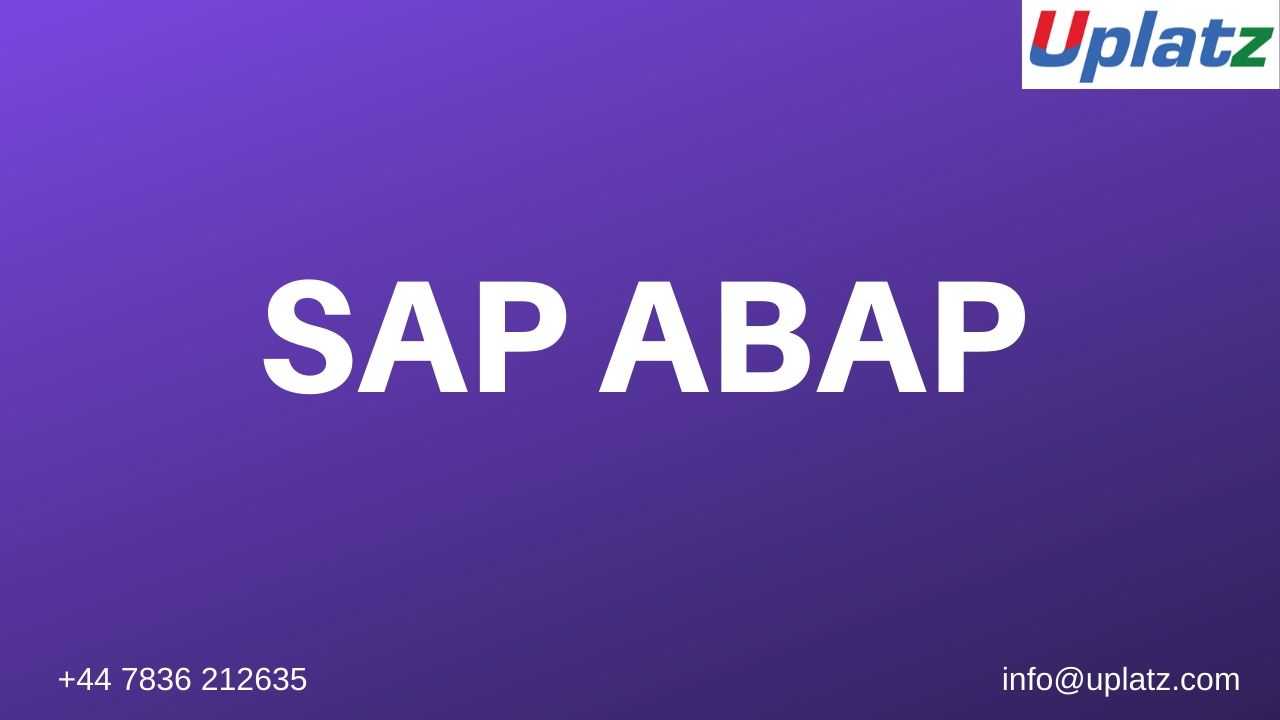 About this Course
SAP ABAP Technical course for Beginers, Intermediate and Advanced level. Real time scenarios from Real time projects. Help will be provided for Resume preparation and Interview preparation.
SAP ABAP
Course Details & Curriculum
UNIT-I
INTRODUCTION TO ERP
• What is ERP?
• Why we need ERP?
• Advantages of ERP
INTRODUCTION TO SAP ARCHITECTURE
• What is SAP?
• History of SAP?
• SAP R/2 architecture
• SAP R/3 architecture
INTRODUCTION TO ABAP/4
• What is ABAP?
• Log on to SAP Environment
• Workbench tools
ABAP DICTIONARY CONCEPTS
• Tables, Data Elements and Domains
• Transparent, Pooled and clustered tables
• Structure, Table types
• Views, Search helps and Lock objects
ABAP PROGRAMMING BASICS
• Data Types, Variables, Types, Operators, Expressions etc
• Conditional statements, Loops and termination statements
• String and Date operations and System fields
• Internal Tables (All Operations)
• Types of Internal Tables (Standard, Sorted and Hashed)
• Joins, Nested selects Sub queries and For All Entries etc.
• Open SQL statements
• Modularization (Subroutines, Function Modules, and Includes)
• Debugging programs (Break Point, Watch points etc)
• Runtime Analysis, Performance Trace
UNIT-II
REPORTS
• Classical Reports
• Classical Report Events
• Interactive report
• Interactive report events
• Control Level Commands (AT First, AT New etc)
• Selection Screen: Parameters
• Select –options
• System fields of reports
UNIT-III
BDC
• Files Formats
• Local Files (Upload, Download etc)
• Sequential Files (Open dataset, Read Dataset, Transfer etc.)
• Data Transfer Scenarios and methods
• BDC session method (Creating, Processing, Analyzing and Correction errors in Sessions)
• Call Transaction method (Options, Tracing errors and Correction)
• Recording Technique
UNIT-IV
SAP SCRIPTS
• Form designing (Pages, Windows, Page windows and Paragraphs etc.)
• Inserting Logos
• Modifications to Form and Print program
• Copying forms etc.
SMART FORMS
• Smart form and Form Logic
• Calling a Form from print program
• Difference between SAP Script and Smart Forms
ADVANCED ABAP CONCEPTS :
A) SAP ENHANCEMENTS
• User Exits
• BADIS(BUSINESS ADD-INS)
CROSS APPLICATIONS
IDOC
• Features and structure of IDOC
• Idoc type and Message type
• Segment definition and components
• Creating Segments
• Creating Idoc types (Basics Type and Extension)
• Crating Message types and Process
BAPI
• SAP Business Objects
• Business Object Builder and BOR
• Features and applications of BAPI
• Creating Business Object types
• Working with a standard BAPIs
Career Path
After completion of the course, can get into jobs such as SAP ABAP Technical consultant