40 Hours
Online Instructor-led Training
USD 420 (USD 1120)
Save 63% Offer ends on 29-Feb-2020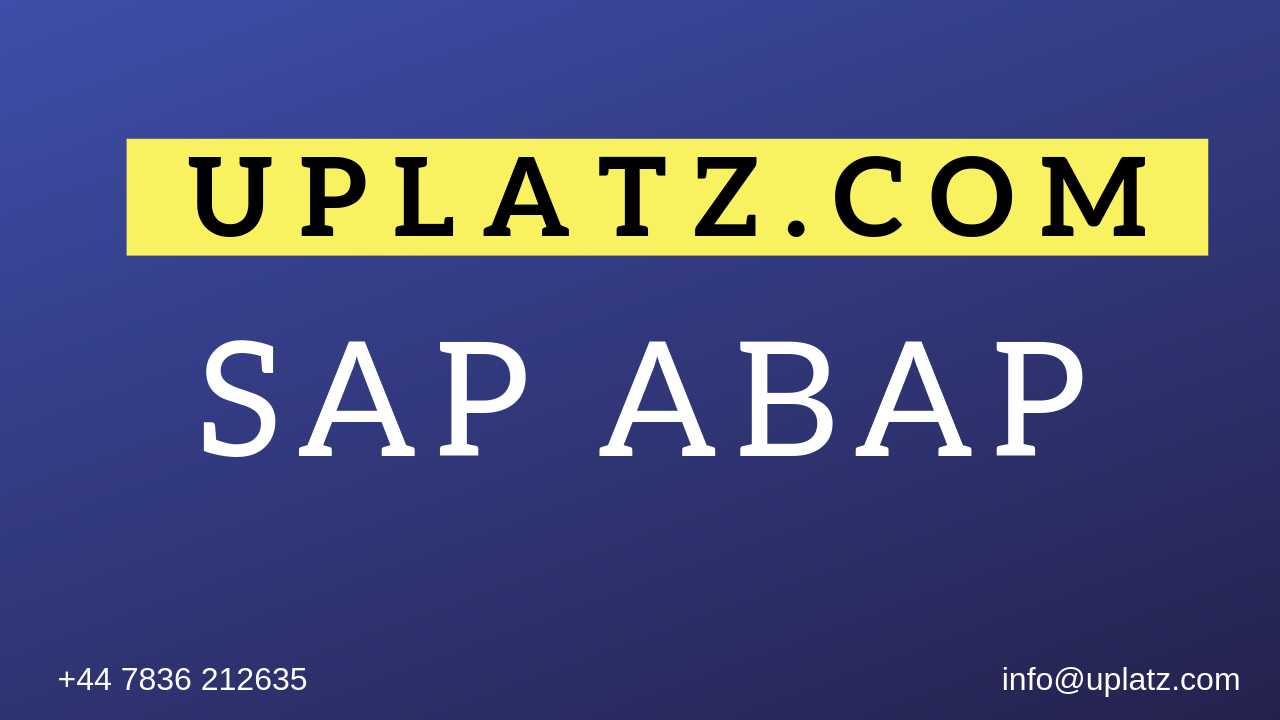 About this Course
SAP ABAP (Advanced Business Application Programming) module
ABAP stands for Advanced Business Application Programming. ABAP is the main language for SAP Application Server programming and the SAP ABAP program resides inside the SAP database e.g. Oracle DB or HANA DB.
As we know SAP ABAP is the default programming language for SAP ERP Application software, there if anyone is interested in the programming and development of SAP ERP software it is necessary to learn SAP ABAP language. SAP ABAP Training is being more popular because almost every top rated MNC are using SAP ERP Software to run their business system.
Because of high market demand of SAP ABAP Consultant most of the most of the software programmers, developers and other SAP functional consultants are interested to enhance their knowledge. And most of the people would like to choose SAP ABAP Online training sessions instead of going class room.
Uplatz is market leader in the field of SAP Online training, and our SAP ABAP online Course is practical and project based that have been designed and delivered by SAP ABAP Certified highly experienced consultants so that our student would not only be able to learn basic to advance ABAP programming but also implement their ABAP Programming knowledge on project development.
Our aim is to provide you high class online ABAP training so that our every student would be able to qualify SAP ABAP Certification exam and get better job opportunities.
If you are planning for SAP ABAP Online training & certification this course will help you to learn hands on practical based APAP training session from basic to advance ABAP programming. Boost your market value with SAP ABAP training & certification program. In this course, programming with the coding language SAP ABAP is introduced and applied to the leading standard software in the field of Enterprise Resource Planning, SAP ERP. As a first step, basic concepts of ABAP are explained, and methods of developing software for SAP ERP are introduced. Further contents of the course are ABAP's powerful Type concept, the modularization of programs, working with databases and especially the different possibilities of designing and customizing interfaces. The content is presented by using examples which have to be programmed by the participants directly on the system. Conclusively, the gained knowledge is further strengthened by solving a complex case study in a less guided way of teaching. An outlook on ABAP objects rounds off the course.

We are always motivated in the development and redesigning of our SAP ABAP Course curriculum according to the need of modern industries and our team will help you to prepare for the SAP ABAP certification Exam. Our aim is to provide Certified SAP ABAP tutors who have great experience in SAP ABAP online training, and able to explain you the entire SAP ABAP course syllabus with good practical examples. Our professional trainers, modern online ABAP training methodology and highly customized SAP ABAP Course content are our unique features.

Target Audience

• Everyone
• Beginners through to season SAP Consultants
• SAP Functional Consultants looking to learn ABAP skills
• SAP Project Team members
• College Students wanting to get ahead with their studies
• SAP BASIS Consultants wanting to expand their knowledge
• SAP BW Consultants - ABAP play a BIG part in this role

What am I going to get from this course?

• Get your first job in SAP
• Enhance your existing SAP Skill-set
• Help pass SAP ABAP Certification Exams


SAP ABAP Certification
We recommend every ABAP Student to appear and qualify SAP ABAP certification exam and validate your SAP ABAP Knowledge for better career growth.
Exam Name: SAP Certified Development Associate - ABAP with SAP NetWeaver 7.40
Exam Code: C_TAW12_740

SAP ABAP module has two levels of examination:

1. Associate (Fresher)

Exam Duration: 180 Minutes
Total Questions: 80
Types of Questions: MCQ, multiple response matching questions and answers


2. Professional (Experienced)

Exam Duration: 180 Minutes
Total Questions: 80
Types of Questions: MCQ, multiple response, scenario based and matching questions and answers

---------------------------------------------------------------------------------------------------
SAP ABAP Training
Course Details & Curriculum
SAP ABAP COURSE CONTENT

1. Introduction to ABAP/4
• Introduction to ERP
• Introduction to SAP/3, ABAP/4
• ABAP Editor
• System Landscapes
3 – Landscapes
4 – Landscapes
2 – Landscapes
• Data Types & Keywords
• Output Statements
• Arithmetic Operations
• Relational Operations
• Writing Small Programs
• String Operations
Translate
Condense
Concatenate
• Control Statements
• Selection Screens
Parameters
Select-Options
• Open SQL Statements (Insert, Modify, Delete, Update)
• Simple Reporting

2. Transport Organizer & Package Builder
• Why to Transport?
• Creation of a Task
• What is a Transport Request?
• Releasing of Request
• Package Creation

3. Data Dictionary
• Creation of Database Tables
• Data Element & Data Domain
• Structures & Table Types
• Search Helps
Elementary Search Help
Collective Search Help
• Creation of Views
Database View
Projection View
Maintenance View
Help View
• Type Groups
• Creation of Foreign Keys
• Check & Value Tables

4. Reporting
• Debugging Techniques
• Pillars of ABAP
Work Area
Internal Table
• Modularization Techniques
Sub-Routines
Includes
Function Modules
• For All Entries & Joins
• Events for Classical Reports
• Events for Interactive Reports
• Types of Messages & Message Class Creation

5. ABAP List Viewer
Introduction to ABAP List Viewer
Types of ABAP List Viewer
• Function Module for List Display
• Function Module for Grid Display
• Interactive ALV (SLIS)

6. Interfaces
• Introduction to Cross Applications
• Working with RFC Function Modules
• Overview of Business Objects
• Creation of Business Objects
• Creation of BAPI

7. Conversion
Why Data Transfer?
• Introduction to BDC
• Recording a Transaction
• Methods in BDC
Call Transaction
Session Method
• Flat File Creation
• Uploading Data
• LSMW (Legacy System Migration Workbench)

8. Enhancements
• Introduction to Enhancements
• User Exits
• Customer Exits
• Introduction to BAdIs (Business Add Ins)
• Implementation of a BAdI
• Overview of Enhancement Spots, Enhancement Sections, Enhancement Implementations, Class Enhancements

9. Forms (Scripts & SMARTFORMS)
• Introduction to Scripts
• Layout Sets
• SAP Scripts Elements
• Logo Inclusions
• Working with SMARTFORMS
• Standard Text
• Graphics Managements
• Writing Print Programs & Designing Layouts
• Output Type Configuration to Standard Orders

10. Object Oriented ABAP
• Fundamentals of Object Orientation
• Introduction to Local Classes & Methods
• Importance of Access Specifiers
• Simple Reporting using Local Classes & Methods
• Introduction to Global Classes & Interfaces
• Uses of Global Classes in Reports

11. Module Pool Programming
• Introduction to Module Pool
• Flow Logic
PAI (Process After Input)
PBO (Process Before Output)
• Screen Designing
• Programming in Object Browser
• Creation of Table Controls
• Dynamic Screens
Call Screen
Set Screen
Leave to Screen
Leave Screen

12. Sales & Distribution Flow
• Sales Cycles
Inquiry
Quotation
Purchase Order (MM)
Sales Order
Delivery
Billing
Returning Customer

---------------------------------------------------------------------------------------------------
Career Path
After successful completion of SAP ABAP training & certification you would get following career and job opportunities:

1. SAP ABAP Consultant
2. SAP APAP Programmer
3. SAP ABAP Application Developer
4. SAP ABAP End User
5. SAP ABAP Project Manager

---------------------------------------------------------------------------------------------------

Job Prospects
The average salary ranges from approx. £55,874 per year for SAP ABAP Consultant to £151,664 per year for SAP ABAP Lead/Manager.
There are currently 15,000+ open SAP ABAP jobs in UK ranging from ABAP end-users to consultants to managers.
For more details, please visit Uplatz Resourcing

------------------------------------------------------------------------------------------------------

FAQ
Will this course help me clear the certification exam?
+
What do you understand by ABAP?
+
Which are the technical specification contents in SAP ABAP?
+
Which is the best organisation to learn SAP ABAP online?
+
What is SAP ABAP online course duration?
+
What is the basic difference between Table & Template?
+
Is SAP Memory global or local?
+
Is ABAP Memory local or global?
+
What are smart forms in SAP?
+
What is the use of Pretty Printer?
+
What is ABAP Dictionary?
+
What is a foreign key relationship in ABAP?
+
What are the different types of SAP ABAP Database Tables?
+
What is the difference between Domain and Data Element in ABAP?
+
What is an Aggregate Object in ABAP?
+
What is a View in ABAP? Explain different types of Views.
+
What are Check Tables and Value Tables in ABAP?
+
What is the difference between Tables and Structures in SAP?
+
What are the reasons for setting Lock Objects in ABAP?
+
What is Module Pool Programming?
+
What are the requirements of a Dialog Program?
+
What are different types of Events in a screen?
+
How does the interaction takes place between Dynpro (Screen) and ABAP/4 module?
+
How does the Dialog handles user requests?
+
How are the function codes handled in Flow logic?
+
What are the 'field' and 'Chain' statements?
+
Which is better - Self-paced training or Instructor-led training?
+
What if I miss a class?
+
How will I execute the practical?
+
Is the course material accessible after completion of the course?
+
Is there any offer/discount that I can avail?
+
Will I get a refund if I cancel my enrollment?
+
What if I have queries after completion of the course?
+