25 Hours
Online Instructor-led Training
USD 500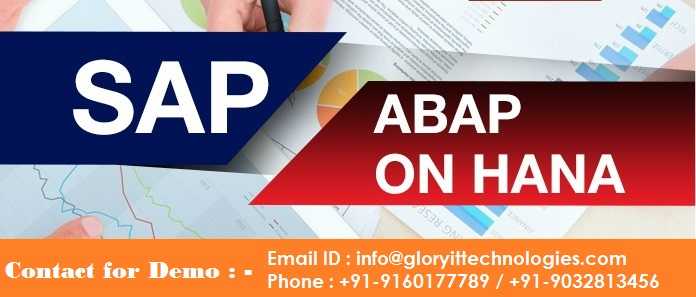 About this Course
SAP ABAP ON HANA Online Training
Course Details & Curriculum
Glory IT Technologies Provides SAP ABAP On HANA Online Training by Real Time Experts. We also Provides Corporate Training and Job Support Services. SAP Advanced Business Application and Programming (ABAP) is a programming language used in the process of coding SAP R/3. SAP HANA can perform business calculations directly on the original data in the main memory without the need to transform data. When using ABAP 7.4 these views can then be imported to the ABAP data dictionary.
Who should plan on joining?
Someone who has the Basic computer and IT skills

Someone who is looking for a career in SAP ABAP and HANA Database

Someone who is looking to start career in SAP focusing on HANA skills
Why Learn SAP ABAP on HANA?
ABAP remains a key language as many SAP business applications and custom developments are written in ABAP with ABAP 7.4 there are numerous improvements to the ABAP language, which allow writing streamlined ABAP code and benefitting from SAP HANA.

EX: BW are already HANA-ready with HANA as primary persistence. SAP Business Suite on HANA will use NW 7.4 as platform. Here we need to optimize code and the best way is to using ABAP for HANA.
FAQ
Will this course help me clear the certification exam?
+
Which is better - Self-paced training or Instructor-led training?
+
What if I miss a class?
+
How will I execute the practical?
+
Is the course material accessible after completion of the course?
+
Is there any offer/discount that I can avail?
+
Will I get a refund if I cancel my enrollment?
+
What if I have queries after completion of the course?
+