30 Hours
Online Instructor-led Training
USD 588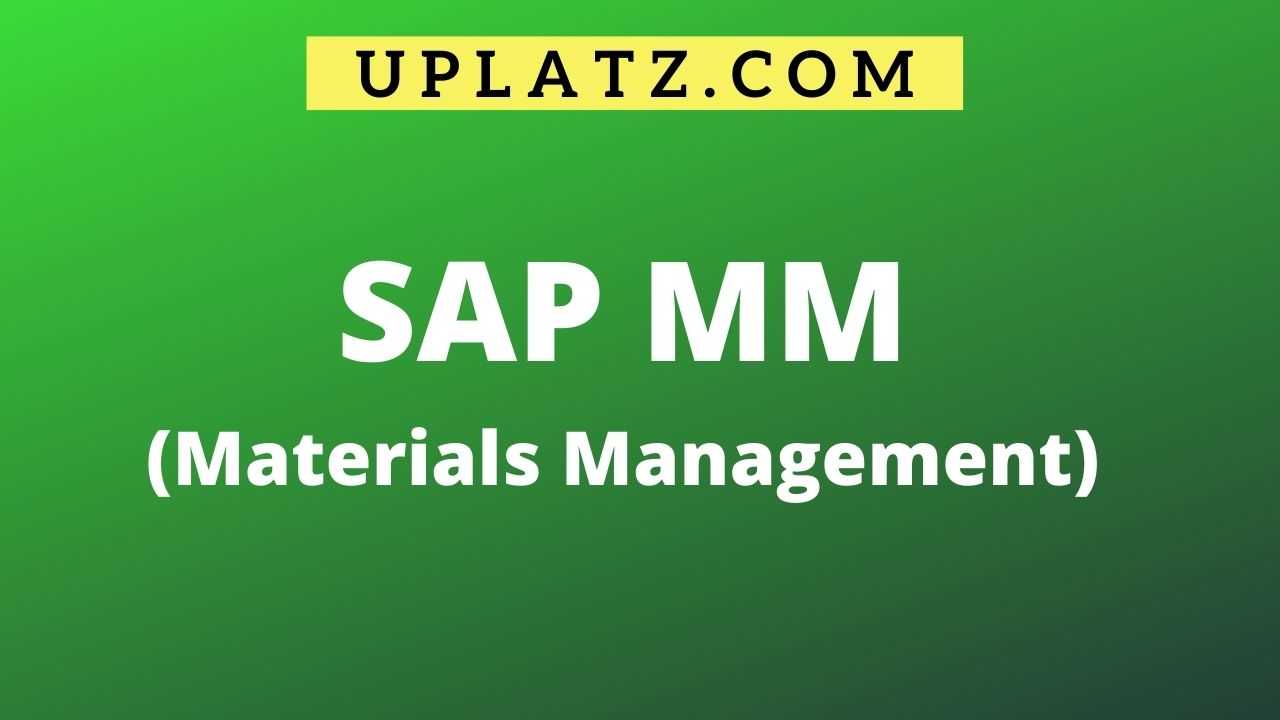 About this Course
SAP MM stand for Material Management, it is one of the important module of SAP logistics that deals with procurement, vendor master data and material resources of a company. In SAP, MM module records all the transactions that related to goods or materials on a regular basis.
SAP MM (Material Management) is a module of the SAP Enterprise Resource Planning (ERP) package that is used for Procurement Handling and Management. SAP MM is a material management tool that can help automate and streamline corporate Procurement Handling and Inventory Management (in other words it is about managing resources). Materials management is integrated with other modules such as SD, PP and QM.
SAP MM ( Material Management)
Course Details & Curriculum
SAP MM Course Details :-
Introduction to SAP
· Discussion on ERP and other ERP clients in the market.
· Comparison with SAP to other ERP clients and focusing on the points of SAP over

other ERP clients.
· Introduction to SAP screens and ways of calling the transaction Definition on
Configuration and Customization.
Organization Structure
· Definition on Organization elements Client Company Code Plant


· Storage Location Purchasing Group.
· Assignment of Organization elements and making of Organization structure.
Ma

s
t
er D

at

a in M

at

erial Mana

g

eme

n

t
· Material Master Vendor Master Info Record Master Source List Master.
Procurement Cycle
· Discussion of complete procurement cycle from Demand to Supply in real time

perspective.
Pu

r

chase

R

equisition
· Direct Purchase Requisition Indirect Purchase Requisition.
· Configuration on Purchase Requisition.
Quotation
· Maintain Quotation Price Comparison.
Pu

r

chase

O

r

der
· Standard Purchase Order.
· Configuration on Document type Discussion on item category Subcontracting Purchase
Order.


· Complete process discussion like creating Subcontracting PO, Goods Issue, GR..
· Details of consumption of components with respective movement types.
· Consignment Purchase Order.
· Complete process execution like PO creation, GR and settlement. Stock Transport
Order.


· Intra-Stock STO with MM route Intra-Stock STO with Delivery Inter-Stock STO.
· Services Order.
· Complete process execution.
Pricing Procedure
· Condition Techniques Access Sequence.
· Pricing determination process Schema determination.
R
elease
P

r

ocedu

r

es
· Edit Characteristics Edit Classes Release Procedures Release Group Release Code

Release Indicator Release Strategy Work Flow
Co

n

t

racts
· Value Contracts Quantity Contracts
Schedule Ag

r

eements
· Schedule Agreements without Release profile Schedule Agreements with Release

profile.
Inventory Management
· Goods Receipts
· Goods Issues
· Transfer Posting
· Movement Type Creation
Automatic Account Determination (MM-FI)
· Valuation Class
· Account Category Reference
· Account Postings
Split Valuation
· Valuation Type
· Configuration related to Split Valuation
Au

t

om

a

tic

PO

p

r

ocess
· Configuration on automatic PO
Career Path
SAP MM consultants

SAP MM Plant Maintenance analyst

Purchase Executive

SAP MM functional Configurator

Sap End User

SAP Functional Analyst in MM

Team Leader

Material Manager
Job Prospects
SAP MM consultants

SAP MM Plant Maintenance analyst

Purchase Executive

SAP MM functional Configurator

Sap End User

SAP Functional Analyst in MM

Team Leader

Material Manager