20 Hours
Self-paced Training (pre-recorded videos)
USD 17 (USD 140)
Save 88% Offer ends on 30-Nov-2023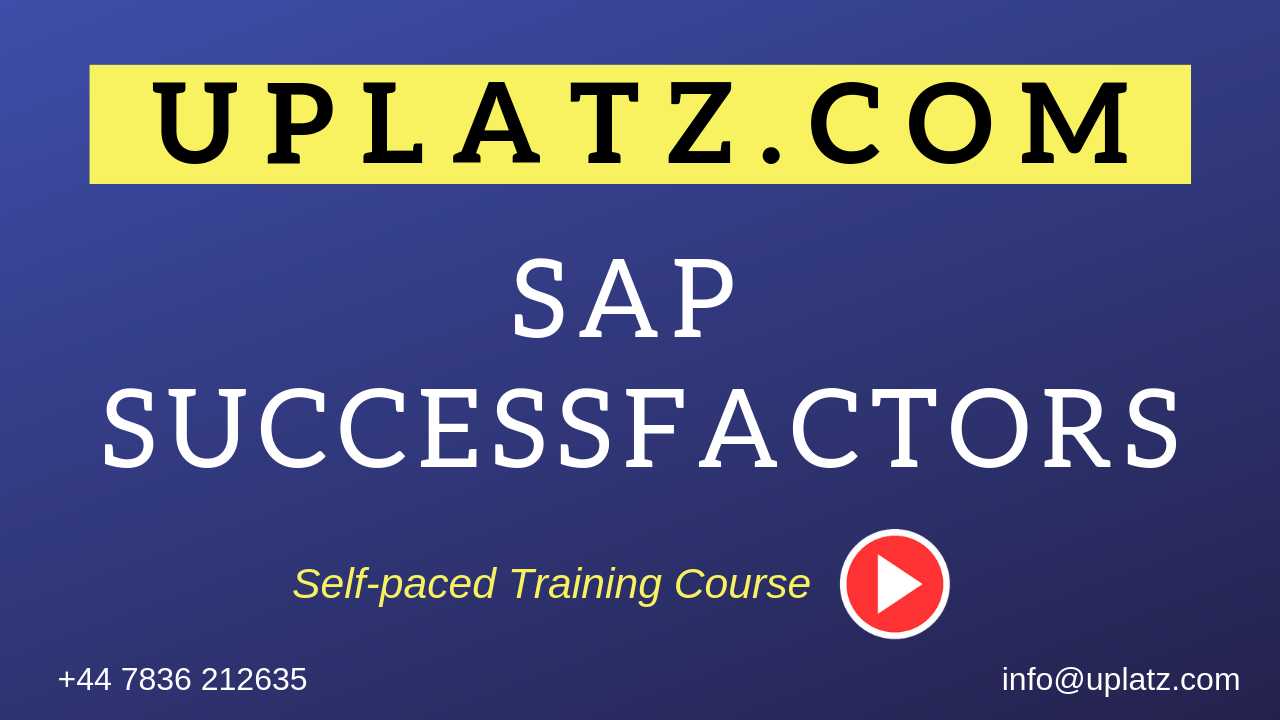 About this Course
SAP SuccessFactors Training Course The word "cloud" has became the buzzing word to the latest emerging applications which are being delivered in the corporate world. SAP SuccessFactors is also related to cloud-based HR Information System (HRIS) which enables best business process in order to achieve the greatest path to success. Benefits of SuccessFactors module are:
 Aligns –the labour force with a raising strategy and will make the people to work on the right tasks
 Optimizes- the performance across the organization as you find the right people
 Accelerates- the business results with more productivity Who can opt for SAP SuccessFactors?
 Candidates with 3 to 4 years of experience in General HR module  People having Payroll experience
 Professionals having Recruitment experience
 Candidates registered for SAP OLTC (Online training) program.
 Working Professionals with good knowledge in SAP HCM modules with Domain experience.
 SAP Consultants keen to get certified
 Support staff functioning on SAP HCM Required Skills
 Having work experience in HR will be a benefit
 Prior work experience in Recruitments
 Working experience in consulting organizations in HCM

The SAP SuccessFactors training course is specifically designed to equip you with knowledge and practical experience to drive any business in this area or switch to a premium job in this field. The course will be taught by a highly experienced and expert instructor, and will contain SAP SuccessFactors training material, tutor notes, practical exercises, server access for practice, notes to help you in SuccessFactors certification, and life-time access to the session recordings.
SAP SUCCESSFACTORS
Course Details & Curriculum
Module: Introduction to Mastery Topics:
1. Cloud and SF Architecture
2. Instance, Provisioning explanation
3. Technical Architecture
4. Integration Technology/Tools
5. Bizxpert Methodology – Implementation Methodology.
6. Basic company settings in Provisioning
7. Creating administrators in Provisioning
8. Creating administrators in Instance
9. Instance basic settings – Passwords, Home Page, Welcome Menu, Company info, Employee files
10. Administrator tools
11. Commonly used terms
12. Admin Privileges
13. Proxy Management
14. Setting up company Logos
15. Manage Data User Records
16. Employee Data File
17. Permissions
18. Role Based Per missioning (RBP).
19. Pick list Management.
20. Text Customization in Instance
21. XML and Data models
22. People Search
23. Rating Scales
24. Route Maps (Workflow)
25. Launching forms
26. Employee Profile


Module: Employee Central Mastery – Core HCM module
1. Introduction and basic provisioning set up exercises
2. Data models
3. Employee Central Structure
4. Data model Management
5. Data model Associations
6. Enable employee central and RBP
7. Update employee details
8. ESS/MSS functionality
9. Understanding security
10. Managing security with RBP
11. EC as a system of record
12. EC Customizing and Populating Basic Foundation data
13. Customizing Country specific files in Foundation tables
14. Creating and modifying associations
15. Propagations
16. Importing users and data
17. Mass Changes
18. Customizing employee files
19. Customizing CSF for employee files
20. Position Management
21. Absence Management
22. Employee Central Reporting and Integration
24. MDF Overview
25. MDF Objects creation
26. Manage Business Configuration Rules setup
27. Manage Workflow Requests/groups
28. Org Chart
29. Manage Sequence
30. Monitor Job
Job Prospects
---------------------------------------------------------------------------------------------
SAP SUCCESSFACTORS Interview Questions
---------------------------------------------------------------------------------------------
1. How do you integrate Employee Central with other SuccessFactors Products?
Employee Central integrates internal with other SuccessFactors products through HRIS Sync.
2. How do you integrate Employee Central externally with other products?
There is a cloud -based integration platform available for external integration.
3. What does the Succession Data Model contain?
The Employee Records are contained in the Succession Data Model. The succession data mode configures the fields that will appear in the Employee's Personal Information (outside of work) Employment Information (inside of work).
4. What is configured in the Country -Specific Succession Data Model?
Address formats, country specific fields and international standards are set in the country-spe, succession data model.
5. What does the Corporate Data Model define?
Foundation Objects and their relationships are defined in the corporate data Model. Foundation Objects are also called Foundation Tables. They include Organization, Job and Pay.
6. What is defined in the Country -Specific Corporate Data Model?
In here foundation objects fields for a separate country are defined.
7. What is the propagation data model used for?
HRIS Propagation Data Model is used for the Auto Population from Foundation Tables
8. What other two data models are used?
Data Model Workflow Rules Data Model, Event and Event Derivation Rules Data Model
9. How many data models are there in Employee Central?
There are 7 data models in Employee Central
10. How do you masked sensible data in a field?
Set the attribute pii="true"
11. How do you set a field so the user can edit it?
Set the attribute visible="both"
12. How do you make a field to be required to be filled?
Set the attribute required="true"
13. What is a DTD?
Document Type Definition of the data model
My vision is to build a truly integrated HR in the cloud. A truly integrated HR is the key enabler for Organizations to maximize their business outcomes.
14. Why are they called 'Success Factors'?
Because they are behaviors which lead to successful performance in the job.
15. Why are there three levels within the framework?
They describe a range of different types of behavior which are relevant to a range of different job roles. However, the levels are not hierarchical.
16. Are the levels linked to job grades?
No. Just because someone is on a certain job grade, it doesn't rule out any of the levels. However, if a job is more senior you would expect to see more of the university level behaviours.
17. Are they going to apply to academic staff as well?
There is a similar framework for Strategic Leaders Framework and one for researchers which have been based on Success Factors. The idea going forward is to have something similar for all staff groups in the university.
18. Will Success Factors be used to 'get rid' of people?
That is not why they have been developed. They are used to develop individuals. However, if the behavior(s) are essential to the job and there continues to be no development then it could become a performance issue.
19. What if the employee doesn't agree with the Success Factors that their manager has chosen?
The manager uses the job analysis information to determine the Success Factor for the role in conjunction with discussions with the individual. However, it is ultimately the manager's decision.
20. Once a Success Factor has been chosen for a role can it be changed?
Yes; it depends on the requirements/needs of the role at any point. It is fluid and therefore may change year to year.
21. If a Success Factor is changed during the year how do you know what you will be reviewed against at the next PDR?
Through dialogue/communication between the manager and the individual. The change can also be flagged on the PDR form.
22. Do you have to choose the same level (e.g. self) for all the Success Factors identified?
No. However, it may be that they tend towards one level.
23. If Success Factors are important – how do you pick the right ones?
Use the job analysis information and advice from your HRO and other managers with the same roles to determine the 3-5 core success factors. It will become easier with practice.
24. What if the Success Factor for a role is what the job requires as a technical output e.g. communicating for a careers' adviser?
There may be a 'technical' requirement to do that but success factors are about 'how' the job is done / the behaviours required in carrying out their job.
25. If an individual achieves all the Success Factors does that mean they will get promoted/get more pay?
Not directly. Obviously the more successful the individual is in their role / can demonstrate effective job performance / demonstrates additional behaviours, then this can be used as evidence in any job application or pay review case.
26. What support will I have in using the Success Factors?
Managers will receive training; Success Factor documentation and guidance on its use will be available on the HR web site; members of the HR team will be able to provide advice.
27. Won't the choosing of the Success Factors be too subjective?
There is always an element of subjectivity in any process dealing with people. However, Success Factors are objective standards or benchmarks with good examples.
28. How much evidence in assessing Success Factors will we be expected to produce?
Look over the previous 12 months for examples and pick out the 2 or 3 which demonstrate the Success Factors the most.
29. Won't the assessment of Success Factors take too long?
Initially, making the assessment may take some time because it is a new process and we're dealing with new concepts but it is worthwhile for the benefits they bring.
30. What is the importance of success factors ? how can we select the correct one?
By using the job analysis information and suggestions from the HR and other manager in desired roles one can predict the success factors. It can be made easy by practice.
31. what type of support can one have by success factors?
Managers can get training. By using it proper guidance and documentation will also be present on HR website, all the team members of HR are able to provide advice.
32. What type of evidence can be expected in accessing success factors?
Analysing the last 12 months and picking the best suited one which describes the success factors positively.
33. When the job is for giving a technical output what is the role of success factor? ( ex: career growth )
Success factors are how to do the job and the behaviour study in carrying a job technically.
34. What if a person achieves most of the success factors will it be beneficial in getting more payment/promotion?
Evidently, the success of the individual can explain the job performance, behaviours at that time it can be use in any type of job application or the payment review.
35. What is present in Succession data model?
All the records of the employee are present in succession data model.This type of succession data mode constructs the fields both internal(information related to employment) and external(personal information of employee) works's.
36. What type of configuration is done in the country specific succession data model?
A. Country specific succession data model is configured by address formats, country specific fields and by all the international standards.
37. What are defined by corporate data model?
Corporate data model defines foundation objects fields and their interconnections. Once again they contain type of organisation, mode of pay and job role.
38. what is the use of propagation data model?
It is used for auto population from foundation tables
39. Mention the other two data models that are used?
Data models:
1.Event Derivation rules,
2. Workflow rules.
40. What is meant by DTD?
It is a data model defined by Document type definition.
My view is to construct a highly unified hr in the cloud. A highly unified HR is the main person to maximise the business outcomes of the organisation.
---------------------------------------------------------------------------------------------
FAQs
What are the different types of SAP SuccessFactors Certifications?
+
What is the difference between SAP HCM and SAP SuccessFactors?
+
Why should we learn SAP SuccessFactors?
+
Will this course help me clear the certification exam?
+
Which is better - Self-paced training or Instructor-led training?
+
What if I miss a class?
+
How will I execute the practical?
+
Is the course material accessible after completion of the course?
+
Is there any offer/discount that I can avail?
+
Will I get a refund if I cancel my enrollment?
+
What if I have queries after completion of the course?
+